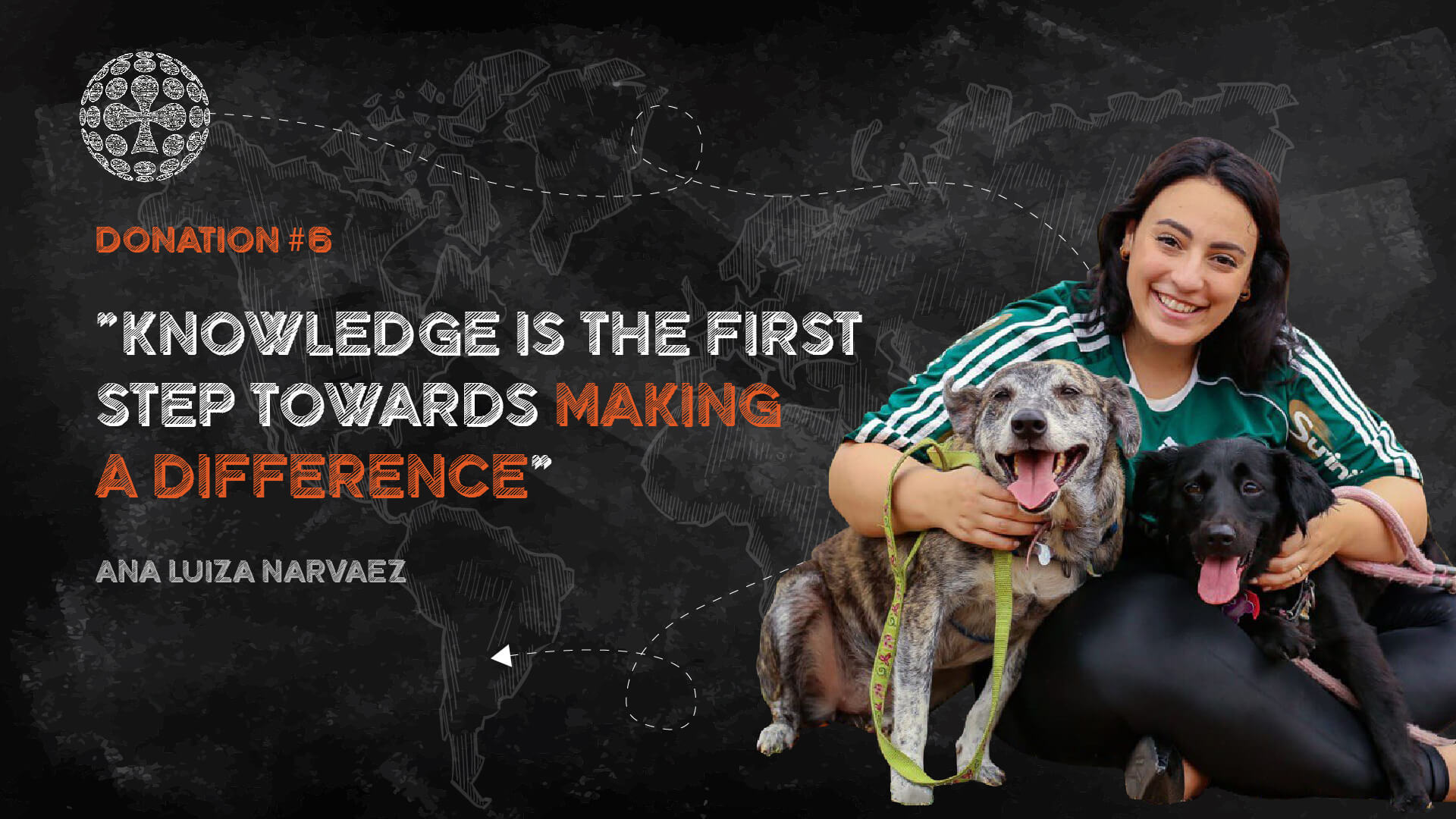 Tue Jun 6th / All-in Global
THE POWER OF SMALL ACTS: MEET ANA LUIZA NARVAEZ
Our commitment to supporting education in impoverished communities takes a personal turn. This time we make a difference for one remarkable individual from Brazil.
In April 2021, All-in Global made a plan for ten social marketing initiatives, guided by the motto "Education is Freedom". Although we have made a few exceptions and donated to those who needed more immediate help than education at the time, we remain committed to our mission.
This time, we came across the story of an individual, whose determination and strong desire to learn inspired our entire team at All-in Global.
Ana Luiza Narvaez is on the way to a master's degree and pursuing her dream profession. Ana is a generous person actively involved in volunteering and animal welfare. However, due to the inability to get a full-time job while studying, Ana faced financial difficulties and was close to quitting the university. We decided to make a difference for one person and donated €1000 to UBA University to cover her tuition.
We spoke with Ana Luiza about her future plans and the role of education in them, the languages she studies, the social initiatives she is involved in, and the cultural differences between Brazil and Argentina.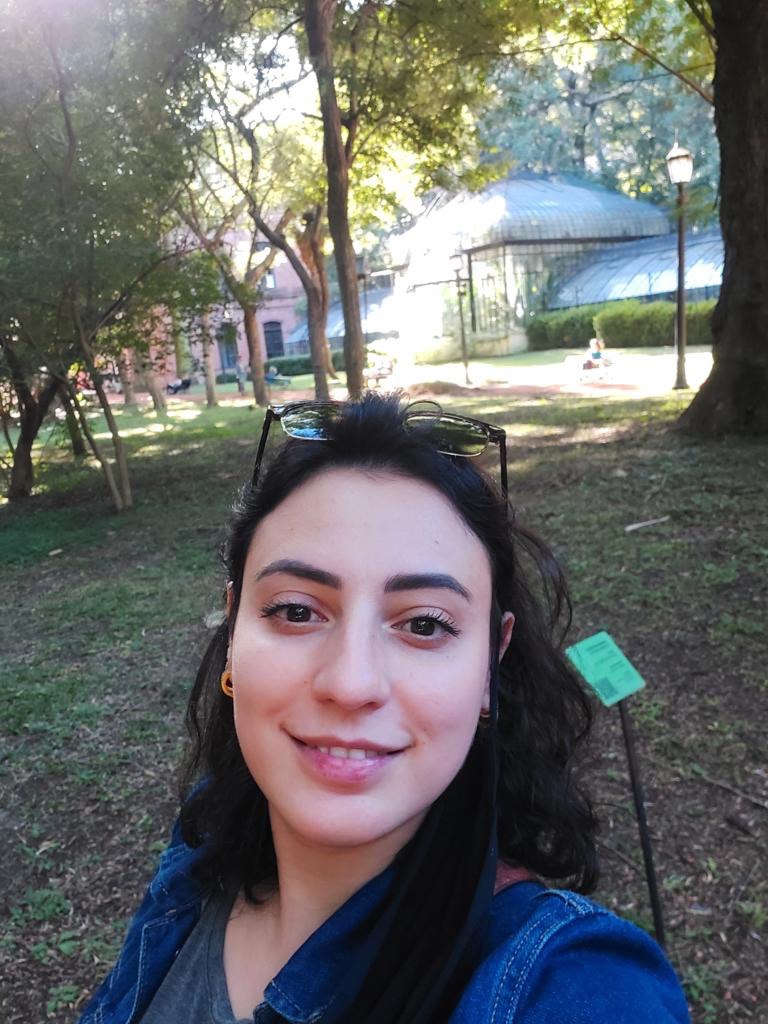 Hello, Ana! So, tell us your story. You are currently living in Buenos Aires, but where are you originally from?
I was born and spent the majority of my life in São Paulo, Brazil's largest city. Several years ago, my husband and I moved to the south, because of his job opportunity. We lived close to the border of Brazil and Uruguay, exactly where the country ends, in a small town, called Sant'Ana do Livramento.
And what brought you to Buenos Aires? Why did you decide to move?
Living in Sant'Ana do Livramento was challenging as it is a very small town with limited opportunities. It is quite isolated, with the nearest city located over 100 kilometers away.
I was looking for master's degree options at public universities in Brazil, which are all located in bigger cities. The education would be free, but I would need to relocate, while my husband would stay in Sant'Ana do Livramento. Living in two cities was unaffordable for our family.
At the same time, I discovered the Master's program at one of the most significant universities in Latin America, UBA, which is located in Buenos Aires. I knew that due to the contrast in economies, studying and living in Buenos Aires would be less expensive than in Brazil. Therefore, I applied and got accepted!
Currently, I am pursuing a master's degree in International Relations. This is a three-year program, consisting of two years of mandatory classes and one year dedicated to research, presentation and defending a thesis.
You are currently in your second year. Have you already chosen your thesis topic, and what kind of research will you be conducting?
My thesis topic is still a work in progress. However, I'm very passionate about studying International Relations Theory, Global Governance, Borders, and Foreign Policy.
Thus, I'll be focusing my research in the coming year on something related to Argentinian and Brazilian Foreign Policy towards bordering regions, both in and out of Mercosur.
Sounds inspiring! Tell us about your favourite class so far, and what you enjoy most about studying in your program.
So far, my favourite class has been Current International Law. I've learned a great deal and even got the paper submitted as an assignment published in Brazil. Regarding the program, the thing I enjoy most is learning about Argentinian politics and history.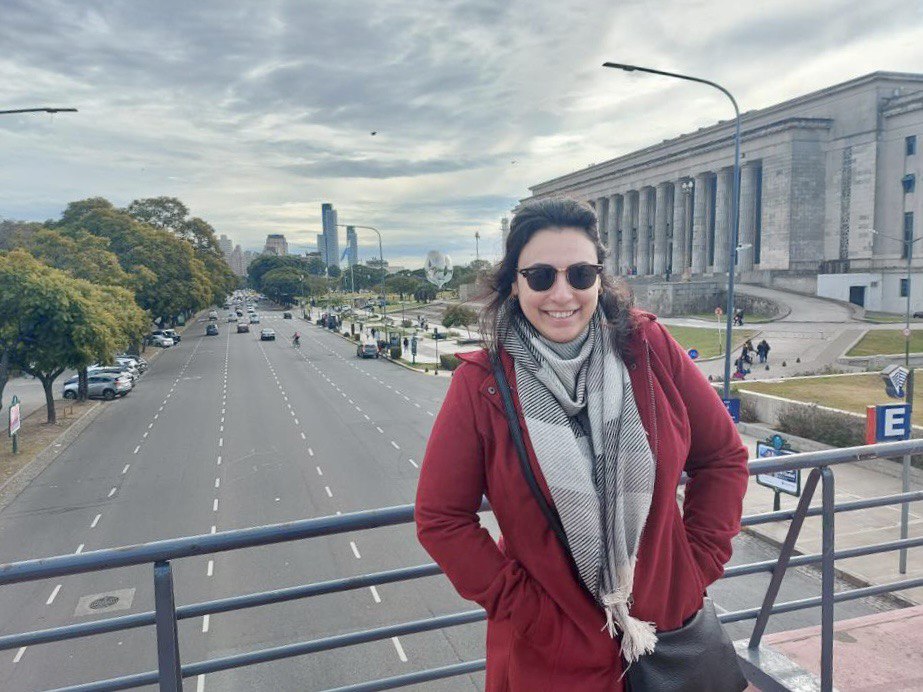 It seems that you have a deep passion for politics! What are your career plans after graduation?
Ever since I can remember, my dream job has always been to become a Brazilian diplomat.
After completing the Master's degree, I will continue studying for the Brazilian admission exams, which are mandatory for diplomats. This is a long enterprise of more or less 4 years of study. My current Master's program is so profound in terms of international politics and economy, and will definitely help me better prepare myself for a future job.
What inspires you most in this profession?
The influence that international affairs and politics have on people's lives. The actions and decisions made in this field have a direct influence on individuals and communities.
I would love to contribute to the prosperity of the people of Latin America and be a part of building relationships that bring positive changes to the region.
As a Brazilian diplomat, you will need to travel and change countries constantly. Do you speak any foreign languages?
I am fluent in Portuguese and Spanish, because my mom was born in Spain, and my family always spoke Spanish around me. Therefore, relocating to Argentina was not a hard change for me.
My parents also prioritised my English education when I was young. They went above and beyond their financial means to ensure that I achieved an advanced level of the language.
I am also planning to take French and Arabic classes in the future. French because it is traditionally the language of diplomacy, and also one of the 10 most spoken languages in the world. Learning French will enable me to communicate with a significant portion of the world.
As for Arabic, I'm fascinated by the culture and the people who comprise it, and I would love to work directly with Arabic nations if and when I'm fortunate enough to become a diplomat.
I know that you are very much involved in social initiatives. Can you tell us more about it and how it started?
I studied in a high school which was Catholic and very oriented toward volunteering work.
Usually, we would go to retirement homes for unprivileged people. We would read stories to them, assist with basic hygiene, help with their hair and makeup, bake a cake with them, or just sit and listen to their stories. The most significant aspect for them was having the opportunity to share their memories.
I didn't expect this to be such a great experience. I just decided to give it a try, when I was 14, and it turned out to be so amazing, that I continued visiting them during three years of high school.
During my time in college, I assisted Bolivian immigrants in resolving their migration status in Brazil. They had entered the country as illegal immigrants but had been working and contributing as members of society for so long that the government decided to grant them amnesty.
Many of these Bolivians were illiterate and unable to read even in Spanish, which made it impossible for them to fill out immigration forms or understand the required documents.
Churches were looking for people who could speak both Spanish and Portuguese, so I went there three times a week to help the Bolivians legalise their status in the country.
I heard so many stories about the circumstances that compelled people to leave their homes, which they considered to be safe places and move to a completely different country with a completely different culture. They would cross a border illegally through bushes and woods, even with children, because they wanted to live their life with the smallest amount of dignity. While we, the college students, would go there in jeans and flip-flops, they would dress in their best clothes, hats, dresses, and the best shoes, because it was such a huge moment for them.
Helping people is an indescribable experience. It was such a privilege for me, and I hope that I can be a part of something like that again.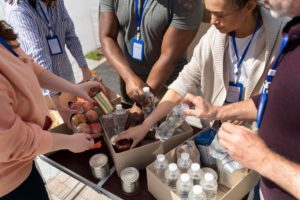 Besides helping people, you are also taking care of dogs. How did you get into that?
My husband and I have always wanted to adopt a dog. When we had just moved to Sant'Ana do Livramento, we were walking across a huge park and unexpectedly stumbled upon an adoption fair. Dogs were everywhere, I started petting the one that came to me, and my husband started playing with another… So we ended up adopting them both.
Later, a friend of mine rescued a dog, and we decided to provide him with a home, so dogs just started coming into our lives. At the moment, we have five dogs, and they have all been adopted.
In addition to our personal adoptions, I noticed that in the south of Brazil, the animal issue is much more complex than in capital cities. In those rural areas with lots of farms, people tend to see animals as something that will bring them profit rather than creatures to be cared for. Dogs and cats are considered useless, while horses, cows and sheep are not.
The problem of homeless animals there is huge. If you just go to the supermarket, you stumble upon 5-6 dogs. They are all skin and bones and have nothing to eat or drink. It's impossible to remain indifferent, and we always have water and dog food with us.
As I witnessed this situation, I realised that action is necessary. I joined several Facebook communities of independent animal protectors. These are not shelters, but groups of people who come together to help animals and support each other. If I rescue a dog, someone will give me a ride or help with the medication. We pick up these dogs, take them to the vet, try to find them a place to stay and purchase the food. All expenses are covered by us, and sometimes we sell items to raise funds. I used to bake traditional Brazilian sweets called brigadeiros, sell them door by door, and all the profit would go to the animals.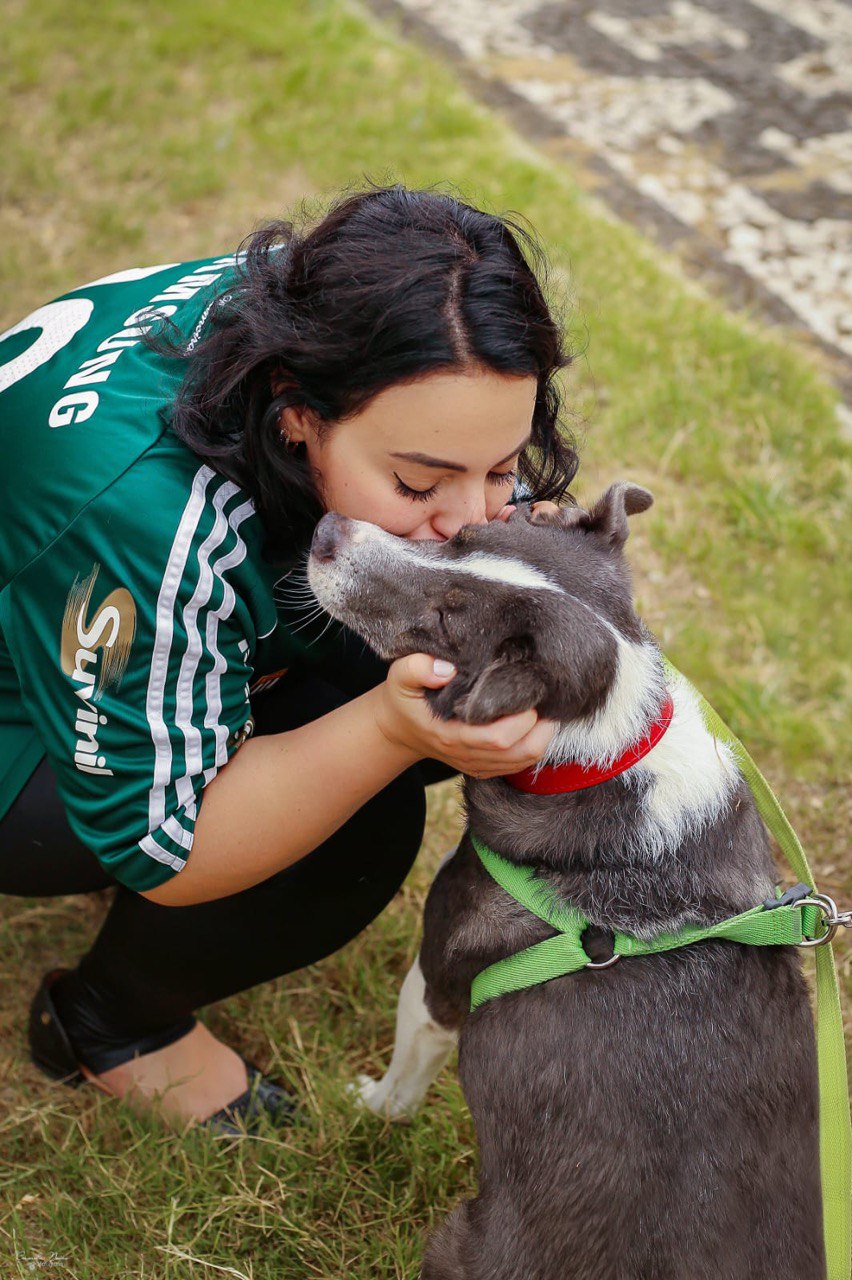 In your opinion, what steps can be taken to improve the situation with homeless dogs in Brazil, and what role do you think individuals and the government can play in this?
Education and information are paramount. Knowledge about the problem is the first step towards making a difference.
The government needs to make changes, starting with public policies on sterilisation and vaccination to reduce the population of homeless animals. Providing resources and support to animal shelters and rescue organisations is also essential.
Cultural change is another aspect. Some people in Brazil still treat homeless animals like something that disturbs them. Instead of helping, they resort to harmful actions like
throwing hot oil or hot water on them. This mindset can be changed through education and awareness campaigns. Promoting empathy and kindness towards animals can help reduce instances of cruelty and abandonment.
Personal examples and the power of small acts can play an important role and inspire others. I have a story to share about the dog that I rescued, who was in a pretty bad condition. We rehabilitated him, and a family adopted him. This family already had a purebred labrador whom they had bought as a puppy. This was absolutely opposite experience. The adopted dog was traumatised and scared, making it hard for the family to cope with him, and they even thought about giving him up several times.
We paid for a professional trainer, and in a year, the dog transformed into a happy pet. Now he has a popular Instagram account with many followers, and he even collaborates with brands.
In the end, it was such a changing experience for that family, that they adopted another dog, and became super involved in animal rescue.
Ultimately, improving the situation with homeless dogs requires a collective effort. Both individuals and the government have important roles to play in promoting education, implementing effective policies, and fostering a culture of compassion and care for animals.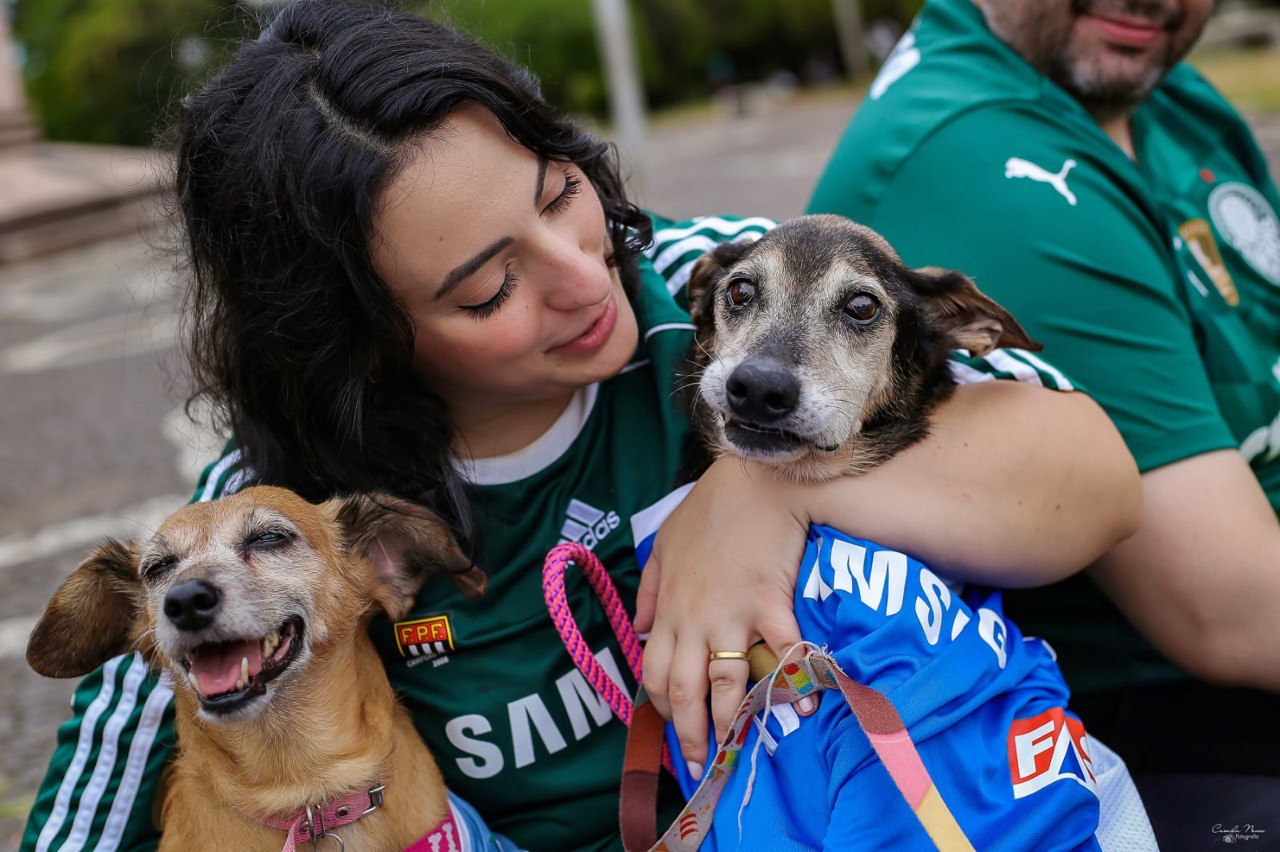 Does the situation with homeless animals differ in Buenos Aires? And in general, what cultural differences between Brazil and Argentina have you noticed?
In Argentina, the situation is quite different and more controlled compared to Brazil. You won't encounter abandoned dogs in the streets of Buenos Aires. There are many organisations that take care of animals, and the overall mentality towards animals is more caring and compassionate. I believe this is closely connected to the level of education and better quality of life in Argentina.
For example, in Brazil, people could leave school at the age of 18 without knowledge of how to interpret a basic text or do basic math, because the education there is weak.
Argentina has a tradition of maintaining and improving its public education, which has a direct impact on the cultural level of its people. Argentinians are much more concerned about their personal development: they read a lot, take classes, and try to improve themselves constantly.
In general, the quality of life in Argentina is much better. Buenos Aires has numerous green parks and public spaces. There is always something going on in the city, and it is free. They have museums by night, tango festivals, which is a national dance of Argentina, antique nights, and jazz festivals.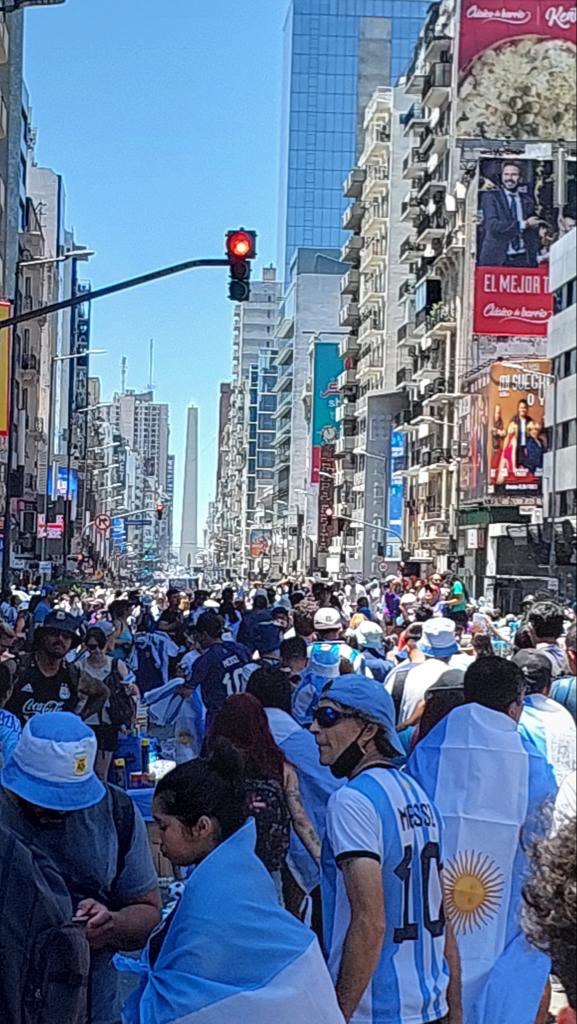 Sounds exciting! Can you share any local tips for Buenos Aires? What is your favorite place to go, and which local food would you recommend trying?
Buenos Aires is a beautiful city with so much to see and to do that I am still discovering new things, making it difficult to pick a favorite place. However, I do enjoy places by the River's shore the most.
As a vegetarian, I would not recommend meat, even though it is a highlight of Argentine cuisine. My recommendation is, without question, Franui, which are raspberries from the Patagonian region covered in chocolate. They are made by Rapanui, a well-renowned chocolate and gelato shop that has stores all around Buenos Aires and in several Argentinian cities as well.
At All-in Global, we are dedicated to caring for others and supporting initiatives that can bring positive transformations in people's lives. We believe in the fundamental role of education and its impact on the future of individuals and societies. By lending a helping hand just to one person, we make a meaningful contribution to the world we all live in.
Follow us to learn about our upcoming social marketing initiatives in 2023.
In 2023, Latin America continues to be the most promising market in the iGaming industry.
With a population of over 650 million people, increasing access to mobile technology, and a national passion for sports, the region offers huge potential for online casinos and betting platforms. Several countries in Latin America, such as Argentina, Brazil, and Colombia, have recently taken steps towards regulating and legalizing online gaming and betting.
Providers and operators are expecting enormous market growth in the next few years.
The majority of the Latin American population speaks Spanish and Portuguese, which raises the demand for localization services. At All-in Global, we offer language solutions by native speakers and proven experts in the iGaming and sports betting industries.
Want to learn more? Just drop us a line at sales@all-in.global
---