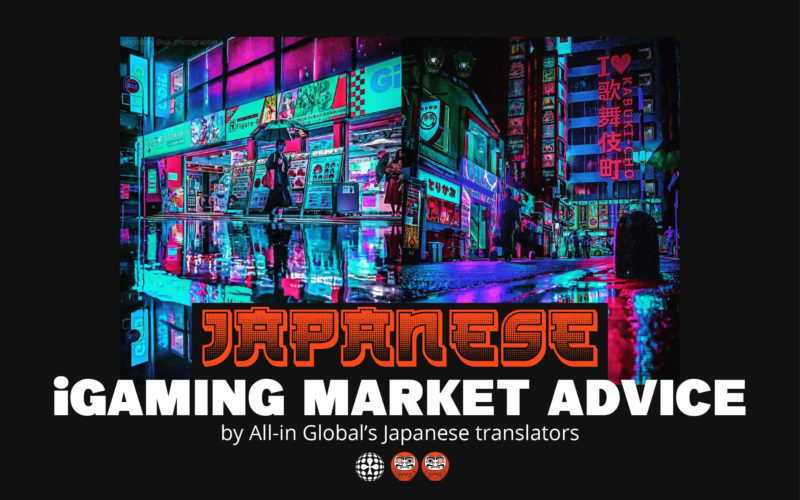 Mon Jun 12th / Roy Pedersen
A STORMING EFFECT AMONG JAPANESE GAMBLERS
Operators are lining up to enter the Japanese iGaming market so we thought the timing was right to share some marketing advice from two of the finest Japanese iGaming translators out there.
We will keep our sources anonymous for two reasons:
1: All-in Global spent the last 15 years finding, testing and coaching the top translation and writing talents, with a comprehensive understanding of casino and betting terminology, for Japanese and 80+ languages. It would be against our best interests to reveal their names.
2: The laws concerning gambling for Japanese nationals are complicated. Online gambling has long been illegal in Japan, yet the market is booming. Our translators and writers are not particularly comfortable being named as experts of something that could prove to be illegal.
JAPANESE GAMING MARKET OPENING UP
With that said, a law was passed in Japan in 2018 giving exceptions to some games, namely poker and baccarat according to the BBC. We recently also saw news about an approval granted for a casino resort in Osaka.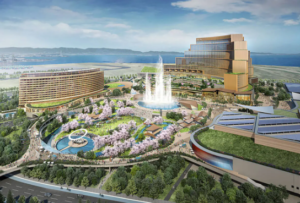 So there is little doubt that the Japanese gaming market is finally opening up. This will surely be a hot topic at SiGMA's Asia Summit in Manila in July which All-in Global will be attending. According to SiGMA World the Osaka resort is scheduled to launch in 2029.
All-in Global is a market leader when it comes to translation and content writing for the iGaming industry. We believe that the data from our back office is relevant because it's almost exclusively based on casino and sports betting. Below we have prepared an overview of the number of words we translated from and into Asian languages. The first table represents 2018-2023 and the second table represents the first 5 months of 2023.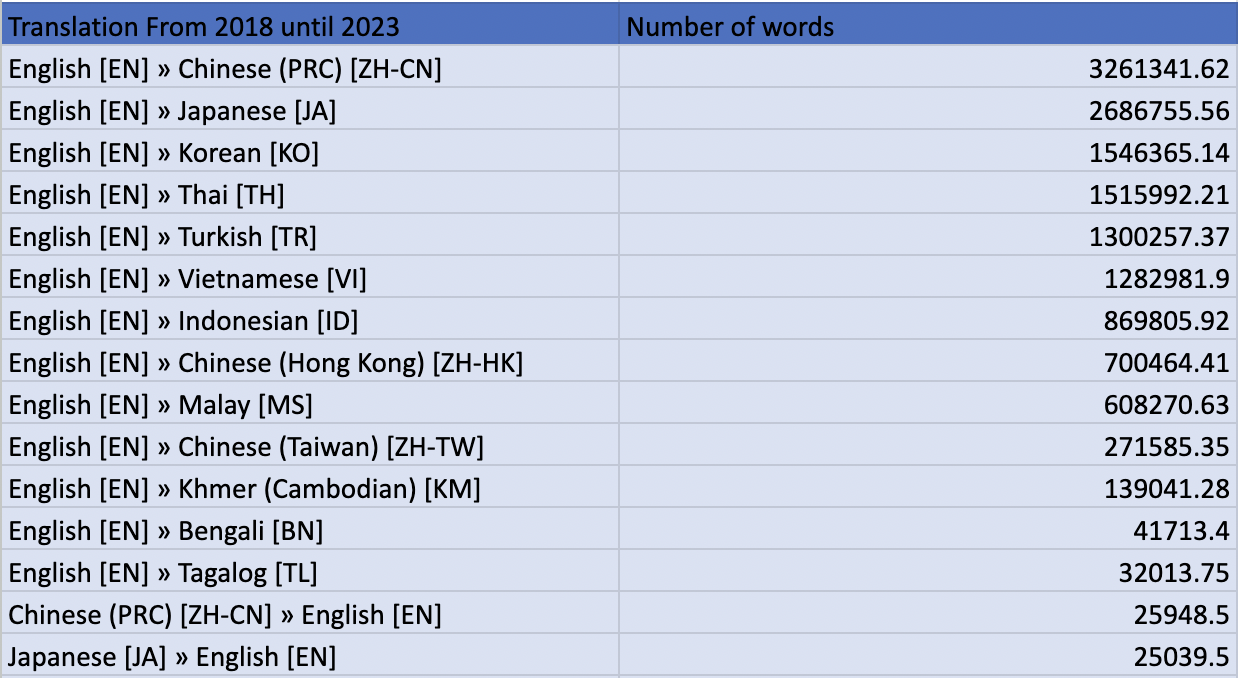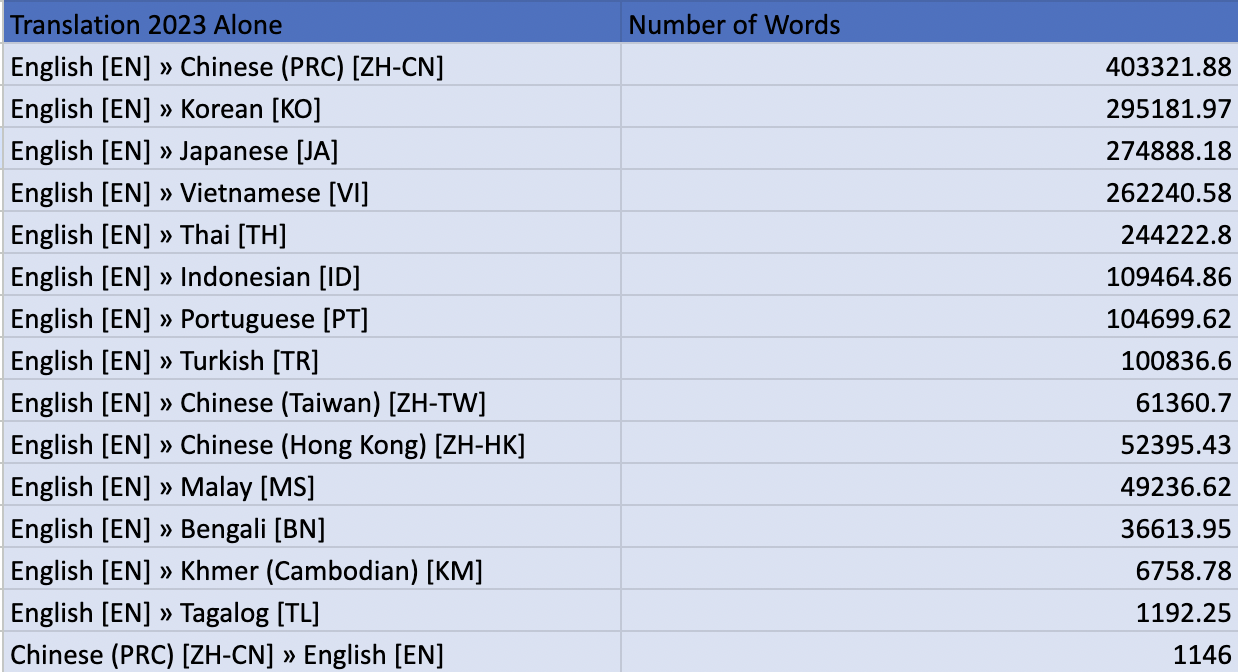 ADVICE FROM POKER LOVING JAPANESE TRANSLATOR
One of the most popular male forenames in Japan is Hiroshi so let's call our first advisor that. His favourite game is Limit Hold'em and he has been working as a Japanese gaming translator for more than 20 years. What can iGaming operators who want in on the Japanese market learn from Hiroshi? He gives advice on everything from mythology, to character design, and the size of the market.
"When you pick up a theme for a slot machine, you should avoid mythology peculiar to the Western culture. Many Japanese don't know who the likes of Odin, Heimdall, or Thor, etc. are, and names like Zeus, Hera and Poseidon don't really ring a bell in Japanese ears at all."
"Hire a Japanese designer. Animation is one of the most famous Japanese industries in the world and we have created characters like Sailor Moon, SLAM DUNK, NARUTO, My Hero Academia, Seven Deadly Sins and FAIRY TALE to name just a few. From the viewpoints of the Japanese gamers who have such a shrewd sense in terms of gaming aesthetics, the quality of western machines are very low."
"Many Japanese are eagerly waiting for the opening of the casino resort in Osaka. "
In terms of internet-based betting, by 2027 Japan's online gambling industry is expected to have have 11.04 million users.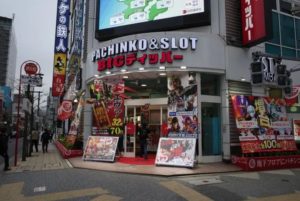 "BEEBET IS A GOOD REFERENCE"
Our second featured translator, let's call him Toshio, has experience from working with sportsbooks. He is currently one of the top revisers of the Japanese content translated by our iGaming specialised AI engines. With a passion for games such as Baccarat and Blackjack, land-based as well as online, he has some firm views on what it would take for an operator to succeed in the Japanese market.
"I would advise them to try and find ways to widely announce that the games they are offering are completely legal, other than simply mentioning that they are licensed by authorities such as the Malta Gaming Authority, which Japanese players have very little knowledge about."
"Feature the sports events that are popular in Japan. I think Beebet, a Japanese sportsbook, is a good reference on what sports to cover."
"Most importantly, focus on providing content, from Ts&Cs to game descriptions, in perfect Japanese that follows the proper grammatical rules. Less effort spent on this is only likely to make players suspicious. Always remember that Japanese people really do not read and understand English as much as western people think they do."
⚾️ 日本プロ野球 ⚾️
6月6日(火) 18:00スタート‼️
東北楽天ゴールデンイーグルス vs 阪神タイガース
この試合、どっちが勝つ⁉️

オッズは⚡
東北楽天ゴールデンイーグルス 2.02倍
阪神タイガース 1.68倍
.
試合のベッドはプロフィール欄のリンクから直接アクセスして頂けます‼️
.
.#日本野球#NPB pic.twitter.com/aolkIK7aba

— BeeBet | 公式 (@BeeBet_official) June 6, 2023
HECTIC SUMMER FOR ALL-IN GLOBAL
Want some more advice? Want to know how All-in Global can help you reach the booming Japanese market? Simply request a quote or reach our to salesteam@all-in.global.
You can also reach us at a number of upcoming iGaming events:
EGR B2B Awards in London on June 8 where we are nominated as the Best Customer Service & Best Corporate Services Supplier.
iGaming Next in Malta where are hosting a padel tournament on June 20.
Luxol Sports Ground in Malta where we are arranging the Cup Final of our PAI League on June 23.
SiGMA Asia in Manila mid July.
iGB Live in Amsterdam also mid July.
SBC Barcelona in September.
SBC Latin America in Florida in November.
SiGMA Malta in November.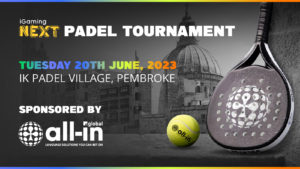 ---