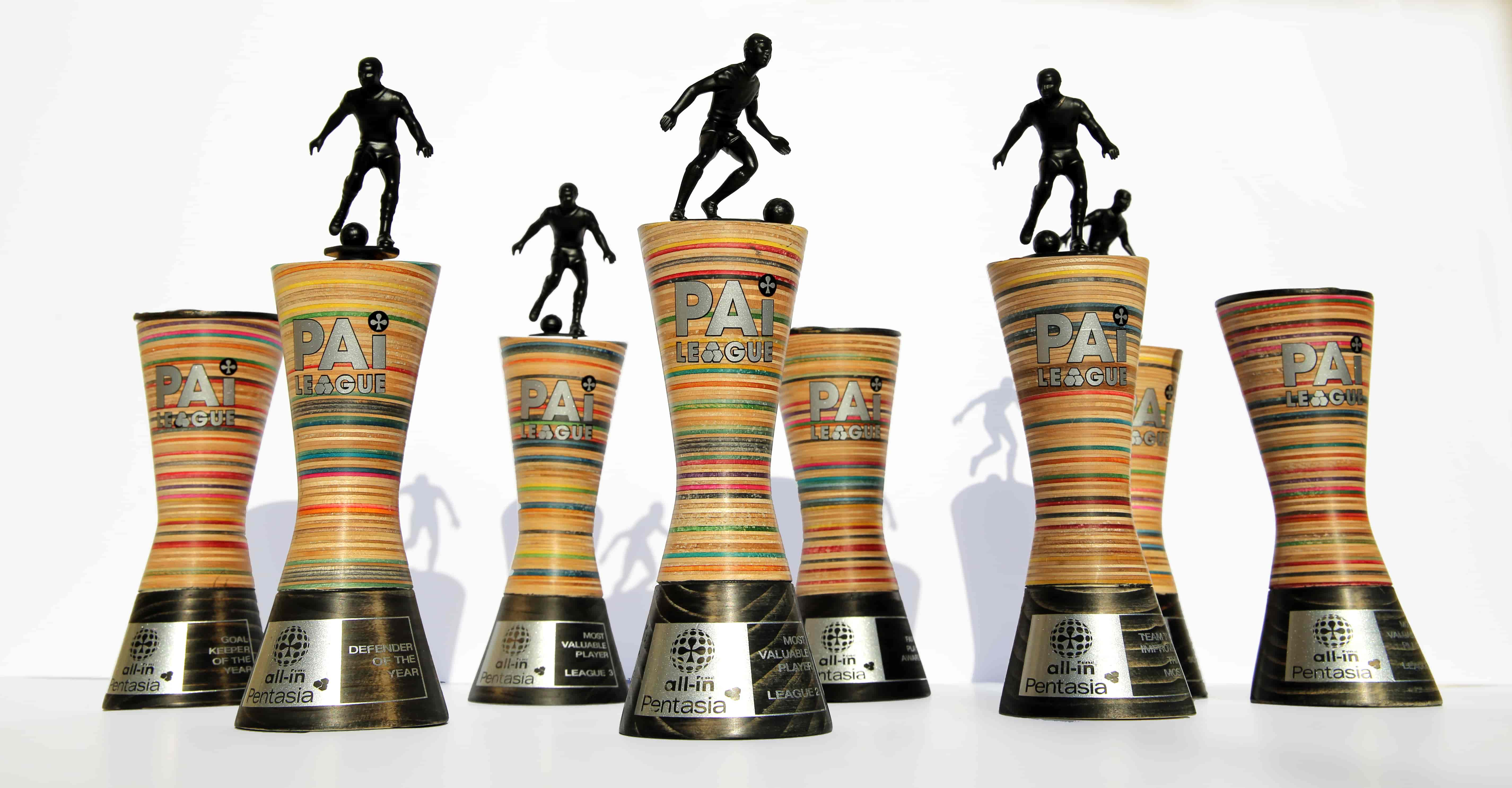 Mon Jun 1th / Roy Pedersen
4 BILLION FANS, 22 GAMING COMPANIES, 1000S OF TINGLING FEET, 1 PAI LEAGUE
While 4 billion football fans are excited about the comeback of the Premier League, hundreds of football players in Malta are waiting for PAI League to resume. Here are the latest updates on both.
PAI League is an amateur five-a-side football league in Malta. It's been running for more than 15 years and is, as far as we know, the biggest gathering of adults doing amateur sports in Malta. At All-in Global we feel very proud to be the organiser of the league, and we feel blessed that so many people participate every year. All-in Global is a language service for the gaming industry and we run the league together with recruitment company Pentasia who started it back in the day.
In the currently paused 2019/2020 season, there are 31 teams. 22 of them represent gaming companies, 5 of them represent companies that provide the gaming industry with media, technical, creative, legal or financial services, two teams are groups of friends, and one side represents a night club.
We feel certain that most of the players are now experiencing what we in Norway call "kribler i bena". It translates literally to tingling feet and refers to the sensation of being eager to play football.
SO WHEN CAN WE EXPECT THE PAI LEAGUE TO RESUME?
Sportmalta.org.mt and the Parliamentary Secretariat for Sport released this document with guidelines for the return to Sport as part of the COVID-19 on May 21. As for football, it specified:
Strictly training and drills, no games, maintaining 3 meters distance between all athletes at all time.
Ball to be disinfected before use and every 15 minutes.
Ideally disinfected between players.
Strictly no contact.
Anyone who has seen a match At Luxol Sports Ground in the PAI League or during All-in Global's SiGMA Cup every November knows that contact cannot be avoided, especially in heated matches. Also, the guidelines from May 21 says "no games". The Maltese authorities have gotten a lot of recognition for their work to stop the spread, so we abide by their advice. Below you can see the highlights from a match between Casino Malta and Polish Drinkers with interviews after the game.
However, as the number of cases is low, it seems like a matter of time before the guidelines loosen. Luxol gaffer Nicky Darmanin Demajo told us on Sunday, May 31 that he has contacted the health authorities to inquire about the opening of five-a-side football in Malta.
"On June 5 they are opening gyms and bars. However, they have not mentioned anything regarding sports. Hopefully, five-a-side and the PAI League can resume soon!" Demajo commented.
Unless a second wave hits Malta hard, we hope and believe the 19/20 season can conclude before SiGMA Cup in November.
10-11 WEEKS NEEDED TO CONCLUDE THE SEASON
"We need 10-11 weeks to conclude the season. So if we can resume soon, the 20/21 season can be organised just as planned with the opening round in October", said League Manager Nikola Mraovic.
You can email him on leaguemanager@all-in.global if you are a new team that wants to register.
Mraovic commented that all the players had been very understanding of how we have handled the situation.
"But in the last few weeks, many people have asked me about when they can play again", he said.
In 19/20 the PAI League have been divided into four divisions with eight teams each (7 in league 4) which has worked smoothly. League 1 is very competitive, with many of the teams beating each other and competing for a top place. In League 2 Besedo has won all the games and are big favourites to secure a promotion, but the race for 2nd place is very tight.
"The initial plan is for two teams to be relegated and two teams to be promoted from all divisions, but we are flexible when needed, and the balance of the divisions depends on the number of teams who register. We hope and believe that most teams will sign up for another year and there are always a few new teams", Mraovic commented.
SiGMA Cup is scheduled for November 16, and we want to add a top bin challenge this year. Email roy@all-in.global to secure a place, it's free to join.
WHAT IS THE STATUS OF THE ENGLISH PREMIER LEAGUE?
It was finally confirmed that the 2019/20 Premier League season resumes on June 17 – without fans on the stands. All of the remaining 92 matches will be broadcasted. This is, of course, assuming that the COVID-19 numbers in the UK don't get significantly worse in the meantime.
Betting on virtual sports and esports has been booming in the last few months. Still, there is no doubt that the reopening of betting on the Premier League will be essential for many of the clients to which All-in Global are delivering language services. You can find the full remaining fixture list here.
If I were a religious man, I would start praying both for the people of the UK and for the reopening of Premier League. It's strange to watch professional football without seeing or hearing the fans – but I'll take it any day of the week. According to the recently popular Netflix series The English Game, there are 4 billion fans of English football around the world, 150 years after Wanderers played the Royal Engineers in the first FA Cup final. I am sure many of them will have a good day on June 17 when Aston Villa plays Sheffield United at Villa Park.
So don't forget to update your Fantasy team, social distancing or washing hour hands, and hopefully, things will be OK!
News also broke this weekend about the reopening of the Championship League which is planned for June 20. Teams returned to regular training on May 25, and it's no secret that we are rooting for a promotion for Leeds here at All-in Global.
SPORTS BETTING IN THE US
In this article we wrote last week you can read about the comeback of sports and sports betting in the US. In the brochure below, you will find our best tips when it comes to producing and localising content for the US market.
You can download the PDF here.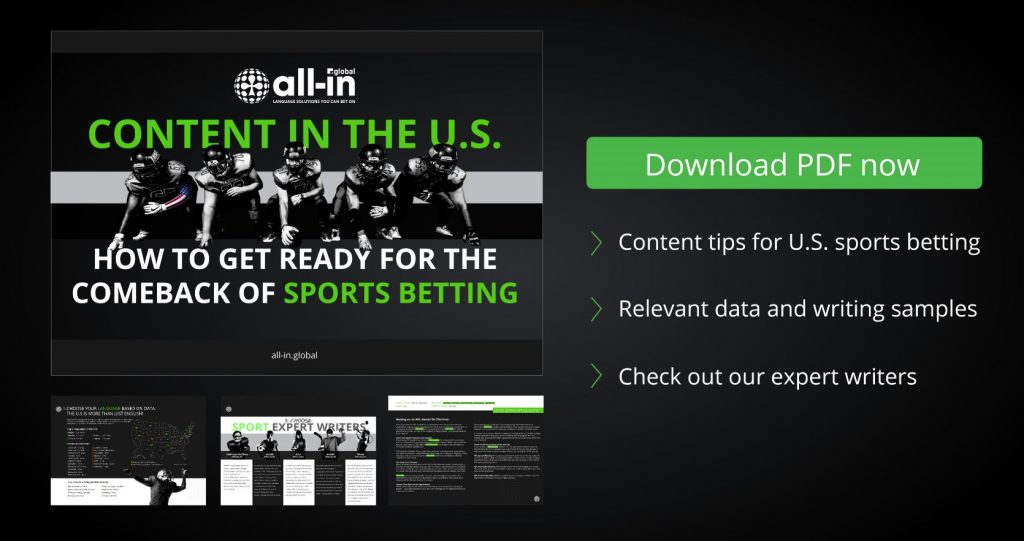 ---