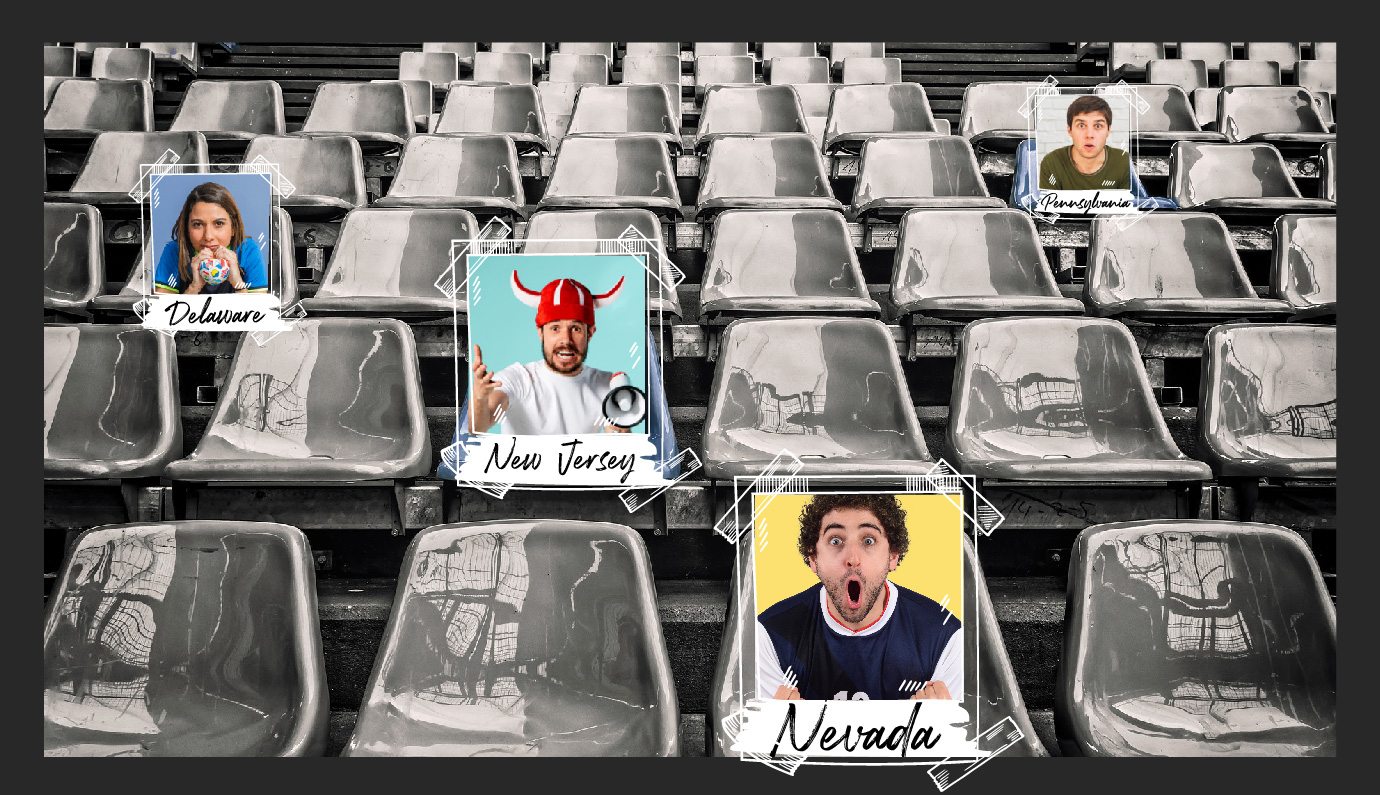 Fri May 22th / Marina
CORONA AND THE COMEBACK OF US SPORTS BETTING
US sports betting in the wake of the COVID-19 outbreak is best exemplified by the cancellation of NCAA Men's Basketball March Madness Tournament – a betting event valued at $8.5 billion alone. But…when can we expect things to start rolling again? Below is an overview of where we stand now.

Predicting the overall and lasting impact of COVID-19 on American sports is incredibly difficult. And on that note, we hope this article finds you and yours well during these challenging times. Our hearts go out to everyone dealing with the effects of the coronavirus, no matter the industry they operate in. The way we see it, the essential thing is to keep the business running, and North America is a key new market for us. All-in Global provides language services to the gaming and sports betting industries, so we wanted to take a look at how the virus has affected the sector. Before showing you the list of leagues and their status, let us share a brochure that gives you our 6 best tips for getting ready for the comeback of sports betting. You can download the PDF here.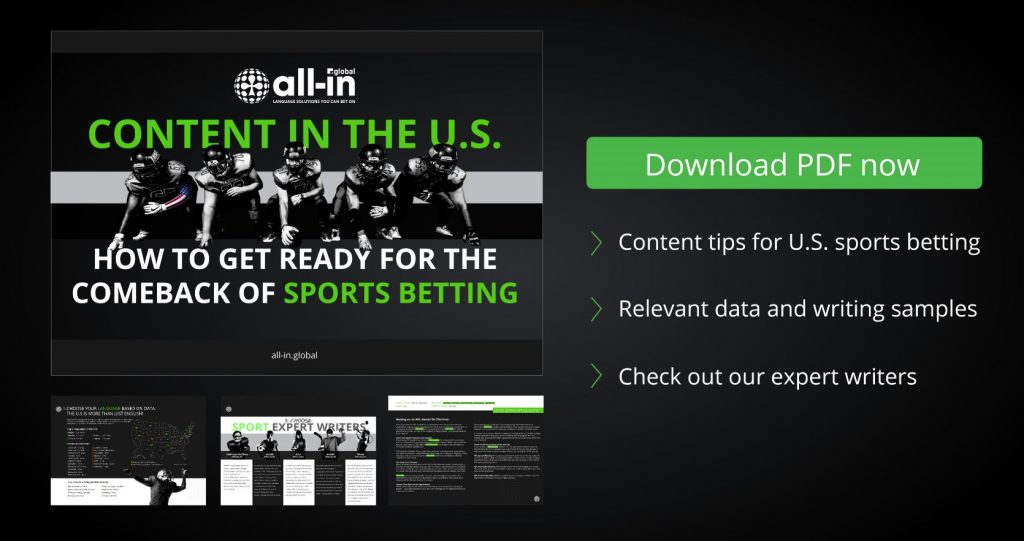 WHEN WILL THE BIGGEST SPORTS LEAGUES RETURN?
At this point in time, there are only two seasons staying unchanged. And tennis is an individual sport, which makes it a likely addition to the late summer's sports schedule. The NFL, on the other hand, is a major team sport. The Premier League is seeing COVID-positive players as recently as late May 2020, which means the NFL could very easily land in a similar situation come September. This could lead to a postponement – or full-on cancellation.
League

Canceled

Suspended/Postponed

Unchanged

Original date

New date

N.B.A

✓

03/11/2020
W.N.B.A

✓

05/15/2020
NASCAR
 

✓

03/08/2020
05/17/2020
N.C.A.A
 

✓

03/12/2020
M.L.B
 

✓

03/12/2020
M.L.S
 

✓

03/12/2020
Champions League
 

✓

03/13/2020
N.H.L
 

✓

03/12/2020
N.H.L Draft
 

✓

06/26/2020
U.S. Open (tennis)
 

✓

08/24/2020
L.P.G.A Tour

 ✓

03/12/2020
PGA Tour
 

✓

03/13/2020
06/11/2020
P.G.A Championship
 

✓

05/14/2020
 08/06/2020
U.S. Open (golf)
 

✓

06/18/2020
09/14/2020
N.F.L

 ✓

09/10/2020
08/24/2021
U.F.C
 

✓

03/21/2020
05/09/2020
THE CURRENT STATE OF SPORTS BETTING
Somewhat counterintuitively, the sports betting world is set up to bounce back long before the sports world itself. Here's where we stand in terms of betting on traditional sports as well as esports and other competitions.
On April 29, 2015, the Baltimore Orioles played a home game against the Chicago White Sox without fans during the Freddie Gray protests. Back in the '60s, college campuses were disrupted by anti-Vietnam demonstrations, and Muhammad Ali conscientiously objected to the war and was banned from boxing for three years.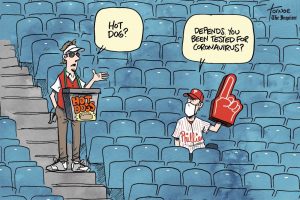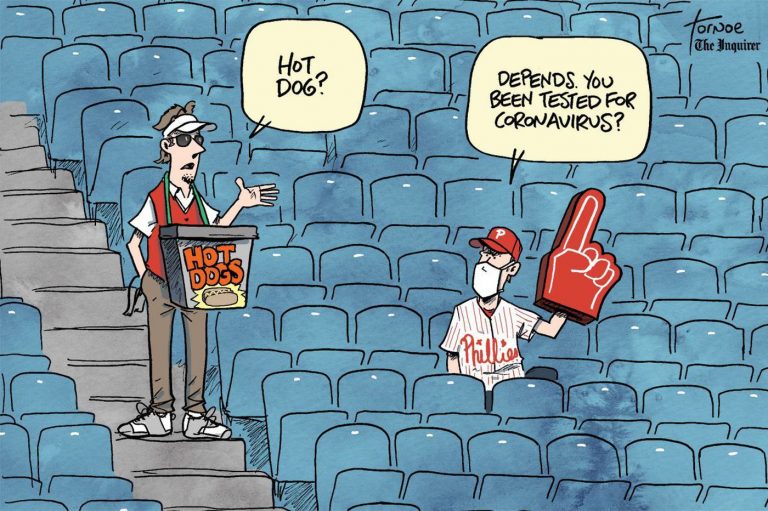 Illustration in "The Philadelphia Inquirer"
But never has there been a more tumultuous time in professional, college, and all levels of sports like we witness with the coronavirus. This is beyond unprecedented, with the biggest NCAA football and basketball teams forming disaster-preparedness committees. Arenas and sports centers are repurposing themselves as field hospitals and food banks. And the MLB will almost certainly play its entire season at spring in training grounds without crowds.
It can't be overstated how much revenue comes into sports teams through attendance. With concessions, apparel, and ticket sales all out the window, these teams will need to rely solely on ad revenue to keep operations running. This means that thousands of stadium workers will likely stay idle and jobless for the foreseeable future, especially those employed by third-party companies contracted by the sports teams.
A bad economy ripples across all industries – and sports are a long way away from being immune.
THE GOOD NEWS: FANS ARE READY TO WATCH
A new ESPN study suggests that around two-thirds of sports fans support playing without a crowd, and 88% said they would watch once sports resume under whatever circumstances. That's heartening for the prospect of generating new ad revenue. But are them players ready to play?
If leagues are going to start hosting all players at one hotel and have teams play at one venue, then all players and staff will need to say goodbye to their families for the entire season, plus an extra two weeks of quarantining. They could bring their immediate families with them, but those family members would need to be subjected to the same degree of quarantining.
Further, players have expressed reluctance to return to the court, rink, or field without a cheering crowd. The roar of the fans would all but eliminate any semblance of atmosphere and excitement, and it's reasonable to imagine big-money players simply retiring early.
Only time will tell. The best guess is that players will do whatever the league recommends in the hopes that things will return to normal by next season.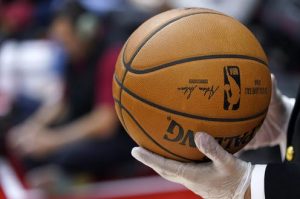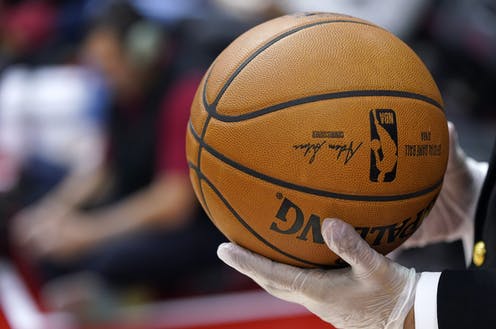 (AP Photo/David J. Phillip)
RACING AND INDIVIDUAL SPORTS
The COVID-19 shutdown is going to affect team sports mostly, while sports like golf and tennis will likely pick back up sooner (albeit without a crowd). In the same vein, horse and car racing will likely continue without much of a change.
Don't forget about the Drone Racing League either. This may be its best time to shine and gain long-lasting popularity given how it's being covered by NBC Sports Network.
BETTING ON ESPORTS IN THE U.S.
Esports is not yet officially recognized as a sport in the U.S. under the new sports betting legislation. Betting on esports in the States is further complicated by the prominence of underage players (-18). Gambling on minors is currently illegal in America.
However, FanDuel, DraftKings, and other Daily Fantasy Sports (DFS) platforms in the US give members access to certain esports DFS betting, like League of Legends. Much like players being allowed to go head-to-head for money, DFS is considered skill-based and can incorporate esports into their betting repertoire.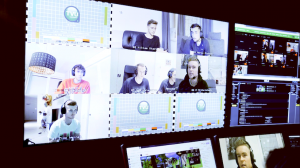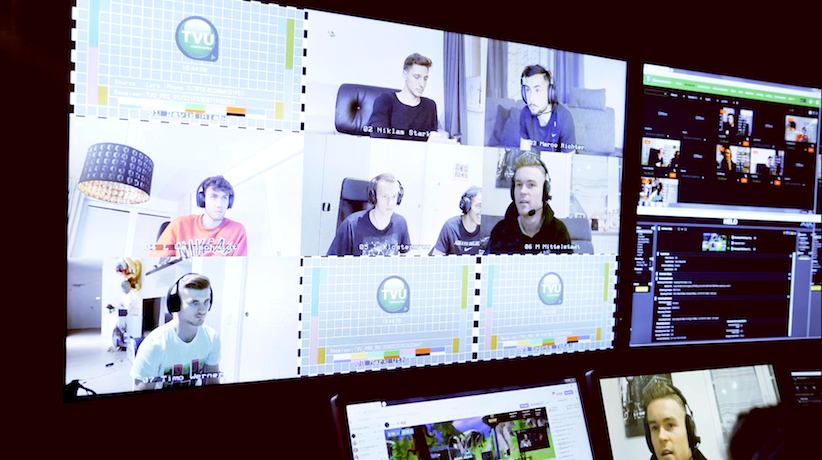 Remote production to live stream esports tournament on Twitch
All of this is to say that there's no reason to believe that esports will be significantly disrupted by the coronavirus pandemic, especially not in the US.
VIRTUAL SPORTS
Major DFS platforms are also rolling out results simulators based on algorithms and analytics that incorporate the likelihood of various outcomes mixed with different variables. The result is a realistic simulation of real-life sports as it pertains to DFS betting, and it could become a popular outlet if sports leagues continue to delay seasons.
Many online sportsbooks in the US are also offering virtual sports where you can bet on virtual soccer and basketball games as well as horse and dog races.
At All-in Global, we like to organize sports and networking events. We run the biggest corporate football league for gaming people in Malta, with more than 30 companies playing matches on a weekly basis. We also run a tennis network on the island and support the Malta Expats Golf Society. Most of this is currently on lockdown, which pushed to "go online." This has been a fun-filled substitute, and so far, we organized a poker tournament and a chess tournament where the winners got to choose a charity which our donation per registered player was given to. We are now working on organizing a FIFA esports tournament and a game show, and we have ambitions to organize a virtual sports betting event – all intended for gaming industry professionals. So watch this space for more info!
If you're looking to start a personalized sports content strategy, shoot an email to salesteam@all-in.global. We'll get right to work on putting you in the best possible position for when sports will return in full force.
---