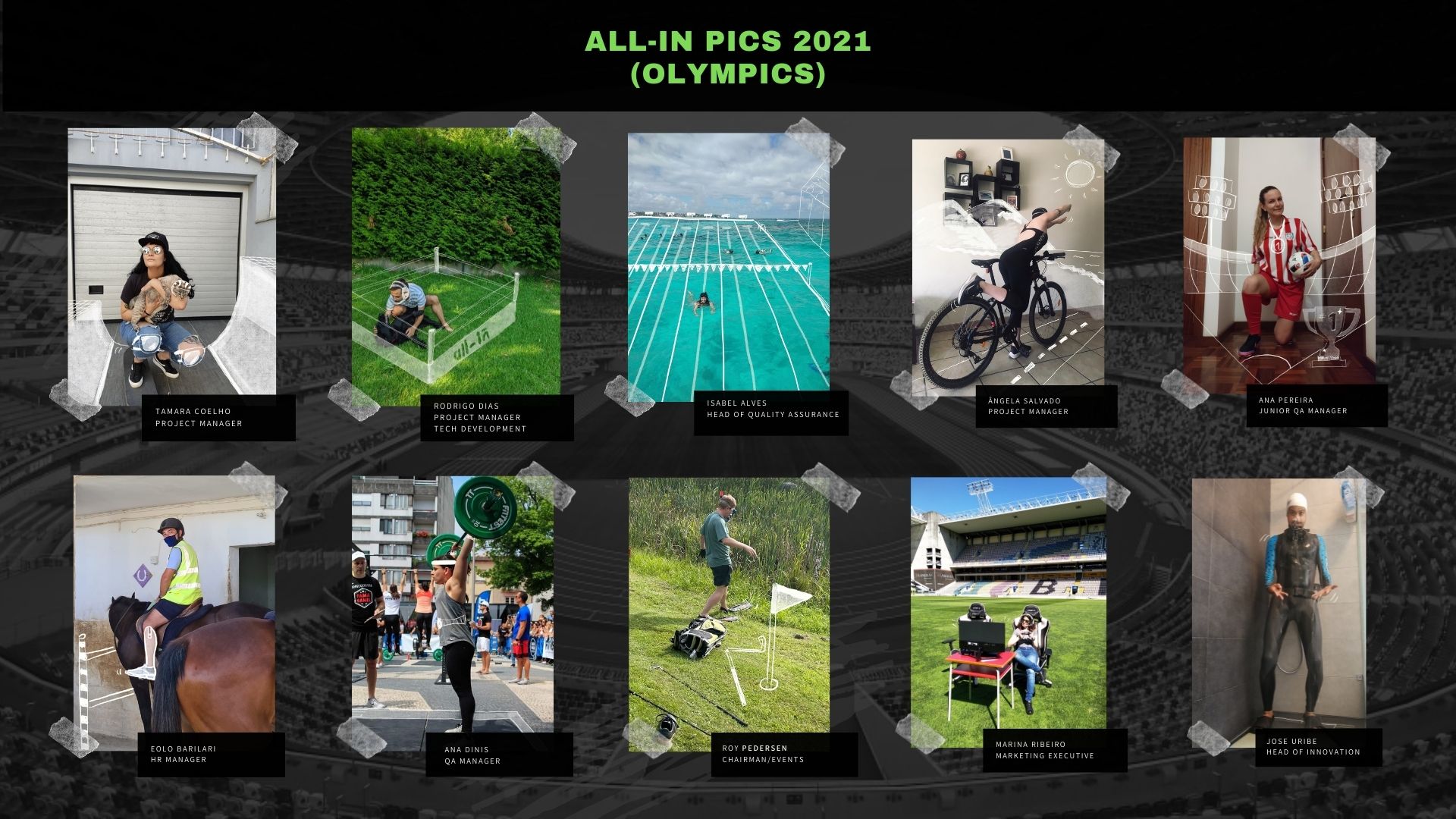 Fri Jul 23th / Roy Pedersen
HERE IS THE "OFFICIAL" TEAM FOR THE 2021 SUMMER ALL-IN PICS
We are excited to announce that All-in Global's team for the Tokyo Summer Olympics is now official. The selected 9 are in high spirits despite some unorthodox preparations, a few misunderstandings and countless triple bogeys.
If this were to be a competition of sports and gaming terminology, All-in Global as gold medalist would be on the odds market for around 1.05 given our position as the #1 language service provider in iGaming and sports betting for more than 13 years. Unfortunately none of the 339 events at the Tokyo Olympics has anything to do with competing in language skills. Nevertheless we're sending 9 of our top athletes, wish them the best of luck and know they will make us proud.
Without further ado, here's our team and the full schedule for each event. All times are Japan Standard Time (UTC+9).
SKATEBOARDING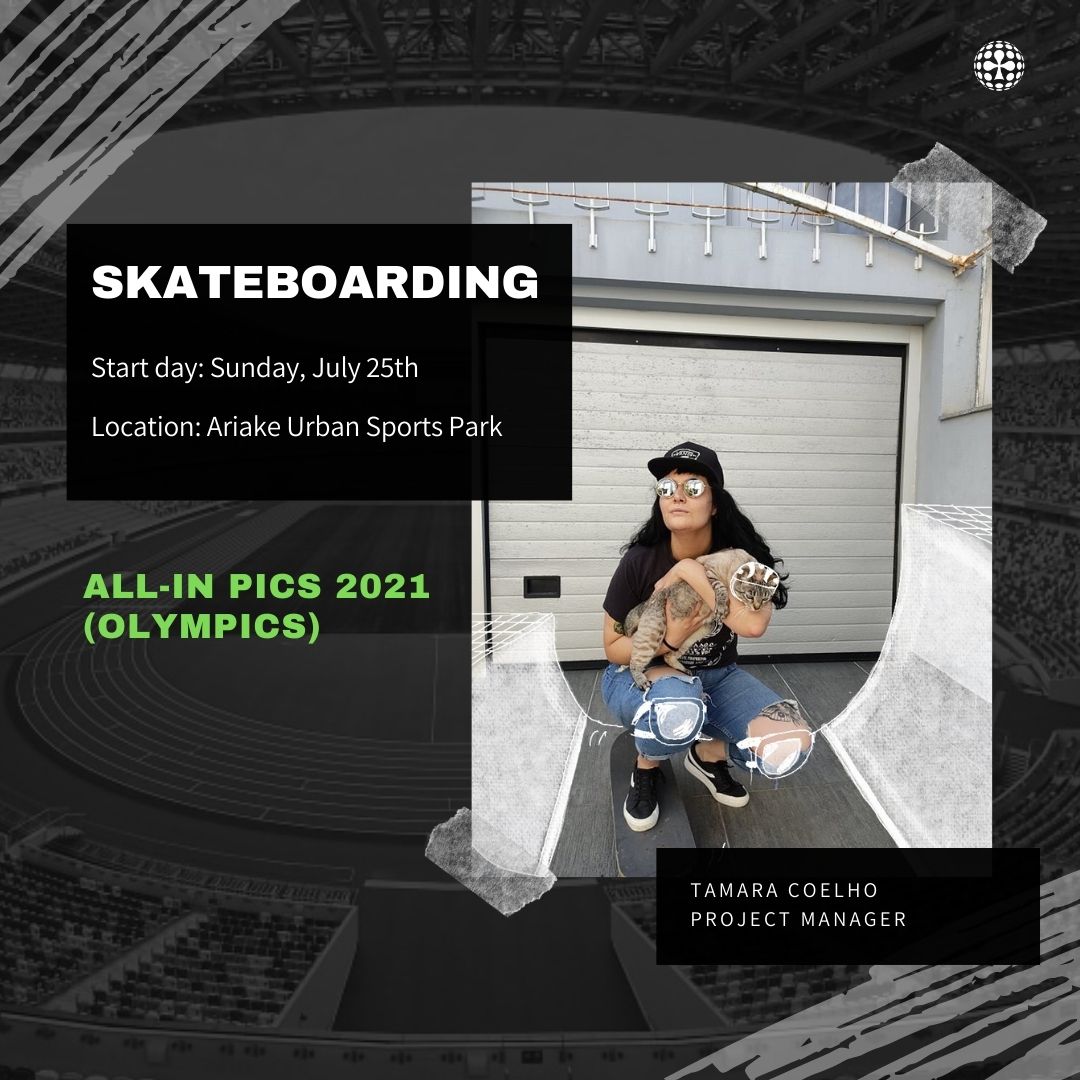 Tamara Coelho has perfected her routine in the driveway home in Porto and she's ready to compete in women's park. She skates goofie and has been carrying her cat for every training session this summer in order to minimise the risk of a bail when the wheels starts rolling at the Ariake Urban Sports Park on August 4.
You can see a list of skateboarding terminology here and below is the official schedule (from Wikipedia).

WRESTLING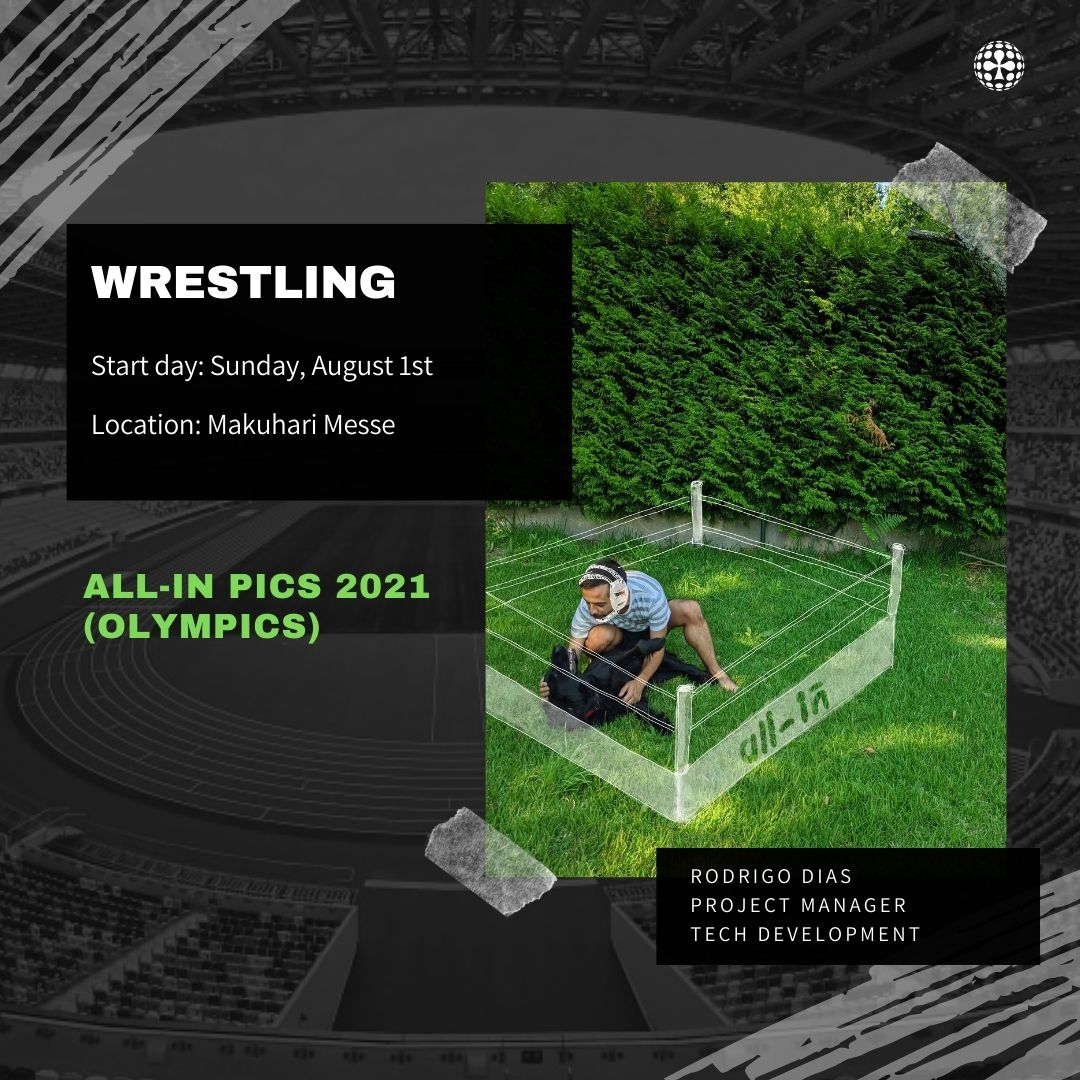 We have a choice but to admit that Rodrigo Dias wasn't given enough time to prepare for fighting his way to the top in the freestyle wrestling event. He was simply too busy preparing All-in Global's new translation service called AI + Human Post-Editing which will revolutionise the speed and cost-efficiency of iGaming localization. We cross our fingers that sparring with his dog Bingo has been enough to give Rodrigo a chance in the Makuhari Messe. Once again, we apologise for signing Rodrigo up in the sumo wrestling class in 2016 and we hope that the proper paperwork was succesfully submitted this time.
You can find wresting terminology here and the full Tokyo 21 wrestling schedule below.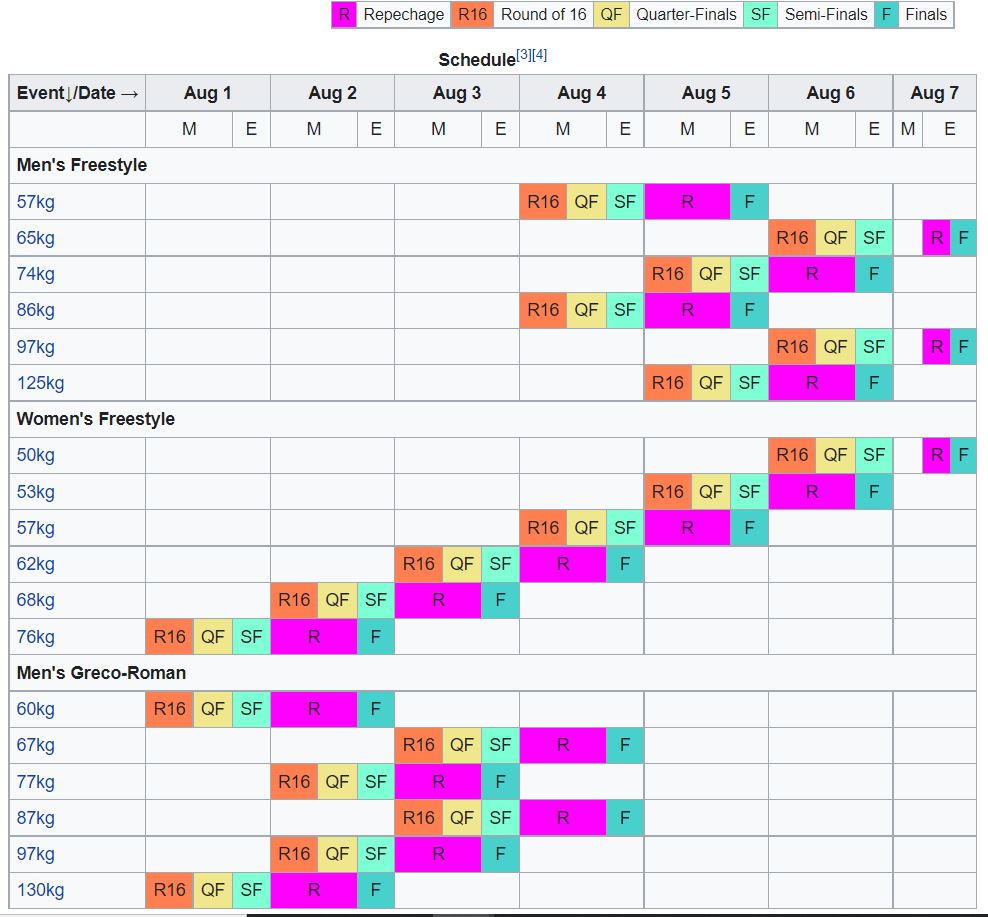 GOLF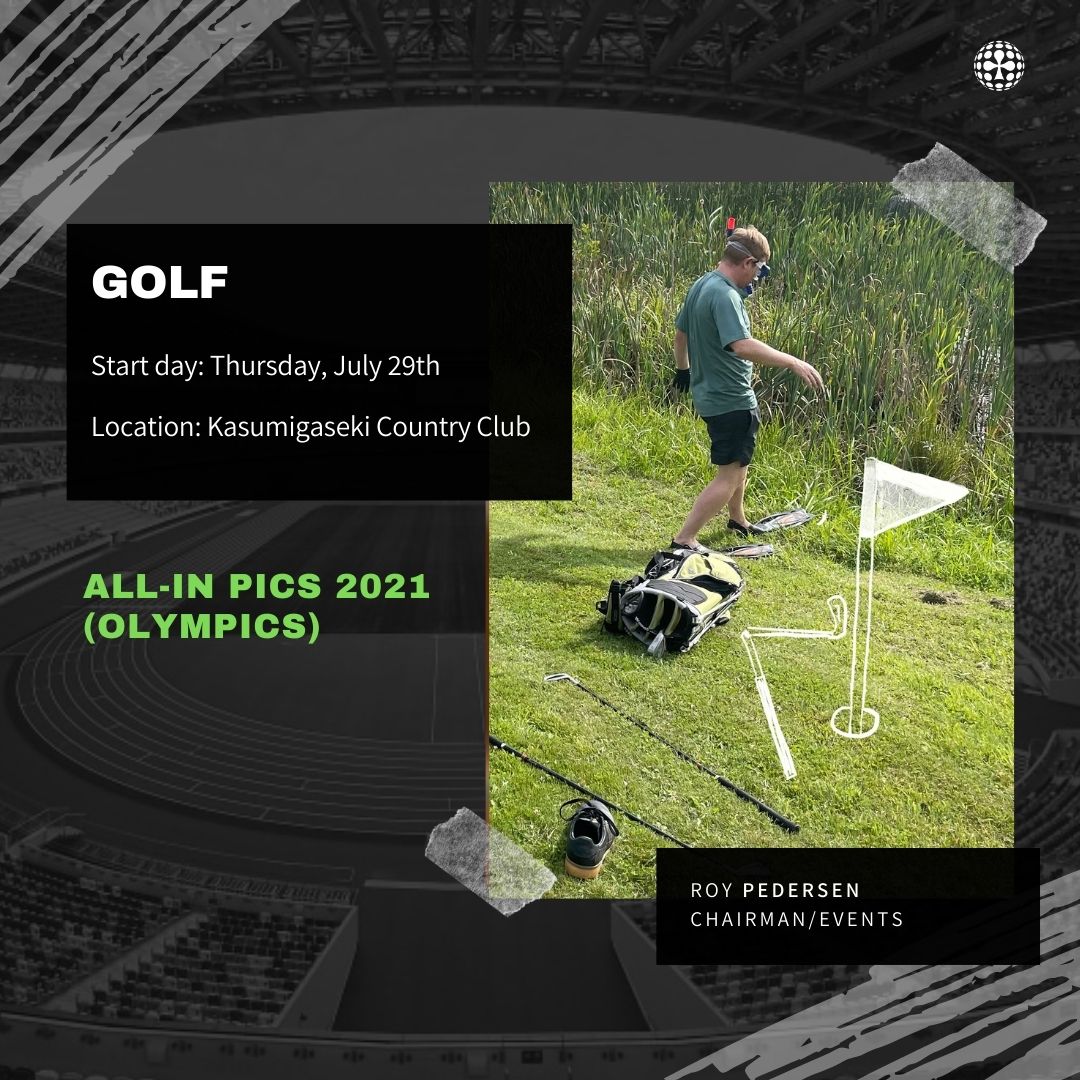 Start playing golf instead, they said. It'll be fun, they said right when corona stopped All-in Global's chairman Roy Pedersen from playing competitive football in 2020. The shop at his local golf course has been reporting an all-time high in the number of sold "lake balls" since Pedersen took up golf, and these days he is never teeing off on hole 1 without a full snorkling kit in the golf bag. His understanding of golf glossary is flawless, but we are in doubt whether this will be of much help at Kasumigaseki Country Club since Pedersen's most frequently used term is "FORE!". Never say never, but our prediction is that Pedersen has a bigger chance of winning when All-in Global's SiGMA Cup (five-a-side football) returns in November.
Golf schedule:

DIVING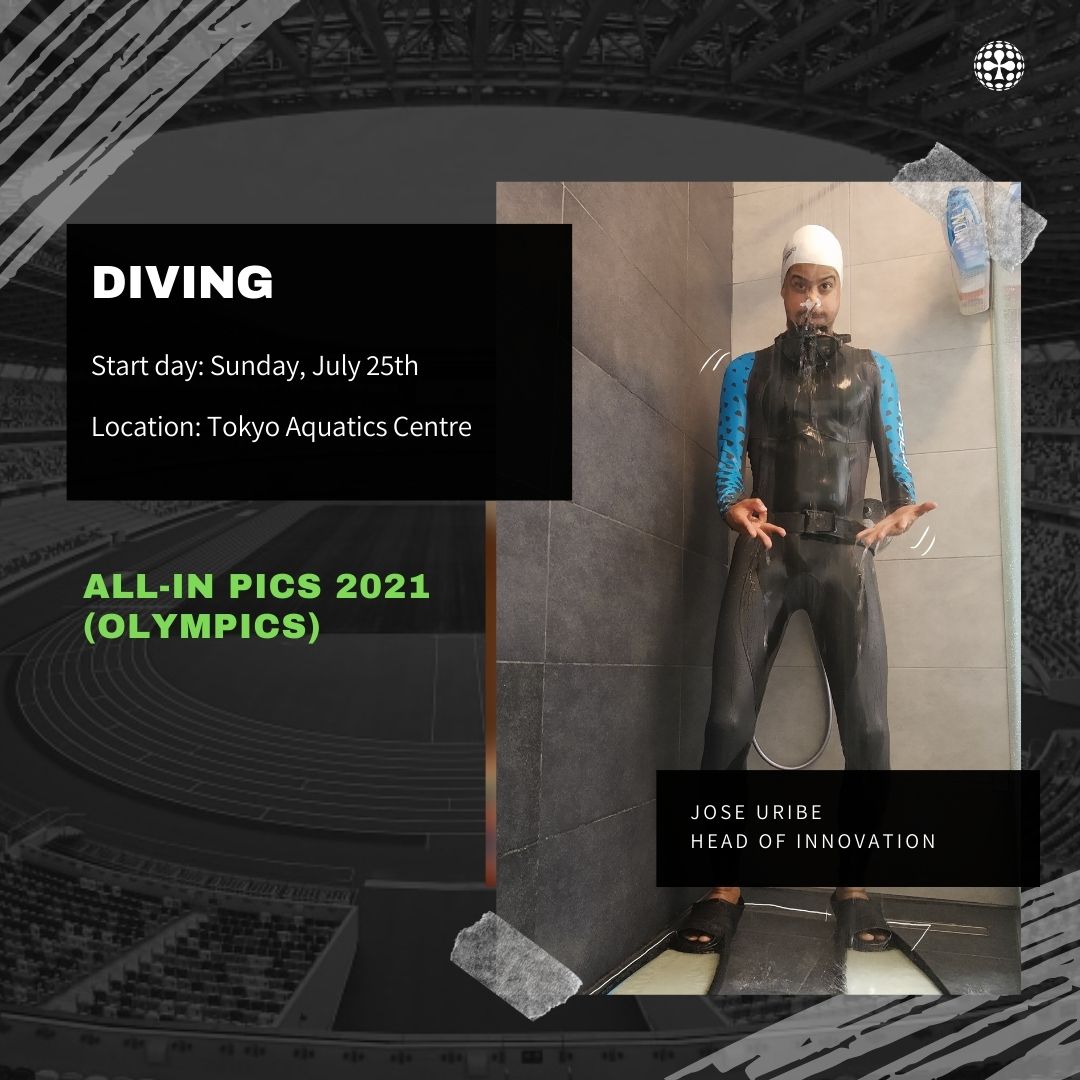 Jose Uribe is the new Head of Innovation at All-in Global. Unfortunately there was a bit of a misunderstanding regarding his participation at the 2021 Tokyo Olympics. Jose thought he'll be making his appearance in the diving competition at the Aquatics Centre, but the plan all along was for Jose to accompany Pedersen as a caddie in the golf event. Jose has a vast experience in diving and pearl-gathering but since he'll probably spend more time looking for Pedersen's balls (!) in various lakes rather than getting his clubs ready, it seemed like a match made in heaven.
Scuba diving isn't an Olympic event, but diving is, and you can see the schedule below and its terminology here.

SWIMMING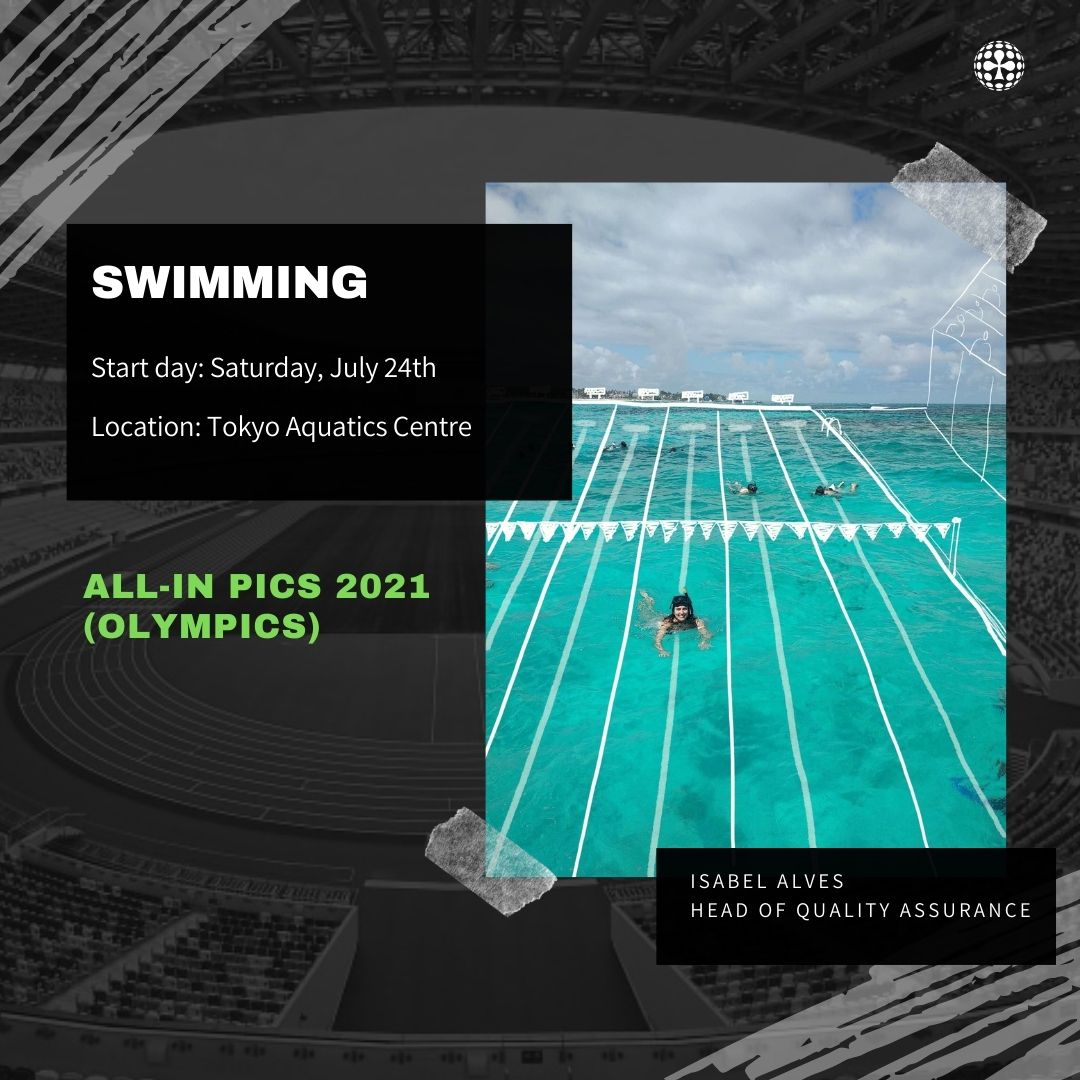 Olympic swimming terminology here.
After being disqualified from the 2016 Olympics in Rio for genetically manipulating her feet into webbed feet, it seemed doubtful that Isabel Alves would make the 2020 swimming event in Tokyo. However, since the Olympics got delayed with one year, All-in Global's Head of Quality Assurance had plenty of time to get her appeal accepted and the disqualification lifted. Her master's degree in Anglo-American studies and her exceptional Portuguese skills certainly helped in the process, and Alves is now one of the favourites to take home the gold in the 10 km open water event. She has reportedly perfected her long distance technique by starring in the upcoming Waterworld 2 which was shot outside of Porto.
Swimming schedule: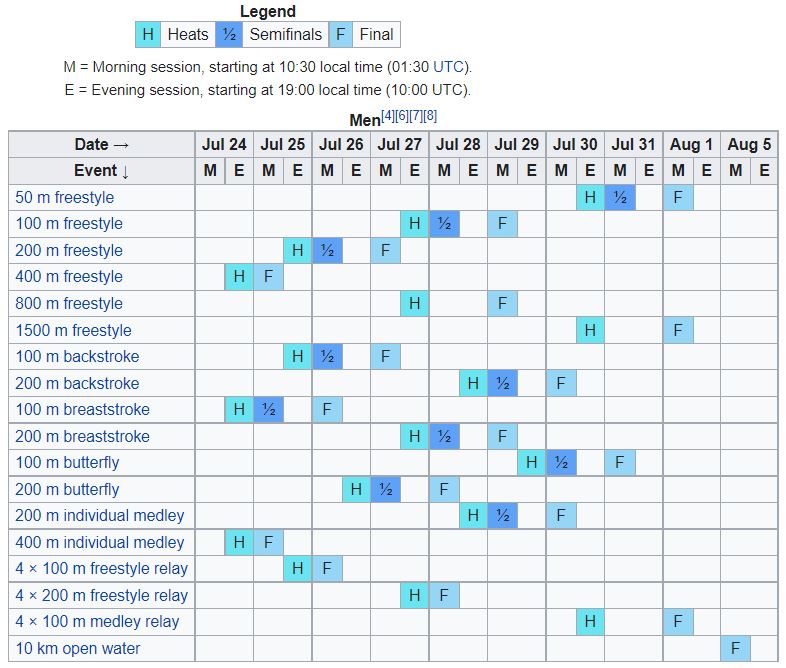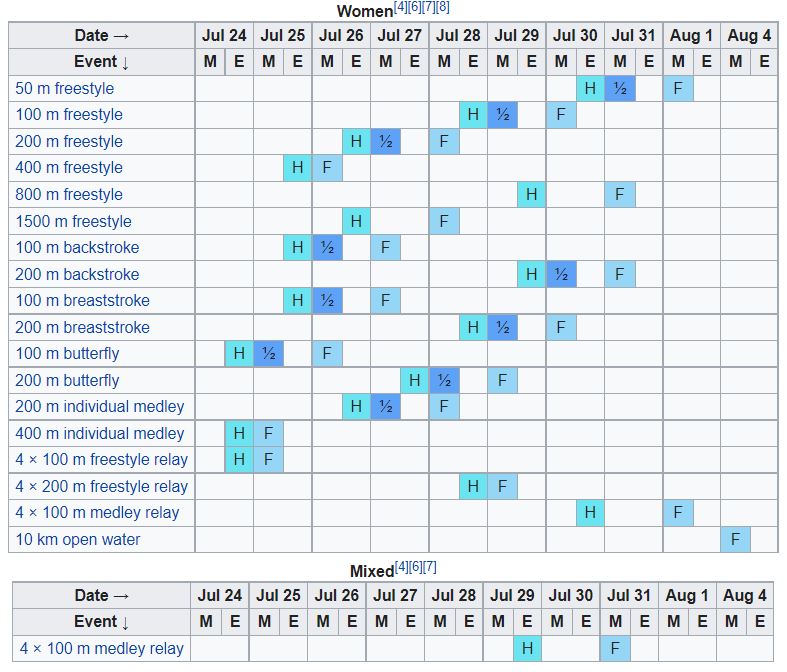 EQUESTRIAN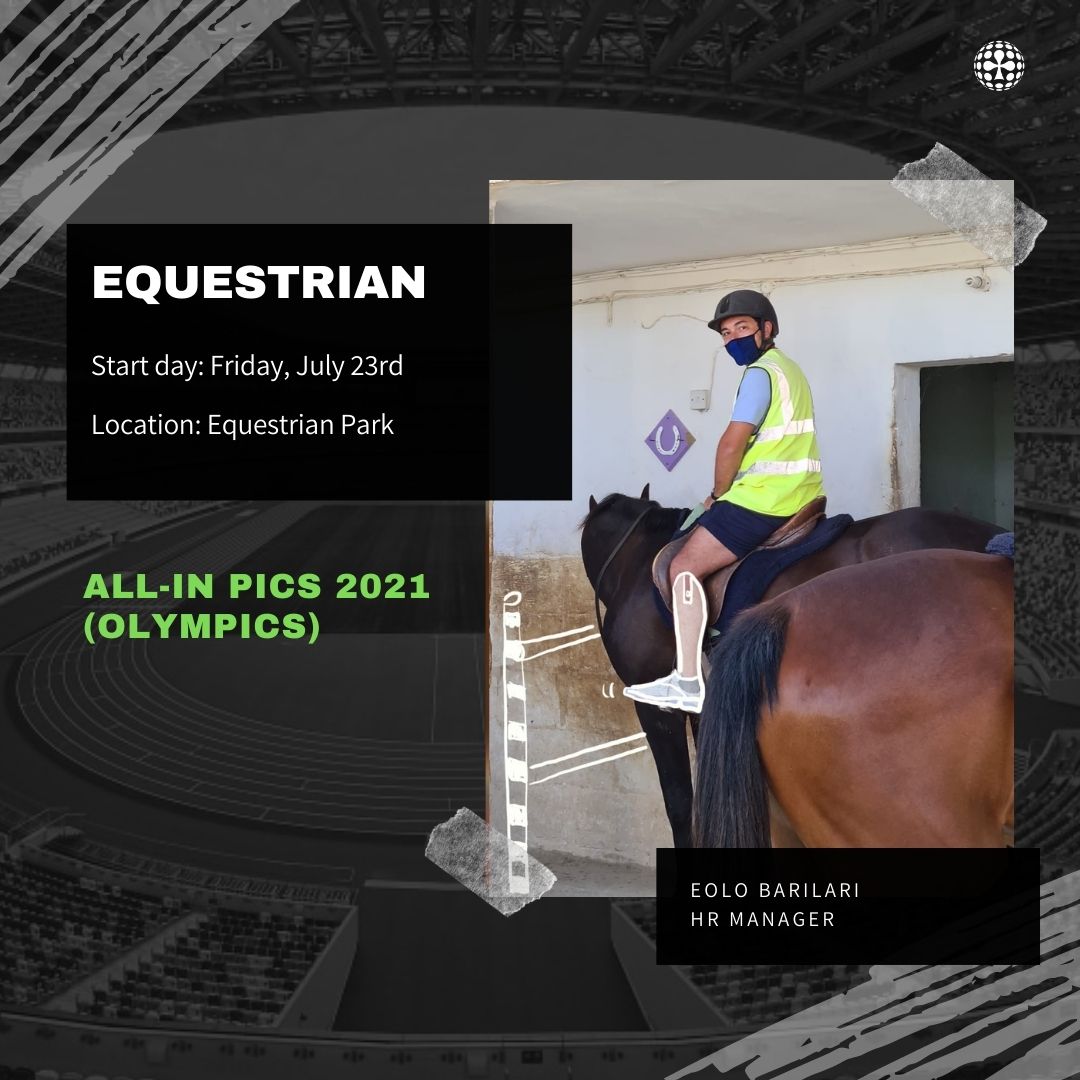 Equestrian terminology here.
Eolo Barilari's talent for equestrian jumping was discovered only a few years back. While working as a traffic warden in Malta's St. Julian's,  he was spotted by a local scout in the midst of the chaos when a truck full of soda cans crashed into a bar right in Spinola Bay. The cans were rolling all over the street, and Barilari kept jumping over them while miraculously maintaining a steady flow for the passing cars. According to the scout it was like watching a record breaking run in the classic Frogger arcade game. Barilari was immediately signed by one of the top Maltese equestrian teams, but in the Olympics he will represent Italy. Our only concern is the number of pool parties the HR Manager has been attending since Italy recently won the Euro.
Equestrian schedule: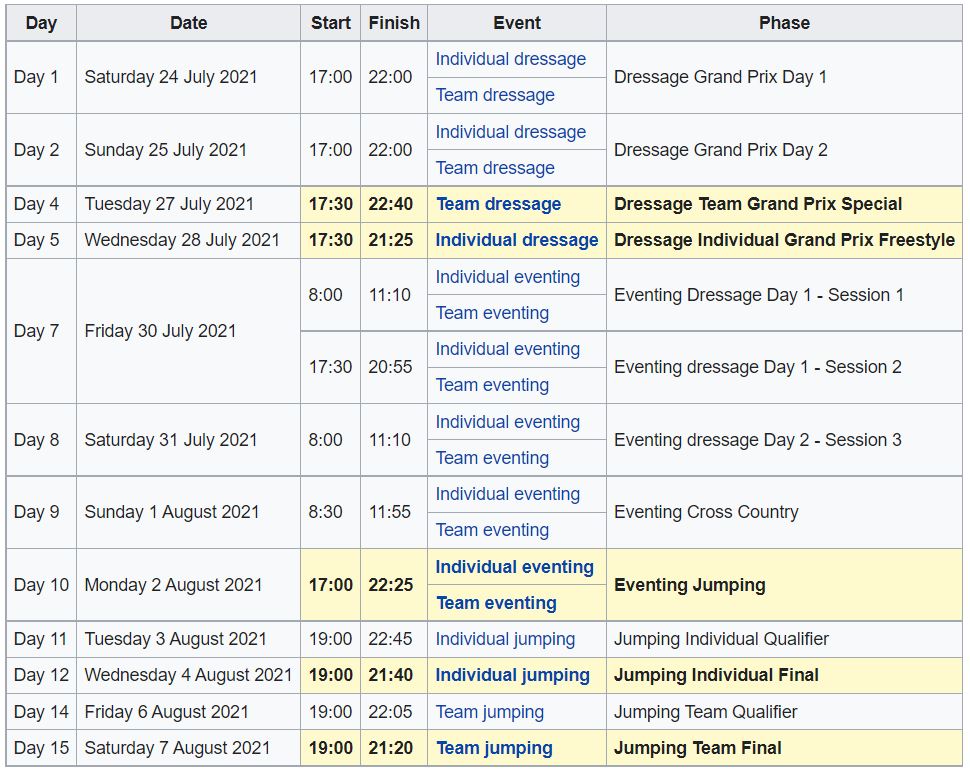 TRIATHLON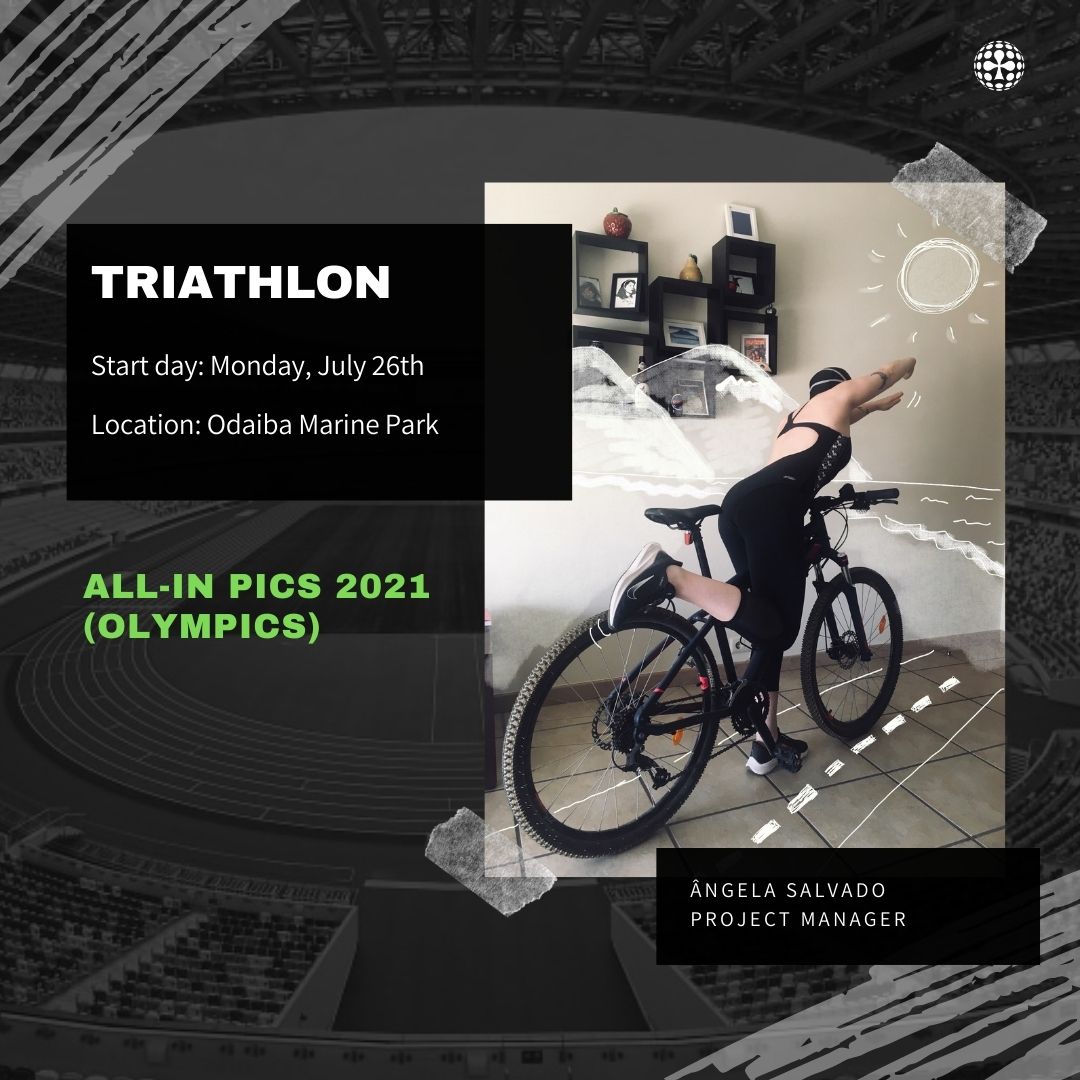 Triathlon terminology here.
If there was ever an iron woman at All-in Global, Ângela Salvado is her. Triathlon is seen as the ultimate test of athletic endurance at the Olympics, but according to our project manager it's just a walk in the park compared to a Monday in the office with orders for gaming localization coming in from companies all over the world. Salvado prefers longer distances and considers the 1,500-metre swim, 40km bike ride and 10km run in the Olympics somewhat short, but the living conditions during the recent pandemic helped her adjust her preparations accordingly. Almost every hour of the day was spent indoors running on the threadmill, biking on an ergometer exercising bike and swimming in the bath tub. Should we hope for an Olympic record?
Triathlon schedule: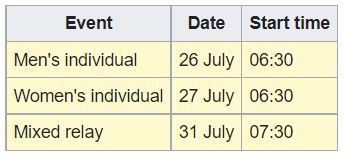 FOOTBALL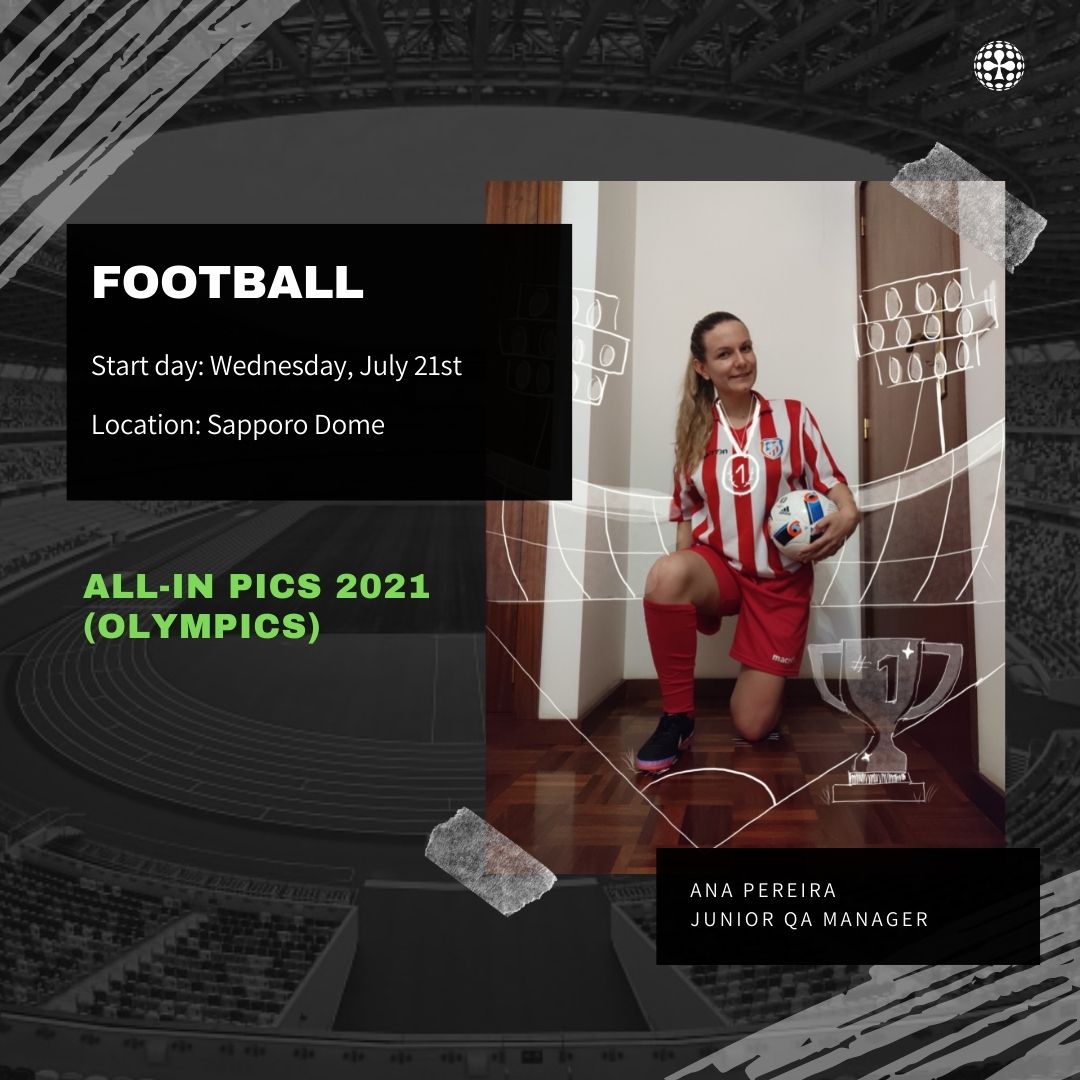 Ana Pereira is from Portugal but when the Portuguese woman's team failed to qualify for the 2021 Olympics a devious plan was concocted. Pereira, who is at the peak of her football career, was not gonna let her nationality get in the way of playing on the big scene, and this is where her language skills came in handy. She "pulled a Laporte" and got accepted in the Brazilian squad playing Netherlands, China and Zambia in the group stage. Pereira usually plays as a false nine and shoots equally well with both legs. The odds of her becoming the Olympic top scorer at 9 to 1 could be a bargain indeed.
Football schedule:

All-in Global wrote a story about the dazzling depth of the UEFA football dictionary here.
ESPORTS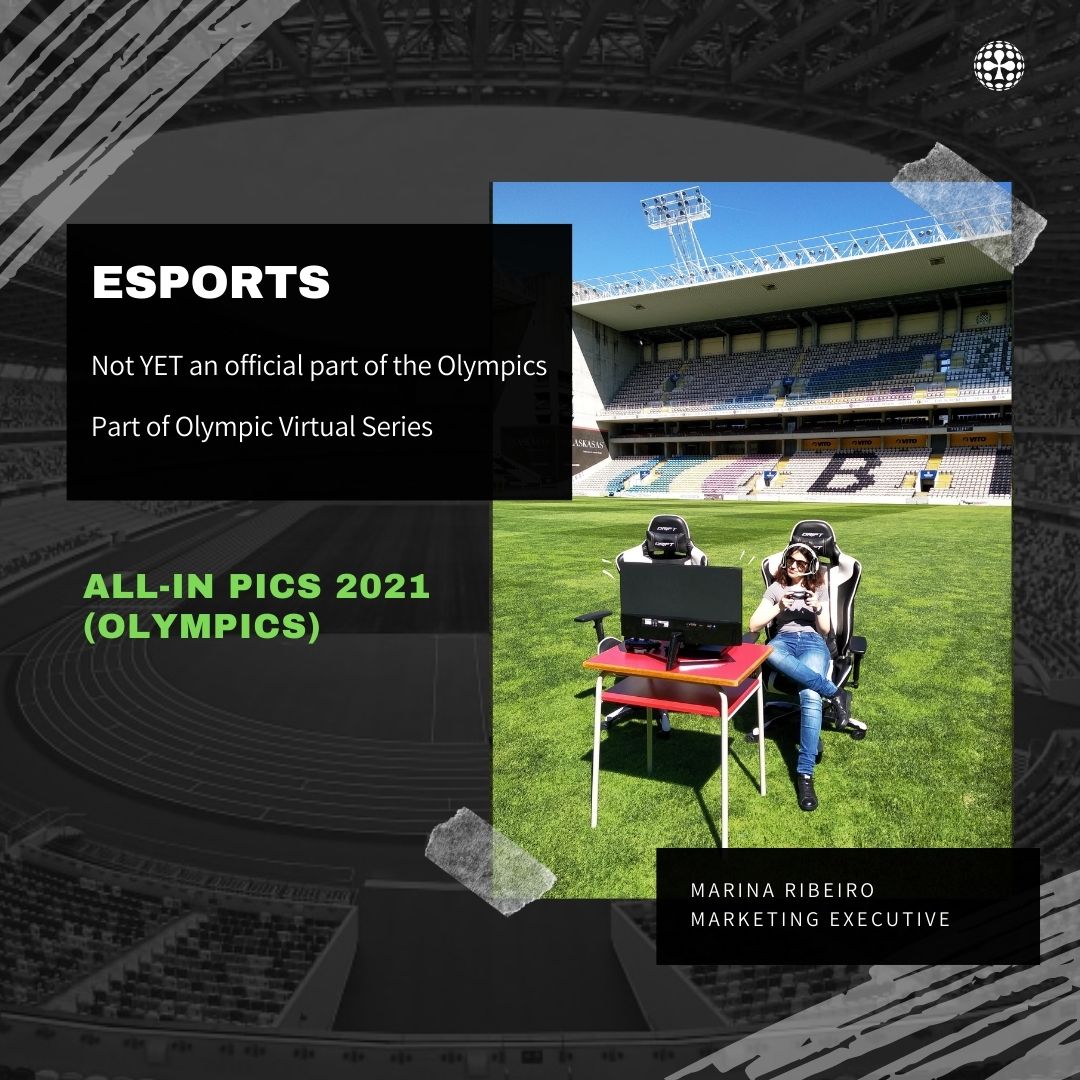 One day esports will become an official part of the Olympics. Mark our words. When our Marketing Executive Marina Ribeiro decides on something, it becomes a truth set in stone. And she could not be more decided on this. A few years back, Ribeiro almost singlehandedly made sure that Portugal had a team in the Overwatch World Cup. She lives and breathes esports, and when she is not standing on the barricades or lobbying esports for the Olympic committee, she's watching Twitch or helping esports teams and companies reach a global audience through her position at All-in Global. The esports enthusiasts came close to officially reaching Tokyo 2021 and managed to organise an Olympic Virtual Series, but reports say that esports will have an even bigger impact in Paris 2024.
You can read an article written by Ribeiro here about the languages that dominate the top esports teams.
WEIGHTLIFTING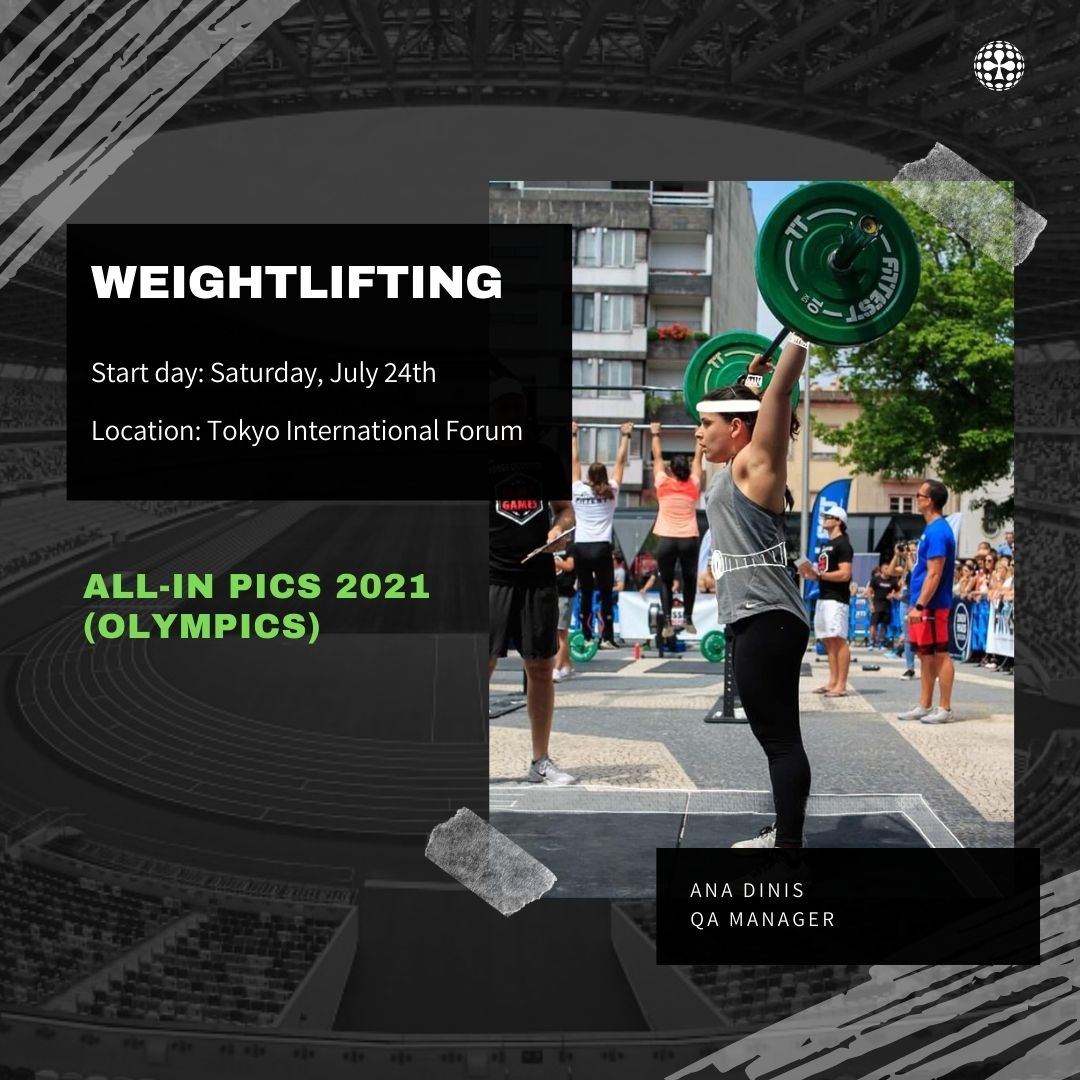 Ana Dinis went from being a regional runner-up in armwrestling to one of the top Portuguese contenders in weightlifting in just a few years. When growing up she worked in a Vespa repair shop where she saved the owner a fortune with her special skill of lifting motor bikes with one arm and repairing them with the other. (And that's not urban legend!) After taking her weightlifting to a professional level, she decided to quit the repair shop and is now working as a Quality Assurance Manager for All-in Global. Every single lunch break she spends it in front of huge crowds in various town squares around Porto where she breaks record after record, a unique performance that's making her one of the top contenders globally. We fear that one day we might lose her to a circus that'll promote her as the world's strongest woman, but this summer we are rooting for her at the Tokyo International Forum.
Weightlifting glossary here.
Weightlifting schedule: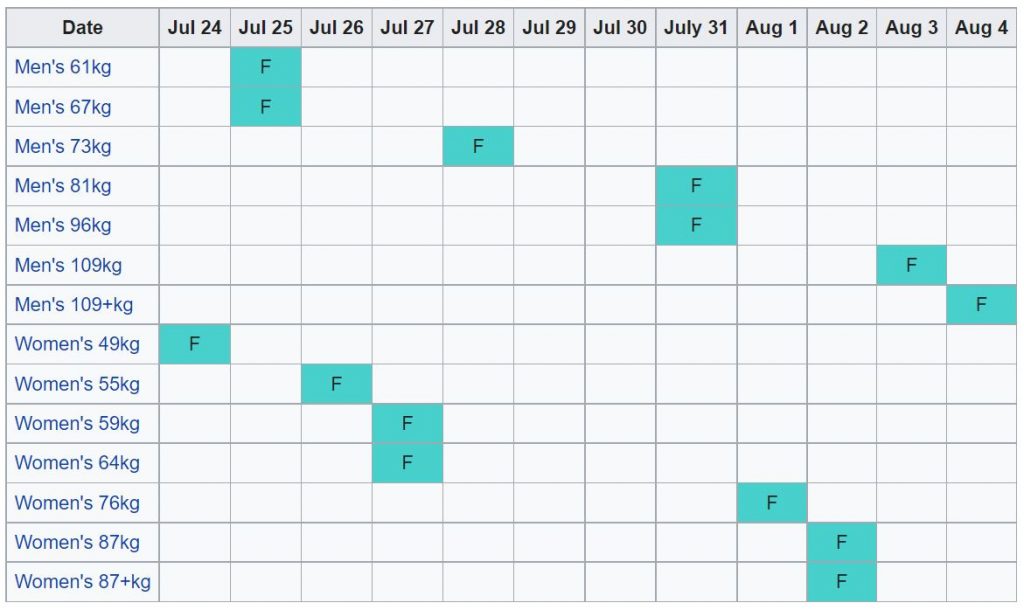 ---