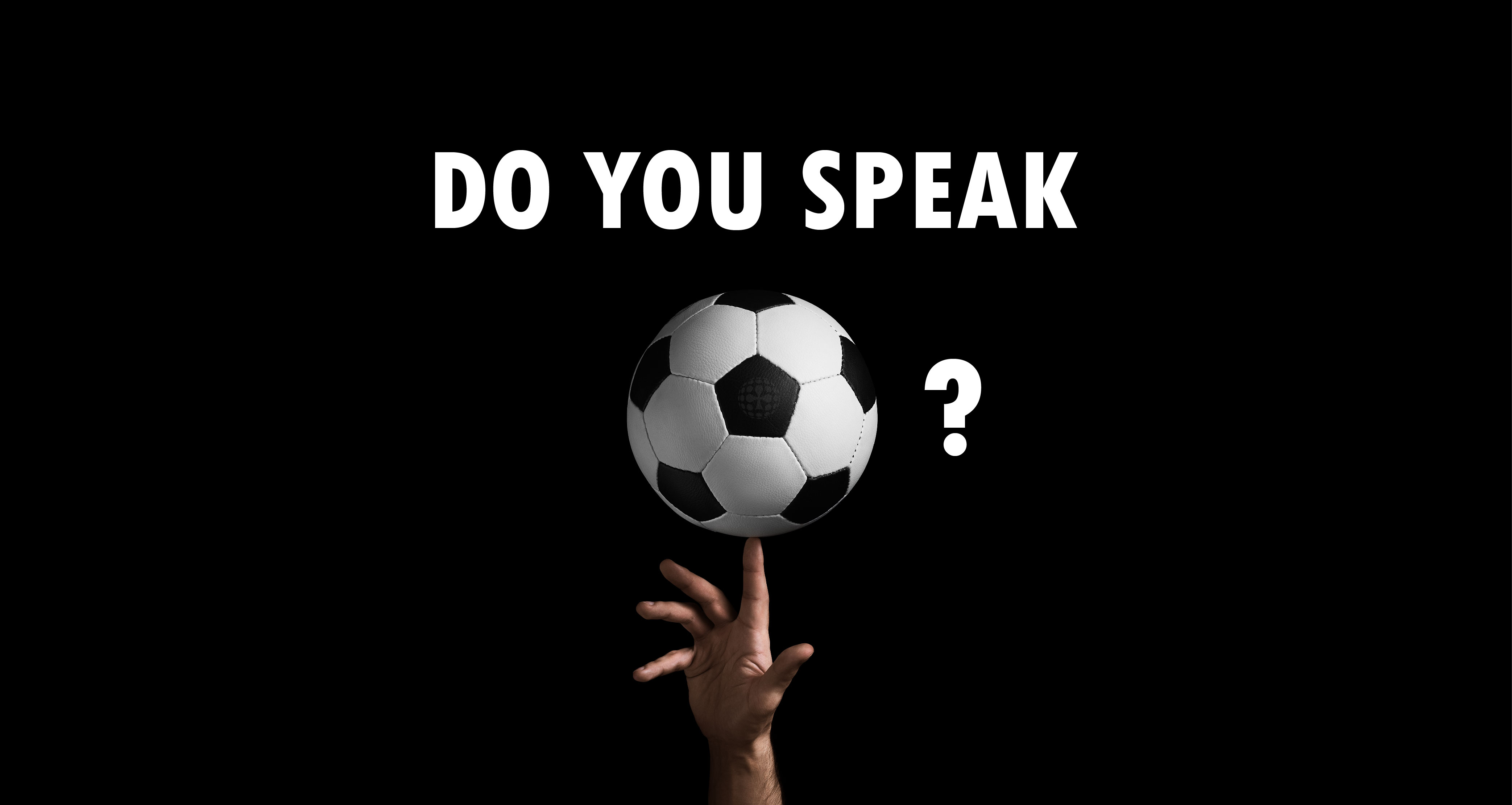 Thu Mar 18th / Roy Pedersen
THE DAZZLING DEPTH OF UEFA'S FOOTBALL DICTIONARY
Euro 21 is just months away. While waiting for the event's opening, and to brush up on our football terminology, All-in Global explored the impressive UEFA dictionary to find the most curious term for each letter of the alphabet.
According to UEFA president Aleksander Ceferin, the 12 host cities must guarantee they will allow fans to attend the matches. It pains us to admit it, and we keep our hopes high for a positive change, but with the current status of the pandemic this seems somewhat bombastic. What goes beyond doubt is that online content built around Euro 21 will be a key business ingredient for bookmakers and football sites alike.
All-in Global is a language service provider specialising in sports betting, sports and gaming that offers localization, content writing and many more digital solutions in the languages of all countries participating in the competition (plus many more).
Focusing on the terms that describe the beautiful game
All our writers and translators have first-class literacy skills in their native languages, and we also require an excellent command of English from each and every one of them. Sports-savviness is a also a bulk of knowledge we always look for when hiring new talent. However, when it comes to language erudition, just like in life, there is no such thing as knowing it all.
We've recently discovered that the website of UEFA has a comprehensive dictionary (also available in German and French), and we saw this as an opportunity to gain a better understanding of the most difficult terms we could find. From medical terms describing injuries to legal terms explaining rules and technical terms throwing light on broadcasting, there is plenty to chew on, but obviously our main focus was on terms that describe the beautiful game. The depth of this football dictionary is nothing short of spectacular!
We have selected one term for each letter. How many of them did you know?
Ambush marketing – Any marketing, promotional, advertising and public relations activities relating to sports events, that are intended to capitalise on the goodwill associated with the event but which are undertaken by persons not authorised to do so.
Bogey team – Opposing team against whom a team has a poor record despite being generally considered superior.
Chronometer – Time-measuring device used by the timekeeper in futsal to control the duration of the match and the periods of temporary expulsions.
Daisy-cutter – A shot that stays low or rolls along the ground.
Elastico – Dribbling manoeuvre in which a player switches control of the ball instantaneously from the outside of his foot to the inside.
Fartleck training – Endurance conditioning with changing levels of intensity.
Gonadotropin – Hormone prohibited in males only, which stimulates the growth and activity of the gonads.
Hoof – A long pass or kick that sends the ball away from a player's own goal and so relieves the pressure on his team.
Insignia – Symbol of a football association or club which may be printed, embroidered or sewn on each individual item of playing kit.
Jira Panel – A UEFA expert panel composed of coach education experts whose duty is to support the Development and Technical Assistance Committee in its work and, more specifically, to advise UEFA, UEFA member associations, clubs or third parties on coach education matters, and to contribute to the implementation of the Coaches Convention.
Keep in check – Keep the opposing team under control so that it cannot create an opportunity to score a goal. Also known as parking the bus. This is a tactic that was successfully deployed, together with fierce counter attacks, by the football team of All-in Global (formerly All In Translations). Our team is still the only team to win the league and the cup of PAI League in two consecutive years. Full story in Times of Malta here.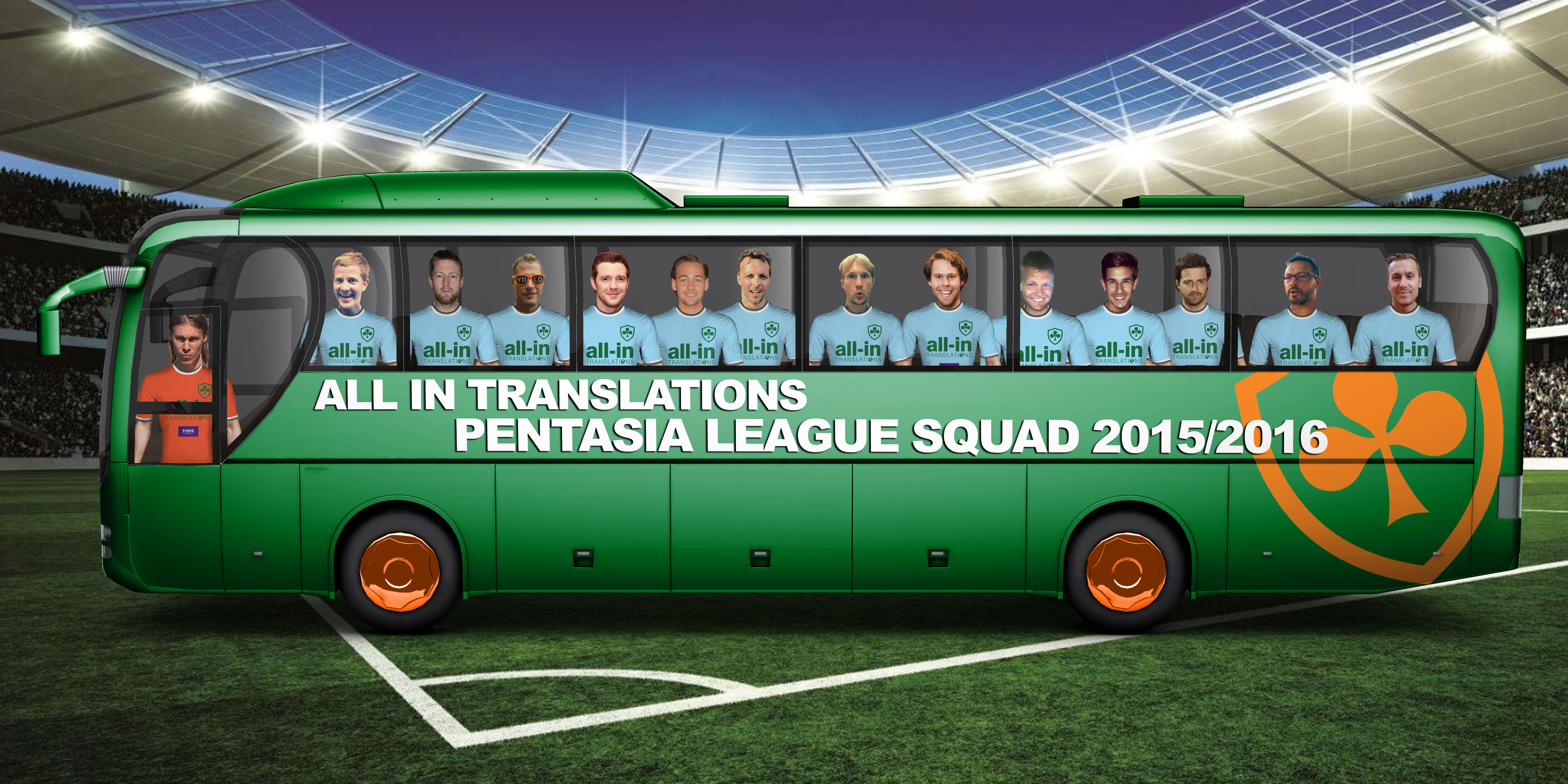 Libero – Defensive player who is at liberty not only to cover various defensive areas but also to move forward into midfield and attack.
Maradona turn – Action in which a player in possession of the ball seeks to out-manoeuvre his opponent by rotating his body and dragging the ball back twice with the sole of the foot.
Nutmeg – To kick the ball between the legs of an opposing player as a means of getting past him.
Overhead kick – Movement in which a player throws himself into the air and kicks the ball backwards over his own head while lying on his back in mid-air. Also known as a bicycle kick, for which Zlatain Ibrahimovic takes home the gold medal.
Phantom goal – A goal where the ball has not crossed the goal line in the way defined as necessary in the Laws of the Game but which is nevertheless given by the referee.
Quadriceps femoris – A set of muscles that straightens the knee.
Rabona kick – Method of kicking the ball, in which the kicking leg is wrapped around the back of the standing leg. Erik Lamela recently showed us how it's done in the game against Arsenal.
Scything tackle – Foul in which a player hooks first one leg of an opposing player and then entraps the opposing player's other leg in a scissor movement.
Tannoy – Electronic system of loudspeakers capable of communicating clear messages to all spectators instantaneously and of being heard clearly both inside and outside the stadium, above the crowd noise.
Ultras – A group of fanatical fans of a particular team. All-in Global met a few of them when we went to Euro 16 in France.
Verrou – Team tactical system developed by Switzerland in the 1930s in which all players move forward when on the attack but all fall back in defence when the opposing team counter-attacks, the forwards attempting to confront this counter-attack at the halfway line.
Wooden-spoonists – A team that is in last position in a table.
Yo-yo team – A team that is frequently promoted and relegated between a higher and lower league or division.
Zygomatic bone – The arch of bone beneath the eye that forms the prominence of the cheek.
Watch this space for more content about Euro 21! If you need some written, translated or localised content, just Rabona kick us an email on salesteam@all-in.global or click Request Quote on the top right of this page.
---