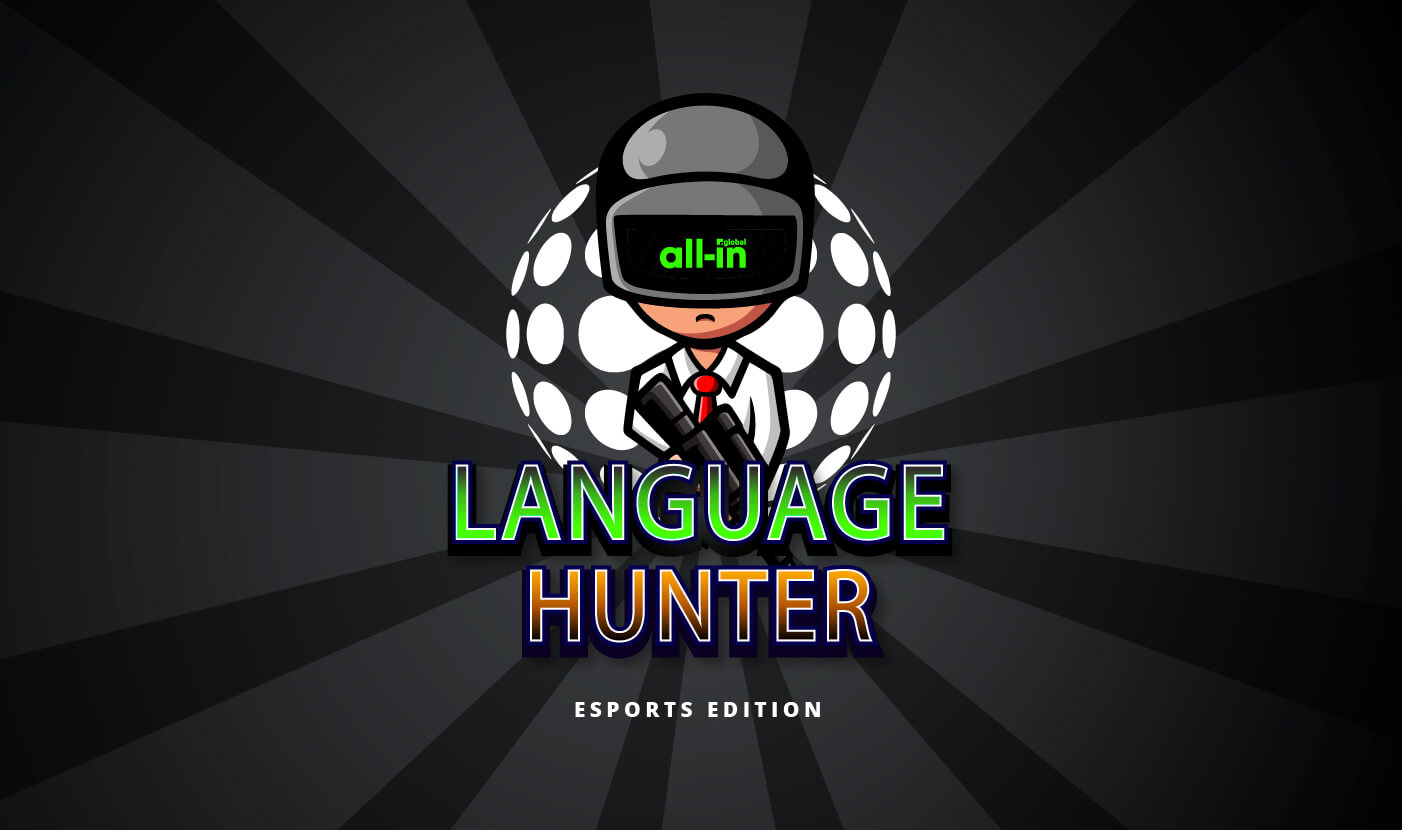 Tue Nov 24th / Marina
ESPORTS: WHICH LANGUAGES DOMINATE THE TOP TEAMS?
FACT: In total, the players from the top 10 esports organizations speak a total of 43 languages as their native tongue. But which languages are they?
While language diversity is nothing new to esports, here at All-in Global, we had our interest piqued and we thought we'd don our deerstalker hats, pop in our monocles, and, Sherlock Holmes-style, investigate further as to exactly which languages are most widely-used within esports in 2020.
A truly international industry, expected revenue for esports is looking to hit a button-bashing $1.194 billion in 2021. Naturally, esports is becoming the go-to industry for organizations that want their brand seen globally. Global exposure underlines the importance of localization, and making sure you have the right tools to adjust your brand to that specific market has always been close to All-in Global's heart.
Q2 2020 saw the 10 most popular esports teams were watched eagle-like for a massive total of 196.377M hours.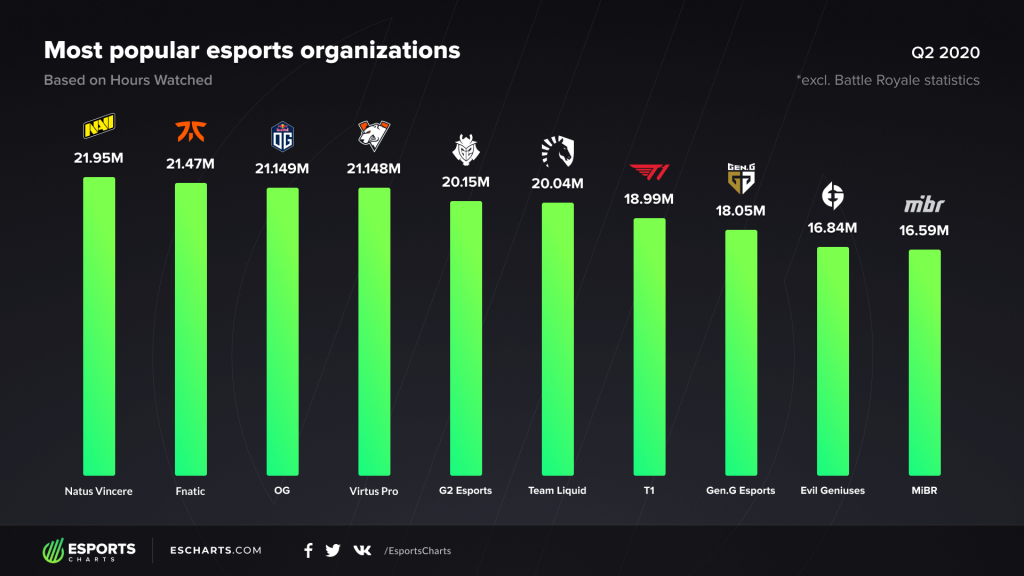 Each game comes fully-loaded with its very own sub-culture, vernacular and distinct personality, which should be kept in mind when appealing to these audiences. You can think of each esports team's terminology as a language within a language within a language.
Luckily, the crack team at AIG are fluent in each and every team's lingo, Esports patois and your target language. You can think of us as a video gamer's lunchbox, fully-loaded with all the nutritious goodness you need to enjoy your very own esports strategy, for your specific brand. We'll even throw in a chocolate bar for good measure.
So, Sherlock, what did you find?
As we peered through our esports magnifying glass, we discovered that the top 10 native languages spoken are as follows:
• American English (24%)
• South Korean (24%)
• Russian (11%)
• Brazilian Portuguese (7%)
• Ukrainian (6%)
• Swedish (5%)
• Canadian English/French (5%)
• British English (5%)
• French (5%)
• Danish (4%)
• German (4%)
Or, if you're a visual learner, you might prefer this: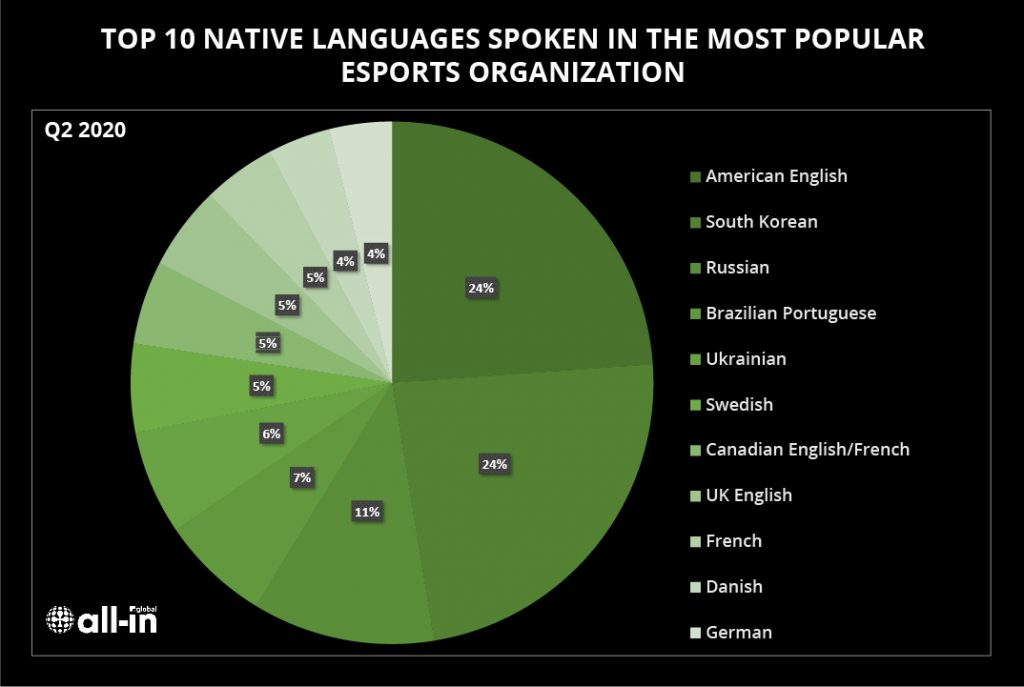 If you pop on your spectacles and take a close look at the above chart, you'll spot that American English is go-to language for the top 10 esports. Cool. So, easy then – we just target the largest and easiest chunk of the pie, right?
If only it were that simple. An American English-only approach will not only alienate 76% of the available market, your brand image could be hit with a critical double-tap to the head, something that no esports marketing strategy wants; it's kinda messy for a start.
If our point wasn't hammered home enough, check out this short clip from the Overwatch League:
Across the board, esports is watched in the viewers' native tongue. As esports is broadcast live, the commentators are unseen and often without subtitles, giving viewers even more reason to watch esports in their own language.
The importance of creating esports content that speaks directly to your audience can't be overemphasized. This not only wins hearts and minds; it also gives you cultural XP which is exactly what every gaming fan wants.
Level up your brand through esports sponsorship
Unsure about sponsoring two competing teams? No worries, follow this advice: find the team with the most linguistic diversity and target this one. With more lingual rounds in your ammo belt, you can be sure to hit your target demographic dead center, giving your brand reach the ultimate boost. One sponsorship deal that has exposure in multiple markets? Sounds good to us.
An awesome example is Fnatic, self-proclaimed as "the most successful esports brand of the last decade". We dug deep and discovered that Fnatic has an incredibly diverse language set, clocking in at 23 languages spoken, and therefore followed in 23 separate markets. An ideal opportunity to create well-traveled brand awareness.
We picked the brain of our very own Esports Business Development Executive Mark O'Byrne to learn more about sponsoring esports. You can check out his interview, here: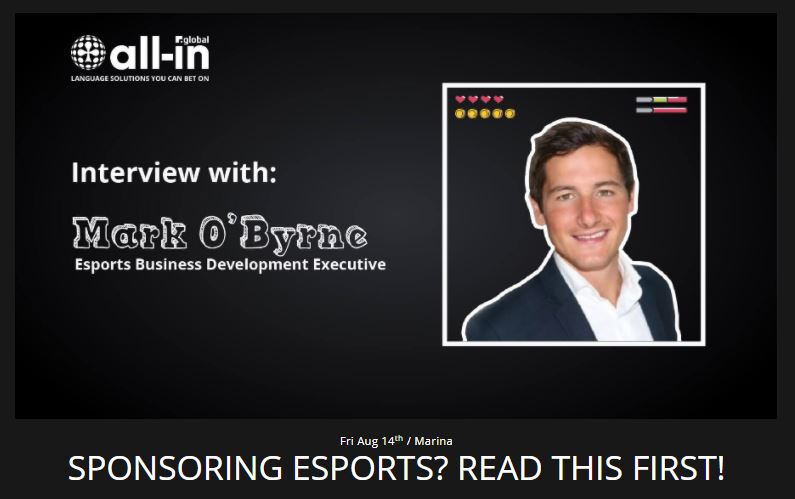 Esports and why storytelling is essential
From the dawn of ages (before we could even speak) humankind has been telling stories. Not much has changed, apart from the fact that we now have access to more tech which enables our stories to reach a wider audience. As lovely as cave drawings are, they just don't cut in today's digital world.
Here at All-in Global, we love a camp side tale. We're the equivalent of a globetrotting nomad, long in beard, staring through the flames as he recounts tales of old. He also speaks over 70 languages, is an iGaming expert and has dedicated SEO Managers to help you reach an international esports audience.
So, come sit on a log with us, squeeze a marshmallow on to a stick and join our esports journey. It's going to be fun, we promise.
For more information, you can contact us here: salesteam@all-in.global
---