Tue Mar 22th / Roy Pedersen
TAKE PART IN THE ART OF DARTS!
All-in Global's stand at ICE will be a non-stop darts party in April. While we wait, our blog will feature three articles from the world of darts: 1: The best ways to play for fun, 2: tournaments, technique, and terminology, and 3: the "fashion".
With more than 50 million players worldwide, darts have become one of the most popular sports in the world, similar to MMA and boxing. The big darts shows are filling up huge-capacity arenas, and recently the PDC World Darts Championship final on Sky Sports was watched by 1.5 million people.
WHO IS THE BEST DARTS PLAYER IN IGAMING?
All-in Global is the #1 language service provider for gaming. When we plan how to build our stand at the big iGaming exhibitions, we always try to add an element of fun. For this year's ICE show, we decided to put up a dartboard. So if you want to have a chat about how we can help you expand your brand with localization, content writing, and multilingual SEO in 80+ languages, and enjoy a game of darts, N2-102 is THE place to locate at the ExCel London.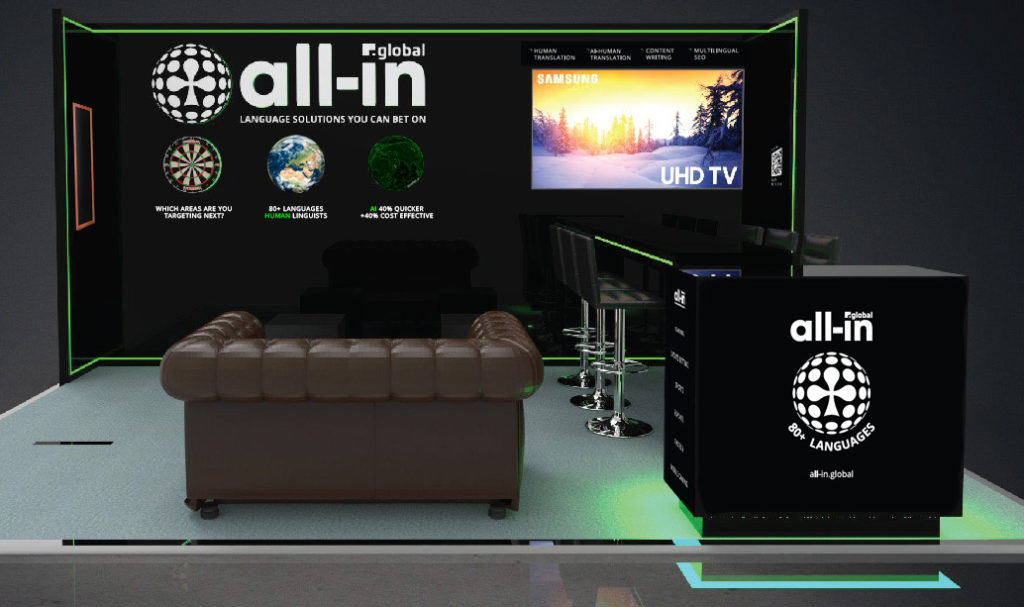 We will have an ongoing darts competition on all three days at ICE (April 12, 13, 14). We will use the standard scoring system where you throw three arrows for a maximum score of 180. The person with the highest score (in three throws) will win a unique set of branded darts. The runner-up will get a £30 voucher on Amazon, and the 3rd place will get a £20 voucher. Everyone in the top 10 can choose between our industry-famous travel adapter or a world map hoodie.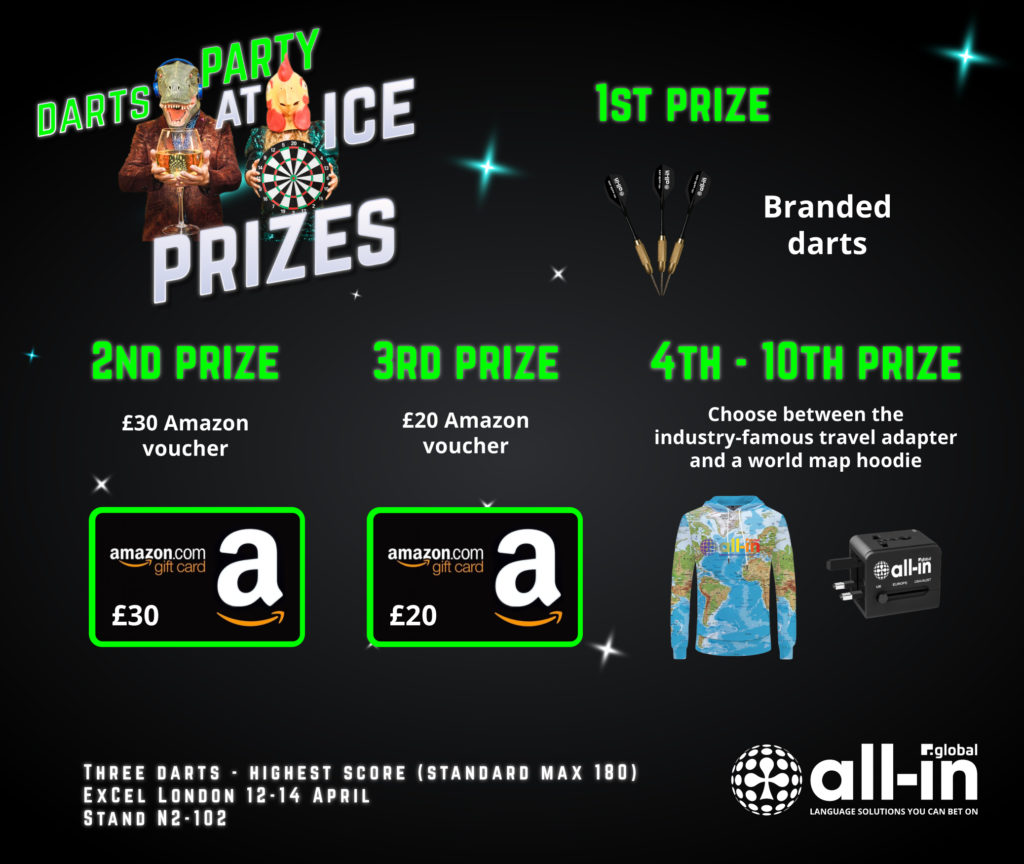 In a "standard" game of competitive darts, the players start at 501 points and throw themselves down from that. The goal is to reach zero, and you need to get there by throwing a double in the end. The narrow areas on the outer circle of the board give you double points, e.g., if you have ten points left, you need to throw a double five. A bullseye gives 50 points, whereas the small circle outside of the bullseye gives 25 points. The next circle gives triple points, so a triple 20 of 60 points is what you should generally aim for.
LOST IN TRANSLATION LEARNING "KILLER" DARTS
Since we're calling this a non-stop darts party, we need to accommodate some fun and social dart games. There are many variants, and I will never forget how I learned the one called "killer". I was traveling with my girlfriend, and we visited Macao for some gambling and comfort after a few months off the beaten track in Southeast Asia. During a tournament at the PokerStars room, I met some friendly Dutch people who invited me for a game of darts at a pub nearby.
In "killer" you start the game by throwing with your worst hand to decide which number is yours. You get three throws each round and first, you need to hit the double space on your own number. Once you manage that, you are a "killer" and get a K next to your name on the chalkboard. Then you can hit the doubles on the other players' numbers to make them lose a "life". You get three lives in a typical "killer" game, but nothing was normal about this evening in Macao. Instead of losing a "life" you had to drink a shot, and it quickly became clear I was a fish among sharks.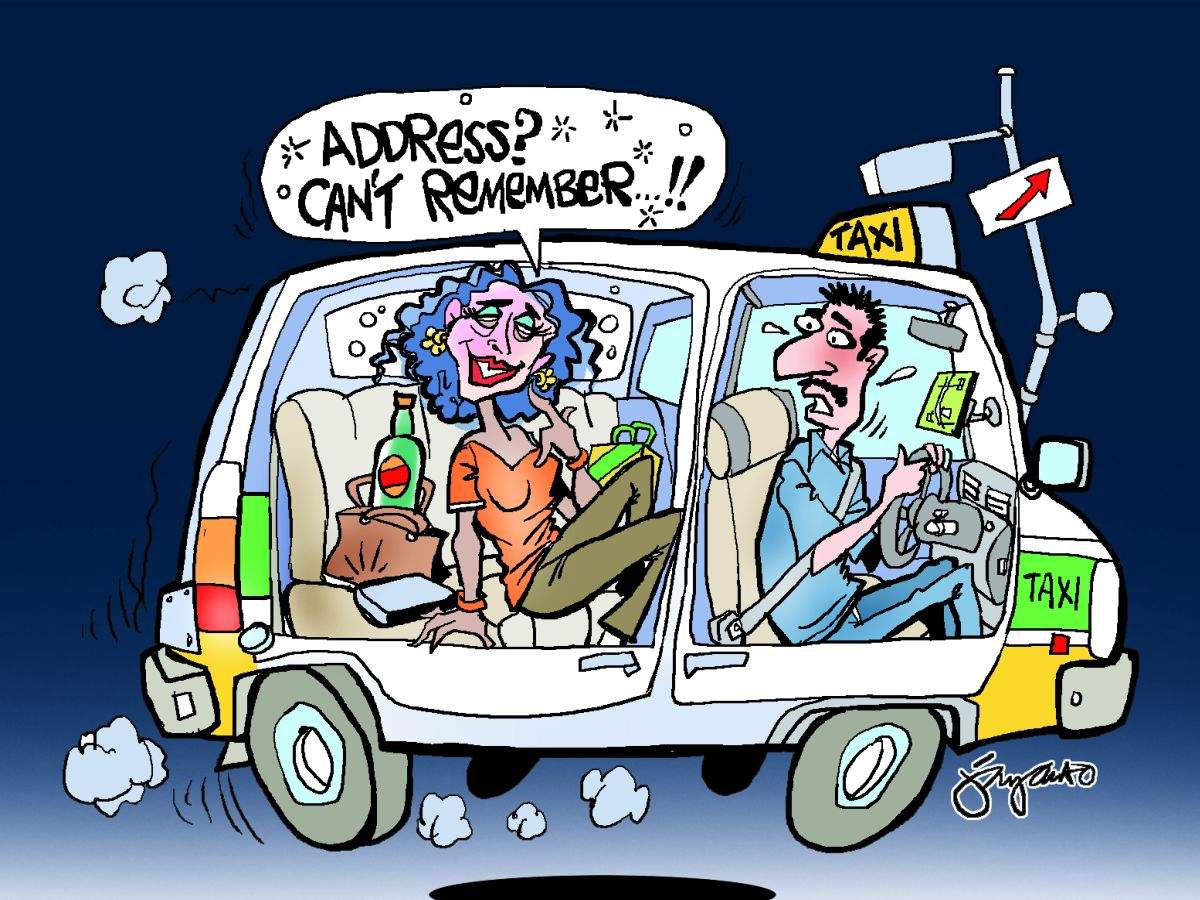 I was drowning in Jägerbombs and tequilas, and when the others were moving to a nightclub I got thrown into a taxi. But what was the name of my hotel? I had no idea, and this was in a time before the smartphone. I may run a translations company, but I don't speak Chinese, and the taxi driver spoke very little English. We ended up driving around Macao for at least an hour while I was looking for my hotel while barely managing to keep my eyes open. I woke up next to my girlfriend, though, so (somehow) it was mission accomplished!
AROUND THE WORLD DARTS
With 80+ languages available for localization and content writing, the most relevant social dart game for All-in Global is, of course, "Around the world". In this game, you need to hit each number around the dartboard, starting at 1, then 2, 3, and so on, until 20, unless you throw a double or a triple, whereas you drop two or three numbers per throw.
Between the classic darts competition, "Killer" and "Around the world" I don't think we will have time to play anything else, but other popular dart games include "Cricket", "English Cricket" and 301. You can read the rules and gameplay in full here.
The only thing you need to do to participate in the All-in Global Darts Party at ICE is to show up at stand N2-102. To take part in the competition and get a chance to win the prizes, you just need to write down your name and score on the chalkboard and leave your business card so we can contact you if you are top 10 at the end of the conference.
We created an event page on LinkedIn; feel free to RSVP here.
See you in London!
---