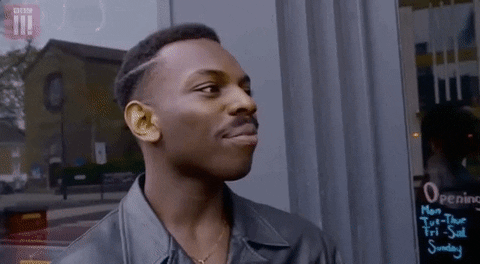 Fri Feb 26th / Marina
GAMING CONTENT WRITING: WHY OUTSOURCING IS A SMART MOVE
In-house or outsourced content writing? A big decision for many companies in the gaming industry these days. Here are 5 clever and possibly unexpected reasons to outsource.
All-in Global is a gaming industry-focused language service provider that has been helping companies from all over the world to globalize their offers and reach new audiences through localization, content writing, SEO and audio/visual solutions. We know that a smart and creative content strategy can help gaming brands filter through the online noise. According to Hubspot, 57% of companies that keep a blog acquired at least one customer from it.
If you did your best to produce and upload content on a consistent basis or used your own staff for doing it but conversions still look low, the reason might be that you simply lack the time to make content creation a top priority.
Creating quality content takes lots of energy, hours, resources and expertise. Plus, we know how Mr. Google distinguishes good copy from irrelevant or substandard or junk material. Since your aim is to rank higher on the first page of Google's results, quality content should be your first priority when thinking about SEO. Is your message reaching your target players, and motivating them to act?
Are you considering outsourcing content creation but still have doubts? What exactly would be the benefits of doing it? How can outsourcing ease your burden and improve your communication globally?
1 – You will only pay for what you get
Finding a content partner will help you to develop the best content marketing plan for your niche. You'll get access to a pool of highly experienced writers (in any gaming field you need) that are more cost-efficient than in-house solutions. Moreover, this way you can get and publish content faster and more efficiently. All content will be tailored to fit your specific audience, while you'll save costs and timeline-related frustrations.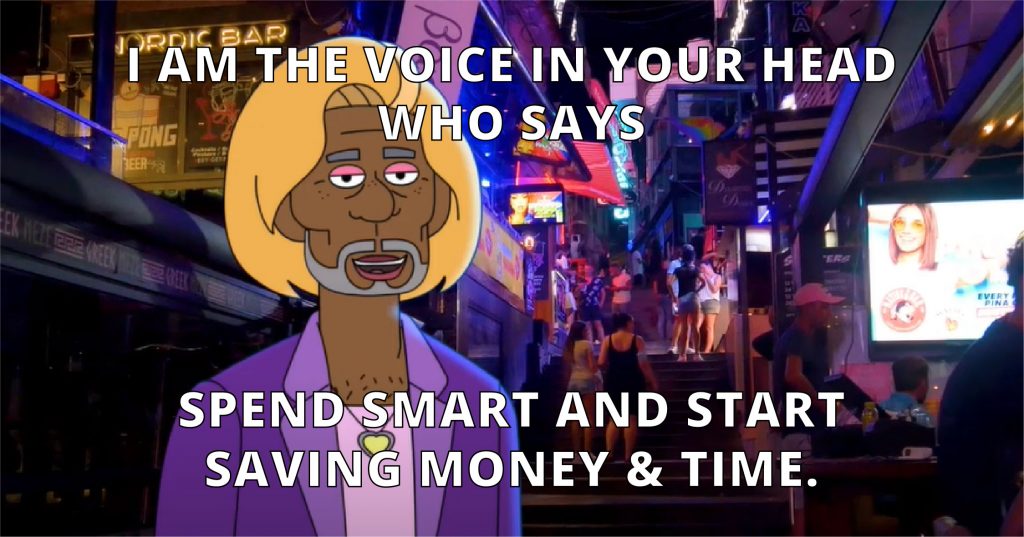 2 – You increase opportunities for global audience growth with multilingual content
By creating multilingual content, you can reach new audiences that might have never learned about your gaming services and products otherwise. Native in-country copywriters are familiar with cultural differences in business practices and communication and can adapt your brand language for different countries in order to make your games and platforms engaging for local consumers. When you choose All-in Global as your content creation partner, you'll get content that aligns to your global brand goals and is carefully optimized in more than 80 languages.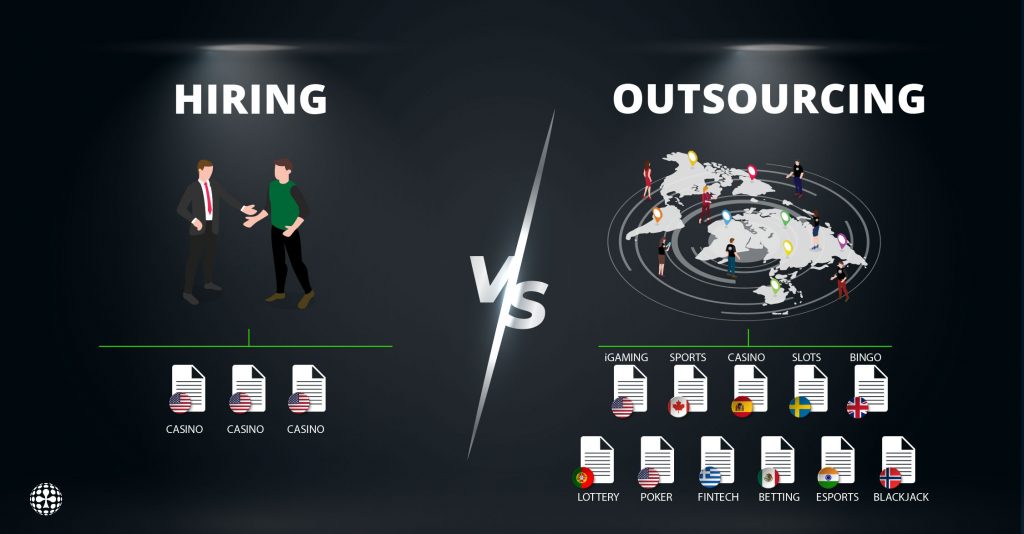 3 – You can access industry experts on a wide range of topics
Our most important tip when looking for a content partner is to choose industry-specific expertise, experience and enthusiasm. All-in Global grew through hard work and personal dedication, using only qualified native copywriters with a proven knowledge of and love for everything gaming. We have worked with clients of all sizes and budgets from all corners of the industry and gained a worldwide reputation due to our carefully personalized approach and a solid commitment to exceeding the highest of expectations. This resulted in our clients substantially upgrading their ability to positioning them as authority figures within their sectorial boundaries.
4 – You can benefit from many different viewpoints
Having many copywriters at hand means plenty of room for flexibility and different voices and perspectives on the same topic under your headlines. This can help improve any creative content project and grab your audience's attention by giving new dimensions to your growing brand and offering your customers something new or unique. With one or just a few in-house writers you are of course limited to few perspectives.
5 – You'll increase ROI by blending quality content with SEO
Your brand gets a global boost by not only relying on smartly and multilingual written content but also from crafting content with SEO in mind. Outsourcing it with All-in Global will give you extra advantages on the optimization side when compared to using an in-house copywriter without SEO expertise. To create successful content, you need the right balance between SEO and branded communication.
Leveling up your content and helping you measure how your blog posts are performing is not the full story of what they can do for you.
Here's what else they can help you with:
– Collect important information about what your next steps and goals should be when planning the content calendar.
– Research new relevant keywords to incorporate in your gaming content.
– Set up a perfectly adapted link-building campaign that meets your growth strategy.
– Make sure your keywords are optimized for the local markets and that they match local online behaviors.
See the full list of gaming-focused SEO services here.
How can you start outsourcing your gaming content with All-in Global?
Working with us is really a no-brainer. Just get in touch at salesteam@all-in.global, and someone in our Content Department will immediately assist you with scheduling project exploration as well as cost opportunities.
Contact us to start saving time and money!
Below are eight steps on how we work.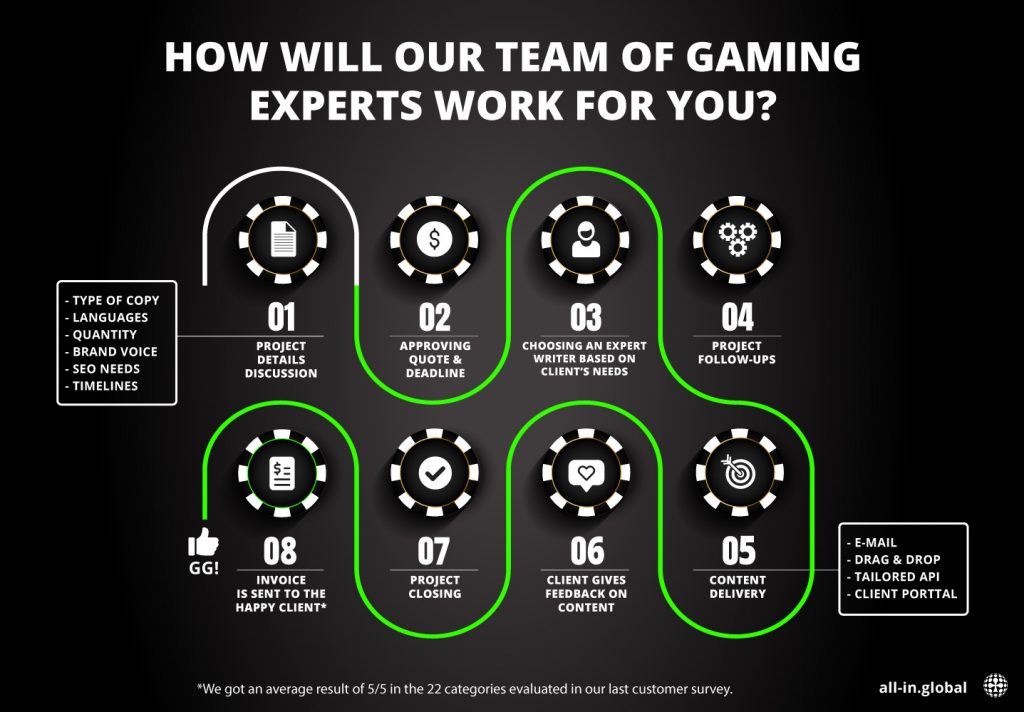 ---