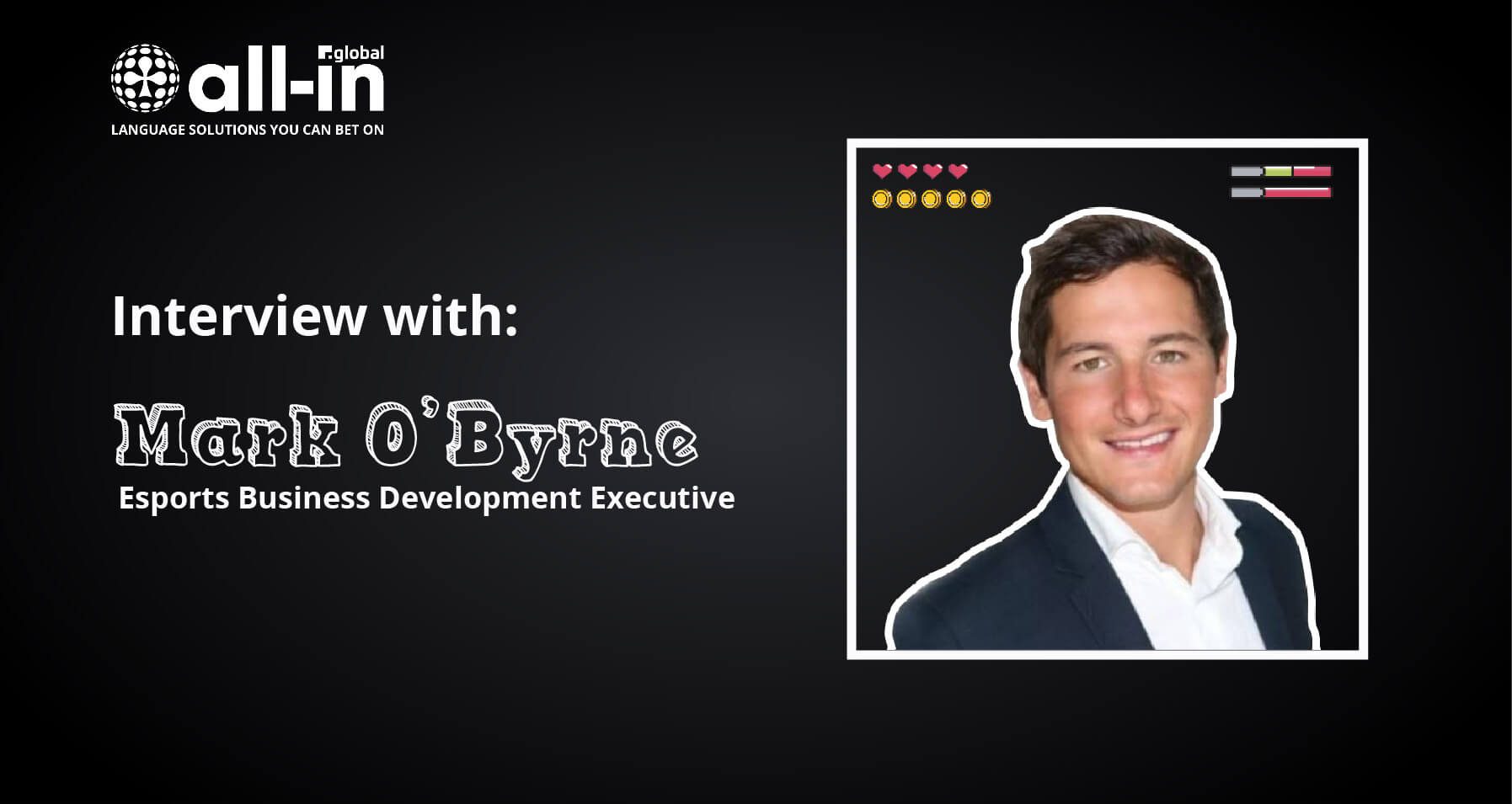 Fri Aug 14th / Marina
SPONSORING ESPORTS? READ THIS FIRST!
After a lifetime of gaming and 3.5 years at Google, Mark O'Byrne joined All-in Global to solidify their position as THE language service provider for esports. In this interview, he discusses sponsorships and highlights the importance of building an emotional connection with esports audiences.
Ever since he discovered his passion for games, Mark has dedicated hours and hours to playing a wide range of them: from Road Rash on Sega Mega Drive, Championship Manager on PC, GoldenEye on the N64 to being a FIFA loyalist. He then found a way to turn his passion into a career by helping companies in gaming and esports to get a broader reach to their audiences. Mark is currently our Business Development Executive, and we think that his expertise within this field is worth sharing with anyone considering jumping into the esports sponsorship adventure.
Esports is a market that offers huge opportunities to brands to make an impact on young audiences. How can different brands connect with and get a high level of engagement with the youth?
Esports offers a fantastic opportunity for brands both endemic and non-endemic to help reach all audiences, especially the younger demographics. I think there is a lot of initial research needed from brands to see which teams, titles or leagues will be the best fit for their product/brand.
The ecosystem can be a bit complicated to navigate and if brands know where they'll get the best reach to their target audience, it will go a long way to help with brand engagement and brand recognition.
Sponsorship has advanced so much in recent times and there are needs to have multiple amounts of content across all channels for activations. If a younger audience is something which a brand is targeting, knowing your audience and communicating a message that relates to them is key. Building an emotional connection is one of the hardest parts of marketing but if brands can nail this in their young audience demographics it will go a long way.
There are so many good examples of brands understanding and speaking language of it's audience. For instance the Old Spice hand gym advert ties in nicely to the relevance piece and also taking a look at McDonalds, they created their custom CS:GO menu for the Blast Pro Series. That was a local activation that was able to go global with the success of the campaign.

All ambitious brands create high-impact content around their esports sponsorship. Why is localization of this content so important?
When entering a new market, it is vital to get the right messaging in terms of language and tone to make sure your target audience understands and can connect with a campaign or brand.
Directly copying a campaign from one county to another may not translate directly, this is where localization comes into play. Having an in-country native speaker that specializes in esports (something which All-In Global can provide) will give peace of mind that the right message is being delivered in the new region.
More teams are entering new markets, for example with the domination of mobile gaming especially in the Asian and Middle East regions, there is more appetite from the sponsor to get visibility in these new regions. Partnering with teams has allowed brands to get that visibility into these new regions. The localization needs to cover all aspects from marketing material to website information to give a uniform message. In regions like India, there are many different combinations of dialects to choose from like Hindi, Bengali or Tamil. In this case, it's always good to get help from language experts to see what is best to use and where.
What type of content should esports sponsors create to engage their audience and increase brand affinity?
This is the most exciting part of the partnerships: the planning, creative input, design, synergies and delivering of content is what makes the great campaigns and branding. There are so many aspects to consider when creating engaging content: for example, using multiple facets in a campaign, covering everything from video to written creative content.
Having a good partner to help with services like voice-over, subtitling, creative content, animation, branding, video production and rewriting/editing will make the process easier for creation, areas in which All-In Global can help with. One of the good points for esports compared to traditional sports is the accessibility of players. In traditional sports, it can be hard to interact or feel an affiliation to your favorite players. Whereas with esports there can be easier access through events or streams. So this is something that brands can play on to build a greater awareness across social channels and use the opportunity to create exciting content.
Gaming has come a long way from the first National Space Invaders Championships back in 1980, all those years ago it would have been hard to envisage partnerships like Gucci and Fnatic today. The Gucci x Fnatic partnership has led to the development of a limited edition watch, as seen on the Gucci website they said 'the archival code mirrors both the initials of Guccio Gucci and the gaming slogan, 'Good Game'. Branding and partnerships are such an integral part of the esports ecosystem today and there seems to be a new partnership announced daily to show the pace of partnerships.
What is your vision of the sports and esports synergy in the future?
I think there is already a good synergy between sports and esports, they have a lot of similarities in regards to competitiveness, team environment, large events, games, professionalism and in the future I think the ties between the two will grow stronger.
Some of the more core esports titles like Dota 2, CS:GO and League of Legends can be more complex and difficult for traditional sports fans to associate with but with titles like FIFA, NBA 2K, Formula 1 esports there is a more natural draw for traditional sports fans. The pandemic caused a lot of traditional sports organizations to shift strategies, that is where esports and gaming filled the void for live games, entertainment and content. Traditional sports organizations can see the value in terms of reach, engagement and future sponsorship opportunities with esports and gaming. So these sports organizations are either now investing, collaborating or starting their own esports teams.
There is a growing trend of sports stars investing and having a keen interest in esports to further show the synergy that exists between the two. Take David Beckham for example, he co-founded a new organization called Guild Esports. Another example is in one of my favorite sports – rugby. Recently in Ireland, Munster rugby partnered with Phelan gaming to become Munster Rugby Gaming which will give the Munster brand more global exposure and opportunities.
If you're looking for a partner to help you succeed in the esports market, we are happy to discuss what All-in Global can offer to your brand. Our esports services are available in 70+ languages and our esports savvy team has the right blend of expertise and enthusiasm to help esports brands and esports teams to communicate with their fans in a powerful and authentic way. Contacts us today: salesteam@all-in.global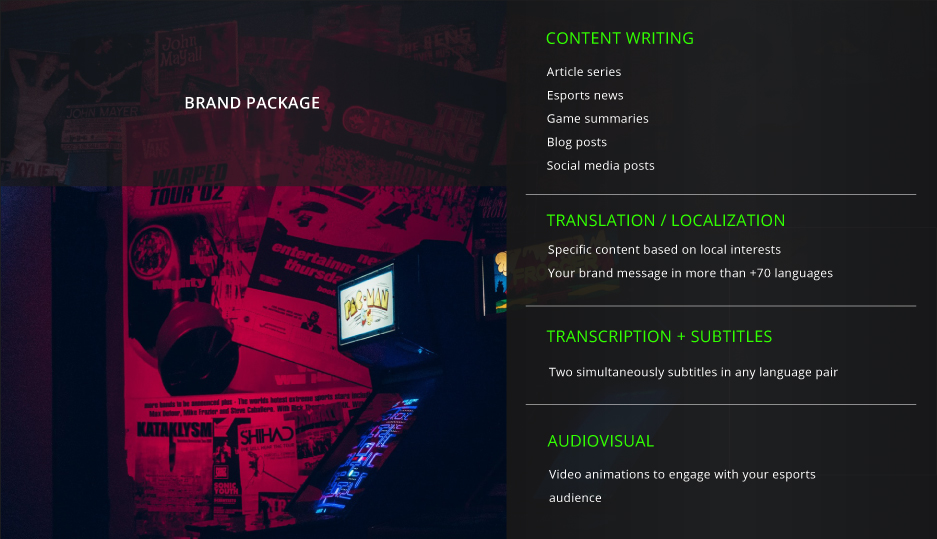 Links to our services:
Content writing
Translation/ Localization
Voice-Over
Screenwriting
Audiovisual
Subtitling
SEO
---