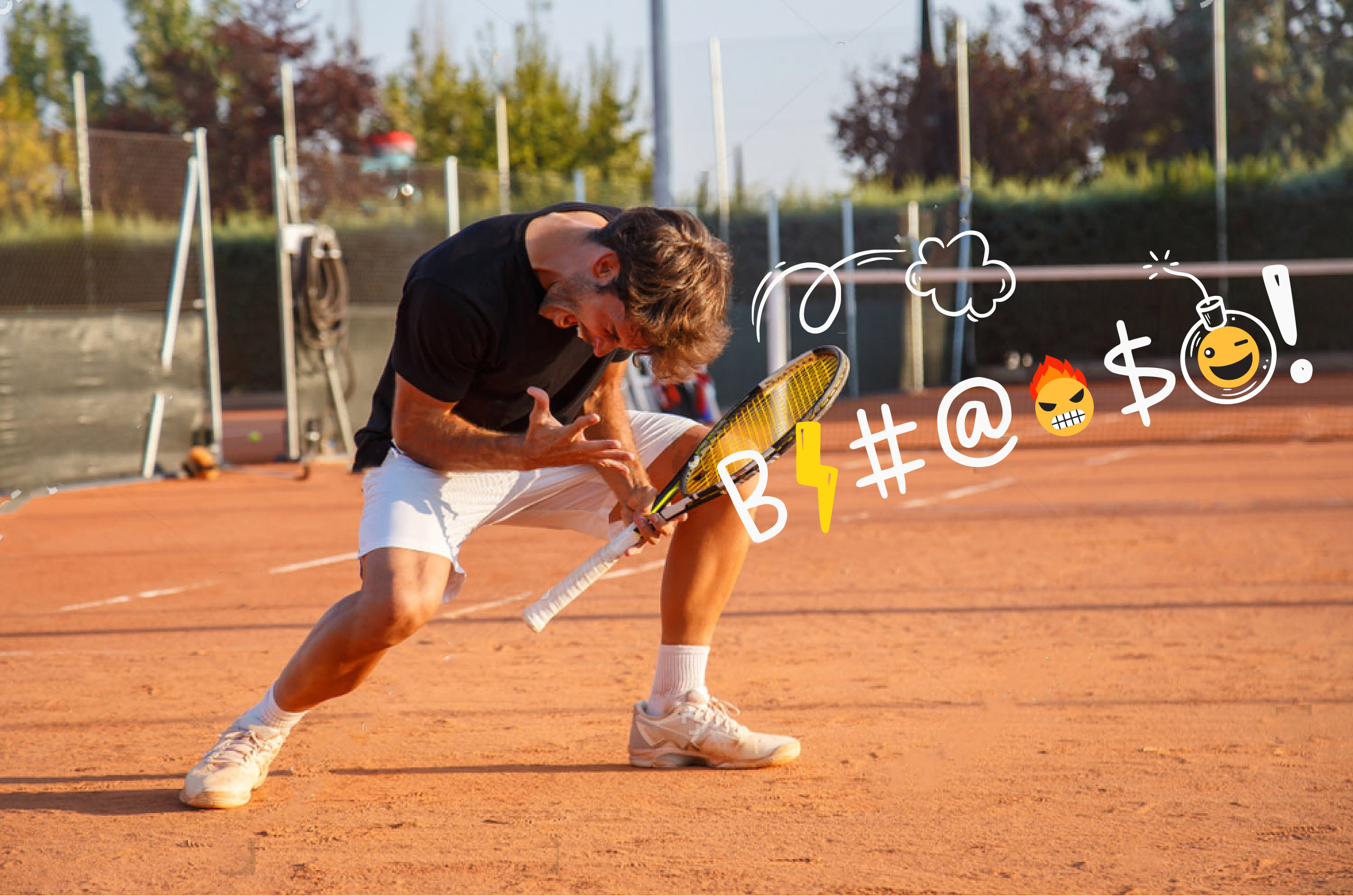 Wed Nov 3th / Marina
YELLING IN SPORTS: YOU'LL NEVER BELIEVE WHAT HE SAID
When the spirit of sports ignites there's excitement, there's passion and there's yelling, a lot of yelling! We got curious about what athletes shout in their mother language and we're sharing the good, the bad and the words in between.
Usually, during the heat of battle, sports players are often need in inspiration during adversity, and they will frequently give themselves a pep talk or bleat out words to rouse themselves into life. It is therefore not uncommon to hear foreign phrases such as 'Vamos', 'Allez' or 'Forza' routinely bandied around the court to help a player battle through some tough moments.
Grunting, for the most part, seems to be less talked about nowadays, but it is fascinating to get a glimpse into what goes on inside the head of sports players. Of course, the pressures of elite competition can take its toll, especially as matches reach critical junctures. Profanities are also common course, and some players aren't afraid to turn the air blue with some choice words which are construed as offensive.
So why do sportsmen swear or yell things in different languages, and what does it all mean? In this article, we will tackle these important questions, and provide a few contemporary examples.
Casper Ruud – Vamos
Casper Ruud has been on an upward trajectory since he exploded onto the ATP Tour a few years ago, and he has forged some relationships with his colleagues. Rafael Nadal, in particular, has made a big impression on the Norwegian, and the pair have been seen frequently practising together at Nadal's Academy in Spain.
Nadal, of course, is known for yelling 'Vamos' which translates from Spanish as 'let's go', and Ruud has taken to using the saying to fire himself up during matches. 'Vamos' may be a foreign word, but it has quickly entered the tennis lexicon, and Nadal has certainly made it more fashionable. Perhaps the next generation of players may start to adopt it too.
Brad Guzan – Fuerte
The American goalkeeper has been a bit of a journeyman, as his career has taken in spell at Aston Villa and Middlesbrough. To be a top quality shot-stopper, you have to be vocal and command your penalty area.
Guzan – who is now plying his trade with MLS outfit Atlanta United – has never been afraid to shout at his defenders. And it seems like he has picked up a few useful Spanish phrases along the way, which is owed to the current Spanish contingent that play for Atlanta. Mics have routinely picked Guzan yelling 'Fuerte' which translate as 'Strong', which is perhaps a reminder to the back four to clear their lines. It is certainly one way to wake up a defence that can be prone to falling asleep.
Martin Ødegaard – Get Up
Martin Ødegaard cuts a more timid figure on the pitch compared to some of his Arsenal colleagues, but we're assuming he has some grasp of English. In a recent Premier League match, the Norwegian blared out 'Get Up' at his team-mate Bukayo Saka.
Evidently, Ødegaard had been listening to some of Mikel Arteta's team talks, but get up in football, is a way of pressing up the pitch to relieve pressure on the defence and force your opponents into mistakes. At times, Arsenal have lost their voice over the years, but Ødegaard isn't afraid to speak up when required.
Wayne Rooney – F-bomb down camera
Wayne Rooney was one of those players who could have a fight in an empty house. Whether it was raging at referees or generally being a nuisance, Rooney was one of those players you simply couldn't take your eye off.
But one of his most notorious moments on the pitch came while turning out for Manchester United. In scoring against West Ham, a clearly indignant Rooney launched into an expletive-laden tirade down the camera after completing his hat-trick from the penalty spot. Rooney was charged with using foul language, but that didn't stop him thereafter!
Novak Djokovic – Idemo
Whether you love him or loathe him, Novak Djokovic's status as the GOAT (Greatest of All Time) is fast becoming undeniable. Djokovic has transcended the game in a way that few others have, and he has an insatiable appetite for hunger.
And to a certain extent, he has achieved cult status, when he uses 'Idemo', which in his native Serbian, translates as 'Here we go'. You can hear this word reverberate in tennis stadiums around the world. There's something spine-tingling when you hear Djokovic cry 'Idemo', and then follow it up with a trademark fist pump or lap up the plaudits of the crowd by blowing kisses or sharing a virtual hug after a win.
Matteo Berrettini – Forza
The 2021 Wimbledon finalist is the sort of player that feeds off the energy of the crowd, but he also knows how to get himself going if things aren't going in his way. The Italian is likely to shout 'Forza', and like 'Allez' in French or 'Vamos' in Spanish, this translates as 'let's go'.
Berrettini isn't one to hold back, and his fiery temper makes him compelling viewing if you are a tennis fan.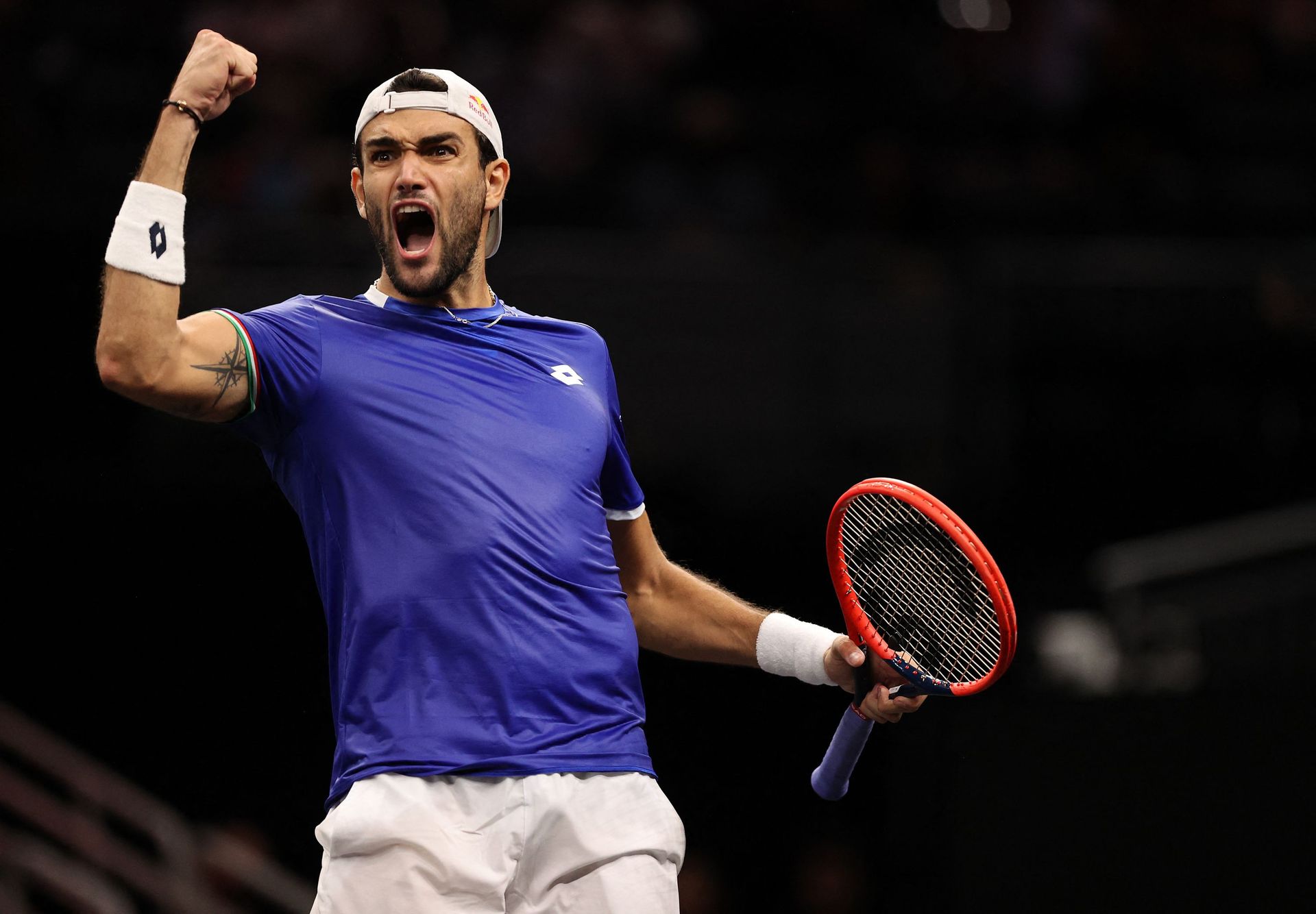 Roger Federer – Swearing in German
So, at the Australian Open in 2020, Roger Federer behaved in a rather un-Federer like way as he confronted a lineswoman before shouting an X-rated or rather R-rated German word at a face. The Swiss superstar – who is normally a picture of serenity – was very intimidating, and it seemed to be out of character.
We're not usually accustomed to hearing Federer swearing, but this supposed R-rated word (origins derive from the German word for radish supposedly), was enough for the umpire to issue him with a code violation. Federer is multi-lingual, and while his mother tongue is Swiss German, he is fluent in German, French and English.
If that wasn't impressive enough, he also has a grasp of Swedish, Italian, Spanish and Afrikaans (thanks to his South African mother), and perhaps he thought his tirade would go unnoticed. It was a nice try, but sometimes you can't hide behind another language to get yourself out of trouble. We still love you though Rog!
Andy Murray – Trying to cover up swearing with his mouth
Andy Murray has had a long and distinguished career, and he very much appears to be heading towards the end of it. But you can usually see some feisty exchanges between the Scot and his camp when he inexplicably sprays a backhand out or misses what he considers an easy pass.
Murray is often hard on himself, but what is frankly laughable at times, is when he gets so irate, he swears like a trooper. He sometimes tries to cover up his swearing with his mouth when the TV cameras pan to him. However, he is hardly subtle, as lip readers can usually make out what he's saying. If anything, he's best off just letting rip, even if younger viewers are tuning in.
Justin Thomas – F-bomb
It's not just tennis players who are prone to swearing. Golfers can fly off the handle too! There have been some who have let out some expletives, and the mics have picked this up.
Justin Thomas – who was instrumental in the US' Ryder Cup triumph over Europe – let out the F-bomb during his round at the PGA Championship last year. After seeing a putt slide by, Thomas couldn't conceal his frustration. But Thomas has previous for losing his cool, and he even made a homophobic slur for missing a putt in another tournament.
What is clear, is that sportsmen aren't afraid to show their real emotions. The messages we have decoded should make it easy to distinguish between a 'Vamos' and an 'Allez', so pay close attention to what is being said on the field of play, and you won't be lost in translation next time!
——————————————————————————————–
If you're looking for reliable content services crafted specifically for the sports industry you can leverage All-in Global's unique set of expertise across language, content, and SEO to get found everywhere. Contact lyudmyla@all-in.global and start boosting your international sports strategy today!
---