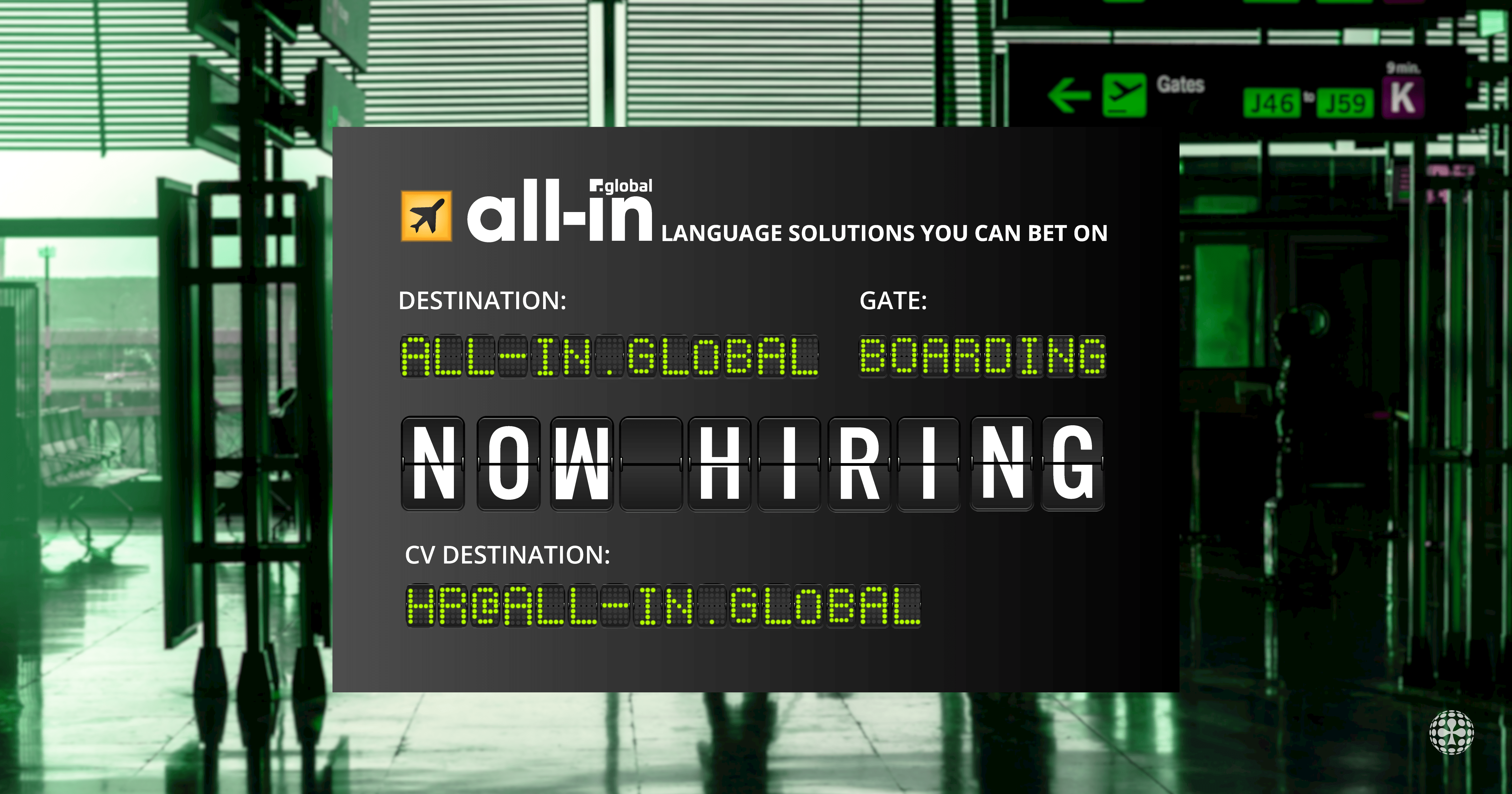 Thu Jul 21th / Eolo Barilari / igaming / jobs
NEW VACANCY: SENIOR SALES EXECUTIVE FOR THE # 1 LANGUAGE SOLUTIONS PROVIDER FOR iGAMING
We have a new vacancy at All-in Global! Keep on reading to find out more:
All-in Global is the industry-leading provider of translation, content writing, and SEO services to the iGaming and crypto industries. We were the first and want to remain the top choice for clients looking to boost their marketing outreach. With 85 languages and counting, thorough quality assurance, and state-of-the-art technology, we are the top choice for quality multilingual services.
We are now hiring a Sales Executive to help us drive the sales of our multilingual services even further. As the first point of contact with potential clients, you will effectively communicate the unique value proposition All-in Global brings to each partner and be a critical connection between clients and project managers.
Are you a target-driven individual with a few years' experience in B2B sales to the iGaming and/or crypto industries' key players? Do you have a network of potential clients that could benefit from our multilingual services? Then keep reading as it's you we've been looking for to fill in this vacancy!
Main responsibilities:
Identify and target prospective clients on social media, industry events, and conferences (online and live);
Develop a network of contacts in the iGaming, Sports, esports, and Crypto industries to enable sales;
Assess the competitive landscape, develop project proposals, and negotiate budget and schedule with new clients.
Provide detailed information to the project management team to take over projects;
Take a proactive role in learning about your clients' industry, business needs, and company culture, educate the project management team, identify cross-selling opportunities, and ensure a high level of service;
Monitor client orders and liaise with project managers for cross-selling opportunities and client follow-up;
Serve as the main point of contact between clients and project managers.
Preferred background:
Previous experience in sales, business development, and B2B client interaction;
Previous experience working and networking in the iGaming and/or crypto industry;
Fluent business English;
Go-getter and self-starter, but also a team player;
Strong interpersonal and numerical skills;
Exposure to the localisation industry is a strong advantage.
Meet All-in Global
We were the first language service provider for the iGaming industry and keep servicing many of the biggest iGaming and crypto companies in the world. ISO-certified with an enthusiastic and talented team, we grabbed a few industry awards along the way. We expanded to the sports, esports, and FinTech industries. Who knows where we'll get to next?
Treating people with respect and integrity and having a good time is an essential part of the All-in culture, and we are very proud of the team we have set up. For more info, visit https://all-in.global/about/.
When can you start?As soon as possible.
Where will you work from?Boavista, Porto (Carolina Michaelis metro station).
What do we offer for this vacancy? An attractive salary package with a generous commission scheme, together with flexible working hours (standard hours are 9-5 Mo-Fri), private health insurance, 27 days of annual leave, the possibility to work from home, career growth and L&D opportunities, and the chance to be part of the thriving iGaming industry. We attend the main industry conferences all over the world!
You will report to our Head of Sales, Sebastian Delsinger.
Kindly apply for this vacancy via https://all-in-global.factorialhr.com/job_posting/senior-sales-executive-18233.
We are an equal opportunity employer dedicated to non‐discrimination in employment on any basis, including race, colour, age, religion, sex, nationality, disability or marital status.
---