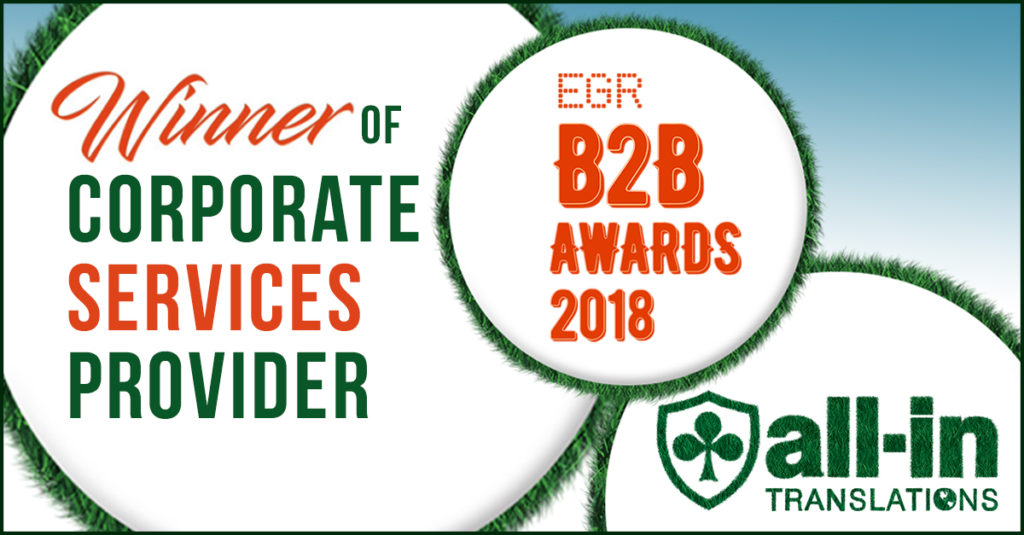 Thu Jun 21th / All-in Global / awards / egr b2b awards
ALL-IN TRANSLATIONS AWARDED BEST 'CORPORATE SERVICES PROVIDER' AT THE EGR B2B AWARDS 2018
In our exciting and often unpredictable iGaming industry, it is always immensely satisfying when things go precisely to plan.
A few weeks ago we shared our strong resolution to bring home a win in our Corporate Services Provider category at the EGR B2B award; today we couldn't be happier to announce that our bold wish has been granted!
After our company was shortlisted for this award in 2017, we went one step further and have now pinned All-in Translations on the winner list, alongside many other great names from the 100+ prominent industry actors that competed yesterday night – many of them long-time clients of ours. The EGR B2B Awards are widely considered the most prestigious awards in iGaming, the fellow nominees present at the Hurlingham Club would have to acquiesce.
The thrilling news saw CEO Roy Pedersen take a break from the shooting of a mockumentary in Copenhaguen for Bingoguide.dk to send us his congratulations, in presence of a very fine female bingo loving entourage.
This award, based primarily on business growth and quality of service, comes at a great time in that it validates our efforts and numerous successes over the past 12 months, such as our +27% revenue growth, double ISO certification, new Resource Centre and QA department that supports our 400 linguists and writers worldwide. Above all, however, the award recognizes our positive client feedback with an amazing 4.8 out of 5 overall satisfaction rates. You can read all the details and learn more about our motivations in one of our recent posts, in which we explained why we were going for the win at the EGR B2B awards. This was one month ago, yet a precise prediction on which even the finest bookmakers might not have set their odds very low. 
Whilst we continue to grow in every possible way, you can expect our focus and success formula to remain solid: keep providing our clients with unmatched excellence, expertise and passion that sets the standard in localization, content and SEO services for the global digital gaming sectors. We hope to share and celebrate this with you in person soon. Join us at the Amsterdam for iGB Live ( 17th-20th July, stand M18) or one of the many events down the road on our 10 years anniversary tour. Check our event agenda – or get in touch with Maciej!
---