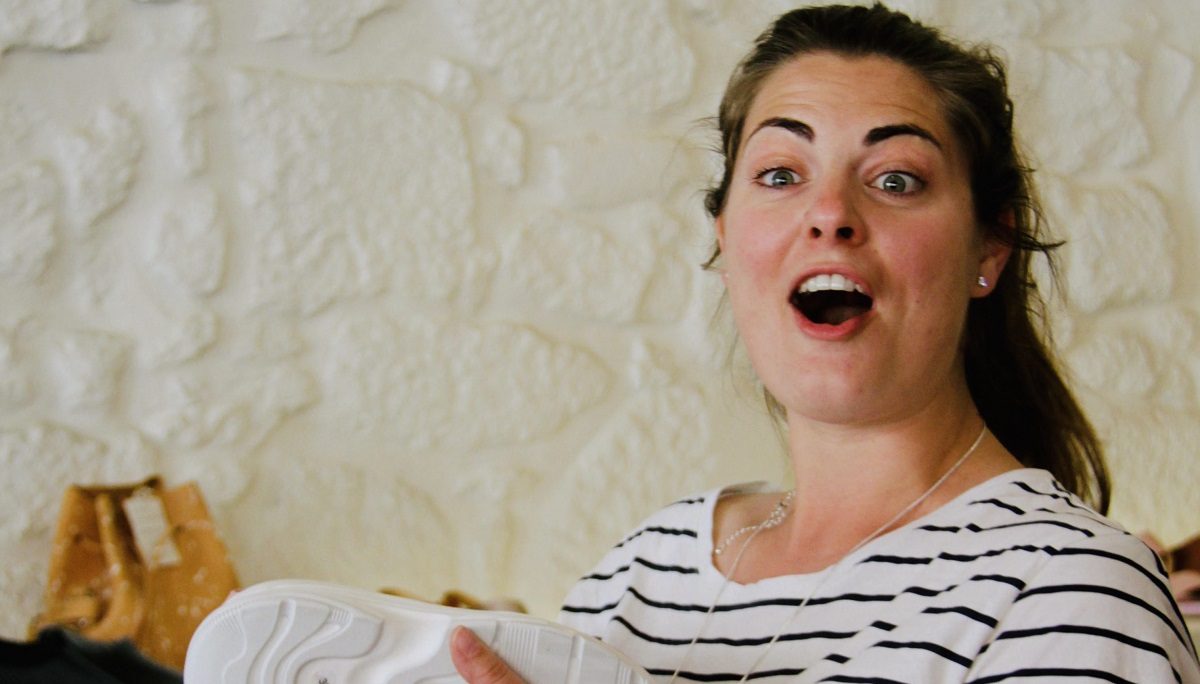 Wed Jun 19th / Roy Pedersen / london / sbc awards
MICHELE NEEDS A NEW PAIR OF SHOES
How do you go from a monolingual geography student to becoming the CCO of a language service provider?
We spoke to Michele Spiteri about her incredible journey in the gaming industry and the rebranding of All-in Translations into All-in Global, while shoe-shopping for the upcoming EGR Awards.
4TH DECEMBER 2018, SBC AWARDS LONDON: It's been 6 months since Michele Spiteri hadn't bothered putting on anything else other than her pajamas. But since her company was nominated by Sports Betting Community (SBC) as Service Provider of The Year, it was time to dress up for the first time since becoming a mum.
Michele lives in Surrey – a long drive from the prestigious Artillery Garden in London – so she decided to remain comfortable in trainers and comfies at least for the taxi ride there. She packed her fancy wear and planned to get changed in the restroom of the awards show. But like many good plans before, it took a wrong turn as the heavy traffic hit. When she finally arrived at the show she was very late, and the restroom was, of course, located at the wrong end of the corridor. So Michele's grand re-entrance into the gaming industry became a little less glamorous than what she had hoped for. It wasn't nearly enough to stop her though.
She put her nicest outfit on and walked to find her table. With fierce competition and low expectations of winning, All-in Translations had sent her in solo, which meant ending up in a random seat. Michele's table was all the way at the back and only half-full. The atmosphere was a little bit uncomfortable, as it often is before the drinks arrive at a formal dinner table where people haven't met before. But all it takes is one disarming comment to put a confident smile back on everyone's face.
"Well we haven't won, have we?" Michele says, and walks around the table to introduce herself while people are laughing. You don't see it, but her brain is making a note of each person so that she will remember their name and company. A true natural when it comes to sales.
"I nearly went out to chat with someone during the awards. Thank God I didn't, because our category was one of the first ones. I honestly didn't expect to go up at all. When they said All-in Translations… Oh my God, I just started shaking and sweating. Tummy in and walk nicely was all I could think of. And that wasn't easy since I hadn't had heels on for two years, plus our table was all the way at the back.
I didn't know whether to enter the stage from left or right so when I finally reached, people had started clapping quietly as if the winning company wasn't there to collect the award. But I made it just in time and it was a great experience. I didn't recognize the footballer (Peter Schmeichel) but I do know Kirsty Gallacher. It was a great achievement for our company."
27TH MAY 2019, PORTO: All-in Translations is having their first official board meeting. Michele has been promoted from Business Manager to Chief Commercial Office (CCO) and is one of three board members together with Roy Pedersen (Chairman) and Tiago Aprigio (CEO). Important items on the agenda are the rebranding of All-in Translations to All-in Global and the upcoming EGR Awards where the company is defending the title as Corporate Services Provider of the Year. Michele swears not to arrive in trainers for an award again so we go shoe shopping in the old town while interviewing her.
"The rebranding is something we have spoken about for a long time and I am very happy we are finally going through with it. We want the industry to think of us as more than just a translation company. We offer so many other services, having provided content writing to the industry for many years and most recently adding additional SEO services which is widely needed by the industry.
We have also recognised the need for video content within the online gaming industry and All-in can offer video content with great production value and creativity. Since we also have the language resources we can even supply companies with voice-overs, dubbing and subtitles – to help companies go global. Our new look fits much better with the likes of a multilingual content solution provider and our new domain all-in.global states the obvious. I think this will make my job as CCO easier."
How do you go from studying geography to where you are now?
"I think it connects really well actually. My degree covered everything from political geography to visiting holes in the ground in Malta. We studied languages, markets and economy and we met people from around the world all the time. I learned how to build relationships with them. My mother is English and my father is Maltese, and I think his broken English has helped me communicate with people that don't have English as their first language.
I kind of get the gist of what they are trying to tell me, I think. Yeah…It's been one hell of a journey! I just cannot believe how far we've come. I remember us being just 3-4 people in Malta and now we've just visited our Porto office where several dedicated departments are operating from."
What's next?
"I see the US market opening up as something big for us, especially from a content point of view but even with localization. For example there are more than 40 million Spanish speakers in the US and it seems like the sportsbooks haven't really considered this. People place more trust in sites that are written in their native language. And since we are focusing on the US I recently opened an account with DraftKings.
Whenever we had new operators as clients I used to make a small deposit on their site just to check out their games and try out everything that is coming out in the industry. Now I'd like to get more used to baseball, basketball and NFL and DraftKings is a great way of doing that although I am not very good at it, at least not yet."
The EGR B2B Awards takes place on the 25th June at Tower of London. All-in Global (formerly known as All-in Translations) won the Corporate Services category in 2018 and is a finalist again in 2019.
---