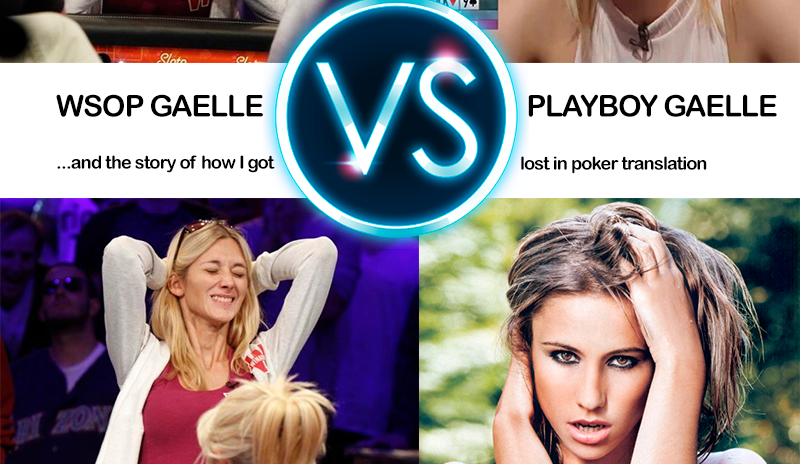 Thu Feb 23th / Roy Pedersen / translations
LOST IN POKER TRANSLATION WITH WSOP GAELLE VS. PLAYBOY GAELLE
When rumor reached me that the new host for Battle of Malta spoke 5 languages I immediately thought of interviewing her for the All-in Global blog. Then I started researching and it all went terribly wrong.

It was in the backseat of a taxi on the way to ICE Totally Gaming Day 2 when I saw a post that grabbed my attention. For quite some time, I had been looking for a public gaming person which was also a language genius – and there she was…
Gaelle was able to speak English, French, Spanish, Portuguese, and Dutch. Perfect! Also, it didn't hurt that her new employer was Pokerlistings' Battle of Malta. All-in Global and Battle of Malta have a very good standing, especially with the Tournament Director Ivonne Montealegre which was, in fact, the first person ever to order poker localization from us back in our cradle days. I was confident our request for an interview would be approved and I wasn't wrong.
A week later, the interview had been cleared with Galle's management, so I started doing my research. Her last name had not come up yet. Nothing a Google search cannot fix, right?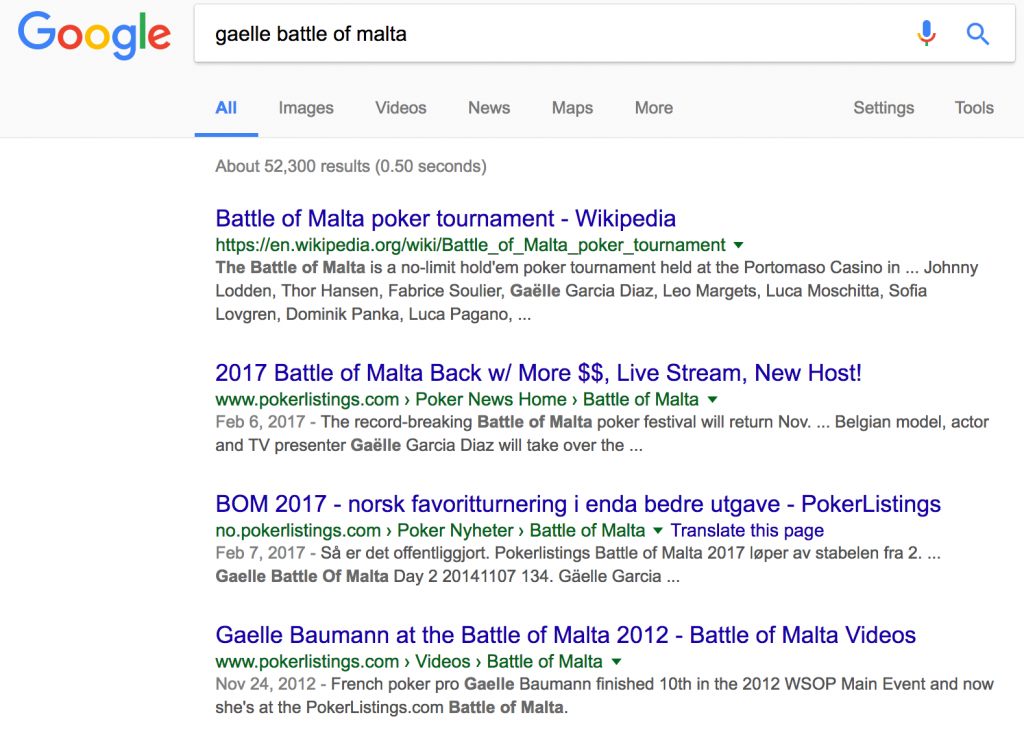 So I continued to research on Gaelle Baumann and it was almost too good to be true. She had been knocked out on the bubble in World Series of Poker (WSOP) Main Event 2012 and her looks would definitely make the interview more attractive.
It didn't take me a long time to finalise an email with questions.
Roy: You became known as the Main Event final table Bubble Girl after exiting WSOP in 10th place in 2012. Any other notable bubble finishes?
Gaelle: I wish I did. That would have meant me having an extra $590,000 added to my name… but, on the other hand, that would have made me 5 years older… so I prefer to be Gaelle Garcia Diaz instead of Gaelle Baumann.
(Oops, I did research on the wrong person. Cool answer though).
Roy: How do you say "Bubble" (in a poker context) in the languages you speak?
(Brilliant question addressed to someone who is NOT known as the Bubble Girl. To clarify: When you get knocked out of a poker tournament as the last person not to receive a prize you exit "on the bubble". This can also apply to being the last person to exit before the final table).
Gaelle: In most languages, it's just "the bubble". The French say "la bulle" and in Spanish it's "burbuja". But in Latin American Spanish the pronunciation is very different!
Roy: What is your favorite poker term and why?
Gaelle: All in! I'm a bit too much in love with bluffing!
(All in! LOVE that! She might be saying it just to make the people reading this article try to hero-call her tough. I should probably Google the Gaelle I am actually interviewing…).
(Oh. A Playboy model. Ivonne said I could choose any picture. Better stick with covered nipples for the cover).
Roy: How did you learn to speak all 5 languages?
Gaelle: Actually I only speak 4. I grew up in Brussels, and at home we spoke French, but my dad is Spanish. I really wanted to speak it very well so my dad taught me. I went to a Dutch school and English I picked it up on the way. The little German I know mostly comes from my ex-colleague Natalie Hof! Ach Ja man … das ist so geil!
Roy: Has knowing these languages helped you at the poker table? Any examples?
Gaelle: Of course! Mainly for my previous job as a PokerStars presenter. At one point, I was covering tournaments for 4 different regions. Also, it's always nice being able to understand your opponents when they speak strategy between hands and they are unaware that you understand every word they're saying.
Roy: Which of the languages you speak has the most/ least developed poker lingo? Examples?
Gaelle: In Belgium, the Flemish dialect has more English words than the Dutch in the Netherlands. We use "chips" in Belgium, but the Dutch say "points". In France, they make fun of the Belgians with their weird French dialect. That's why they call the 69: un pair belge. To them, our French is sometimes a bit upside-down, and they think we are stupid and we think we have a pair of sixes or nines.
Many thanks to Gaelle for doing the interview despite my utter ignorance. We all wish you the best of luck in your new role with the Battle of Malta and hope to call one of your bluffs at the tables.
The Battle of Malta 2017 poker festival is played 2-7th November with at least one player representing All-in Global.
Contact us or request a quote if you want help with the localization of your poker content (or gaming content) or if you need content written about poker or gaming. Our language services are available in 80+ languages.
---