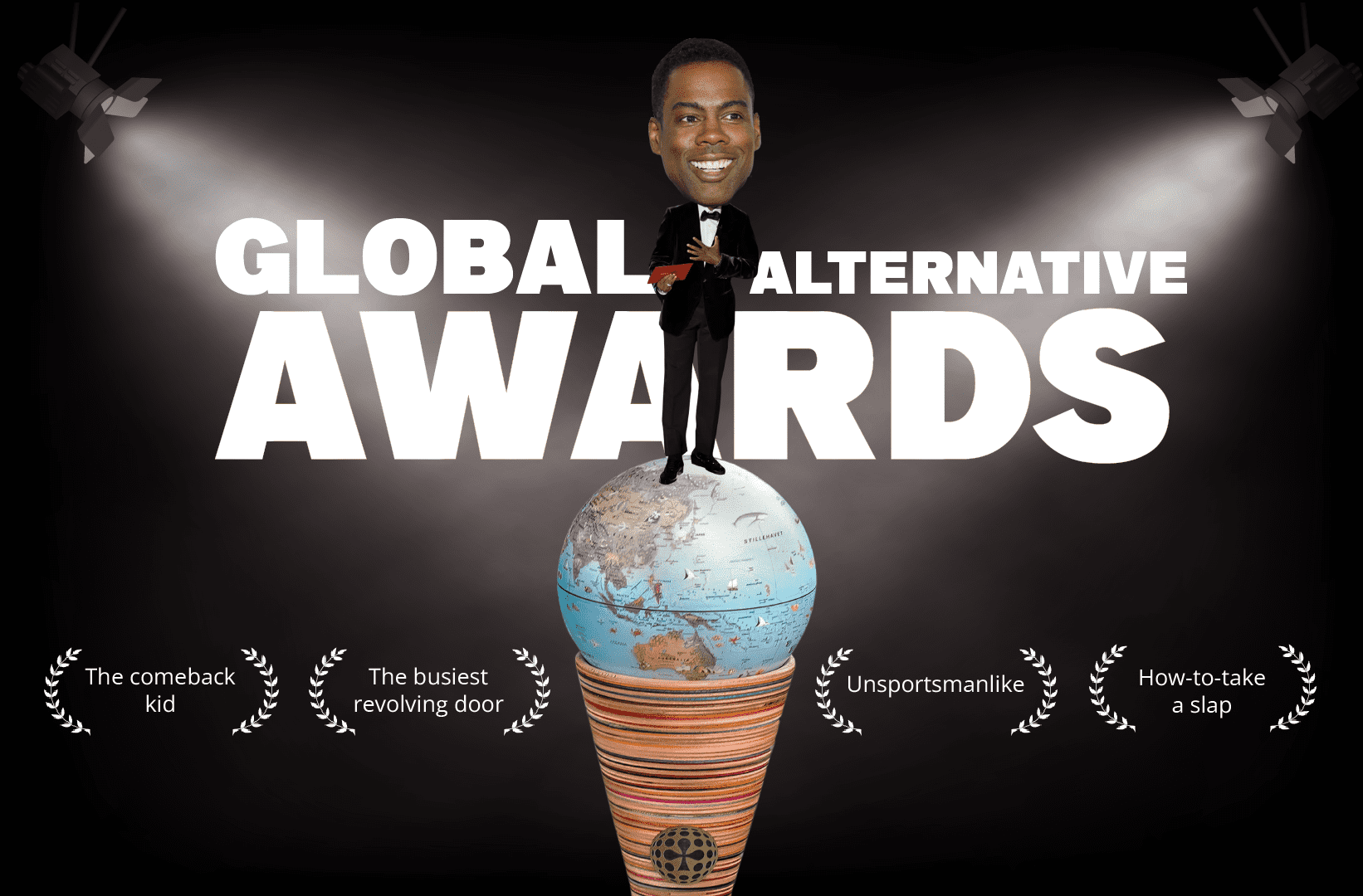 Fri Jan 13th / Roy Pedersen
IT'S HERE! THE GLOBAL ALTERNATIVE AWARDS 2022
Which seafood-named politician got 'comeback kid of the year' and which dubious award did the Argentina football team receive? All-in Global talks you through the Global Alternative Awards of 2022.
All-in Global is the #1 language service provider for the iGaming industry. This blog post was written by James Pacheco who is one of our English content writers. If you want to increase the quality and reach of your content let us know. All of our services are available in 80+ languages. 
THE HOW-TO-TAKE-A-SLAP AWARD: CHRIS ROCK
It was the slap that was heard all around the world. 
In late March, Comedian Chris Rock was at the Oscars presenting the Best Documentary Award. 
Here's what happened next in chronological order: the 'joke', Will Smith's march onto the stage, the slap, Rock's expression of horror, the open-mouthed members of the audience, Smith's walk back to his seat. 
Whereas the joke clearly didn't go down well, credit should be given to Rock: he took the slap pretty well.
No tears, no checking for blood, no rolling around like…choose Argentinian World Cup player of your choice here.  
On the night, Rock didn't make that big a deal out of it and declined to file a police report against Smith for assault. 
An hour or so later Smith was on stage to receive the Best Actor award for his portrayal of the father of tennis superstars Venus and Serena Williams, Richard Williams, in hit movie King Richard.  
Rock was praised for his self-restraint on the night. 
Perhaps it was more self-preservation. 
Smith was the man who once played the fearless 'widow-maker' Muhammad Ali, suggesting he's something of a badass himself.  
That of course is missing the point. 
Smith is also the man who played someone far scarier than Ali: Richard Williams. 
English isn't always 'just English'. If you want something translated into or written in US English rather than other versions of English, we here at All-In Global will be more than happy to oblige. 
THE 'UNSPORTSMANLIKE AWARD': ARGENTINA FOOTBALL TEAM
Argentina were just about deserved winners of the World Cup on purely sporting grounds.
They had set plans, they were well managed, they recovered brilliantly from adversity when losing their first match to Saudi Arabia, twice they kept their cool in the pressure cooker of a penalty shootout. 
In Emiliano Martinez, Enzo Fernandez and Lionel Messi they provided the best Goalkeeper of the Tournament, the Best Young Player of the Tournament and the Best Player of the Tournament, with Messi also only missing out on Golden Boot honours by one goal, his seven goals bettered only by Kylian Mbappe's eight. 
For starters, they ended up picking up more yellow cards (17) than any other team at the tournament, also having the dubious honour of being involved in the World Cup match that had the most cards ever. 
Dubbed the 'Battle of Lusai', their quarter-final against the Netherlands (who were no angels themselves, by the way) saw the referee produce 18 yellow cards and a red, including a booking for Argentina manager Lionel Scaloni and another for midfielder Leandro Paredes for deliberately kicking the ball at the Dutch bench. 
And if it's bad enough being bad losers, which Argentina have been guilty of in the past, they also showed they're also very much bad winners. 
At the end of a dramatic penalty shootout, the Argentina players were seen mocking and goading the crestfallen Duch players in a photo that was seen all around the world.
There was more to come. 
In the unbelievable final against France, Argentina's substitutes routinely kicked the ball into the stands to save time when they were winning and Martinez celebrated his individual award by placing it…well, you can imagine where he placed it.  
The same Martinez held a doll representing Mbappe in his hand during a victory parade in Buenos Aires, presumably suggesting they had the PSG man in the palm of their hands. This despite the fact Mbappe beat Martinez on four occasions during the game. 
Even the normally calm and composed Messi was caught on camera swearing.    
What should have been a celebration as one of football's great superpowers won a World Cup with the great Messi having his crowning moment of glory to cap off an already incredible career, ended up being a case of Argentina making more enemies than friends. 
Whether they ended up making 'frenemies' in the process as well is yet to be confirmed, or denied.
Did you read our article about who had the best shirts at the World Cup? The World cup may be over but there's still time to find out why Argentina's got Master status for theirs.
THE "BUSIEST REVOLVING DOOR AWARD": UK CONSERVATIVE PARTY
On July 7, Boris Johnson announced his resignation as Conservative Party Leader, effectively meaning he was also resigning as Prime Minister of the United Kingdom.  
It's hard to pinpoint exactly which of the 1,536 different possible reasons were ultimately responsible for his downfall.  
Some point to frivolous things like his handling of the COVID pandemic or the fact he was present at numerous Conservative Party… er, parties, while everyone else was in lockdown. 
Others point to far more serious shortcomings, like the fact he had extremely silly hair. 
Either way he was gone.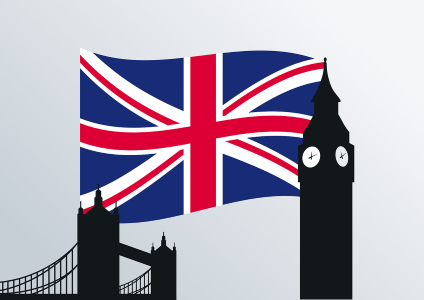 On September 5 Liz Truss was elected as Leader of the Conservative Party, beating Rishi Sunak, in a somewhat close vote. 
They were unprecedented times at Westminster in 2022. 
What followed for Truss was the 'famous mini budget' that involved cutting taxes on the rich and subsiding rising energy costs for the taxpayers. 
What didn't follow was an explanation of where the money needed to fund these initiatives was going to come from.  
This was then followed by confusion over a disorganised vote in the House of Commons and loss of support from members of her own party.  Effectively, there was a loss of trust…in Truss. 
Her 45 days in power were the fewest of any serving UK Prime Minister.
In late October she was replaced by Rishi Sunak, the third Prime Minister in the calendar year. 
That he's currently still in office given what happened last year, is an achievement in itself. 
New client? Contact us! 
"THE COMEBACK KID" AWARD: LULA DA SILVA
Tennis player Rafael Nadal and actor Brandon Fraser were candidates for this one, but it goes to Luiz Inacio Lula da Silva, better-known to the world as Lula.  
When in July 2017 he was convicted on charges of money-laundering and corruption in a controversial trial, a return to being Brazilian President for a third time looked pretty unlikely. 
He was in prison for 580 days before being released as a result of the Federal Supreme Court Justice Edson Fachin ruling that the court who tried him didn't have jurisdiction over the case. Later, the Supreme Federal Court also ruled that the original judge in the case, was biased.
So, in October 2022, Lula went up against President Jair Bolsonaro in the Brazilian elections, twenty years after first being elected to the highest post in Brazilian politics.   
In defeating Bolsonaro, Lula became the first-ever Brazilian President to be elected for a third term and the first to have defeated an incumbent president in an election.  
Not a bad comeback for a former inmate, not bad for a 72-year old. 
Above all, not bad for a man whose name (Lula) literally translates as 'squid'.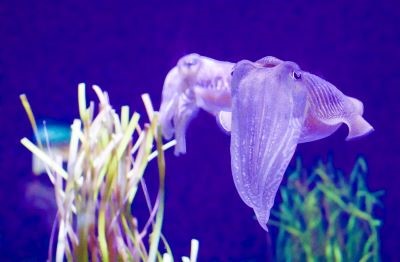 As you can read in this article, translations from English into Brazilian Portuguese are now our fourth-most requested type of translation. 
THE 'SHE SAID WHAT EVERYONE ELSE WAS THINKING' AWARD- JACINDA ARDERN
In early December, New Zealand Prime Minister Jacinda Ardern was in Parliament and asked by libertarian ACT leader David Seymour to "Give an example of her making a mistake, apologising for it properly, and fixing it?"
Very diplomatically Ms Ardern replied: "There's been a number of occasions where we acknowledge that we will not have perfect responses…But I stand by the work we've done as a government over this last year…"
Less diplomatically, as she returned to her seat she muttered under her breath: "He's such an arrogant prick.'   
The comment was picked up by a microphone and preserved in the official Parliamentary transcript. 
Ms Arden apologised. 
Some felt she shouldn't have given she was…effectively telling the truth about Mr Seymour. 
The transcript was then framed, signed by both protagonists in the whole affair and sold at auction with the proceeds going for the Prostate Cancer Foundation.
After 28 bids, it was bought for the princely sum of 100,1000 New Zealand dollars.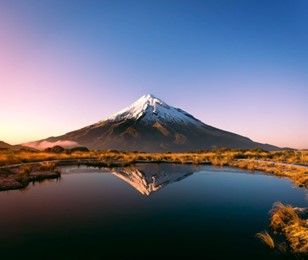 Photo by Sophie Turner on Unsplash
THE "MAN WHO NEVER AGES' AWARD: TOM CRUISE
Development of the much-awaited Top Gun sequel, Top Gun: Maverick, started as far back as 2010. 
The project stalled as a result of director Tony Scott passing away, extremely complicated action scenes involving fighter planes and of course… the Covid pandemic. 
When it was finally released in May of this year, it was deemed so brilliant by movie critics that it was considered an upgrade on the original, something we all know hasn't happened since Indian Jones classic The Temple of Doom was better than Raiders of the Lost Ark. 
In the process it also became the highest-grossing film of 2022, coming in at close to 1.5 Billion USD and Tom Cruise's most successful film ever at movie theatres. 
It's already won 29 awards, including the highly-coveted People's Choice Awards for best Movie of 2022 and Male Movie Star of 2022 (Tom Cruise). 
Later this year it might add the Academy Award (Oscar) for best movie, best actor and a few others. 
Those involved with the production of Maverick and who will at the Oscars in March cancelled bodyguards, body armour and insurance policies upon finding out that Will Smith won't be in attendance this year. Or the next nine years for that matter.  
But no-one seems to have picked up on one interesting detail in the middle of all this: despite the film being released 36 years after the original…Tom Cruise looks the same. 
Not 'similar', not 'sort of the same just a bit older', not the 'same face with a few wrinkles'; he really does look exactly the same. 
And for that, he deserves an award.
All-In Global is the leading supplier of content writing and translation services to the iGaming industry.
---