Tue Aug 30th / All-in Global
HIT A HOME RUN WITH YOUR SPORTS BETTING CONTENT STRATEGY
Want your sports betting content to stand out among 1.8 billion websites? Our sports betting SEO strategy guide shows you how.
There were 10 websites online in 1992. By 1994, there were almost 3,000. Today, there are more than 1.8 billion and counting. Even if you don't know anything about digital marketing and SEO, you can probably see that getting your sports betting content noticed isn't easy. The good news is that it's not impossible. With the right sports betting SEO strategy, some quality content, and the right help, you can become one of the go-to platforms with this network of 1.8 billion websites. 
1. Strategy, Strategy, Strategy
Does a world-class coach allow his team to go out without knowing their positions? Does an army general lead his troops into battle without a plan? Would you run into an unknown situation without an exit strategy? The answer to all of these questions, if you want a positive outcome, is no. 
Jumping in blindly and firing shots hoping to hit something is a strategy that, at best, relies on luck and, at worst, is doomed to fail. Sports betting content is no different. Writing articles and publishing content without a plan is pointless. Yes, the odd piece might get some attention, but the chances are slim. 
As we've said, the number of websites online is 1.8 billion and counting. Because of this, you need a strategy and the best way to devise one is to use professionals. As well as content creation, optimization, and translation, we can help you build sports betting SEO content from the ground up. We already have a footing in the industry, which means we know what works and what doesn't. Using this as a foundation, we tailor a strategy to your goals to achieve maximum results.  
2. Don't Think Big, Think Global 
Sports betting content should be globally focused. The clue is in our name, All-In Global. One of our aims is to make content available to everyone by using native speakers and the latest AI technology to translate text. However, globalization and, in turn, localization doesn't stop there. Different demographics like different things. Therefore, any sports betting SEO content you produce has to mesh with local trends.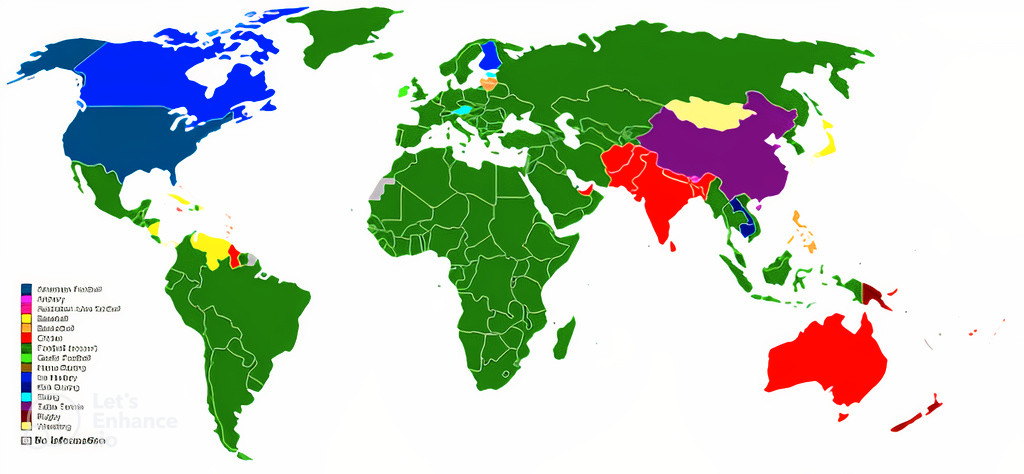 (Image: Wikipedia/Earl Andrew)
Although the image above was produced in 2006 and the figures may have changed slightly, they won't be too wide of the mark. As you can see, American football is the top sport in North America. Football (soccer) is the dominant sport in Europe, South America, Central America, Africa, and Asia. Go to the Indian subcontinent and cricket takes over.  
Of course, the statistics are nuanced. Just because football is the UK's most popular sport, it doesn't mean other activities don't get any attention. Knowing this is important but acting on this information is even more important. 
As a business, you need to think global. Big isn't big enough in today's digitally connected world, which is why you need a nuanced sports betting SEO strategy. Through a combination of websites and social media, you've got the opportunity to engage with people around the world. Will you pique the interest of everyone? No, probably not, but that shouldn't stop you from trying. 
What's more, it doesn't mean you shouldn't be calculated in your approach to sports betting SEO. Research local trends. Use professionals like us to connect you with a network of local content creators. You can only go global by connecting the dots between local demographics and creating a network. We can help you do that.  
3. Inform, Instruct, and Interact
The final fork on the trident of any digital marketing strategy is information. You need to give people something of value if your content is going to pierce through the noise and prick their senses. Writing for writing's sake is becoming an increasingly futile exercise. SEO tricks such as keyword stuffing are no longer effective. In fact, any sports betting content that's oversaturated with needless keyword phrases are likely to get penalized by Google's algorithms. 
Although the nuances of these algorithms are often a mystery, Google's John Mueller said in a 2022 video interview that "important" information gets indexed. In fact, you can read Google's philosophy statement to see how the company values easily accessible informative content. Obviously, important might mean different things in different contexts, but the current line of thinking is that links are a useful marker of importance. 
The more links feeding into an article and the more social media shares it has, the better. How do you increase the chances of your sports betting content becoming an authoritative source? You fill it with useful information. Aim for quality over quantity. Don't make keywords the only reason to write something. Give readers something they can use. In essence, you're aiming to inform and instruct. Then, if possible, interact with readers. Share extra insights on social media. Respond to comments and do everything you can to turn an article into a living entity. 
Sports Betting Content Should be Informative and Interactive
As conversations surrounding your content evolve, the original article will gain traction. More traction means more clicks and, therefore, more engagement which is the goal of any sports betting SEO strategy. This takes us back to our point about expertise. You need a team of experts to guide and shape the sports betting content you create. 
You also need expertise in the subject you're tackling. Don't write content with little more than a tacit knowledge of the subject. Again, this is where a global digital marketing agency can help. You might be knowledgeable about football, but what about other sports? Sticking to one discipline is fine, but readers may want to read about other sports. 
The network of content creators at All-In Global can meet these needs. They're not only experts in sports betting SEO, they're well-versed in the nuances of gambling and, indeed, sports ranging from racing and tennis to boxing and MMA. 
Modern Marketing is Multifaceted 
A modern sport betting content strategy must be multifaceted and this often means you need help from professionals. Sure, you could use the advice in this guide to develop your own digital content strategy and write articles yourself. However, unless you're an expert in multiple disciplines and have more than 24 hours in a day, you'll struggle to compete with rival companies that outsource. 
This doesn't mean completely handing over the reins. The beauty of collaborative content is that you can decide how much or how little input you have. Effective marketing is hard and, as the number of websites increases, it's only going to get harder. That's why you need a trident that's been sharpened with the help of experts in their field. 
To learn more about the sports betting content services at All-In Global, as well as the ways you can boost your profile online, click here. 
---