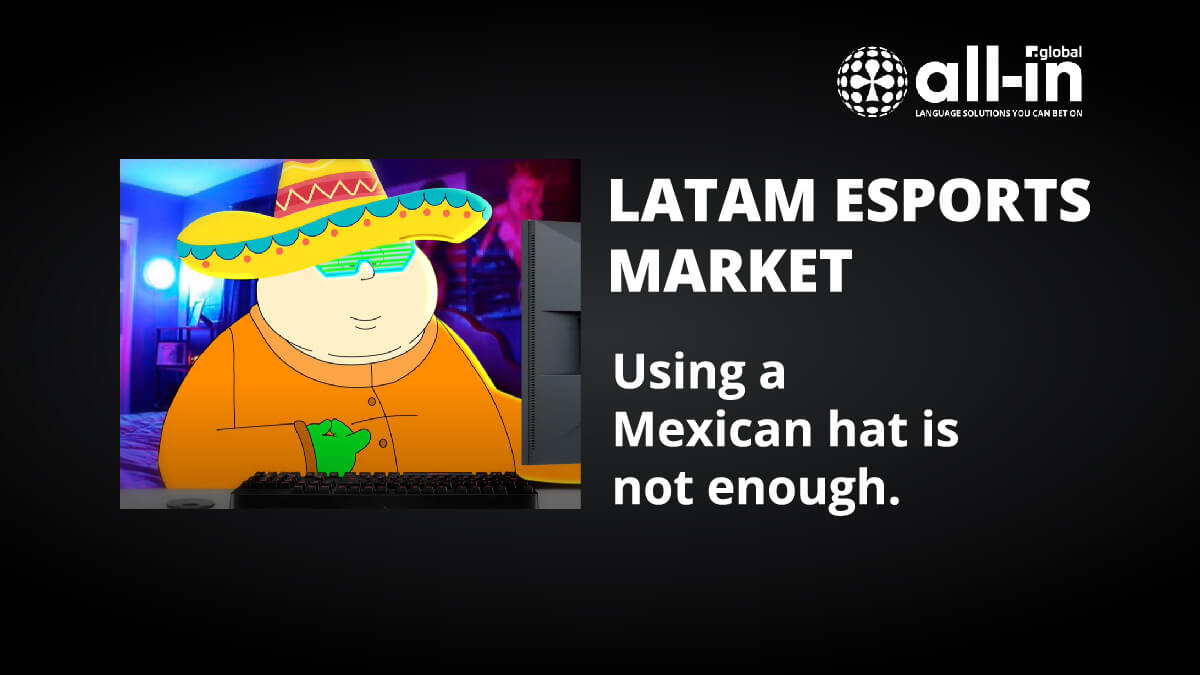 Tue Sep 29th / Marina
ESPORTS: IT'S TIME TO BET ON LATIN AMERICA, BUT HOW?
The Latin America esports landscape has been increasing in visibility but can major cultures like Brazil and Argentina represent the whole region? How can a great localization have a big positive impact when investing in this hot market? 
The importance of LATAM in esports
Latin America has a population of more than 650 million people, which is almost as much as the whole of Europe combined (740 million). Based on Newzoo's predictions, esports is on the rise. Its global audience will surpass the 500 million mark in 2021. Almost 10% of that audience is located in Latin America. If we do the math, 50 million out of 650 million, which is the region's total population, is merely a fraction (1/13) of the total potential. And the younger generations are just as interested in esports as they are in traditional sports. So it won't be long before we'll see this number grow substantially.
One of the causes that will drive the growth of esports in Latin America has to do with the fact that strong teams have emerged in the region over the last five years, in games like Dota 2, League of Legends, and Counter-Strike: Global Offensive (CS:GO). When people can cheer for a team that's actually winning on an international level, news spread quickly and the regional fan bases grow faster. This in turn, attracts sponsors and investors, which strengthens the teams and creates an entire ecosystem.
Right now, things are going so well in Latin America that ESL One, one of the largest tournament organizers in esports, had planned to bring a CS:GO Major with a prize pool of 2 million dollars to Brazil. Unfortunately, due to the ongoing global crisis, the event had to be canceled. But the gesture itself proves that esports in Latin America is on the rise and offers huge opportunities.
Why LATAM market is everything but homogenous
Latin America is made up of multiple countries and each of them has a different culture. For example, in Brazil they speak Brazilian Portuguese while in Argentina they speak Spanish. But it's not the same Spanish that you'll hear in Spain, it's a slightly different version that can be called Argentinian Spanish. 
If you are looking to become more insightful about the LATAM countries and in which languages you should localize your content to, you are lucky to be here. We gathered a unique set of gaming data that will allow you to make better decisions when expanding your business to LATAM esports market.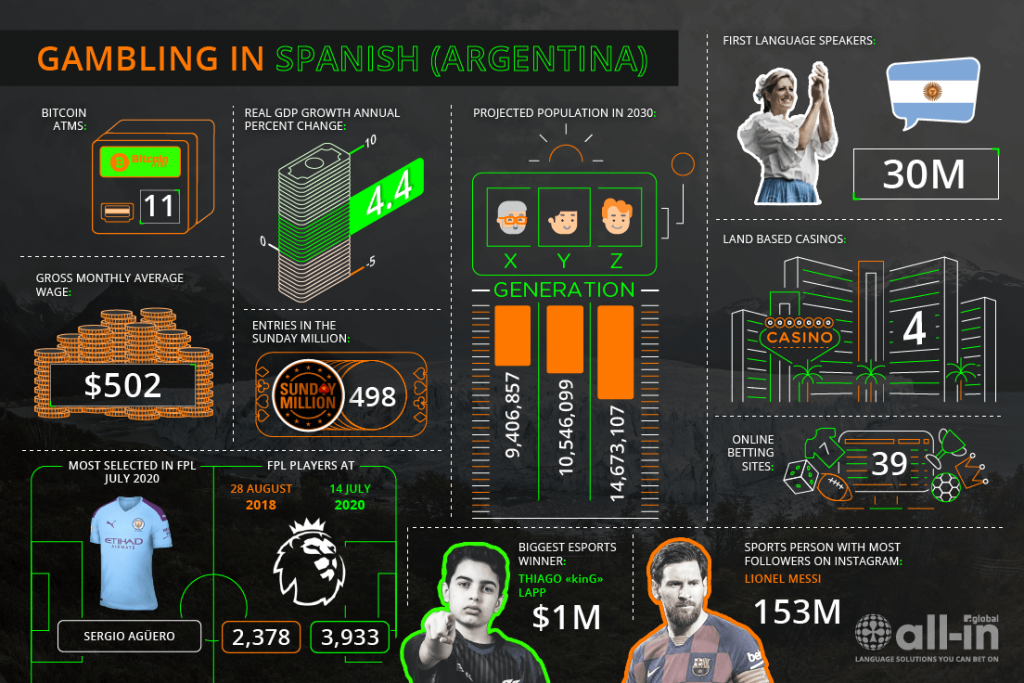 Visit our around the world section and explore all the data. Paying customers get access to this data (google sheet) for each of the 70+ languages we have on offer.
Another key thing about the countries in this region is that their English proficiency is poor when compared to Europe and other places where esports has developed extensively over the last 10 years. So if your business skips the step of proper content localization, you will lose most of your audience from Latin American countries.
Finally, you need to take into account the rivalries between the different esports fan bases. Right now, the strongest country in the region is Brazil. That's where most of the action takes place. But it doesn't mean that other countries don't love esports as much as the Brazilians do. In fact, Peru, Mexico, and Argentina also have a keen interest in games like CS:GO and Dota 2. However, what you need to keep in mind is that Brazillian fans think of their country as being the best in the region.
When trying to reach audiences from Latin America, one size doesn't fit all. For each of the countries in which you intend to build a customer base, you need to take a slightly different approach.
Latin American fans are just as passionate about esports as they are about traditional sports like football. And as a result, they don't let important events go by without watching and they don't let news about those events go by without reading them. But they will almost always search for the information in their own language and with the expectation that they will be served traditional "food", not something they can't relate to. At All-in Global, we offer the right blend of expertise and enthusiasm to help esports brands and esports teams to communicate with their fans in a powerful and authentic way. All of this in more than 70 languages. Get in touch now.
Another thing to keep in mind when targeting esports fans in Latin America is the fact that almost everyone neglects some of the big countries with passionate fan bases (and we're talking about millions of people), simply because Brazil gets most of the attention these days. In time, this will change. And places like Argentina, Mexico, and Peru will get their fair share of top tournaments. If you start creating content for their fan bases now, when few companies are paying attention to them, by the time they get big you will be one of the main beneficiaries of the inevitable growth that esports will experience in these countries.
Why localized esports content works better
Localization is a lot more than just translation. Content is like a costume. When you translate it, you merely change its color. But when you localize it, you tailor it for a completely different audience. So you're working with a specific culture and a particular set of preferences. If you go to a foreign country, you might find that the people in that country make associations that are upside-down relative to yours. For example, in Chinese culture, dragons are good creatures. And the red color signifies growth instead of decline. When their stocks are in the red, they're happy. If you don't know these things and you need to talk to them about dragons or the stock market, you might make some fatal errors in your communication strategy.
Esports presents similar challenges. There's a jargon that everyone uses and there's a history behind each game. And on top of that, you also have to take into account the cultural and psychological characteristics of your audience if you want to create a feeling of authenticity. Otherwise, you're just another soulless corporation that's trying to sell a product or service. If you know the memes, the teams, the players, the critics and influencers who are hated or appreciated in a particular country, you can work with these elements and have a big impact. In effect, you are no longer shooting messages in the dark, hoping that you'll get a response. You are aiming them with precision at your intended audience.
The Internet is drowning in undifferentiated content. Every day, something happens and everyone covers the event in almost exactly the same way. The text is generic and it's written in English. There's no real tailoring involved in the process. And while some people don't care, many others would greatly appreciate if things were created with them in mind and the esports audience is known to be very aware of that. With each new element of differentiation, the audience perceives the content with greater enthusiasm and becomes more likely to return to your site and become loyal.
Knowing the cultural differences of the market you are targeting can be the game changer detail that makes you stand out from the competition. 
This Quentin Tarantino's masterpiece, Pulp Fiction is a good way to conclude this topic because it says it all: 
---