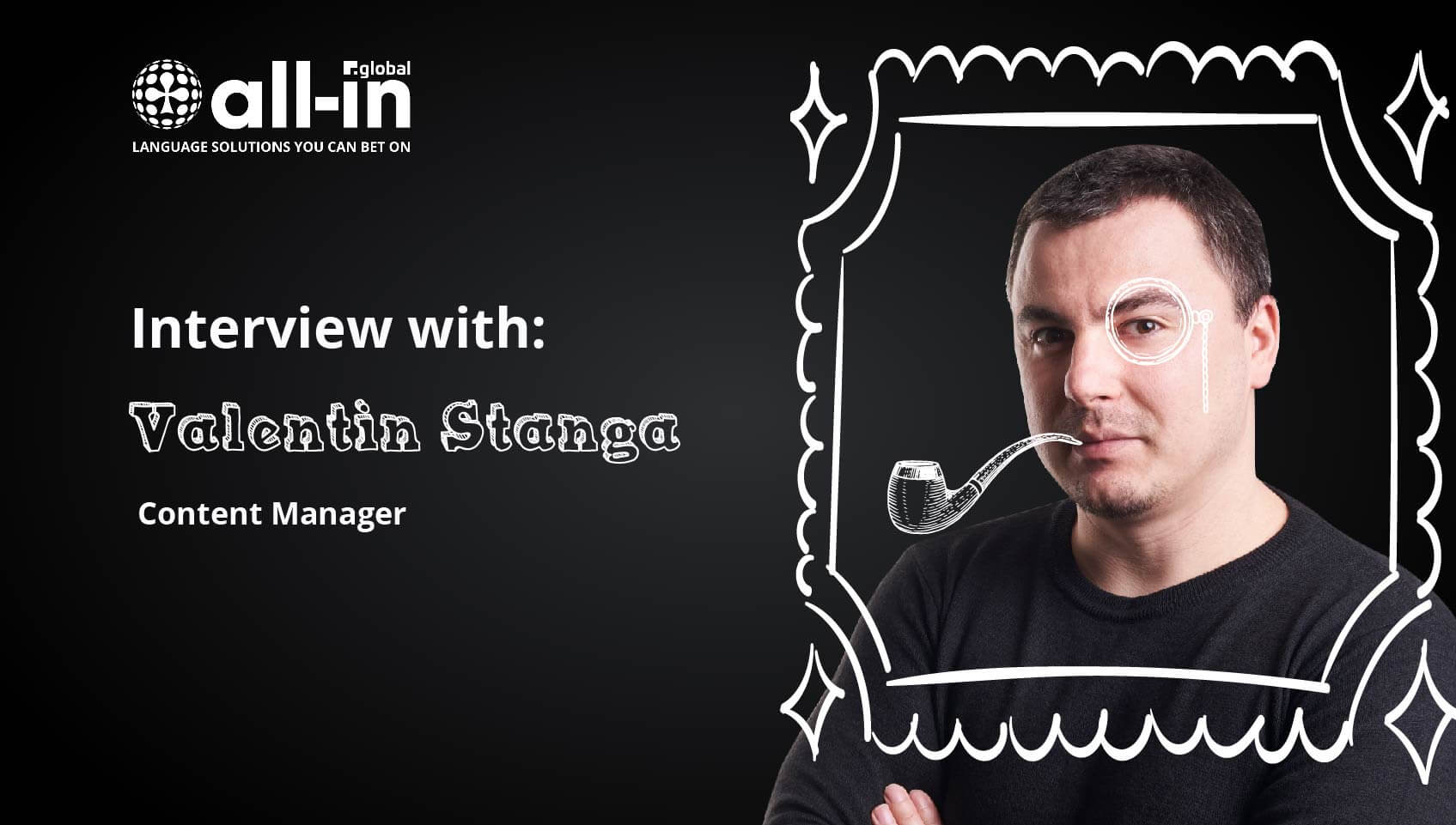 Mon Sep 7th / Marina
THE MAN BEHIND THE CONTENT CURTAIN AT ALL-IN GLOBAL
A goddamn son of a pun? Well… it's his word against no one else's.

With a background in Political Science, Valentin has been managing our Content Department's day-to-day operations since early 2015. His affable nature, coupled with a keen sense for literature and the ability to multitask quickly gained us a loyal clientele from all across the gaming industry.
Currently, Valentin is coordinating a pool of 200 copywriting professionals with ranges of expertise such as iGaming, sports betting, FinTech and esports. Together, they create multilingual content that engages, educates and draws global and local audiences closer to the brands we service.
We decided to ask Valentin some questions just to get a peek into what the Content Department stands for and how it delivers industry and business value.
All-in Global was the first company to offer localization and content specifically crafted for a wide range of gaming sectors. Why is industry expertise so important?
The answer should be obvious, and yet, some gaming companies persist in simply leaving their content projects in risky hands. Grammar butchers, lingo bunglers, outsiders with no exposure to online wagering or major sport leagues – you name them… They all might look a cheaper option that can somehow match your needs, but down the line it's just nails knocked in your content coffin.
So, back at voicing the obvious: expertise and enthusiasm are quality differentiators. When getting new talent on board, we always look for these two ingredients that make for an effective gaming writer. By 'expertise,' I mean the ability to convert industry knowledge into well-written and appealing content, in full compliance with client-defined preferences. As for the passion, think of it as the fuel that keeps the wheels of knowledge rolling from sunup to sundown. I can't possibly imagine an expert apathetic towards her bailiwick.
CSA Research found that 76% of online consumers prefer product reviews in their own language. Why is it so important to deliver multilingual gaming content with correct terminology to players worldwide?
Like all online customers out there, casino players and bettors expect services that are tailored to their personal needs. Easy access to clear information, a sense of security and belonging, a close community feeling – these are values that gaming and sports brands should seriously embed in their platform strategies.
Now, the very first step to deliver on these values is to sound natural and authentic within the locales you're targeting. Speaking your players' languages in all ways (from plain words to niche vocabulary) builds an atmosphere of familiarity and trust, which leads to more visitors and ultimately – to loyal fandom. Use a language they understand vaguely, and it won't be long until they go elsewhere…
How does All-in Global guarantee the quality of the content delivered?
Speaking of 'quality' within the context of gaming content management means reasserting three key standards without which I simply can't imagine our work: language accuracy, originality, and compliance with client requirements.
Firstly, we have a network of over 200 in-country native copywriters worldwide, with a proven background in linguistics, journalism and other related fields within the Humanities. This ensures that everything we deliver is written in clear language, with appropriate use of grammar, spelling, and punctuation.
Next, be it a casino (or game) review, a How-To blog piece or a pre-match analysis, the stuff we write is entirely unique. Cloned bulk and its sibling, rephrased content, are substandard products that we strongly advocate against at All-in Global. Not only they rank disastrously low in SERPs, but can also drag your industry credibility through the mud.
Thirdly, all our language professionals adhere to guidelines, preferences, and strict time horizons. Detailed briefs are followed to the letter, and due dates are normally met with the proverbial smile. It's a smooth process that gives our gaming clients total confidence in their language supplier.
You might have excellent gaming content but if it's not visible to your audience then how could they appreciate it?
You're absolutely right. Now, of course, smart language use and lingo proficiency are the sine qua non of content excellence. However, they are not sufficient to get your gaming website a spot on the map that matters. Without proper exposure, your global reach will be stalled. This is where the SEO magic kit comes into play. By including keywords in text, titles, site navigation, URLs, hyperlinks, meta descriptions, etc. you help Google (or other search engines) throw a 'visibility cloak' on your content and eventually get yourself more traffic.
What do you think is the main advantage of having a wide variety of language services – All-in-one place?
It comes naturally to say that our optimization department (run by the one and only Vasco Albuquerque) is the best complement to my daily content routines. Simply put: I'm managing the human-friendliness pulp of the content (grammar, tone, terminology), and Vasco gives it the bot-friendly touch that pulls it out of digital anonymity. Needless to say, we offer multilingual SEO support for both mature and emerging gaming markets from all over the world.
Another service I'd like to highlight is branding. What's this about? Basically, it splits into three services:
1. Brand refresh. We give a fresher feel to the core elements of an existing brand: logo, slogan, marketing, color palette, etc.
2. Rebranding: We do a major overhaul to all brand elements and environment: name, logo, slogan, personality, fonts and colors, target markets.
3. Brand creation: We assist clients in creating a brand from scratch with all that it comes with (name, logo, web presence, marketing content, etc.)
I see it as a very complex service that brings together all our departments (content, SEO, translation and localization, web design) in a joint effort to build for gaming and sports brands the widest and strongest online presence possible. We tried the service successfully a couple of times already, and I look forward to seeing a higher demand for it. Having all these services at hand with one provider (and not scattered across different businesses) is both time-saving and definitely more convenient.
Do you need some well-written and optimized iGaming content that you can bet on? Contact us through salesteam@all-in.global and let's start your content strategy today!
All of our content writing services are available in 70+ languages:
---