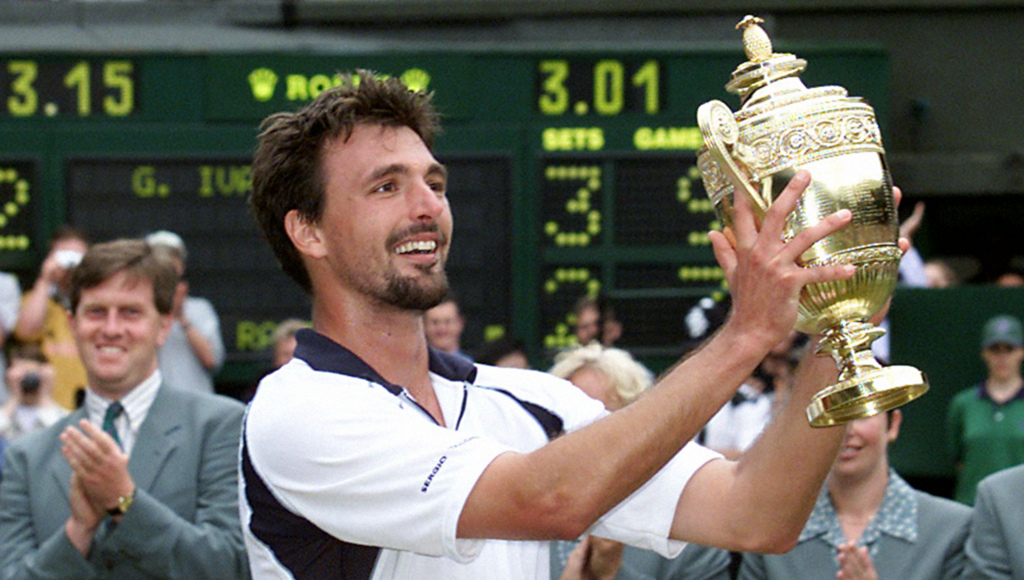 Mon Jan 23th / All-in Global / Archived / lists / tennis
ACES FOR KINGS – TENNIS' TOP SERVERS
When it comes to All-in Global, we pride ourselves on being hard, precise and straight to the point; just how serving genius, Goran Ivanišević, served his way to the Wimbledon trophy as a wildcard.

Needless to say we love our tennis and, much like our content writing and localisation services, we aim to produce when it matters most. Therefore, we've compiled a list of the top 5, hard-hitting, meticulous and inspiring men's tennis servers of all time.
Pete Sampras
Pete Sampras, a retired American tennis legend, won 14 major titles during his illustrious career, which includes an equalled record of seven Wimbledon titles. The former world No. 1 also won five US Open's and two Australian Open crowns.
Sampras may not have had the hardest serve around, but he was renowned for his precision. In fact, his serves were so accurate that his rivals gave him the nickname of "Pistol Pete".
The now-45-year-old, who was born in Washington, D.C., last won a Grand Slam in 2002, beating fellow American Andre Agassi in the US Open final, retiring shortly after. "Pistol Pete" will forever be remembered for his outstanding tennis, but mainly for his faultless serving.
Goran Ivanišević
Ivanišević shot to fame when he became the only person to win the men's title at Wimbledon as a wildcard. He did so with a thunderous left arm, and countless aces. At 6ft 4in tall, Ivanišević was never the most mobile around the court, but with a serve like that, he never needed to be.
Although the Croatian will be remembered most for his maiden Wimbledon win back in 2001, he also reached the semi-final of the US Open in 1996, as well as reaching three Australian and French Open finals.
Goran regularly hit around 135mph serves, with his delivery being too hot to handle for most of his opponents. We at All-in Global love an underdog, and when it comes to Ivanišević, underdogs don't get more popular than him.
Andy Roddick
Former American tennis star, Andy Roddick, had one of the most powerful serves the game has ever seen. Roddick once served an incredible 155mph serve in the 2004 Davis Cup, and aces were his trademark.
Roddick, who packed away his racket to concentrate on the 'Andy Roddick Foundation' in 2012, won only one Grand Slam (2003 US Open) during his memorable career. But his service game made him one of the most famous players to have ever graced our court.
Andy may not have won as much as he would have liked in his career, but he had one the fastest serves in the history of the game.
Roger Federer
When it comes to all-round players, Roger Federer is arguably the greatest of all time. The Swiss can serve, volley, lob, he has a thunderous right hand and wicked backhand. He truly is a living legend.
Roger, who held the world No. 1 position for an unrivalled 302 weeks, has won 17 Grand Slam titles throughout his ongoing career. Federer may not be the fastest server to have ever lived, but his accuracy is second to none.
When Federer retires, he will leave behind a tennis legacy, but until then, let's enjoy the master strut his stuff around the court for a few more years yet.
https://www.youtube.com/watch?v=pMimbbcxX60
Boris Becker
Last but not least is German hero Boris Becker, a 10-time Grand Slam winner, who won Wimbledon at the tender age of 17. Becker remains the youngest ever player to have lifted the Wimbledon title, when he won way back in 1985.
'Boom Boom' was the nickname for Boris' serve, as his rivals struggled to return his masterpiece shot. Becker's well-placed serve won him an awful lot of matches, as well as several Grand Slam tournaments. He is also the only player to have won all 3 Open Era season end finals (the ATP Tour Finals, WCT Finals and Grand Slam Cup).
The German was naturally gifted ever since he stepped on to the world stage in 1984, and his 1985 Wimbledon victory was just the beginning to what was a glittering career. Boris, who retired at the age 31, went on to coach Novak Djokovic in 2013 – the rest is history.
Would you like to discuss how we can give your brand a global boost with translation and content? We have 80+ languages available. Email salesteam@all-in.global
Other articles about tennis translations on our blog.
It all starts with love-love
---