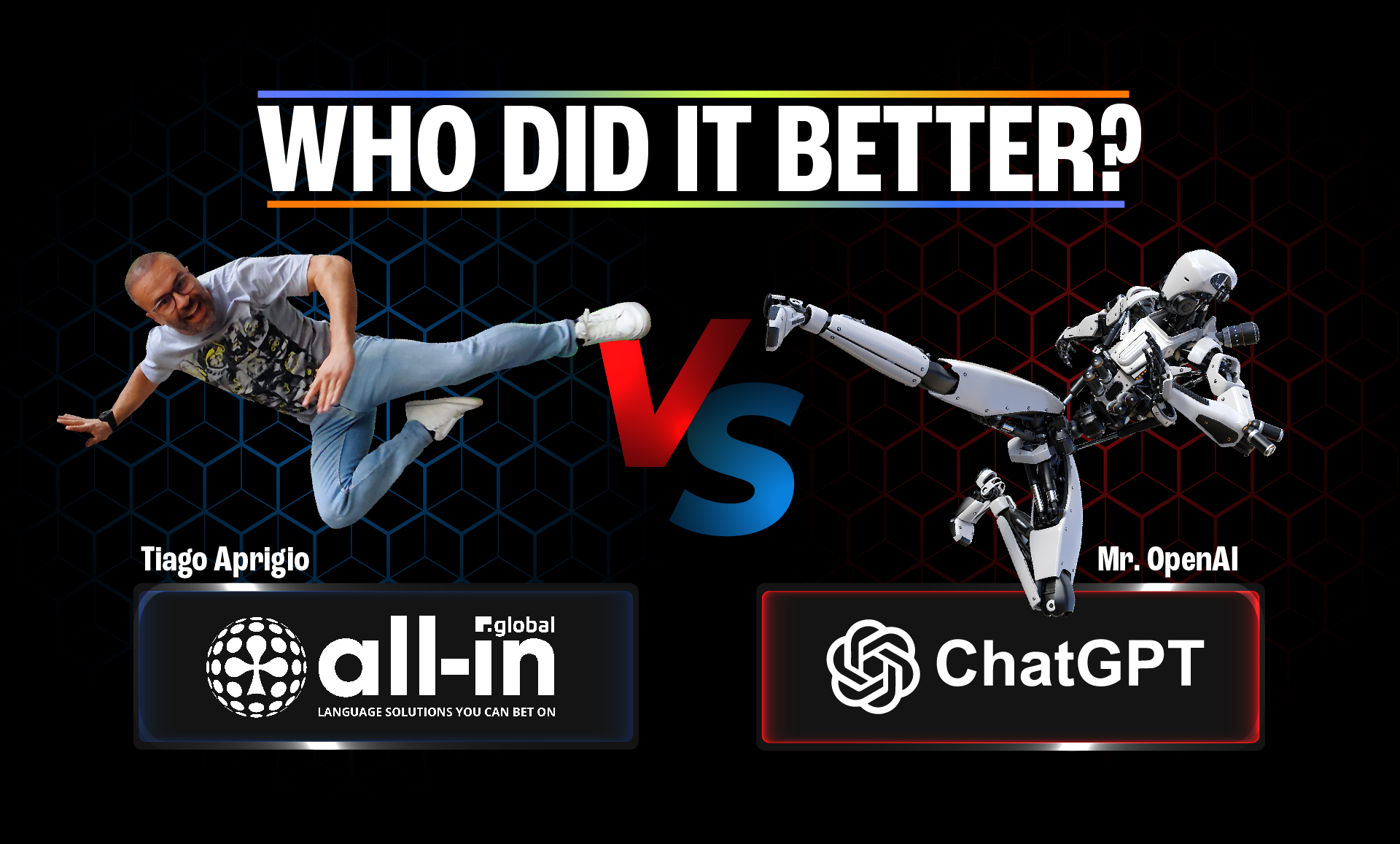 Wed Jul 12th / Roy Pedersen
TIAGO VS. CHATGPT: 6 IDENTICAL QUESTIONS FOR EACH
One is the unlikely CEO of a translation company which is going all-in on AI. The other is the chatbot everyone is talking about. Who did the interview better?
1: Who is Tiago Aprigio, CEO of All-in Global?
ChatGPT: Tiago Aprigio is the CEO of All-in Global, a language service provider that specialises in language solutions for the gaming and sports betting industry. Aprigio founded All-in Global in 2008, and under his leadership, the company has grown to become a leading provider of translation, localization, and content creation services for the gaming industry.
Prior to founding All-in Global, Aprigio worked in the iGaming industry, where he gained extensive knowledge and experience in the sector. He is also involved in various social entrepreneurship initiatives and has been recognized for his work in promoting fair trade and empowering artisans in Brazil through his previous venture, Solidarium.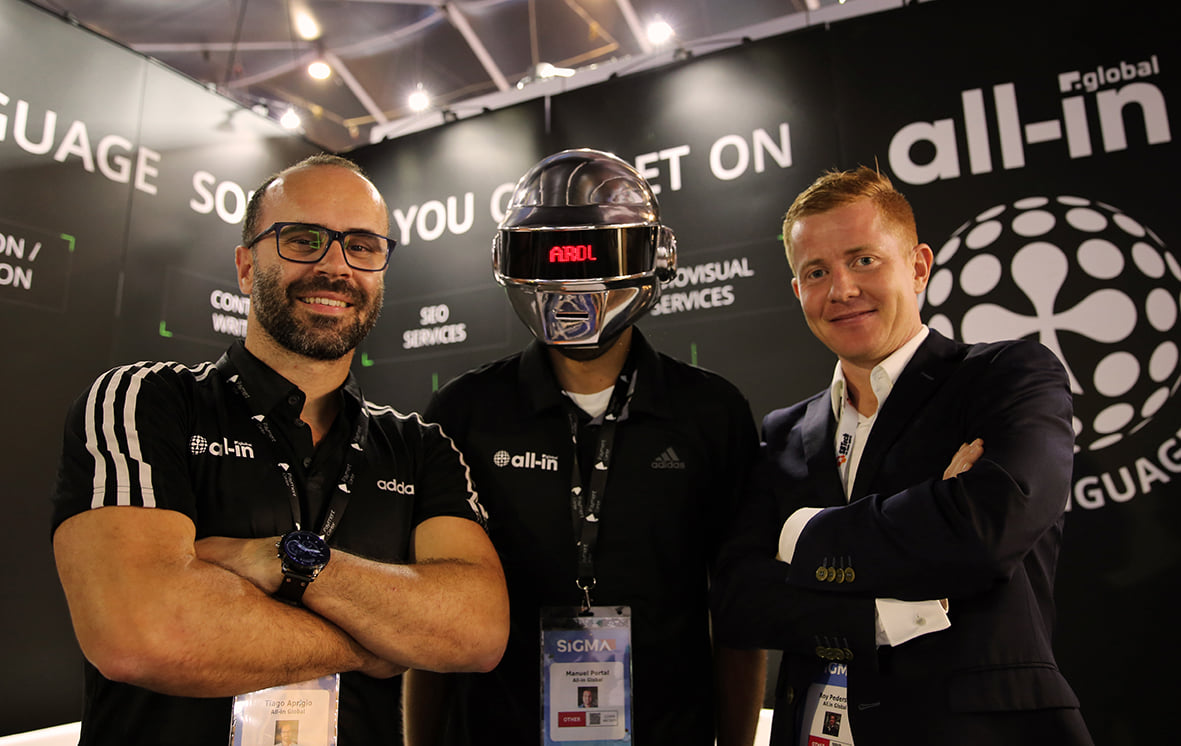 COMMENT FROM THE AUTHOR: Everything here is wrong, except the first sentence and the fact that All-in Global has grown to become a leading provider of translation, localisation and content creation services for the gaming industry under Tiago's leadership. ChatGPT apologised for the mistake but failed to correct any of it.
Luckily, I am human – and if anyone knows the story of All-in Global and Tiago – it's me. So before moving on to the next questions, let's do the job of correcting the wrong answers from ChatGPT – a job that, to some extent, compares to what our world-class human translators do when editing the output from our translation engines.
First of all, I founded All-in Global, not Tiago. He joined as a Business Development Manager in 2015, was promoted to Operations Manager in 2016 and finally to CEO in 2018. Since he started with us, the revenue of the company has tripled. This is mainly down to two of Tiago's major achievements:
Moving our headquarters and the heart of our operations from Malta to Portugal.
Developing the first translation engines specifically for the iGaming industry.
Prior to All-in Global, Tiago had NOT worked in the iGaming industry. He had, however, studied Chinese medicine, Management and Marketing, worked at IKEA, been a paramedic in the Portuguese army, was a Senior Cabin Service Supervisor at Ryanair and was a Sales and Marketing Manager at Centrecom. He also started a Polaroid event photo company in Malta.
He loves cars and has an almost-perfect score on Uber. The one bad review he got after a late night at the iGaming Supershow was strictly my fault (sorry!). He has a cat that looks like an alien and a house that runs strictly on green energy. He's a tight-aggressive poker player and a loyal Boavista fan.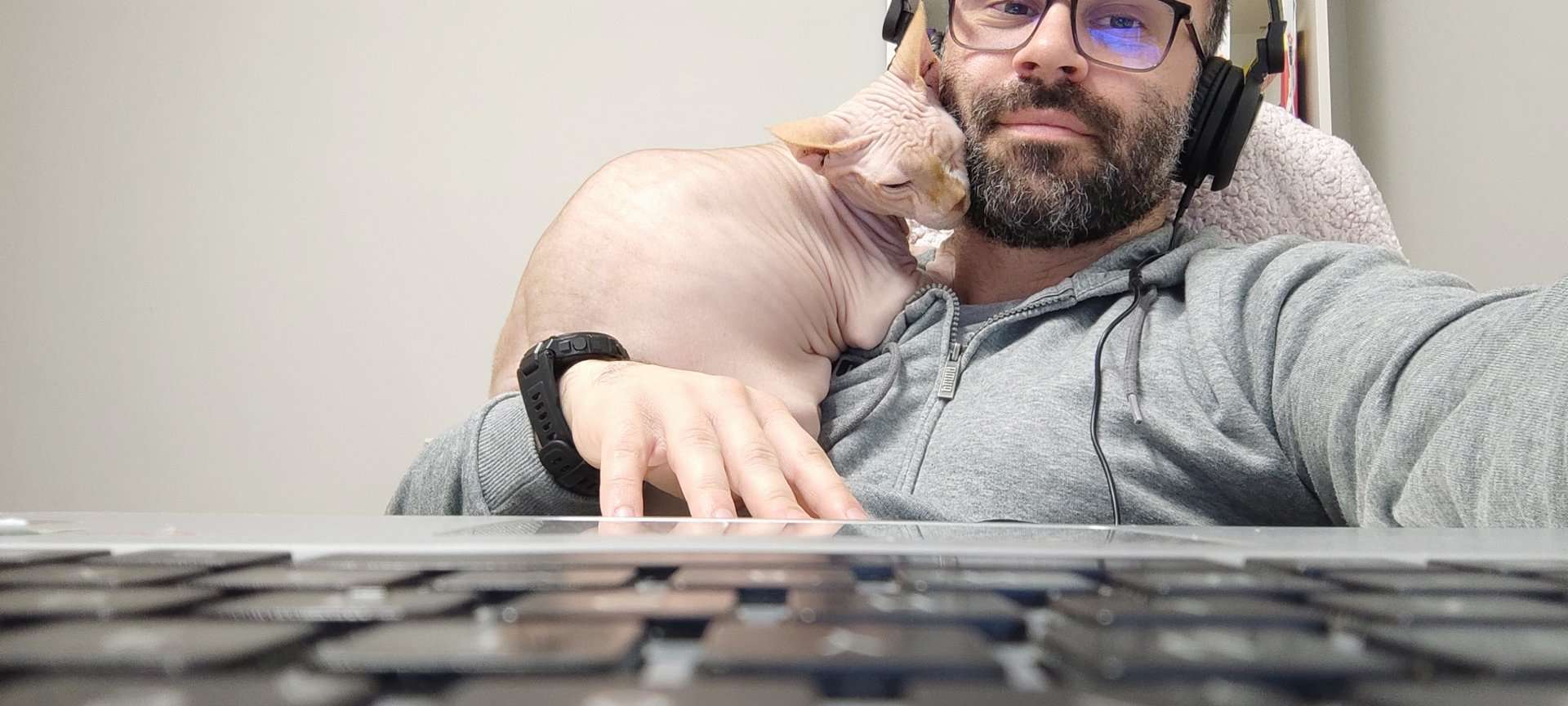 His Linkedin profile intro reads, "Participating in the world as it is, doesn't disqualify you from trying to improve it", and everyone in the All-in team knows that Tiago practises what he preaches here.
That leads me to the last mistake from ChatGPT: that Tiago is working to promote fair trade and empower artisans in Brazil through Solidarium. This must be another Tiago Aprigio, although the one in focus here
1: Who is Tiago Aprigio, CEO of All-in Global?
Tiago: I like learning and believe we should try to learn something new every day. My field of studies is as vast as the Amazon brand – from A to Z! I graduated from school in sciences and pursued medical-related studies while studying Chinese Medicine for four years. This included some practice at the Guangzhou Chinese Medicine University in China.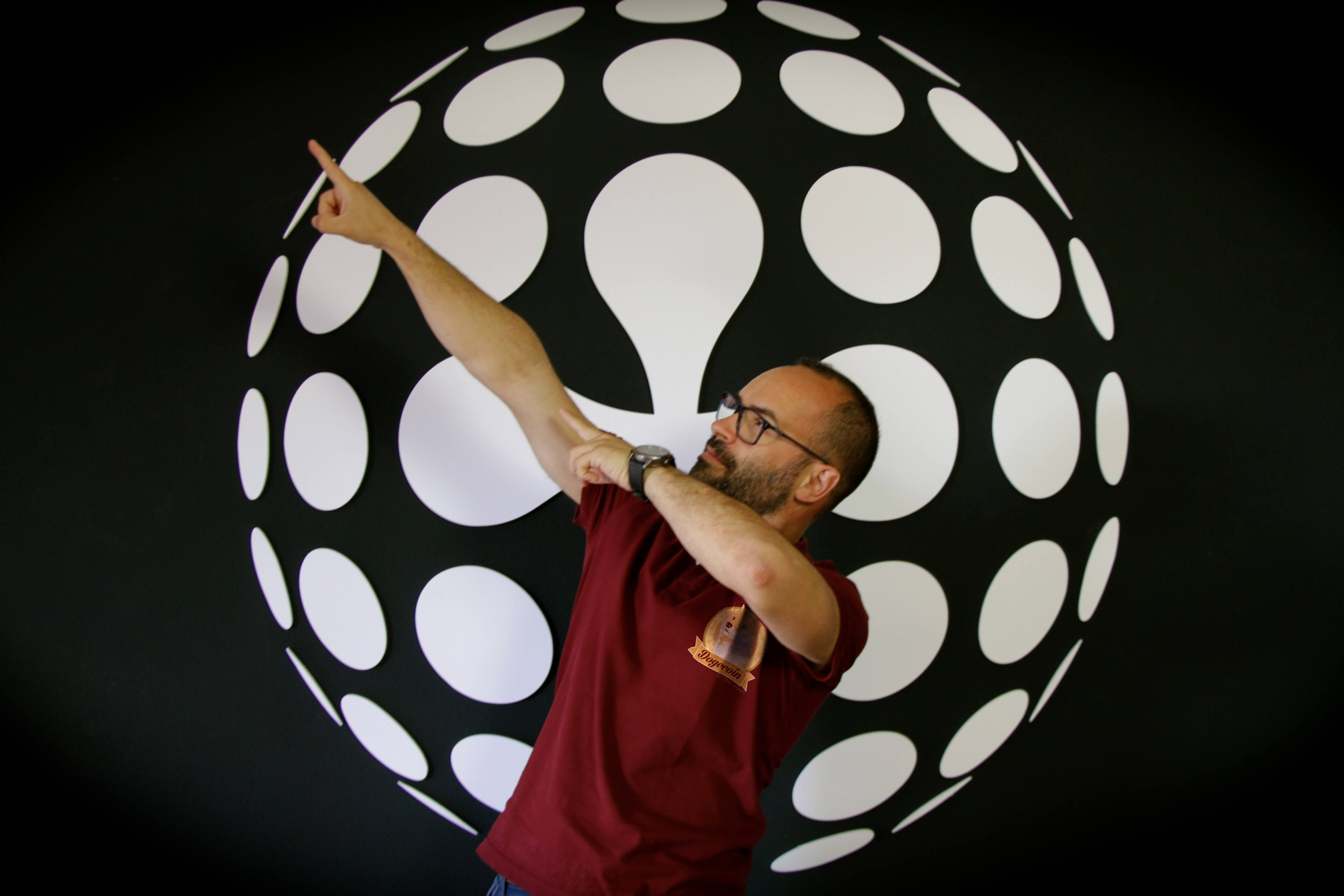 The trip to China got me interested in travelling more and getting out of my comfort zone. I wanted to give wings to my desire to explore the world – I guess I took that too literally and joined Ryanair as a member of their cabin crew. After that, I started studying one of the things I love the most – Marketing, and soon after joined World Aviation Group as a Sales and Marketing Executive.
In February 2015, it was time to gamble and venture into a different industry. See what I did there? 😉 I joined All-in Global, formerly known as All-in Translations, and the change was massive. I left an established group of companies with a solid market position and joined a young company with a vision – delivering professional, iGaming-specific translation services.
2: Who was the first company to develop AI translation engines specifically for the iGaming industry?
Chat GPT: I'm sorry, but I cannot accurately answer that question as I do not have access to a comprehensive database of all AI translation engine development companies and their specific industry focuses.
Additionally, the development of AI translation engines for the iGaming industry may have been done by multiple companies and it may be difficult to determine who was the first.
Tiago: I am 99.9% sure All-in Global was the first company here. If not, whoever did it first must have kept it a secret, which I strongly doubt. We started researching in 2017 and spent a good three years developing, testing and teaching the engines. By 2020 we had operational engines for five languages.
Now we have them available for more than 50 language combinations. The fact that we have worked almost exclusively with casino, sports betting, poker, slot machine and bingo content for 15 years, and had world-class iGaming translators train the engines, enabled those engines to learn at an extreme pace.
When it comes to being the first, All-in Global never stands steel. This August, we are set to launch a revolutionary and entirely new product for the iGaming industry. I can confidently say that this release is highly anticipated in the industry and will significantly simplify the lives of our customers. Stay tuned, as the news will follow!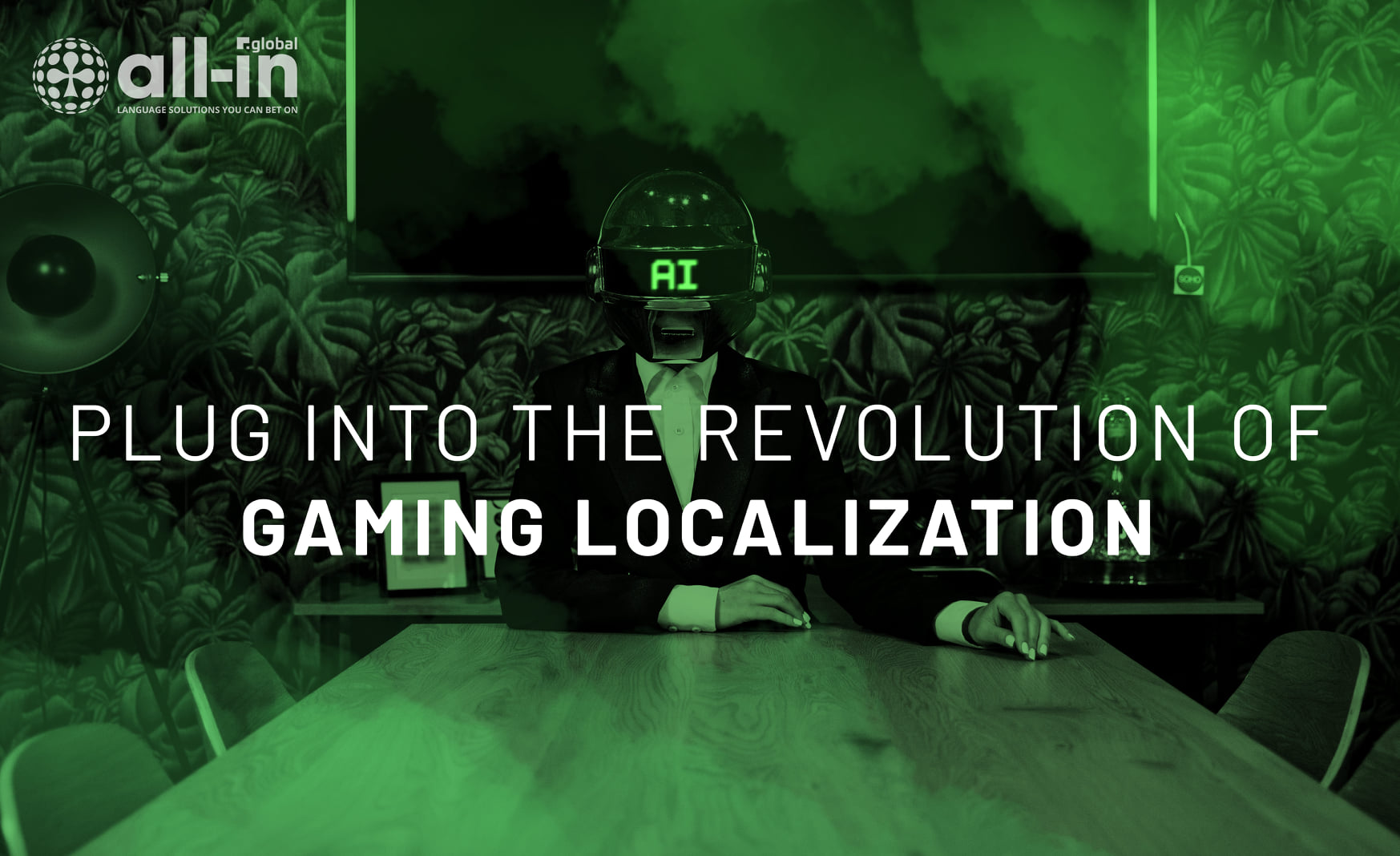 3: How does it affect a translation engine that its input is almost exclusively limited to one topic, namely iGaming?
ChatGPT: A translation engine that is specifically trained on a particular topic or industry, such as iGaming, can have several advantages over a general-purpose translation engine.
Firstly, a specialised engine can be optimised for the specific terminology and jargon used in the iGaming industry, which may not be present in more general texts. This can result in more accurate and consistent translations that better reflect the specific meaning and context of the source text.
Secondly, a specialised engine can be trained on a large corpus of relevant texts, which can improve its ability to handle different types of iGaming content, such as game descriptions, regulations, and promotional material. This can result in faster and more efficient translations as the engine becomes more familiar with the specific language used in the industry.
Overall, a specialised translation engine can be a valuable tool for companies in the iGaming industry, but it should be used in conjunction with human translators and editors to ensure the highest quality and accuracy of translations.
Tiago: The translation engine is an ongoing work in progress. The more it is trained, the more accurate it becomes. Our engine is specifically trained for translating iGaming content. Every time a human industry expert corrects a translation by amending a term, the AI learns from it and retains that knowledge for future translations. All of our AI translations include human post-editing.
The final step involves our Quality Assurance specialists, who ensure that all terms are translated accurately in accordance with the client's glossary. This guarantees that any terms with multiple translation options are rendered exactly as the client needs them.
Having a translation engine specifically trained for a particular topic provides a significant advantage, especially in industries like iGaming with its specialised terminology. However, it is always the effective combination of specifically trained technology with human talent and expertise that enables us to deliver high-quality translations.
4: Can AI be used for writing great iGaming content?
ChatGPT: AI can be used to assist in the writing of iGaming content, but it is unlikely to be able to fully replace human creativity and expertise in the field.
AI-powered content creation tools can help automate certain aspects of content creation, such as generating headlines, titles, and summaries, or suggesting related keywords and topics. These tools can also assist in optimising content for search engines and target audiences by analysing data and generating insights about user behaviour and preferences.
However, iGaming content often requires a high level of expertise and creativity to engage and retain readers and to comply with regulations and industry standards. This may include developing unique and compelling narratives, crafting engaging characters and settings, or incorporating industry-specific knowledge and terminology.
While AI can assist in the generation of basic content, it may not be able to fully replicate the nuances of human creativity and expertise in the iGaming industry. Therefore, it is likely that human writers and editors will continue to play a crucial role in the creation of high-quality iGaming content.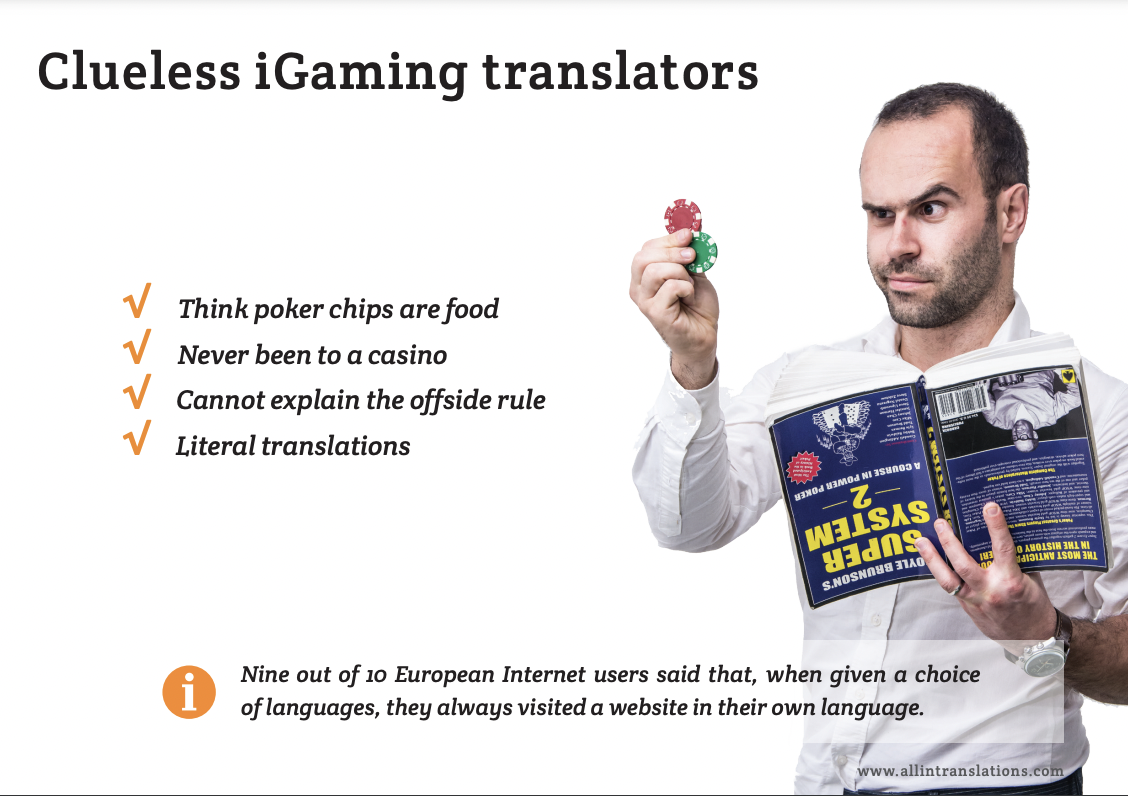 Tiago: AI can be used for content writing, but there are significant challenges.
There's an obvious problem with this approach: creativity, or rather the lack of it. The AI won't be able to make jokes, puns, pop culture references and other forms of creative expression. While the information may be accurate, the content may not be engaging.
Much of the requested content aims to sell something: customers opening a betting account, claiming a bonus, or trying out a new game we've reviewed. If the copy is not appealing enough, it won't convert readers into customers.
Another issue is localization, or, again, the lack of it. Localization is a big part of our work, and if we are uncertain that AI can incorporate it, we remain sceptical about using it.
Furthermore, AI may have a tendency to repeat itself. If it was programmed to write five different reviews of the same slot to be used on five different affiliate sites, there might be instances where the content appears too similar.
This is something that would never happen with our team of professional content writers. We have a stable of professional content writers scattered around the globe who can meet our client's demands and high expectations across 80+ languages, with each of them specialising in different niches within the iGaming industry.
For example, if a client requires a specialist in reviewing cryptocurrency casinos in French, we have the right person for that job. And if the client wants a review (also in French) of a casino specialising in Live Dealer games, we have someone with expertise in that area as well. It's second nature to our writers to create engaging, knowledgeable, and, above all, unique content.
There is that saying: if it ain't broken, don't fix it. We already offer world-class content writing services, and we believe that using AI would not allow us to maintain those standards.
5: What are the hottest iGaming markets for 2024?
ChatGPT: As an AI language model, I do not have access to information about the future or any predictions for a specific year. Market trends and conditions can change rapidly, and any predictions or projections should be taken with a grain of salt.
That being said, the iGaming industry is constantly evolving, and different regions and markets may experience growth or decline based on a variety of factors, such as regulatory changes, technological advancements, and consumer preferences.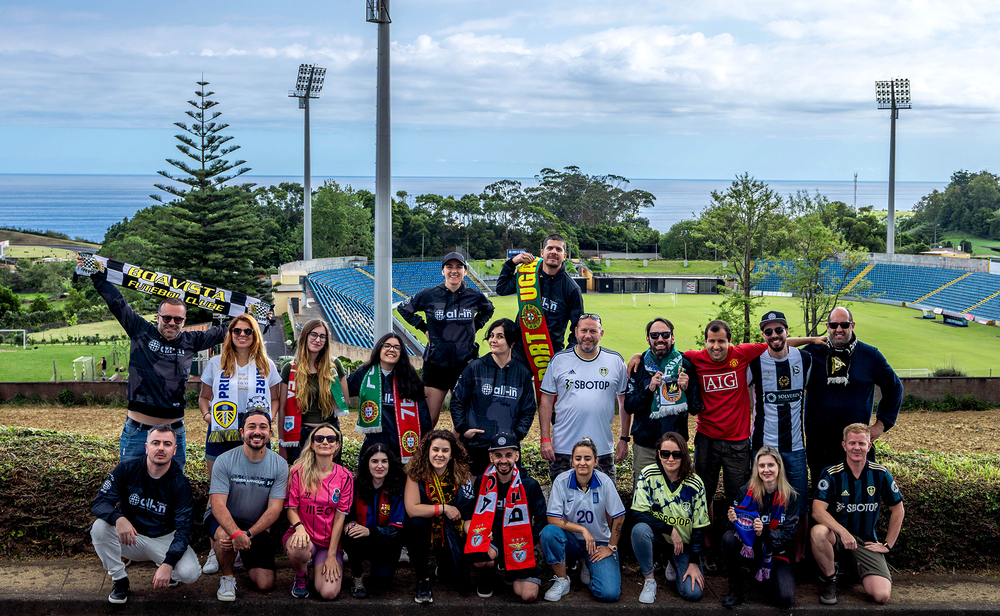 Tiago: The iGaming industry has witnessed remarkable expansion in Latin America in recent years, and it continues to be the most promising continent in terms of further potential development. Countries like Argentina, Brazil, and Colombia have started regulating and legalising online gaming, indicating a positive trend. Providers and operators foresee enormous market growth in the coming years. From our perspective, we have noticed a parallel rise in the demand for localized content in Spanish and Portuguese.
Asia is another rapidly growing market in the iGaming industry. Several countries in the region have already legalised gambling, and there is also news about the approval for the development of a casino resort in Osaka, Japan.
​​A noteworthy aspect of the Asian market is the language barrier, as a majority of the population does not speak or understand English fluently. This makes the localization of websites and content crucial for success in this region. Recognizing this need, we have been collaborating with professional Japanese and Chinese translators, as well as content writers, for many years now.
Read our recent blog post with inside advice about how to enter the Japanese iGaming market here.
6: Let's settle the score… which is the most prestigious iGaming award?
ChatGPT: As an AI language model, I cannot express personal opinions or biases, and I cannot declare which is the most prestigious iGaming award.
The iGaming industry is highly competitive, and there are many prestigious awards that recognise excellence in various areas of the industry.
Tiago: There are numerous awards in the industry, but the EGR B2B Awards is often named as the most prestigious one. In 2023 we were nominated in two categories here: Best Customer Service and Best Corporate Services Supplier. This recognition reflects the ongoing work of finding the best solutions to meet our clients' needs.
Furthermore, In May 2023, All-in Global was listed among the Top 10 language service providers in Southern Europe by Nimdzi Insights, one of the top research companies in our industry. Although this is not specifically an iGaming award, the achievement stands as a remarkable milestone for our company and the entire team.
---