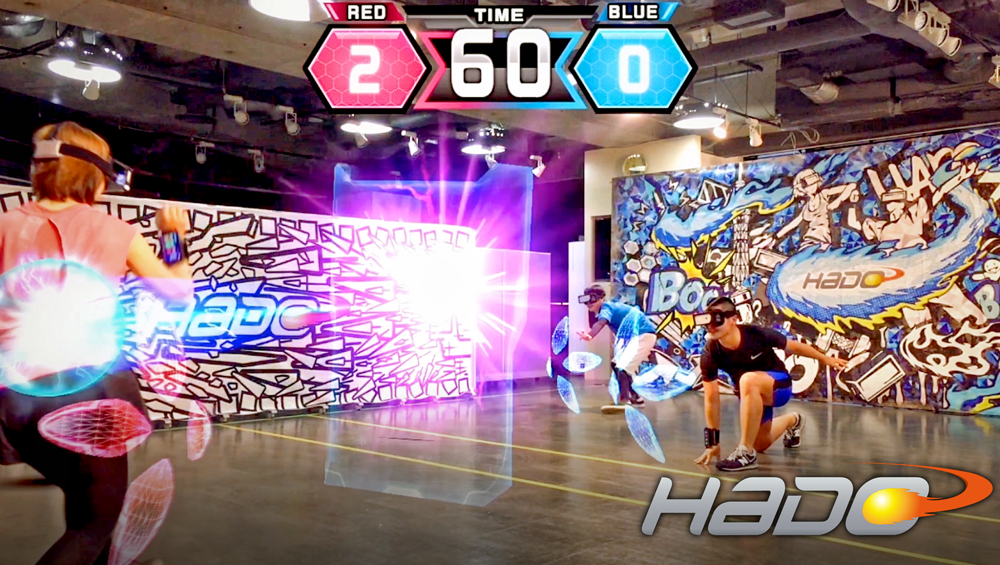 Tue Feb 11th / Marina
WILL ESPORTS CHANGE THE WAY WE CONSUME TRADITIONAL SPORTS – AND VICE VERSA?
Every day, esports and traditional sports get closer to becoming indistinguishable. Are we only a few years away from a full convergence? Let's take a look. 
Traditional sports are evolving toward esports, and esports are evolving toward traditional sports. It's a rapid convergence that's set to create brand-new, physical experiences that only today's tech could achieve. But are the two set to become one? Will there be little to no gap between the sports of yesterday and the virtual contests of tomorrow? 
These are the questions that fascinate us at All-in Global and that's why we work hard finding the best solutions to help brands and esports teams to engage with gamers, offering expertise while creating powerful content that really adds value to this target audience.
As a language service provider dedicated to the gaming industry, we'll be attending the 2020 Esports BAR Cannes, an annual event that aims to transform the sports of a digital generation into an entertainment powerhouse. And, as you'll soon read here, it's apparently working!
When we look at the Super Bowl viewership over the past decade, we can see that TV numbers have remained stagnant (or dropped off) while streaming numbers are building at a steady rate, jumping by close to a million between 2019 and 2020: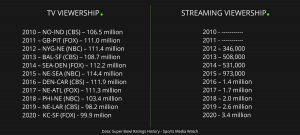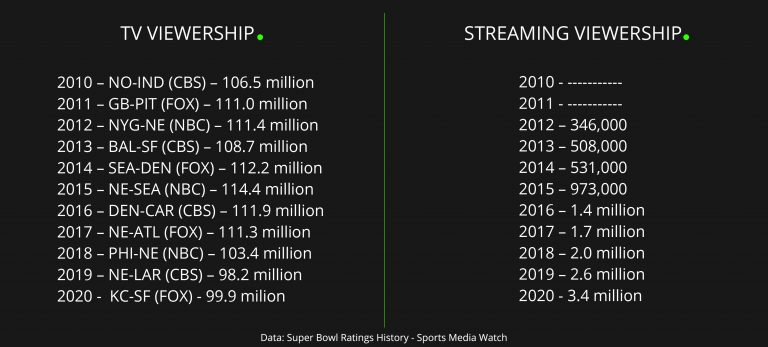 It's not hard to imagine a near-future where the NFL signs an exclusive Super Bowl broadcasting deal with a streaming service. But in the immediate future, those figures keep us wondering how streaming will revolutionize the way fans worldwide interact with professional sports broadcasts. It's safe to say that we're not far away from multi-lingual streaming options the same way we have fan-specific coverage. Accessibility = profitability!
ESPORTS ARE SET TO BECOME THE NEW PASTIME
The younger generation of media consumers are moving away from traditional sports broadcasts and instead turning to online streaming – or watching something altogether new: esports competitions. The popular gaming streaming service Twitch has over 15 million viewers across almost 75,000 channels. In 2017 alone, there were 335 million worldwide viewers of esports, and that number is only growing. Close to 100 million viewers tune in for League of Legends World Championship, and millions of dollars are bet on the outcome. Yep, even betting on esports has become a popular activity on par with betting on football (soccer) or the NFL. Cha-ching!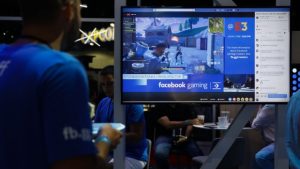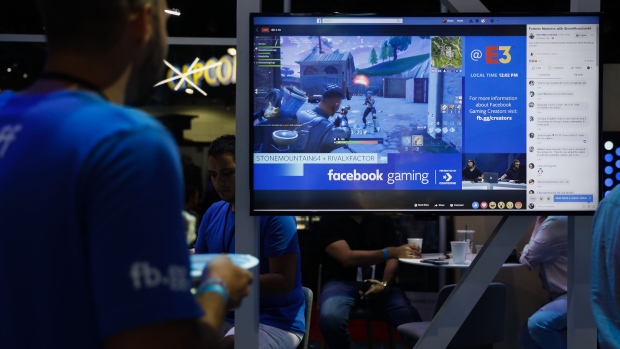 But what makes esports so attractive to younger generations? There's no simple answer, but there are some obvious reasons. People feel comradery when they're watching something with millions of people around the world. They can watch the best play, then play themselves without leaving home. 
We tend to love the sports we played when we were younger, and the same is true for esports. As video games become more popular, more people become gamers from a young age. And gamers will either grow up to be professionals or fans, just like traditional athletes.
Whatever the reason for the trends, it's clear that a massive transformation in sports consumption is close at hand. 
LET'S GAMIFY!
If you're as passionate about the gaming world as we are, you're familiar with "gamification," or taking something that already exists and adding game design and mechanics to boost engagement and immersion. 
A notable example of gamification was Intel's plan to bring 3D athlete tracking to the 2020 Olympics. Another is when Thursday Night Football was streamed on Twitch and included interactive elements to the broadcast, the same type of elements used by esports teams and players. If the most effective user engagement is experiential and interactive, just imagine what this means for marketing potential. 
Here's an example of the fantasy football integration on the Thursday Night Football Twitch stream: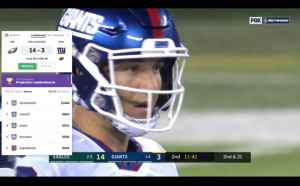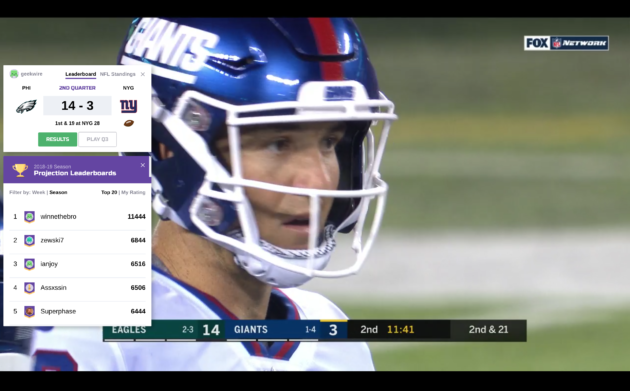 There's gamifying a sports broadcast, and then there's gamifying an empty room. Have you heard of the game Hado? It's an augmented reality game that uses digital projectiles and virtual equipment to create a realistic – and physically demanding – sports simulator. It's a great example of the convergence of athletics and esports, and it makes us wonder about the possibilities of turning any space into a sports complex. We'll see you on the court!
ARE TRADITIONAL SPORTS RECRUITING ESPORTS FANS, OR IS IT THE OTHER WAY AROUND?
While YouTube was just granted the exclusive streaming rights for Call of Duty League, the Overwatch League, and competitive Hearthstone, we also see traditional sports attempting to recruit esports audiences. Recently, Fortnite released skins celebrating the Super Bowl to their 250 million players. 
Was it a marketing strategy employed by the NFL to attract gamers to their broadcast? Was it Fortnite connecting with their sports-oriented user base with a seasonal promo? Either way, it's a stark illustration of traditional sports and esports converging.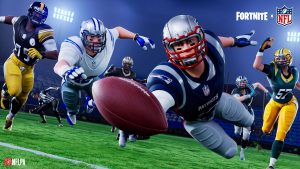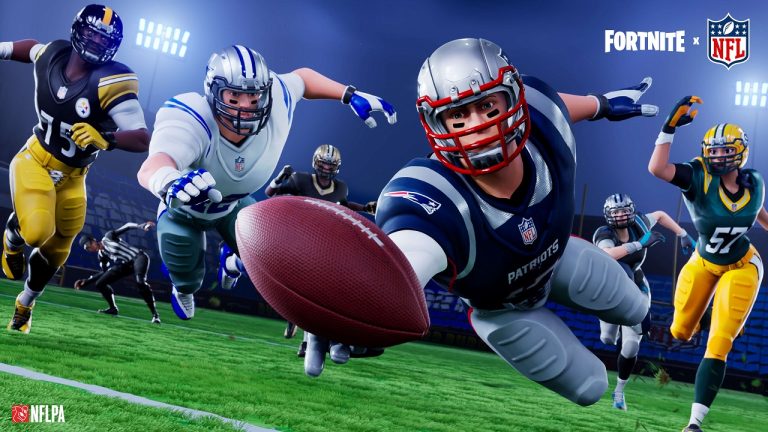 On this run to attract a younger audience that is not engaging with traditional sports like their older peers, association football (soccer) clubs are investing in esports teams – and not just in games like FIFA or PES. Barcelona bought a full team to compete in Rocket League, and Paris Saint Germain is partnering with Chinese team LGD in a co-branded team competing in Dota 2. 
We also see sports entities repositioning their brands into an entertainment company business model to attract a more global audience. That is the case with the North Esports, created by FC Copenhagen of Denmark and the media Giant Nordisk Film, the partnership aiming to become a multi-gaming organization Europe-wide.
GET THEIR ATTENTION BY MAKING IT VISUAL
The viewership battle between sports and esports might not be related to the younger generation losing interest in sports. In a digital era with an endless supply of content choices, our brains have evolved to become more selective. And who wins our attention? Those who create content that's visually attractive, kinetically stimulating, and incorporates compelling storytelling.
The digital generation—or Millennials and Generation Z—can hold a conversation based on GIFs, Vines, dramatic memes, Emojis, and TikTok videos. During the 2016 Olympic games, in an attempt to keep the eyes on the TV and less on social media, the International Olympic committee prevented sports writers from using unauthorized Vines and GIFS with "Olympic" material.
That's a good move – if you want to limit your audience to 40 years and older!
Fortunately, the 2020 Olympics seem to be making efforts towards the younger generation, including a Robot Olympic Village in Tokyo's Odaiba neighborhood, where robots will help guests with directions and transportation. They will also have self-driving cars, and the chance to view some events with 8K VR with a 360-degree view. This will be a fascinating time to see how technology transforms how we watch some of the most traditional sporting events in human civilization – and whether or not it connects with younger viewers.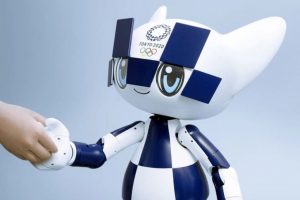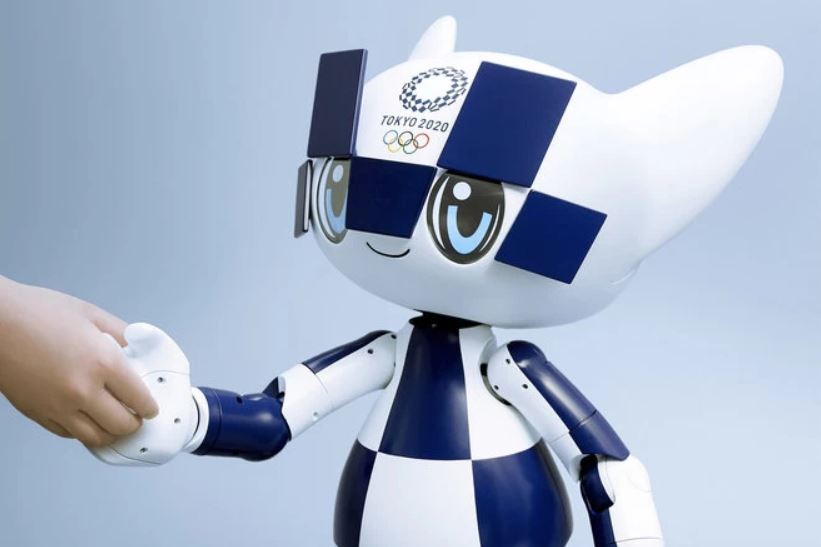 The digital generation engages with sports in different ways, craving to consume it and live it more meaningfully. So it's not that the future is in esports or in traditional sports, it's presenting content in the way we're evolving to consume it.
If you want to reach any audience, you need to get to know that audience. Our expert content writers span every niche in gaming, sports, and esports – across more than 70 languages. If you would like to know more about how our language services like localization, content writing, SEO optimization, subtitles and dubbing can help you be one step ahead of your competition in esports, we recommend you to read our new esports case study – Scoring esports fans with language solutions. 
Get in touch to learn more about our services today!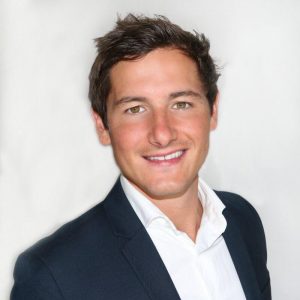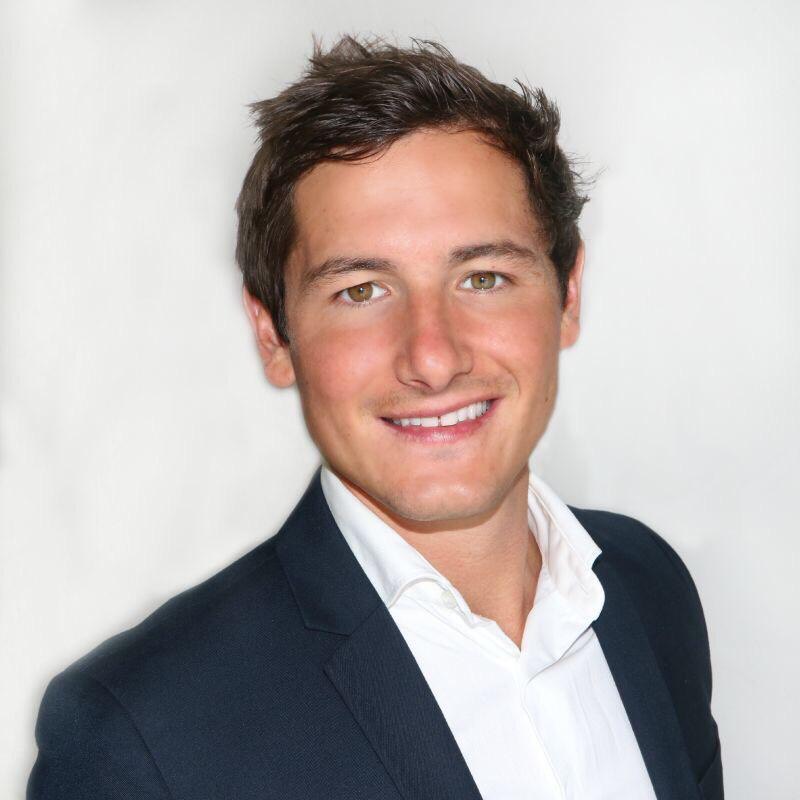 Book a meeting at Esports Bar Cannes with our Business Development Executive for emerging market Mark O'Byrne –
mark@all-in.global
---