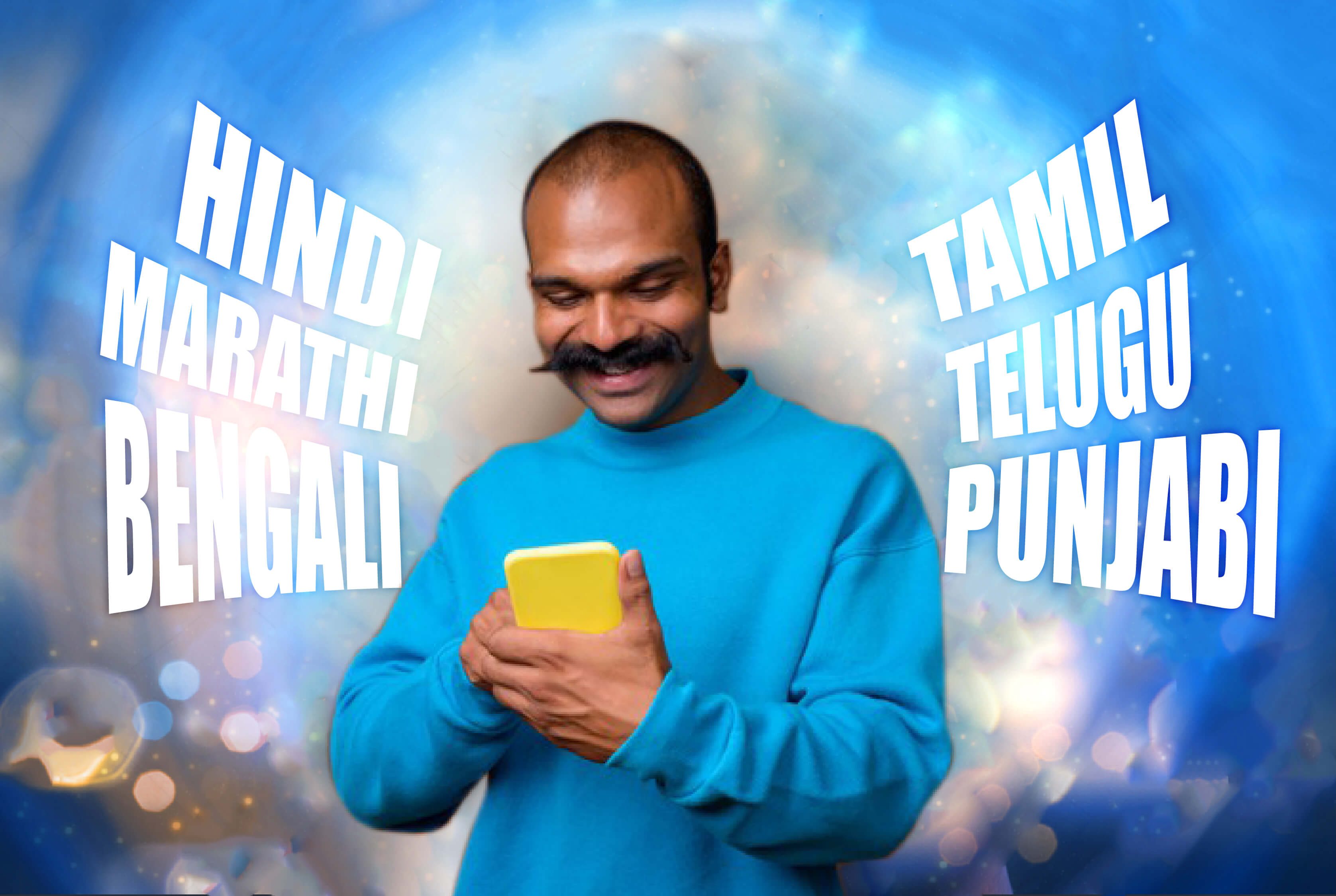 Wed Apr 7th / Marina
THE ULTIMATE GUIDE TO REACHING INDIA'S MOBILE GAMING MARKET
Globally, 1 out of 10 gamers speaks an Indian language. Are you looking for strategies to communicate and build a lasting connection with the Indian audience? Here's the guide you've been waiting for.
All-in Global is the #1 language solutions provider dedicated to the gaming industry. Our mission is to help gaming companies go global and conquer new markets by giving their brands a unique local voice.
We work with more than 80 languages but the focus of this guide are the particularly demanding audiences that speak Bengali, Hindi, Kannada, Marathi, Punjabi, Tamil, Telugu and Urdu.
Throughout this guide, you will find insights on the following topics:
THE INDIAN MOBILE GAMING MARKET BOOM
 THE INDIAN GAMER PROFILE
LOCALIZING MOBILE GAMES ACROSS INDIAN REGIONS
OFFERING A LOCALIZE GAME EXPERIENCE
 APP STORE OPTIMIZATION IN A 7+ BILLION DOWNLOADS MARKET
ENGAGING WITH INDIAN GAMERS
1 – THE INDIAN MOBILE GAMING MARKET BOOM
By analyzing India's demographics combined with their recent "digital revolution," it's easy to understand why this country is expected to move into a market leader position in the mobile gaming sector in the following years:
(18-24) – 36.4%
(25-44) – 19,80%
(45-54) – 39%
2 -THE INDIAN GAMER'S PROFILE
According to a report by KMPG from 2017, the typical profile of an Indian gamer was a male around 24 years old, who was introduced to online gaming by friends and/or family. 4 years later, the most recent report by InMobi shows that mobile gaming is popular across all ages, and that gender is no barrier when it comes to playing games. It's also mentioned that gamers come from a big variety of backgrounds which is a sign that the times have been changing and revolutionizing the landscape of the Indian mobile gaming market.

For instance, genre popularity in mobile games varies between age groups.
Gen Z prefers to spend time playing Casual, Arcade and Board games. Millennials agree with the younger generation when it comes to Casual and Arcade but tend to skip board games and choose adventures in Action games. Among Gen X, popularity divides between Arcade, Cards and Board games.
With Indian people spending more time at home due to the COVID pandemic, there was a significant growth in the gaming apps usage (+65%). From all genres, there are three that we want to highlight: Casino (+160%), Casual (+198%) and Arcade (+368%). (InMobis)
3 -LOCALIZING MOBILE GAMES ACROSS INDIAN REGIONS
India is a massive country full of diversity. Differences are so largely spread that locals usually say language can change every 15-20 kilometers. India has in fact 22 official languages, and although Hindi is used as the primary language for central government communications, we can't forget those people who don't have Hindi as a mother tongue. Among the 1.9 billion people that live in India, Hindi is spoken as a first language by 425M, and as a second language by about 120 million people.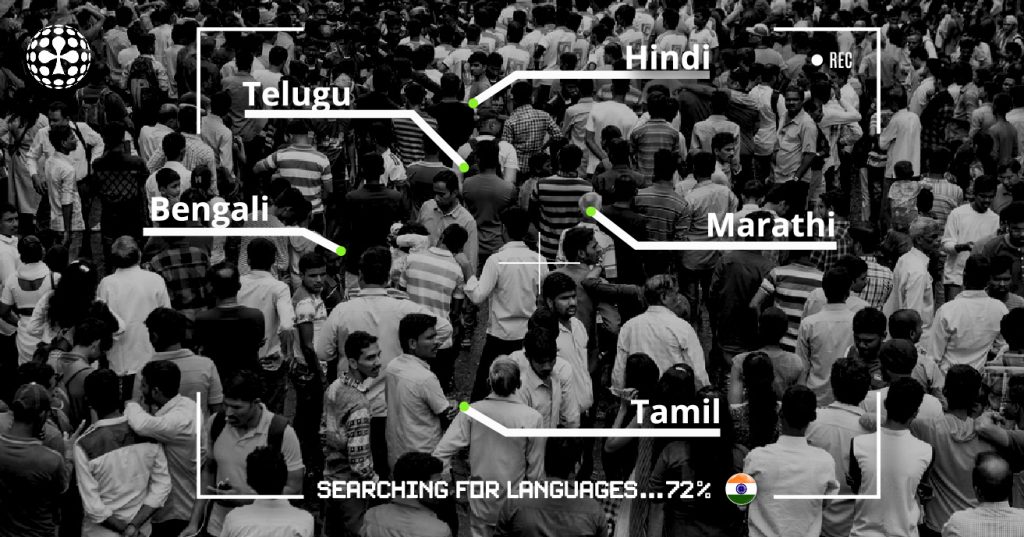 When it comes to the usage of English in India, it was projected by KMPG that in 2022, 9 out of 10 new internet users are likely to be Indian language users. When questioned about this topic, our translator Mohini shared a good example that supports this data and explains why offering English is not enough to win the Indian players' hearts:
"Take the word 'wagering' as an example. A person from India with, let's say, average English skills would not know the meaning of it. The equivalent Hindi word 'दाँव लगाना' is commonly used. So it's a fact that the intricate English gaming lingo is very difficult to understand for natives in India."
Mohini, Hindi translator at All-in Global
 This being said, which languages should be prioritized when localizing mobile games for India? The same way language usage changes across India, so does mobile game popularity. In order to give you a full insight, we decided to cross InMobi's data about the popularity of mobile gaming in each Indian region with the available data about the major spoken languages in the same regions. Below you'll find an infographic per region that will help you understand the language setup in India.
North India
A major section of North India is usually referred as the "Hindi heartland" or "Hindi belt" because Hindi is predominant in this region. However, if you're targeting a specific local area, Hindi might not be the best option – as it's the case with Punjab where the Punjabi language dominates the scene.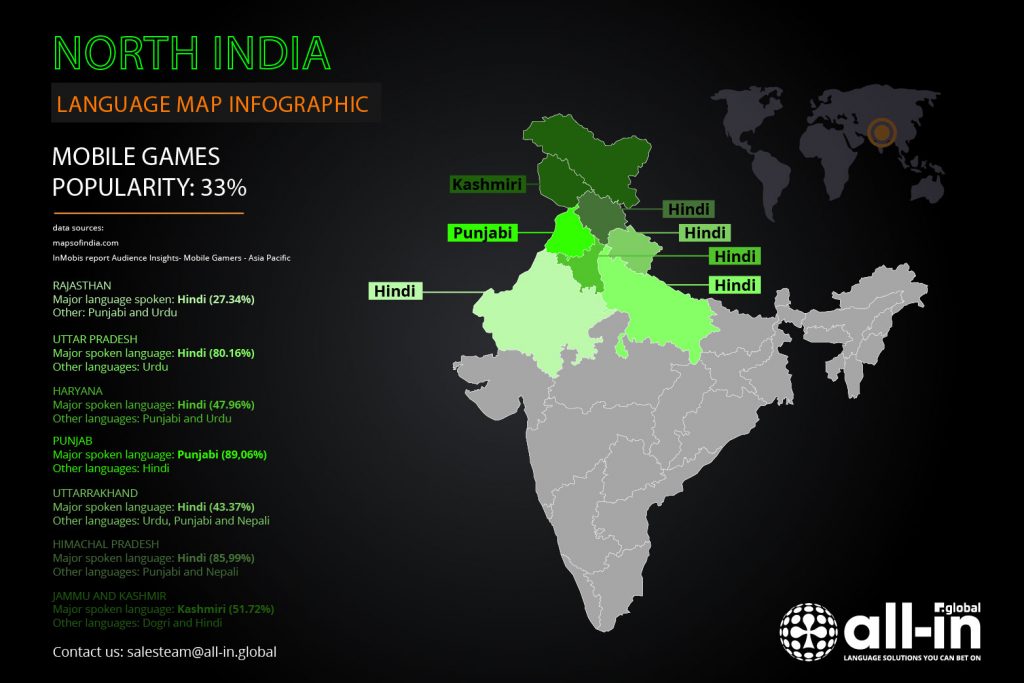 South India
Moving down to South India – a region where approximately 233 million people live – the language setup is dominated by Kannada, Malayalam, Tamil and Telugu.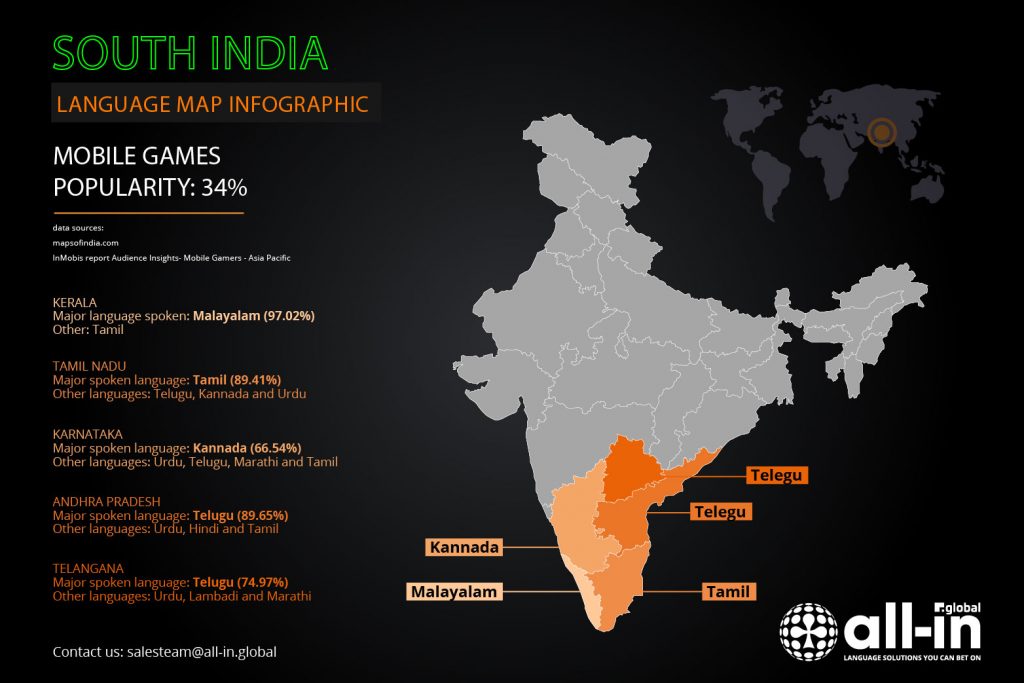 West India
This is the region where the largest Indian city is located: Mumbai. Around 12.4 million people live in this metropolis of enormous vitality, and the five primary spoken languages are Marathi, Hindi, Urdu, Gujarati and English.
East India
A mix of cosmopolitan languages blended with aboriginal dialects is found in this region. Hindi, Bengali and Oriya are the most popular languages within this area.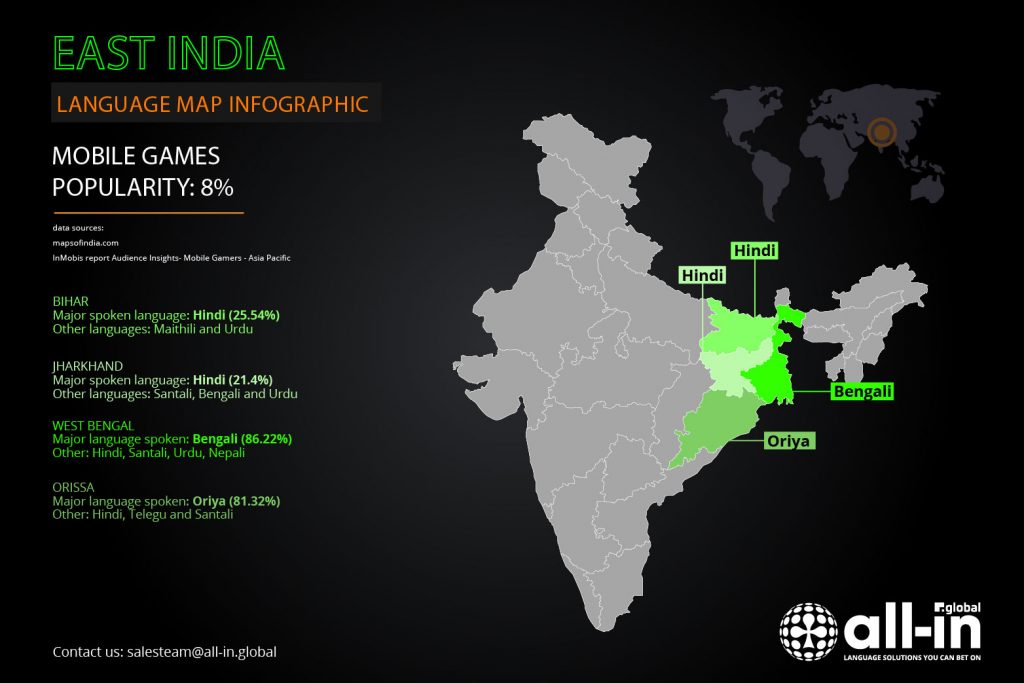 4- OFFERING A LOCALIZED GAME EXPERIENCE
Now that you have a better overview of which language you should prioritize in the localization process for the Indian market, it's essential to follow some key steps to achieving the best possible result:
First step should focus on building up a general perspective on all the elements that need to be taken into consideration to fully localize the gaming experience. The most common list will include voice-overs, in-game written dialogs, instructions, buttons, in-game visual content (e.g. the name written on a sign of a building).
2. Choose carefully your localization partner, and involve them as early as possible in the process. All-in Global has more than 12 years of experience localizing content for the gaming industry, and working with more than 400 translators around the world who are genuinely passionate about everything gaming. All of our carefully picked translators only convey content into their native languages, and are able to do much more than a simply word-to-word translation. They always make the necessary changes to adapt your source content to socio-cultural realities and to get you the regional flavor and feel that your brand needs to make its mark locally.  Our current offer on Indian languages include: Bengali, Hindi, Kannada, Marathi, Punjabi, Tamil, Telugu and Urdu.
3. Make sure that the management of all of your multilingual content is smooth in order to avoid common pitfalls in the process. That's why we offer easy solutions to Plug-in with All-in such as API integration to simplify the localization process.
4. After the localization process is completed, we strongly advise that a full context review is conducted to make sure that everything looks and sounds as it should. It's not a rare happening that the number of characters significantly varies from source to target language implying some adaptations to fit the text in intended in-game buttons. Our native Indian translators will play the game meticulously, and check that all the elements of the player's journey sound flawlessly in their language.
5 – APP STORE OPTIMIZATION IN A MARKET WITH MORE THAN 7 BILLION DOWNLOADS
After your game is fully localized, it's time to make it available for your target audience in the app store. To get the best results in traffic and conversions in foreign regions, it's vital to know with expert certainty how different app stores work, what are the keywords your target users would type into the search engine when looking for a similar game, and which details can get your game rank higher than your competitors.
India recorded more than 7 billion apps downloads in 2020, and the competition is only getting stiffer. If you really want to increase the chances of players finding your game, it's essential to go into detail when optimizing your app store listing.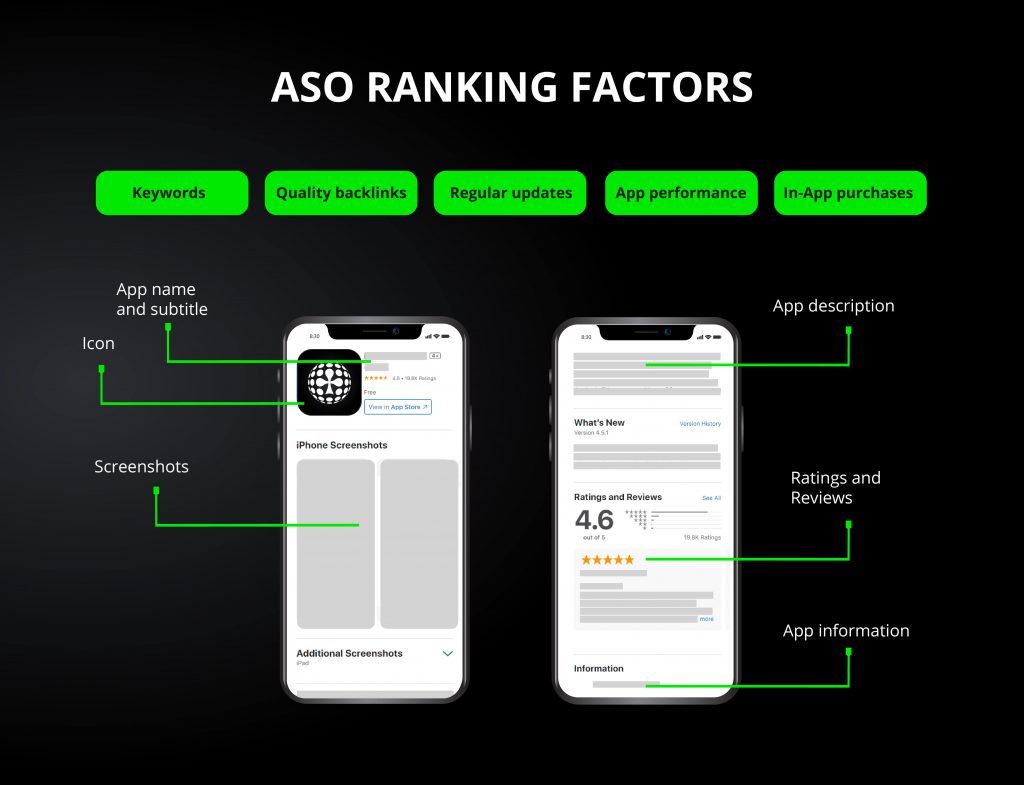 Here are some of the main points you need to take into consideration:
Keywords – People normally search for what they need on the app store using their native language. This is why you want to make sure that your app store listing includes all the keywords related to your mobile game in the languages that you intend to target.
Game description localization – Creating a well-written and clear game description can play a pivotal step in influencing people to download it. A correct localization of your game description allows you to keep your keywords in the right place and adapt the text to include what's important for each regional audience.
Rich media localization – Localizing the texts included in your featured images contributes to building trust among your prospects and convince them to download the mobile game.
The mixture of our SEO know-how with the local expertise of our native translators makes All-in a perfect partner to assist you in pushing your game into the top ranks of the search app store results.
6- ENGAGING WITH INDIAN GAMERS
Data from ThinkwithGoogle shows that Indians discover games mainly through three different mediums: Google Play Store, YouTube and friends & family.

It's also worth pointing that Indians have a special desire to integrate gaming as a social opportunity, and the sense of community is very appreciated. Building your presence on the social networks that match your game profile will open the path to successful engagement that will potentially lead to conversions and player acquisition. For your interest, below you'll find the usage stats that reveal the potential of each social media for promoting your game.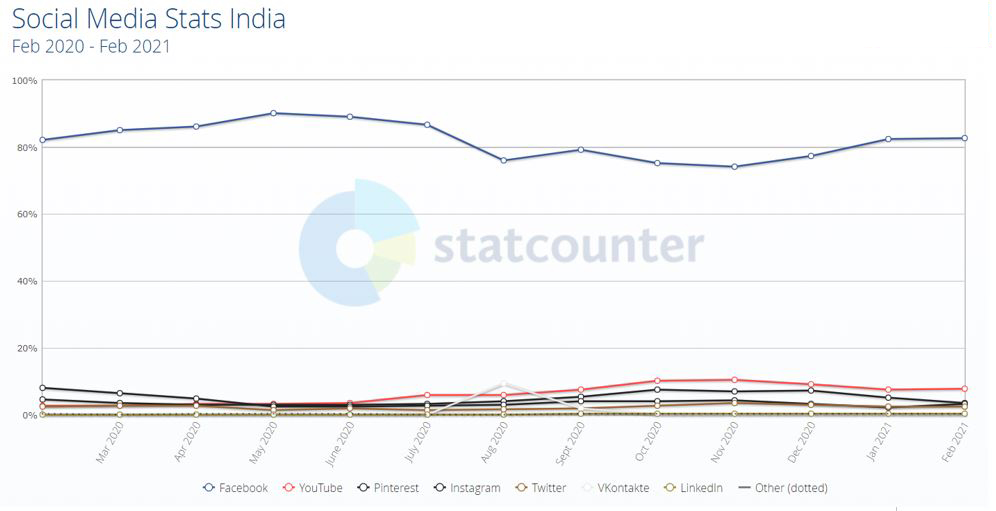 A report by KMPG stated that 88% Indian internet users are more likely to respond to digital ads in their own local languages than Ads in English.
As a final advice, never forget to optimize your content for the mobile format since this is a market where content is highly consumed in mobile devices (99%).
If you need help with promoting your game and building a long-lasting connection with your players, you can count on us for well-written and SEO friendly content and audio/visual services such as subtitling, voice-over and dubbing.
Get in touch and tell us about your mobile game project at salesteam@all-in.global
---