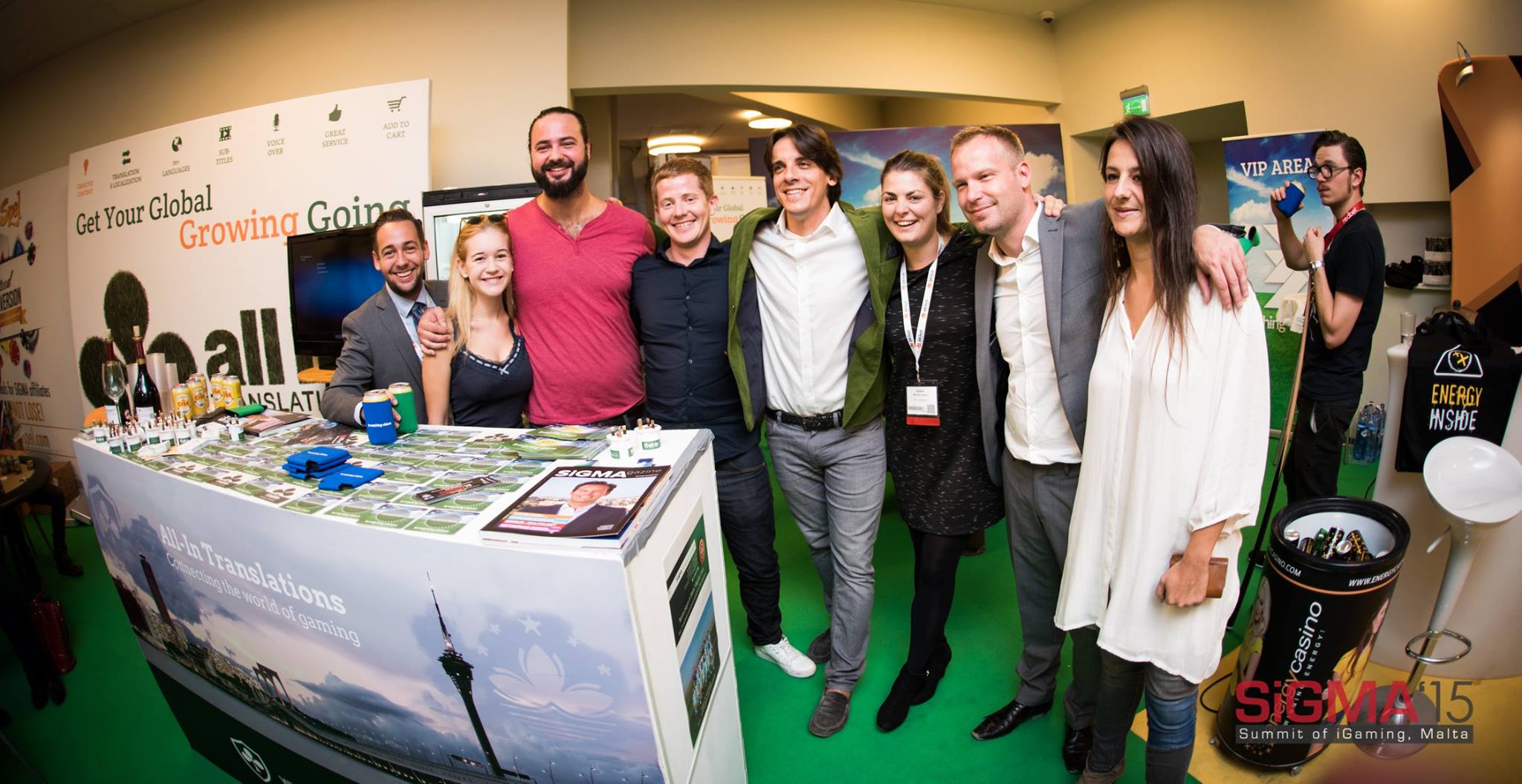 Wed Nov 4th / Roy Pedersen
THE SUN ALWAYS SHINES DURING SIGMA WEEK
For us here at All-in Global, no other iGaming conference evokes richer memories than SiGMA. With this in mind, we wanted to see what highlights can we remember from a six years in a row attendance at the world's gaming festival.
I honestly can't recall one rainy day during the SiGMA week in Malta. I'm not sure if it's because of late nights, wishful thinking or actual lack of rain, but it doesn't really matter. When professionals from the gaming industry met "at home" every November, you knew you were in for a week of spectacular networking and business. At All-in Global, we offer a wide range of language services to companies from the iGaming, sports betting, esports, sports and FinTech sectors, and our data shows that only ICE have brought us more leads than SiGMA throughout the years.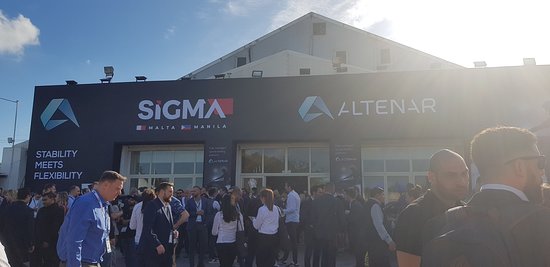 SiGMA 2020 will be held online. We're certainly not happy that we're all going through this, but we'll be trying to make the most of it as best as we can. Hopefully a look at some of our fondest SiGMA memories will make it slightly more bearable to wait until November 21 for the proper experience.
SiGMA 2014
I remember Dennis Dyhr-Hansen and Eman Pulis inviting Michele Spiteri and I for a chat about All-in Global (formerly known as All-in Translations) joining a gaming conference in Malta. We immediately asked ourselves why no one had thought of this sooner, and firmly confirmed our interest. A few months later, our first SiGMA exhibition was in place at the Intercontinental, showcasing the tagline Connecting the world of gaming.

The moment: One of the keys to a successful conference experience is avoiding to burn all of your gunpowder on the night before the event officially starts. That can be tricky because that's when most delegates arrive, and the there is always a pre-conference networking session. SiGMA 2014 commenced for us with a night of wining and dining with our biggest client. After that, we ended up slugging down cocktails in the Nordic Bar and crawled back at the hotel just a few hours before the conference started. To this day I don't know exactly how I managed to wake up on time – or at least almost on time – to open our stand and have my picture taken by the talented SiGMA photographer Aleksey Leonov.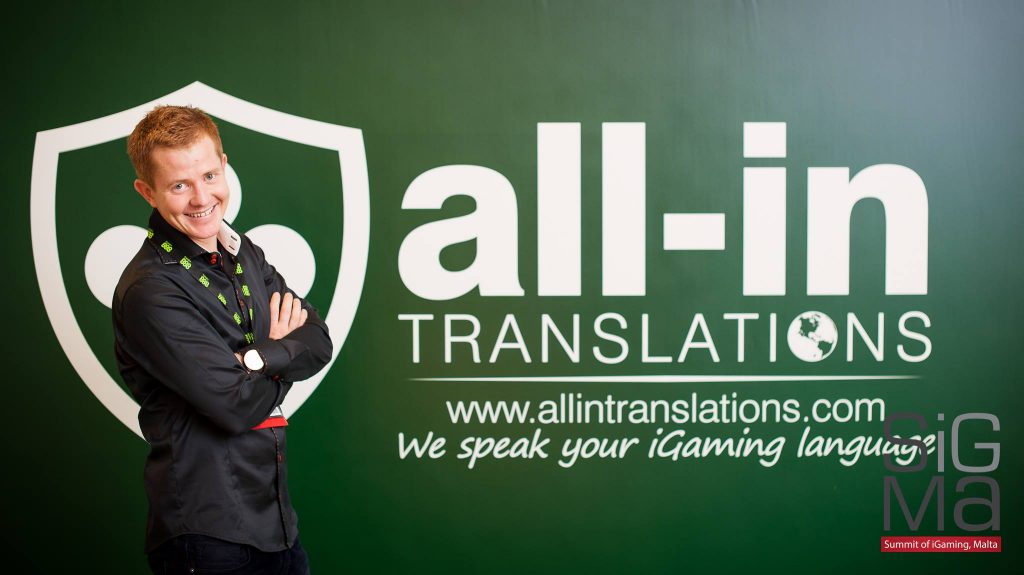 SiGMA 2015
Back in the days when the Azure Window was above sea level, we shot a spoof of Game of Thrones on the actual location that was used for Daenerys and Drogo's wedding scene. Just a few days before SiGMA 2015 started, we had gathered a bunch of extras from the gaming industry – including Lasse Iversen as the legendary Tin Foil Man – and filmed our very own iGaming of Thrones on the twin island of Gozo. The production value was spectacular, and to this date it's the most shared piece of video content made by All-in Global.
The video premiered at our SiGMA stand – which in 2015 has the slogan Get Your Global Growing Going. In addition to that brief cinematic release, we also organised some memorable poker tournaments. The conference amassed over 3000 delegates with that year's being just the second edition of the event.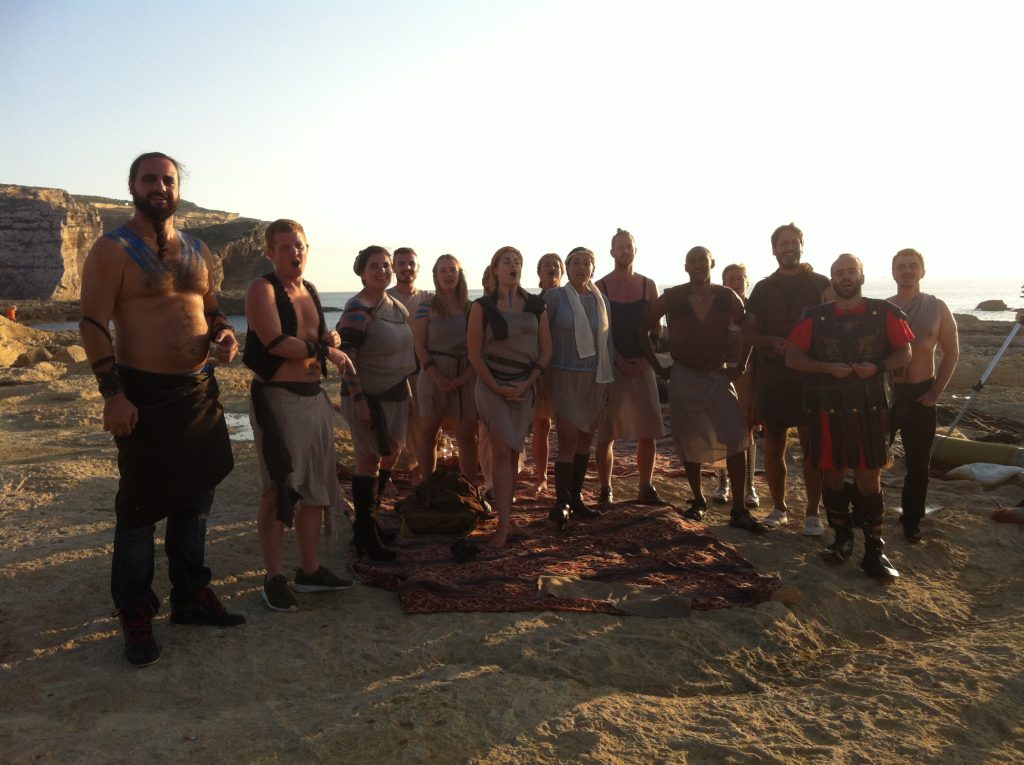 The moment(s): The members of the video production crew were mostly Serbian. So was the star of the video: Adi  – the guy who doubled as Drogo. Serbians are known for their swearing creativity, and a video shoot of this size never comes without headaches and disagreements. So while the video crew was swearing back, forward, right and centre, "Drogo" was sitting impassively on his throne pretending to get married to "Daenery" while clearly understanding every single curse uttered around him. He never disclosed all the details, but we suspect mums and body parts and maybe worse were among the topics so heatedly debated.
Have you seen the original Dothraki wedding scenes by the way? It's quite explicit, and we should mention that one of the extras, Jonas Gisle, took his role very seriously. If you look close enough in the video, you can see how.
I also have to mention the very end of the conference. After a closing party of mythical proportions, as the sun was coming up over St. Julians, I noticed my apartment key was nowhere to be found. The balcony door was impossible to lock, so it was easy to get in, but I had forgotten that my early riser father-in-law was visiting from Greece. He was a bit startled at first, thinking I was a burglar, but once he realised it was just me he laughed and asked if I had a good evening. The answer was yes.
SiGMA 2016
SiGMA Cup comes to life! The tradition of starting SiGMA one day early with a five-a-side football tournament at Luxol organised by All-in Global started in 2016. Malta is always packed with gaming delegates from all over the world for the SiGMA week, and together with a passionate football culture among the gaming companies that reside there, it was easy to round up teams and fans for a day of football just a few hundred meters from the conference venue. The tournament even witnessed two former English top flight players in Colin Hendry and David Rush, but the big trophy was eventually won by Reactivation Group.
Proximity is something that was highly appreciated in the early years of SiGMA before the conference grew way too big for the Intercontinental. You had everything you needed within walking distance, including the conference itself, restaurants, hotels, nightlife and casinos.
2016 was also the year we teamed up with Matching Visions to turn our stand into a lively Octoberfest plus a competition to see who could grow the ugliest moustache in order to raise some dough for the Movember foundation. I must admit we had some pretty strong contenders. This was also the first year to fly all our staff down on the rocky island.
The moment: When the conference ended and we could could finally shave the monsters off before the closing party. Followed closely by the dinner experience at Caviar & Bull where we ate a spectacular beef carpaccio and played pitch and toss between courses.
SiGMA 2017 
By 2017, SiGMA had grown to 6 000 delegates and a move to the Malta Fairs and Convention Centre (MFCC) was unavoidable. We stuck with the beer garden concept and stocked the fridges with beers from more than 70 countries to represent the 70+ languages in which we offer our services.
Gaming Innovation Group won the SiGMA Cup.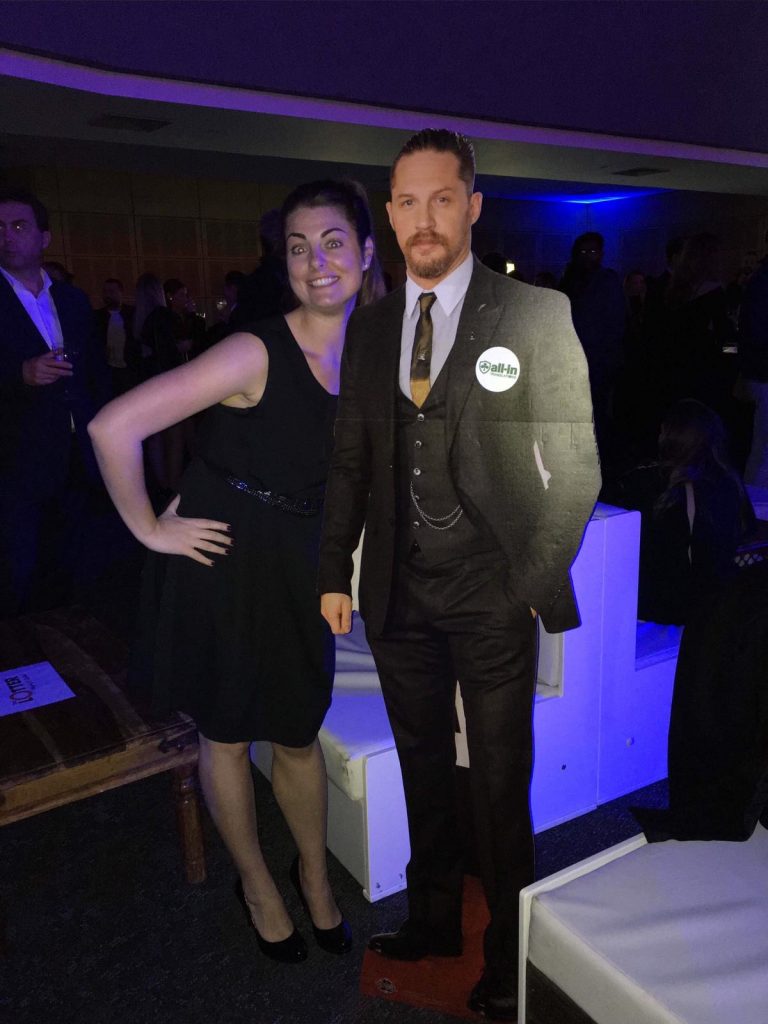 The moment(s): When Michele Spiteri brought a full-sized branded paper version of Tom Hardy to an evening event called Women in Gaming. The event was a tad more formal than she had anticipated but there was no turning back once the lovely "couple" had entered the doors at Hush. A few hours later at the closing party, the atmosphere was quite the opposite, and "Tom Hardy" didn't survive the night – not even close.
I also vividly remember a wild late-night cash game at Malta Casino where I was the only Norwegian player on a table full of Swedes. My strategy was to tell Norwegian jokes that does not really translate well, to the point that it became unbearable to listen to. I am not sure if it was the jokes or my cards that made the difference, but I walked away with most of the chips on the table that night. Do you know the name of Stalin's gardener? It's Plenin 😂
SiGMA 2018
We are not sure of the final numbers, but the hard working SiGMA crew reported beforehand that they expected a whopping 12 000 delegates for the 2018 expo. All-in Global followed suite and took the SiGMA Cup to a new level in it's third year. We organised a panel discussion about football in esports and Fantasy during the lunch break, and together with Scout Gaming Group we created a Fantasy league with players from SiGMA Cup. 25 teams entered the competition and Betzest/Axl Affiliates took home the trophy after a hectic final.
Unfortunately for me the SiGMA week 2018 ended before the expo started due to an unbearable toothache. By lunchtime of Day 1, I was strapped to a dentist chair getting a root canal, but many people were "nice" enough to send updates of fun being had without me.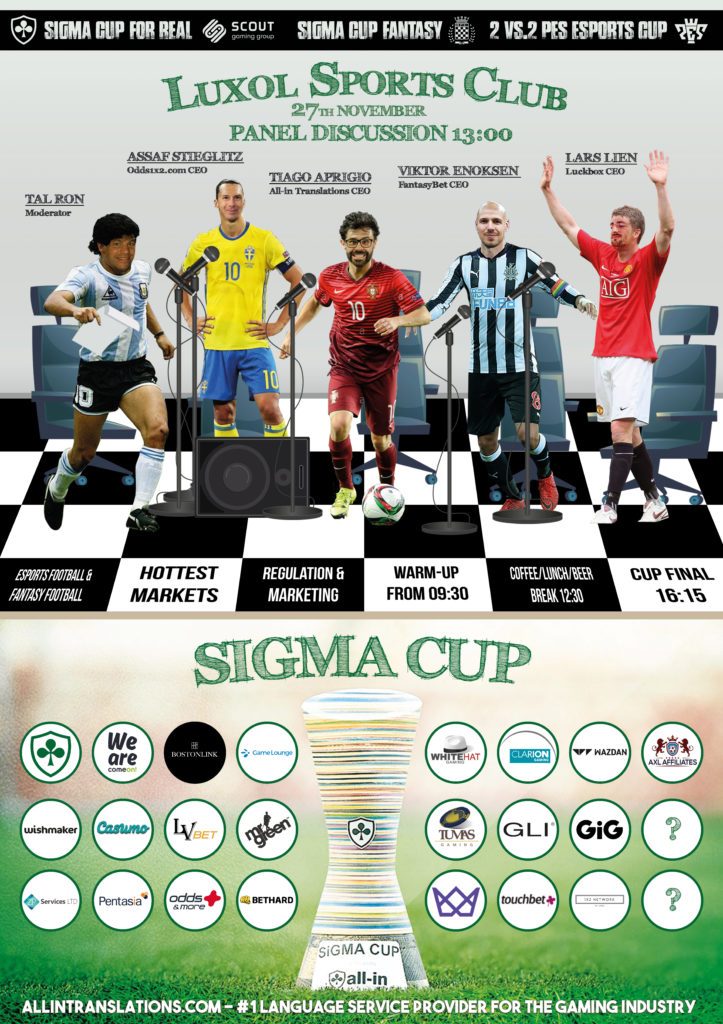 The moment: The final few minutes of the SiGMA Cup final and the scenes of celebration afterwards showed a great deal of passion. Both teams were desperate to win, and in the heat of action there was some beef between the two sides, but everyone shook hands afterwards with no hard feelings. The SiGMA Cup is highly competitive, but building a healthy sport ethic and having a good time is more important than victory at all costs. SiGMA Cup is for everyone.
SiGMA 2019
With helicopter transportation, nearly 13 000 delegates and a boxing title match, to mention a few things, SiGMA really shot for the stars and the headlines in 2019. At All-in Global, we felt that a consequence of this was less attention to some of the details that made SiGMA our favourite conference in the past, like excellent client service and an awesome closing party. However we feel certain that this will be back on track for 2021.
Before the expo started on November 27th ,we had decided to make another spoof video – this time taking inspiration from the bookmaker robbing scene in Snatch. With Raise Hell Michele, Bullet Tooth Tiago, Val Ain't Tiny, and Vasco da iGama in the main roles, #whatcouldpossiblygowrong?
This was the first SiGMA with our new All-in Global brand and tagline; language solutions you can bet on. The stand looked absolutely stunning, and with a packed MFCC the 2019 expo really lived up to its nickname as the World's iGaming Village.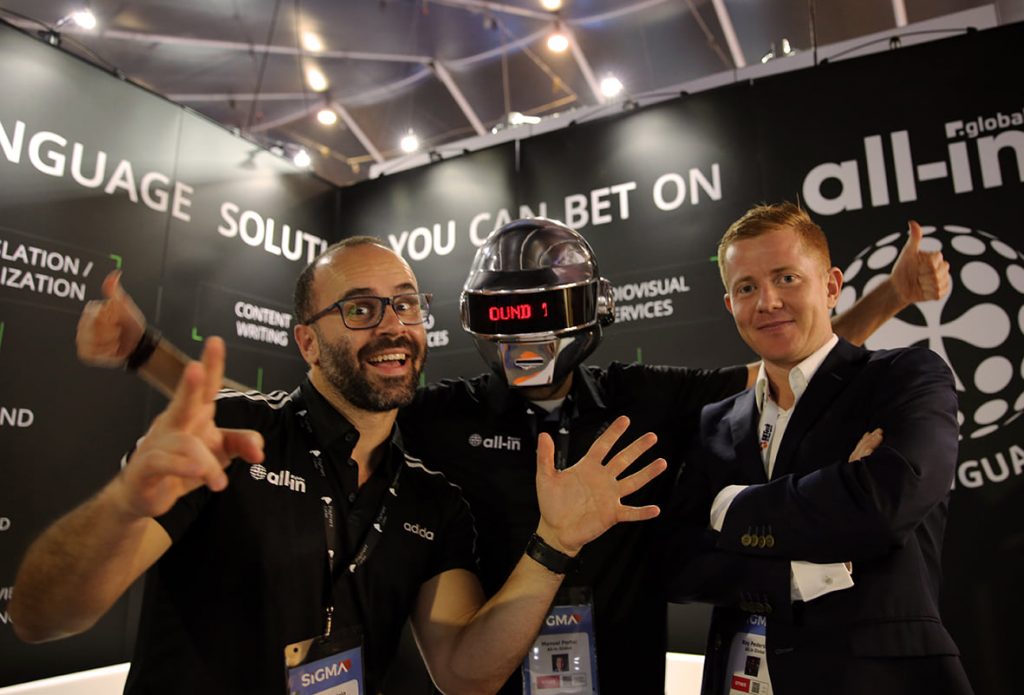 Betzest/Axl Affiliates won the SiGMA Cup once again – this time even more convincingly despite All-in Global having flown down several star players to become more competitive. I won't rule out the possibility that a hectic weekend before the cup kick off slimmed our chances, but that's no valid excuse. It will be interesting to see if anyone can challenge "The Romanians" for the SiGMA Cup title in 2021 (the picture is from 2018).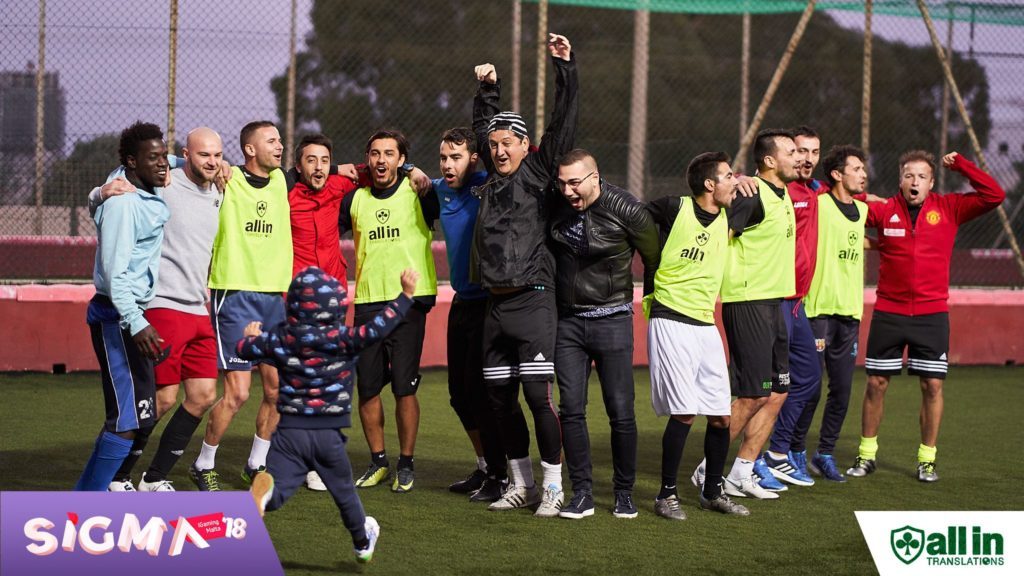 The moment(s): Endre Nesset, previously GiG and now at Coolbet, won the Fantasy title in 2018 and wanted to repeat his success in 2019. Before I even arrived in Malta, I was sent a picture of him drinking tequila with our new star signing who arrived a day early. Mr. Nesset wanted to gather all the information that he could about our team before I arrived on the island to prevent it. You can't blame a guy for being thorough!
As most of you will remember, there was a lot of political turmoil in Malta back then following the assassination of journalist Daphne Caruana Galizia – may she rest in peace. People in high places were accused of being involved, causing big protest rallies in Valletta. On top of that, on the day before the expo started, right after SiGMA Cup concluded, there was a complete power outage which brought a distinct feeling of uncertainty. But by the time the sun went down, the electricity came back and it was business as usual.
SiGMA 2020
Because of COVID-19, SiGMA 20 has gone digital, and so has the SiGMA Cup. We are still forking out the details but email roy@all-in.global if you want to take part in our FIFA Cup. Stay tuned!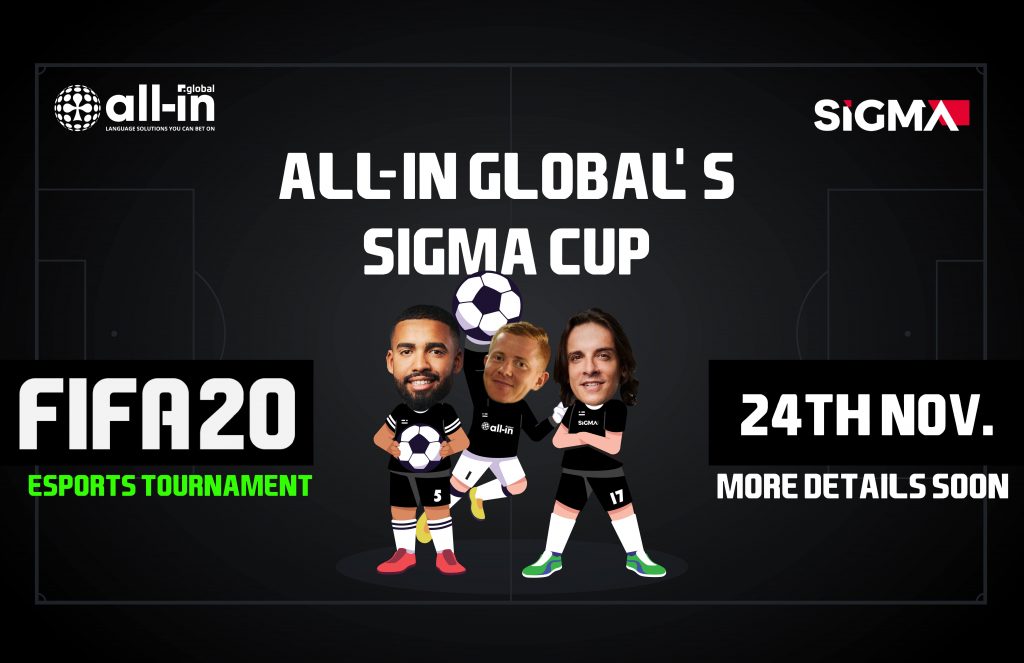 The moment: If it rains in Malta during the 2020 version it will be irony at its finest. I don't mind, as long as the sun shines again for SiGMA week 2021 when we hope to finally meet again. PLEASE PLEASE PLEASE LET IT HAPPEN!
---