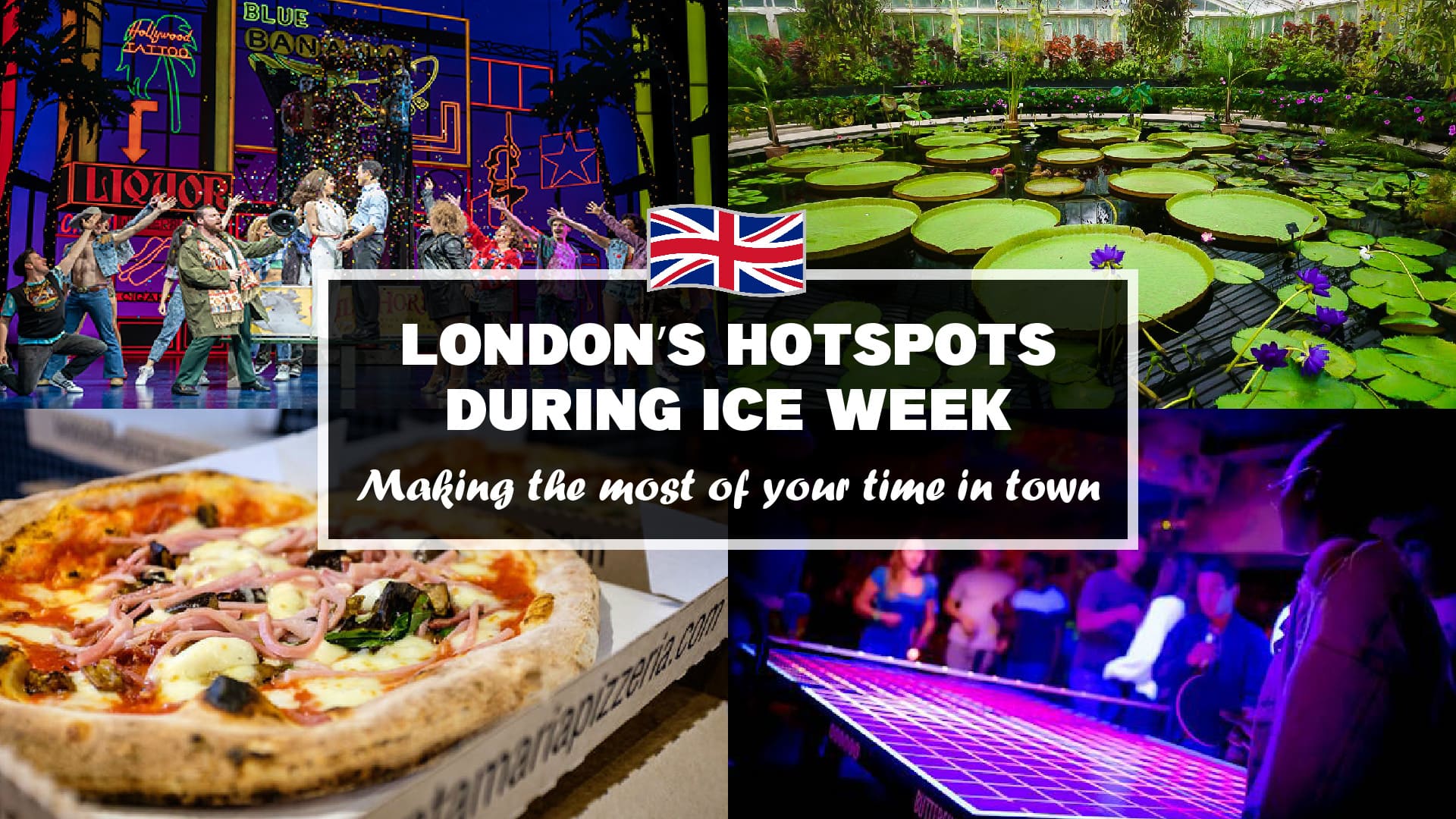 Mon Feb 6th / James Pacheco
THE 5 HOTTEST THINGS TO DO IN LONDON DURING ICE WEEK
Beer pong, Japanese gardens and Margharitas cooked over Vesuvian clay all made the list of James Pacheco's favourite things to do in London. He is a content writer for All-in Global and lived in London for 10 years.
1: Bats, bets, beers, and banter at Bounce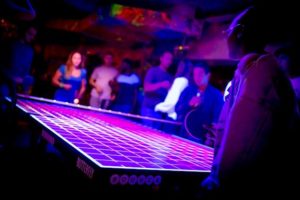 What do you think of when you hear the words 'ping pong'? Rallies of 40-50 shots at breakneck speed at the Olympics, maybe that scene from Forrest Gump?
Well, at Bounce it's all very different and the traditional ping pong is just the tip of the iceberg. Back in 2012, some clever entrepreneurs opened a bar in Farringdon themed around the game of ping pong. Why ping pong? It's easy to learn, cheap to play, doesn't require great physical prowess and can be played competitively, or just for a laugh.
There's also the fact that given it's a bar and that patrons are drinking (some too much) and it's a far safer game than the likes of darts. You know, the one where people throw little spears around in between downing shots?
There are now two Bounce Bars: the original one in Farringdon and now another in Old Street; both are in central London. The site for the Farringdon one, by the way, is the exact place where John Jacques III created and patented the game back in 1901.
Taking on your mates at the traditional version of it, with a few side bets to make things interesting, is the obvious thing to do there. But not the only one.
You can also play Wonderball. It's a high-tech and immersive experience played on a regular ping-pong table. It uses lights, graphics, and ball-tracking across a selection of games that involve landing the ball in different areas of the table for points, or completing other tasks.
Should you want to embrace your inner frat-boy-at-US-College, there's also Beer Pong. The name is actually somewhat deceptive because you can also play it with Prosecco or just about any other drink of your choice. The rules remain the same though: you sink, you drink.
Finally, there's Shuffleboard, a table-size version of curling, just without the ice.
There is no shortage of drinks including beer, wine, cider, shots, and alcoholic and virgin cocktails. Fuel for the ping pong table comes in the form of typical bar food such as potato puffs, cocktail chipolatas (sausages), and ten different types of pizza.
Both venues are open from 4.30-11 pm every day of the week and it's worth booking ahead, especially if you're in a big party.
Whatever you do, do not refer to the instrument you use to play with, as a racquet: it's a bat.
There's no ping-pong at ICE this year but AIG are sponsoring the wickedest poker tournament in town during the exhibition. Ali G impersonator Dani G will be dealing on the final table where the first prize is a package worth 1450 Euros. Read all about the tournament here.
2: The ultimate fresh-air experience at Kew Gardens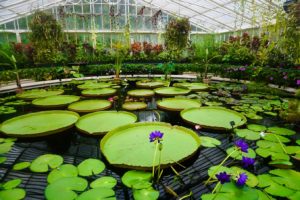 There will be plenty of chances to spend time indoors at an assortment of places during your trip to ICE including busy pubs, department stores, Bounce, and of course ExCeL London, where ICE itself is held.
So if you want to get some lovely fresh air to counter it all, we may have just the thing for you. Kew Gardens, founded in 1840, houses the 'largest and most diverse botanical and mycological collections in the world'.
In non-David Attenborough speak now: it's a chance to spend about two hours walking around one of the most beautiful parks in the world, while being surrounded by no fewer than 50,000 different species of plants.It's also a World Heritage site.
This article is too short to do justice to all the different and wonderful things you can see there. But just as a taster: there are the Japanese Gardens, the Treetop Walkway, a Rock Garden with wild-collected plants from six mountainous regions of the world, an Arboretum, the world's largest Victorian glasshouse in the form of the Temperate House, and the Rose Garden. Which hardly requires an explanation for what's there.
At Kew Gardens you'll also get a chance to learn about all these magnificent plants that play such an important part in saving the planet. You can get something to eat and drink at their cafe and buy some memorable souvenirs including books, toys, paintings and even planting kits, all inspired by what can be found at Kew itself.
For ICE visitors from Malta in particular, where sightings of anything green are as rare as sightings of Bigfoot, this is an opportunity not to be missed.
Before you more impatient ones ask: in February there's never a queue to get into Kew.
Kew Gardens Tube Station is a 25-30 minute Underground ride from Central London on the District Line.
3: Go watch Fulham v Nottingham Forest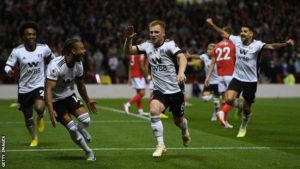 So, you've just spent three days talking about slot RTPs, the future of crypto casinos, conversion, affiliate programs, the best casino payment method for 2023, and which company offers the chattiest and quirkiest Dealers as part of their Live Casino product.
It's all been great of course and that's why you were at ICE in the first place, after all. But here's the thing: it's possible to love both casino and football!
So, if you're the sort of person who convinced your colleagues and friends to spend Wednesday night in a pub, with a good view of the TV, so you could check on how your Fantasy Football players were getting on in Manchester United v Leeds, we may have just the thing for you. After all, you're in Premier League land for the week.
At 3 pm on Saturday, there are two all-London derbies going on. In east London a struggling West Ham host Chelsea at the London Stadium, where the 2012 Olympics were held. The ground is big enough of course but that's part of the problem; it's a little too big and can lack atmosphere, especially with the home team so out of sorts right now.
Six miles north west of there, Arsenal are up against Bretford. All well and good to get the chance to watch the current league leaders in action. But tickets at the Emirates start at 235 Euros, going all the way up to almost 1000 Euros for the better seats. So unless your company has a pretty liberal policy when it comes to expenses or you got lucky at the tables at a West End casino, that might be a bit rich for most people's blood.
Alternatively, a trip down the District Line with an exit at either Hammersmith or Putney Bridge will take you to Craven Cottage and Fulham v Nottingham Forest, also at 3 pm.
A stone's throw away from the Thames, the Cottage is a small, cozy, friendly little ground where you're really close to the action.
The cheapest tickets are currently available for just 100 Euros and you'll get the chance to watch one of the league's surprise packages host former double European Cup winners, Forest.
Under Marco Silva, Fulham are playing a lovely brand of football that involves slick passing with Belgium midfield maestro Andreas Pereira pulling the strings and everyone trying to create chances for the prolific Aleksandar Mitrovic.
Once you're done with the game, you're just a ten-minute walk along the river from The Crabtree, a Victorian pub with a lovely beer garden. And without wanting to sound too Jamie Oliver-like: pukka pub grub. That's great pub food, to normal people.
Run an affiliate site offering written content about the Premier League? At AIG our content writers know their Abdoulaye Doucourés from their Cheick Doucourés, so get in touch if you're after some expert content.
4: Celebrate National Pizza Day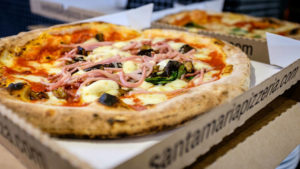 If you're the sort of pizza aficionado who's dumped a partner for ordering pineapple on their pizza or risked their life by visiting Naples just so you can eat the world's best Margherita, you'll be glad to know that February 9, the last day of ICE, is the UK's National Pizza Day in the UK.
And there is no shortage of top-class joints in London where you can get your fix of pizza on the night. For the true traditionalist, then Santa Maria may be the one for you.
With restaurants in Islington, Fulham, Ealing, and Fitzrovia, it's the proper Neapolitan type. So proper that they brought over clay (yes, clay) for their wood-fired oven from a spot near Mount Vesuvius. You can of course get a mouth-watering Margherita and the other classics, but they also have vegan options and the San Diego, featuring pumpkin cream sauce.
Over at Theo's (Camberwell or Elephant and Castle), you can get the best Capricciosa in town on sourdough…err…dough…or for something a bit more adventurous, the roast leek and ricotta one. If you don't fancy the travel, then there are plenty of Pizza Express restaurants bang in the heart of London. For what is essentially a pizza franchise, they're remarkably good.
AOG specialises in translations and content writing for the iGaming industry, but we have our fingers in a lot of other pies, no pun intended. So, if you need a content writer for anything, from a movie review to writing the menu at your brand-new pizza joint, we'll find one for you.
5: Prepare for St.Valentine's Day with a Pretty Woman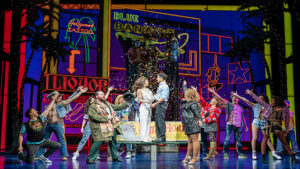 The most romantic day of the year for lovebirds all over the world is only next week of course. But there are few better ways to get in the mood for it than watching the musical adaptation of the classic 1990 film.
Pretty Woman was one of the first chances we got to see Julia Roberts' million-dollar smile as Vivian, while men stopped worrying about going grey if it meant looking just that tiny bit like the charming, charismatic, and vertigo-suffering Edward, played by Richard Gere.
It's over 30 years since those two fought, flirted, and frolicked on screen so it's no surprise they're not in it in the stage version of it.
Instead, it's left to Strictly Come Dancing finalist Danny Mac and the multi-talented Aimie Atkinson (she's also a solo singer and creative director for a girl band) to play the unlikely couple in Pretty Woman: The Musical.
It will be showing from 7.30 pm onwards on all nights during ICE at the Savoy Theatre (closest tube stop Charing Cross) with tickets starting at just 28 Euros each.
---