All-in Global have carried out poker localization for many operators, including, but not limited to, PokerStars, Poker Office and Betsson, but our most important client for this service is the iPoker network owned by Playtech. We localize their English poker content into 28 languages on a monthly basis.

The main reasons why iPoker chose All-in Global is subject know-how, good quality, fast delivery, and no minimum fees. So for example, when iPoker sends a request to our project management team to translate terms like 'Sit out' or 'Shoot-out tournament' in 28 languages, we charge for 56 words and deliver everything within 24 hours.
In other words price and turnaround time are two good reasons to choose All-in Global for your poker localization, but the most important reason is quality. So how can you ensure excellent quality when you localize texts about poker between languages and cultures?
Knowing the poker lingo
The first rule of poker localization is to be familiar with the poker terminology. If you have never played poker, you will have no idea what what the two terms mentioned above mean. And if you are a localization professional, you will painstakingly try to localize those terms in a way that would make sense to the poker players reading it in their own language.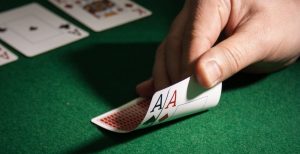 Of course, nowadays you can find information about everything on the Internet. It would not be, therefore, too hard to get the actual term localized correctly. But when you are looking to use the term in a sentence in context, and make it sound natural, you would probably fail as a poker localization professional if you had never played poker.
The professionals who take care of poker localization for All-in Global have online gaming "in their system", and we also make sure they have an updated knowledge with respect to terminology, which changes quite often in the world of poker.
One example is the yearly Christmas charity event we host on the iPoker network, where all of our linguists are encouraged to play in an invite-only poker tournament. The winners get to choose which organizations should receive our contribution. 'Translators without borders' is a popular choice, but we have also funded projects related to health, local sports clubs, and even a Maltese movie production. Click here to read more about the social responsibility of All-in Global.
Poker localization and context
One thing we have learned while localizing poker content for iPoker, Betsson, Betsafe, Titan Poker, Poker Office and others is the utterly importance of context. We always stress this when a client sends us a request: the localization will always be much more precise when our poker localization professionals are equipped with context.
That is why we sometimes recommend post-editing if the context is complex and not common sense. When we post-edit a project, we simply proofread the translation AFTER it has been uploaded to its full context. This goes for poker software, poker websites and even poker newsletters. When the localization professional sees their translation in full context, it is easy to understand whether it works or not.
To some, this is the actual definition of localization, which would mean that most of the jobs we do could be considered localization. However, we have usually categorized all our projects under one umbrella from the beginning.
Translation generally has a lower price than localization, and we rarely charge extra unless we are handling very time-consuming formats, or if additional proofreading from a 2nd translator/localization professional is requested.
In one question: How can we best serve our customers?
In one word: Flexibility!
Learn about our Poker translation/localization services.