All-in Global was the first ever multilingual language service provider to proclaim gaming translation as the main focal point of its business. In fact, the intention of offering gaming translations was the reason why the company was founded in the first place. Our mission was to provide the most accurate and attractive gaming translations, and we currently have 80+ languages available for our gaming translation service.
Nowadays, more and more translation companies are offering gaming translations, but a large majority of these companies started out either with a more general approach, meaning they did not really specialize in any subject, or they specialized in a subject different than gaming translation.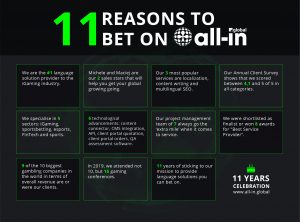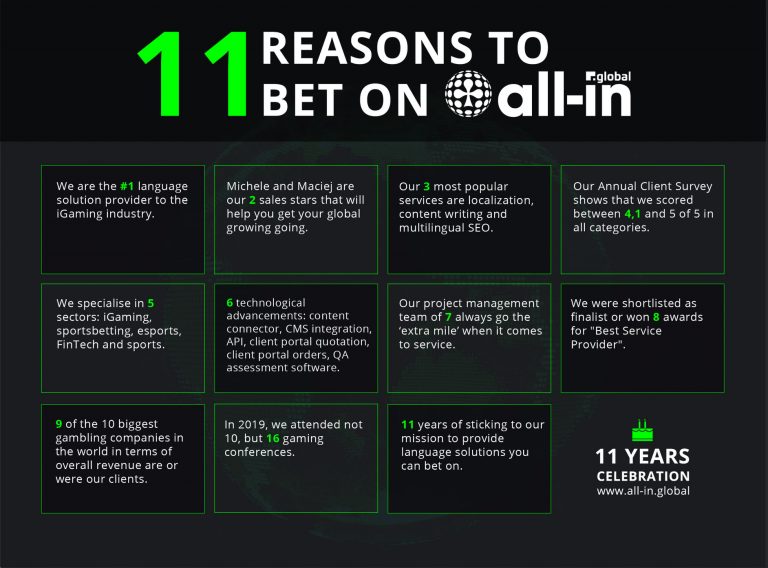 All-in Global has taken the opposite direction, and we are now focusing even on subjects other than gaming translations. However, these subjects are all, more or less, closely related to gaming translation – which remains our top priority.
With the emergence of regulated online gambling in many countries throughout Europe and the world, language strategy and localization practices became hot research topics and soon increasingly important marketing tools for platform providers, games developers, operators, and affiliates. Practically all big brands in the gaming industry are fighting for multiple market penetration, and a professional multilingual strengthening of their products proved to be a key to this success.
All-in Global has been translating, localizing, and proofreading for the entire gaming industry for more than 11 years. Our translators are all academically qualified in their home language and they all pass rigorous language and gaming tests to work for us. This is how we managed to gather under our roof such a fine team of experts in both translations and gaming terminology.
All-In refers to the move one makes in different types of games, especially in poker, when boldly staking all of one's chips. It also describes a risk-taking mentality, like when putting all of one's available resources into a project. Needless to say that the owner of All-in Global was financially "all-in" when this gaming translation company was launched in 2008. You can read the history of All-in Global graphically displayed like a Donkey Kong game in our About Us section.
Our gaming translation clients
Big thanks to all of you for choosing All-in Global – the only language service provider with MANY languages and true enthusiasm for gaming translations.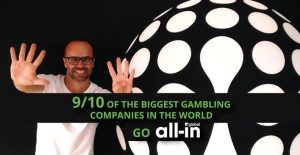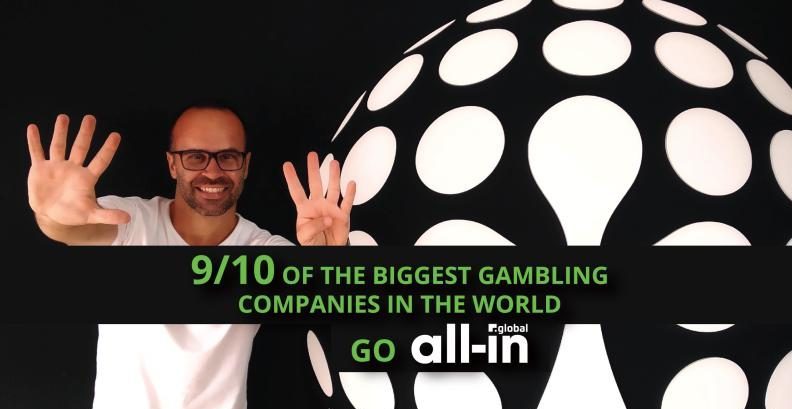 All-in Global is the #1 language service provider specifically dedicated to the gaming industry. The fact that we have provided 9 of the 10 biggest gambling companies worldwide (according to this article) with language services solidifies the statement. Currently, we are working with approximately 300 companies, including game developers, operators, platform providers, and affiliates.