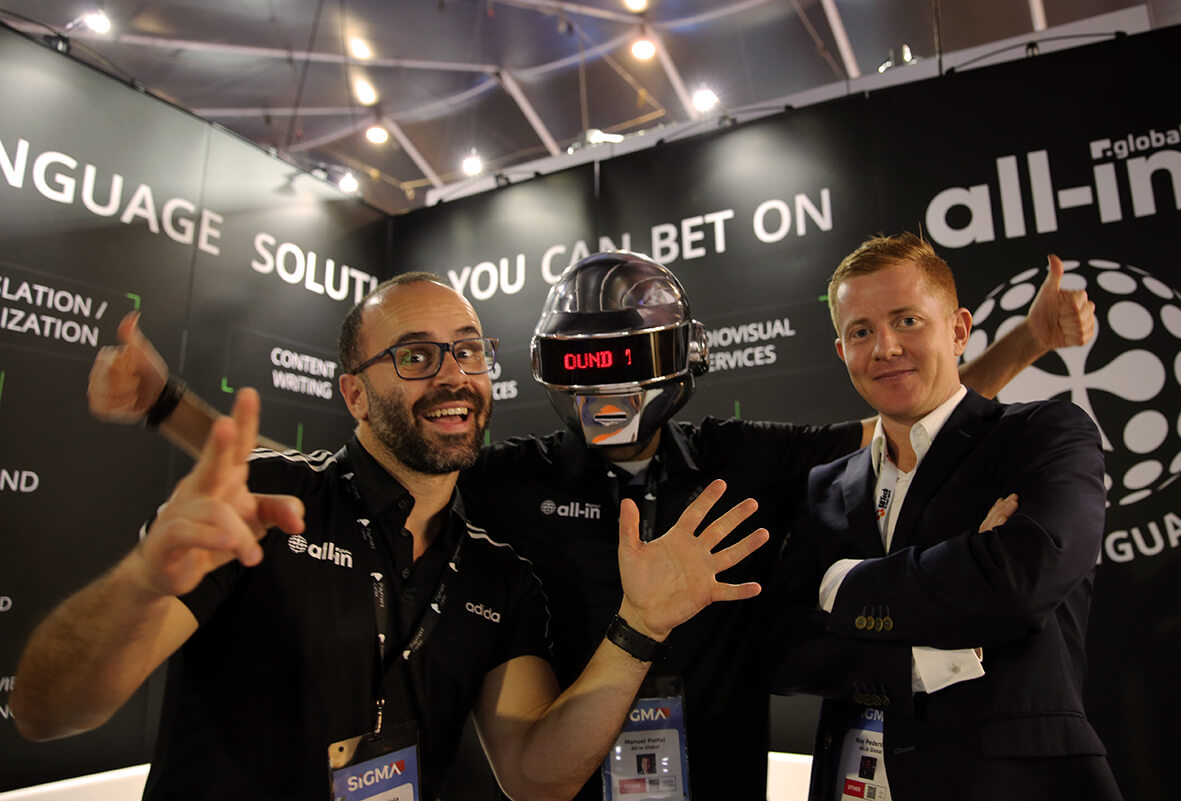 Tue Oct 20th / Marina
5 THINGS WE MISS THE MOST ABOUT LIVE EVENTS
Our favorite thing about our job is traveling and networking with our clients. Unfortunately, that's practically impossible right now. So why not embrace some nostalgia and highlight some of the most treasured parts of live events? Here's a list of the little moments we've been missing now that the industry is mostly connected online.
1 -NETWORKING FACE-TO-FACE
Our Daft Punk helmet is no longer packed for the next live event. But we can't wait to dust it off and get the party going again soon.
As a language service provider, our job is focused on connecting people #aroundtheworld. And we can't hide how much we miss doing at least part of that in-person. Connecting closely with our clients is part of our identity as a brand – and a large part of our success. We strive to build stable, long-term relationships with some of the most prominent organizations and people in iGaming.
We're getting it done virtually in the meantime, but we're counting down the minutes to live events.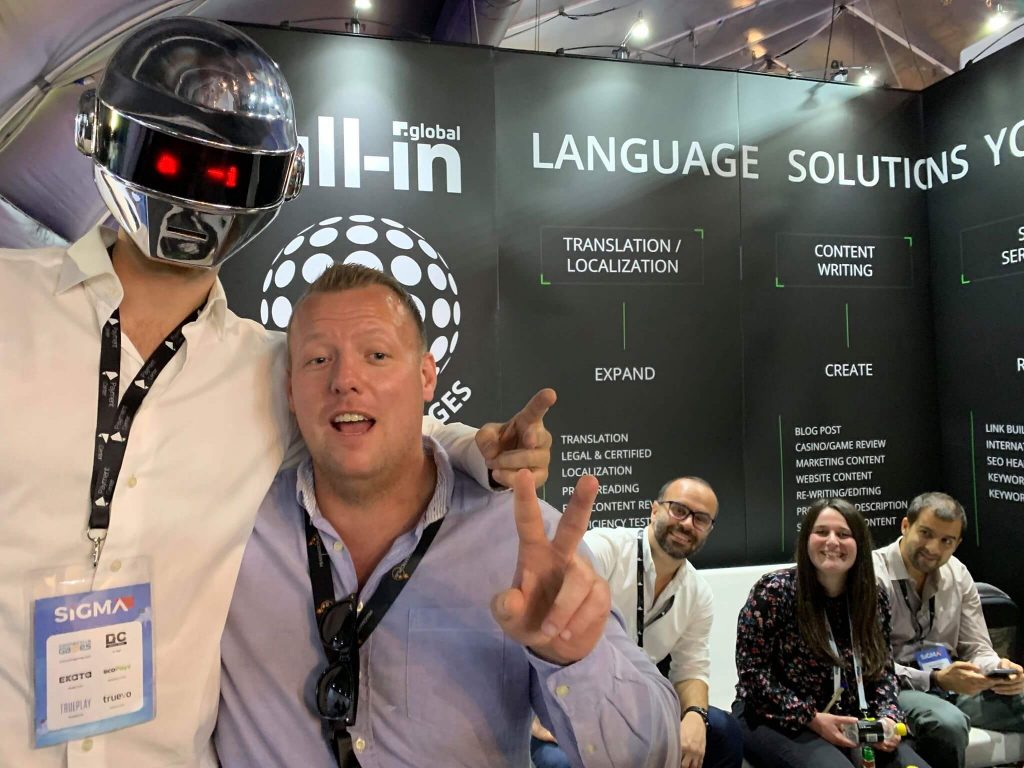 2 -SPREADING POSITIVITY WITH DANI B PARTIES
If you attended ICE London in the beginning of 2020, you must remember the amazing Block Party with DJ Dani B at the All-in Global stand. We love creating unforgettable experiences for the industry, and we're excited to bring more moments like this when things get back to normal.
If you missed this moment—or if you simply want to hear the beat—here's the video:
We thought that if Dani B can't be present at live events this year, we'll bring Dani B to your screens! Well, his voice, anyway!
Did you check out our new interactive video, where Dani B gives voice to three out of the four characters? Using his amazing talent, we created a video where we explain (in a very entertaining way) how our updated tech features are changing iGaming localization – and making it easier than ever before. Watch here:
3 – GETTING OUR GLOBAL TEAM TOGETHER
We work with amazing talent based around the world, and we've made it an annual tradition to reunite and network with everyone on our team. Not only is it everyone's favorite time of year, it's an essential experience for maintaining our incredibly strong and supportive relationships – and solidifying an amazing team spirit we're so proud of.
This year, our get-together was canceled due to the pandemic. But we always have the memories of our previous team meetings, and promise that the next one will be legendary!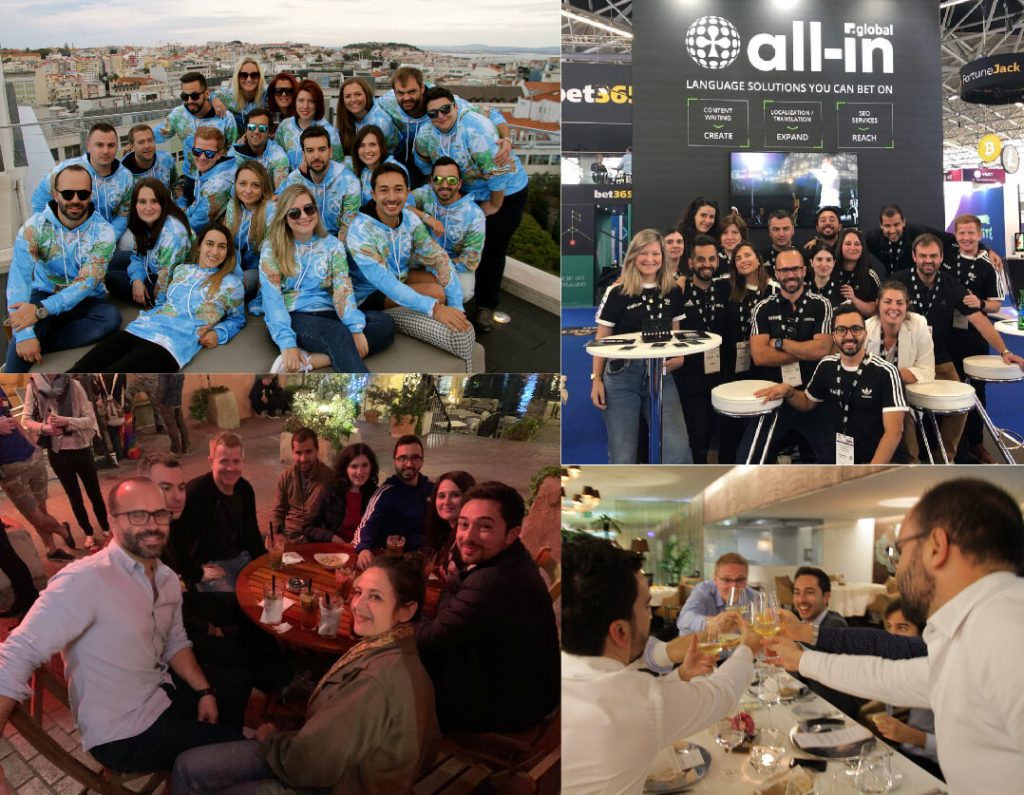 4 – THE PROCESS OF CREATING OUR PHYSICAL STAND
Adapting to digital events can be a fun process, but we miss projecting and designing the live experience of our physical stands. We just designed our first virtual stand to attend #BOSADigital, and we're extremely excited to meet you all there!
Maciej and Mark from our sales team will be there to let you know how All-in Global can help your business go global while sounding local in any market that you want to target.

5 – THE AIRPORTS
We actually miss the chaotic feeling of going to airports. We'd let people know of delayed or canceled flights. We'd deliver urgent projects while we wait for the next one. We'd wish we were just where we were going. And we miss that.
It's funny, isn't it? We miss the feeling of dealing with those unexpected inconveniences. Because being held up means we're going somewhere. It means we have something to look forward to. And we're going to embrace every cancelation and delay the next time we're on our way to a conference.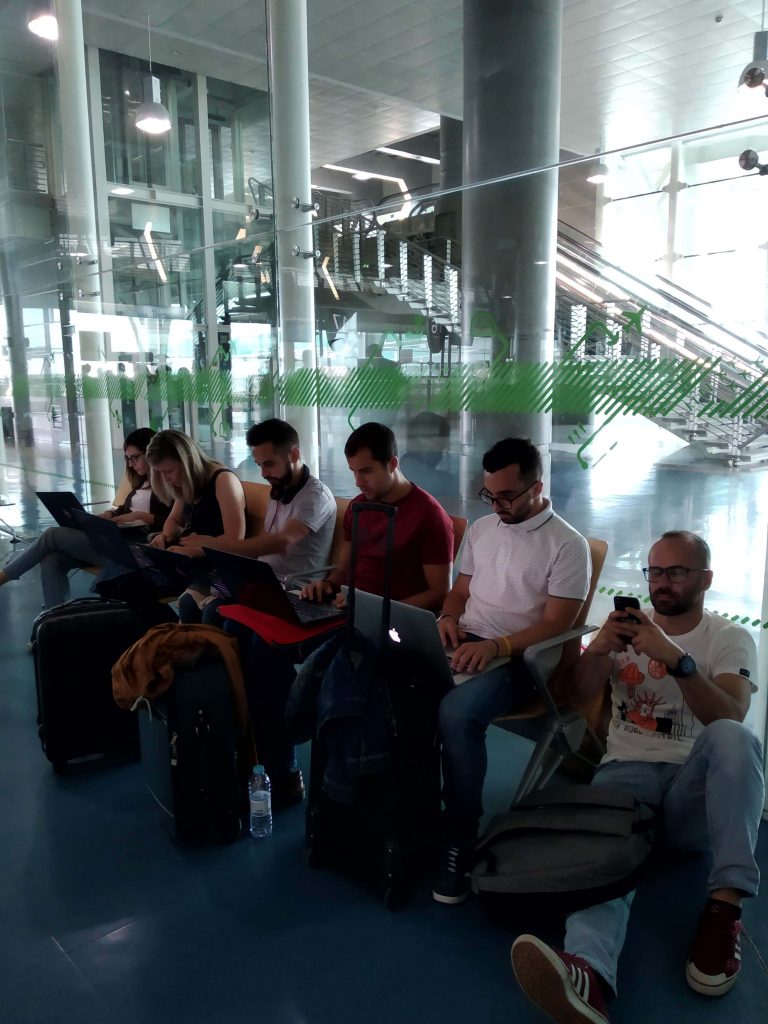 Although we miss the sparkle of live events, we're happy to see that the industry is creating so many opportunities in the online world to keep business moving and people connected. We look positively toward the future, and we hope that, sooner rather than later, the industry is reunited again and ready to impact the future of iGaming. #everythingwillbeok
---