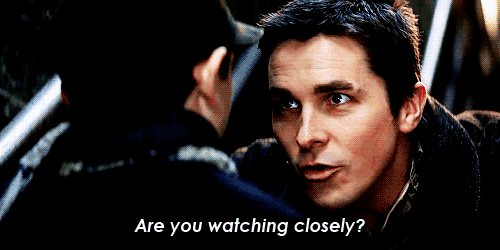 Thu Dec 19th / Roy Pedersen
20 YEARS – 20 MOST MEMORABLE MOVIES
Science fiction is my favorite movie genre, but there is nothing scientific about this list. Like with all things creative, including translations and writing, preferences will always be very subjective, and the only criteria I am using is whether I remember a movie because it was awesome.
What you have below is simply a list of the first 20 movies that come to mind from this century and a bit of why. Many of these movies inspired spoofs we made for All-in Global.
PS: Did you know that we also offer voice-over, dubbing and captioning (subtitles) here at All-in Global? Anyways, let's get to it!
1: The Prestige (2006)
This is probably the movie I've seen the most times in my life, but it somehow never gets old. I think they should have cut the last part since it explains the plot too well, but the double twist (SPOILER ALERT) with twins vs. clones and the dilemmas this whole thing opens up is as magic as Christian Bale's performance as Alfred Borden. Another great move starring Christian Bale is American Psycho. It didn't make it to this list, but here is our spoof of its famous business card scene.
2: Unbreakable (2000)
No one can touch M. Night Shyamalan's Unbreakable when it comes to plot twists. Goosebumps! To my taste, this film starring Bruce Willis and Samuel L. Jackson is among the most underrated of this century.
3: Interstellar (2014)
So hyped that I almost turned skeptical, Interstellar did not disappoint though – far from it. As I wrote in this article about how my sci-fi romance turned into a "propaganda video" for All-in Global, Interstellar has a sequence where love is described in the most beautiful way I have ever read, seen or heard. Like in The Prestige, I found the ending a bit too long and over-explanatory, but that does not reduce this masterpiece from a 6 on the dice.
4: Avatar (2009)
The ultimate adventure movie. James Cameron's universe of the Na'vi people was so captivating that the media told stories about people getting serious depressions after having seen the movie. Real life was too dull in comparison. The story unfolds as Jake Sully (Sam Worthington) succeeds against all odds in making friends with the locals on the planet of Pandora. He becomes one with his Avatar with nothing loose and gains a cultural understanding of the Na'vi language, whereas the overly academic approach of his colleague Dr. Norm Spellman (Joel David Moore) proves less fruitful. One of the highlights of the movie for me is Sully's motivational speech before the final battle which is translated into Na'vi by Tsu'tey. He then jumps on the back of the alfa dragon called Toruk, which translates as "last shadow" because normally it's the last shadow you'll ever see as this creature attacks from above. Powerful stuff!
At All-in Global we can also help you with animation for your video content. Animation is an essential part of video production. Whether you are making an entire video in an animated style or you are adding elements of animation to your footage – like a special effects logo or a captivating intro/outro – having stunning animation can catch the eye of your audience. We are not promising Avatar quality unless you pay us in million dollar bills, but we can offer great value and good looking animation like in the example below from the Valletta Film Festival.
5: Lost in Translation (2003)
You might argue that I am just putting this on the list because the movie has the word "translation" in it, as translation and localization are the most important services of All-in Global, but you could not be more wrong. This serene cinematic sensation has the ability to give you a reinvigorated view of humanity. I remember buying the soundtrack as a CD, falling in love with Scarlett Johansson and making a promise to myself to visit Japan. I came close in 2011, but the trip was cancelled because of the horrible earthquake that shook the nation.
Japanese is one of our most popular languages at All-in Global, and one day soon I am hoping to combine a gaming conference in Tokyo with a trip to see other parts of this beautiful country, ideally during the cherry blossom. The thread mill scene from this All-in Global production is inspired by the scene in Lost in Translation when a jet lagged Bill Murray struggles with some Japanese speaking gym equipment.
6: Kon-Tiki (2013)
I have probably never been more excited about a movie prior to its release than the remake of Kon-Tiki. Epic expeditions is one of my favorite themes and for this production the journalistic "rule of the goldfish" really came into play for me. I learned about it when studying media and communication and it says something about people caring more about news that are near to them. For example, most people would be more emotionally invested if their goldfish died than if there was a tragic accident in a land faraway. Kon-Tiki is about a Norwegian explorer who like me, was born in Norway. Part of the footage was shot in Malta (the part that's supposed to look like Lima in Peru), and just a few years before  the movie premiered I traveled around French Polynesia which was the place where Thor Heyerdahl and his bamboo raft ended up after having drifted over 6,900 km for 101 days.
Did you know All-in Global can help you with video content production? We are working primarily with a very talented team in Malta, and we can take care of everything from ideas and scripting to shooting and audio, and as a language service provider we can obviously make the video content attractive on a global scale, with more than 70 languages available for all of our services.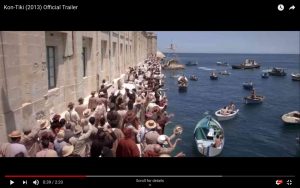 7: Snatch (2000) 
For several years after having seen Snatch I tried to sound like some of the characters in the movie, throwing quotes around like "No thank you I'm sweet enough" (do you want sugar), "I thought you said he was a getaway driver, what the f*** can he get away from?", "Do you know what nemesis means?", and so on…
In November 2019, we finally managed to make a spoof based on one of the scenes (robbing the bookmaker) of this brilliant action comedy produced by Guy Ritchie, starring Bullet Tooth Tiago, Vasco do iGama, Raise Hell Michele, Julia The Jewel and more.
8: Mad Max: Fury Road (2015)
Our CCO Michele Spiteri is a diehard Tom Hardy fan and will be happy to see one of his films on my list. I love the Mad Max series, and this fourth installment is the best one – as I see it. The movie keeps you on the very edge of your seat for 2 hours. And we are far from disappointed that director George Miller has confirmed that two more movies are in the making. More madness please!
9: Blind (2014)
Powerful Norwegian movie about a blind woman who plans a genius revenge on her cheating husband.
10: What We Do in the Shadows (2014)
Mockumentary from New Zealand about the daily joys and struggles of some vampires that have been room mates for 100+ years. I love it when a movie surprises me – and I did NOT see this one coming. Top 3 comedies of all time for me.
11: The Intouchables (2011)
12: The Wolf of Wall Street (2013)
13: The Beach (2000)
14: Slumdog Millionaire (2008)
15: Superbad (2007)
16: Step Brothers (2008)
17: Pay It Forward (2000)
18: Headhunters (2011)
19: Oslo, 31. august (2011)
20: Pusher II (2004)
---