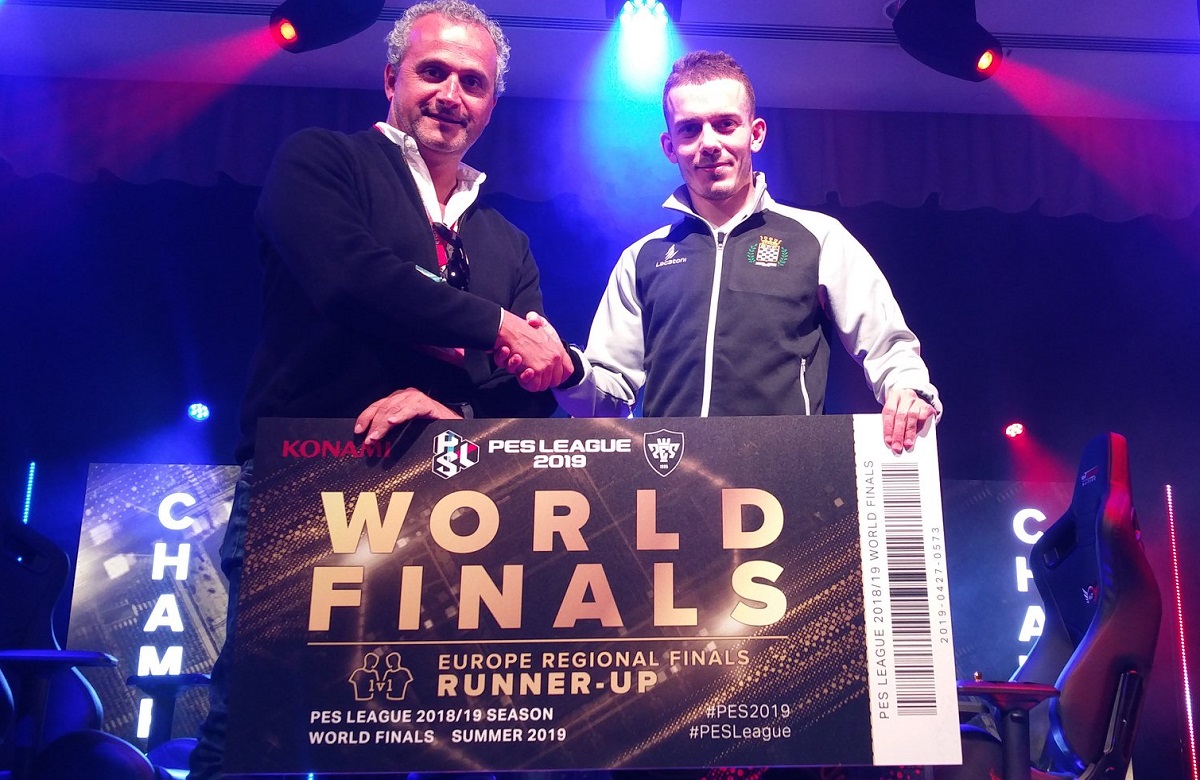 Fri May 3th / Roy Pedersen / pes world championship / porto
RETURN OF A PES CHAMPION
"To become World Champion" is all professional athletes' dream. 2010 PES League World Champion Christopher Maduro Morais just qualified for the 2019 Finals, he tells us everything about it.
Christopher is a Boavista FC player who won his ticket to the PES World Championship in the official Pro Evolution Soccer competition. Promoted by the game producer Konami Entertainment, the PES League gathers several thousand aspirers out of the estimated one million copies of PES 2019 sold worldwide. The European Regional Finals was held last Saturday in Porto, Portugal. Two players were selected to be part of the 16 best worldwide that will dispute the World Finals this summer. Among them is Christopher, whom we met in Porto for a chat.
Christopher, can you tell us about the day?
"I'm still excited about it, of course. Plus I feel I recovered from any fatigue after just a couple of days. You know, I played the first and the last rounds of the day with a 10 hours break between them. And I think I played the last ones with even more energy than what I had in the first part (smiles). It's fantastic to qualify for the World Finals! I was World Champion back in 2010, and I finished third in 2011. 8 years later, here I go again. I'm extremely happy. I trained very hard, and now it paid off."
How important was the home field advantage in Porto?
"Firstly, let me thank Konami for bringing this Regional Final to Porto. It was a great pleasure to play here, and yes, it made me very proud to be back in my home country, and that surely had a stimulating effect on me. Some players feel pressure playing in front a home crowd, and that can lead to a lack of concentration and, ultimately, to failure. In my case, it's a positive pressure, and playing in Porto and for a club like Boavista, that gave a real boost to my game."
Can you tell us a bit about the football club you are representing?
"It's a great honor for me to play for Boavista. I see myself as a professional player, and playing under such a banner is something you can only achieve when you got mature enough to both do your best and bring out the best from the Club. Boavista's presence in eSports started only two years ago, but the Club has already several categories, with about 50 players in total participating in about 15 competitions throughout the year. I, for example, am playing the PES League and eFootball.Pro, both official Konami international competitions. And trust me, more is yet to come. I'm super excited about some of the stuff soon to come, but details on that would stay under wraps for now. Last thing I'd like to add here is that knowing I have the full support of thousands of the Club's fans is just amazing."
What are your plans now?
"Well, apart from getting enough rest these days, I'm preparing for the eFootball.Pro Final that's only a couple of weeks away. It will be the end of a long season, and I intend to be at my best. Next – the World Finals after a couple of months, so I'll have enough time to prepare myself. Finally, I'd like to offer my congratulations to all other players in the circuit. We've seen top gameplay this weekend and I'm sure we'll see the same level of performance in the following events."
---