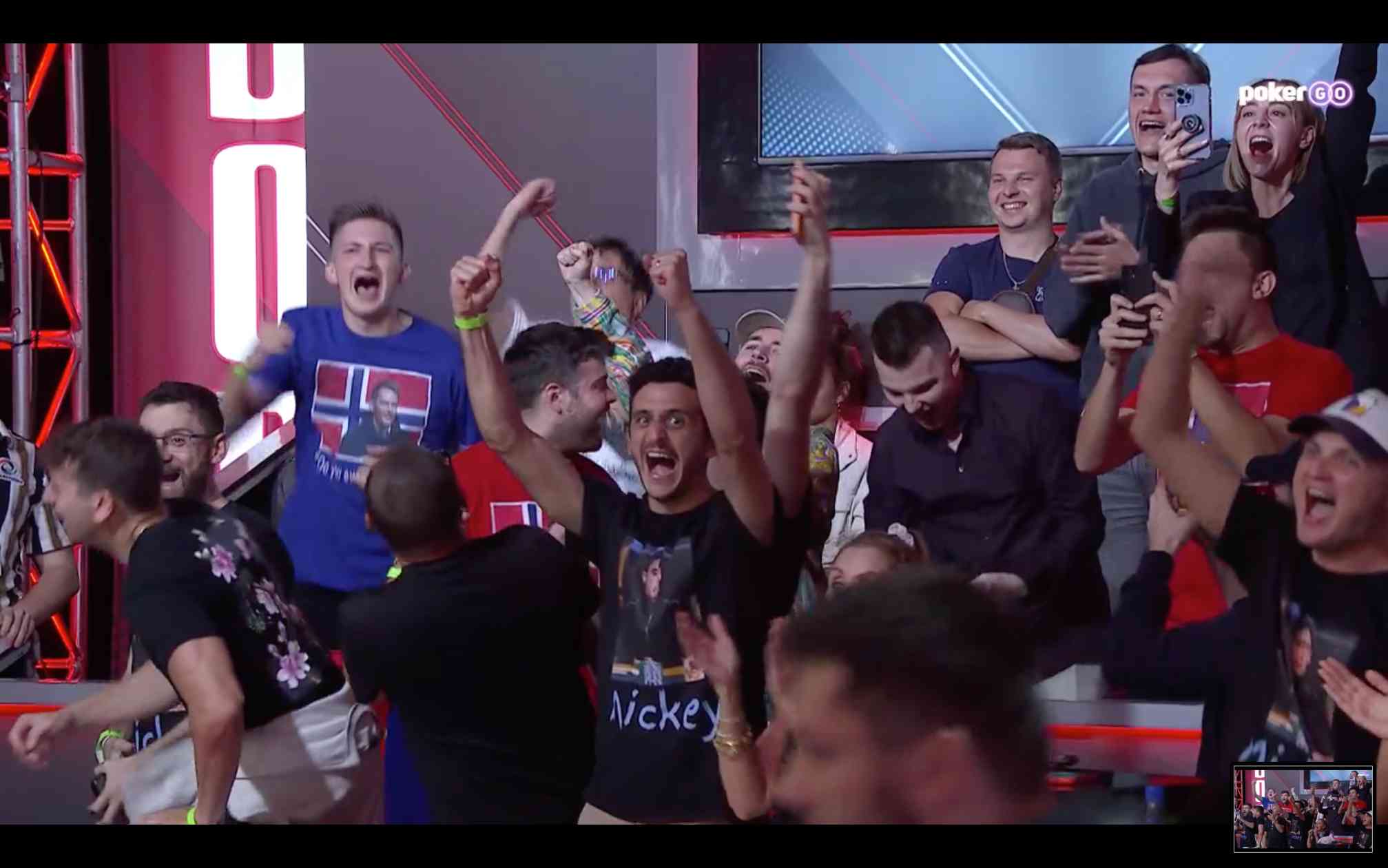 Mon Jul 18th / Roy Pedersen
FOREIGN TAKE-OVER AT THE WORLD SERIES OF POKER
"We need online poker in the US," said the commentators on PokerGo's live broadcast as the foreigners dominated the WSOP Main Event Final Table. Here is an overview of final table entrants per country since 2002 and the top languages in poker.
All-in Global is the #1 language service provider for the iGaming industry and it should be no surprise that poker is one of our favourite games. The combination of skill and luck makes poker irresistible and players from around the world tuned in to the live stream on PokerGo when the score was settled at the biggest tournament of the 2022 World Series Poker (WSOP) this weekend. With almost 9 000 players forking out the buy-in of $10 000 this is by far the biggest live poker tournament in the world.
The WSOP is played in Las Vegas and the majority of the entrants is of course from the US. However the commentators repeatedly made a point out of the foreign dominance in later years. This made me curious about a few things:
If we look historically at the nationalities of the players at the main event final table – which countries are represented most frequently?
If we extract data from the backend of All-in Global – which languages are most popular for poker, both historically and so far in 2022?
Which country is best at poker and which countries has the highest popularity of poker?
WSOP FOREIGNERS 1970-2022
So let's start with an historic look at the nationalities of players at the WSOP Main Event Final Table. From our point of view, as an advocator of everything global, it doesn't really get interesting until 1990. Every year before then, dating back to 1970 when Johnny Moss won the tournament with only 7 (!) players, the bracelet has been won by an American.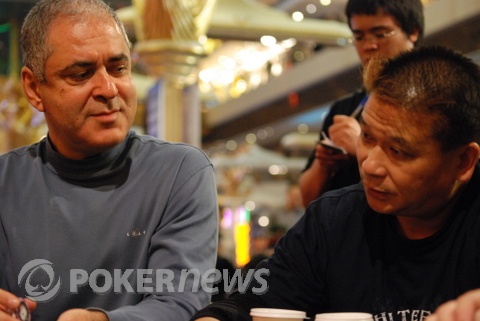 In 1990 Mansour Matloubi, from Iran and Great Britain, became the first foreign player to win. The number of entrants at this point had increased to 194. The WSOP top finishers were largely dominated by Americans for many years to follow and the first final table with more than two foreigners took place in 2002 when there were 4. The American dominance continued in 2003, 2004, 2005 and 2006, with just three Swedes, one Australian (Joe Hachem 2005 winner) and Andy Black from Northern Ireland breaking into the Top 9 over a a course of 4 years.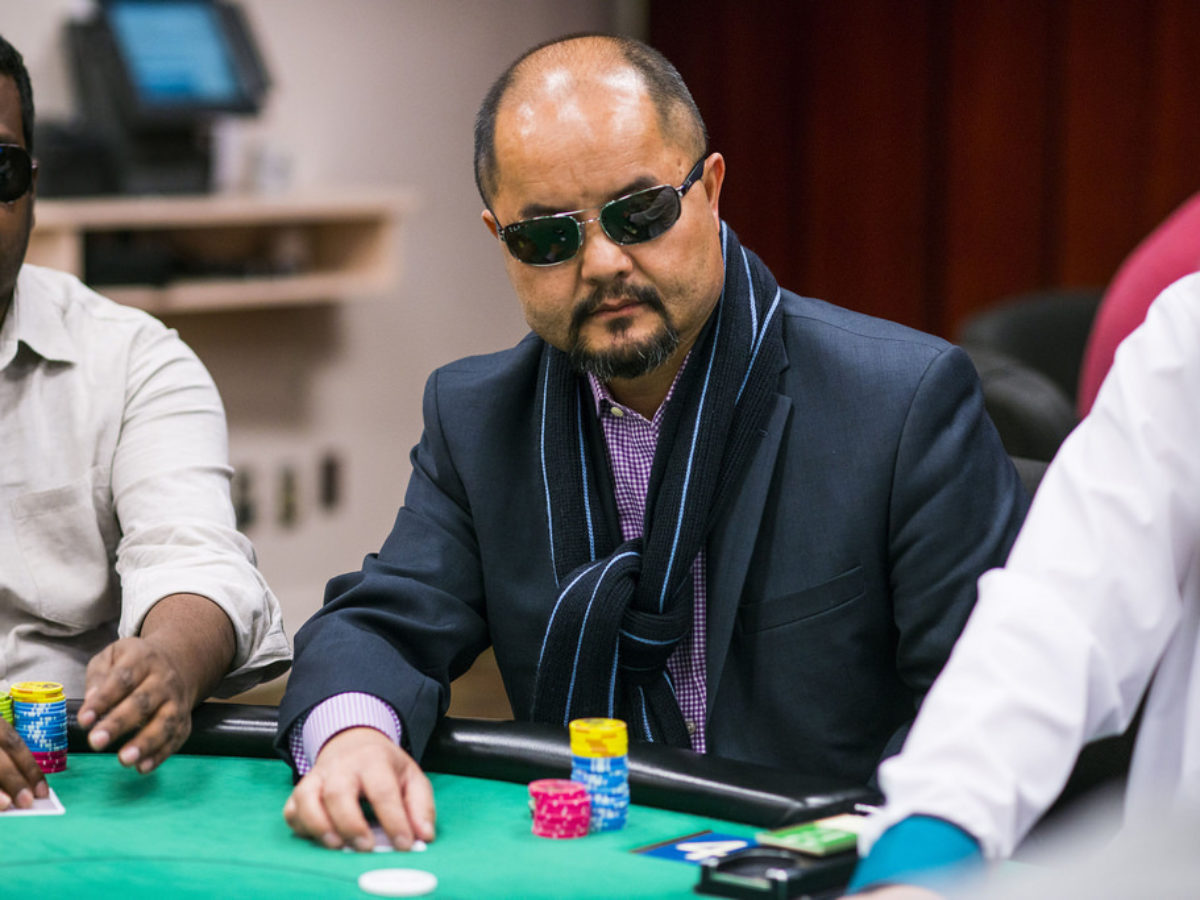 The 2007 WSOP Main Event was won by Jerry Yang who is Hmong (indigenous people that mainly live in Southwest China, Vietnam, Laos, Thailand and Myanmar). All final tables from 2007 until 2020 had at least three Americans, with the rest of the spots divided between by many other countries (see excel below), but in 2021 we had an all-foreign final table with Damian Salas from Argentina winning the bracelet.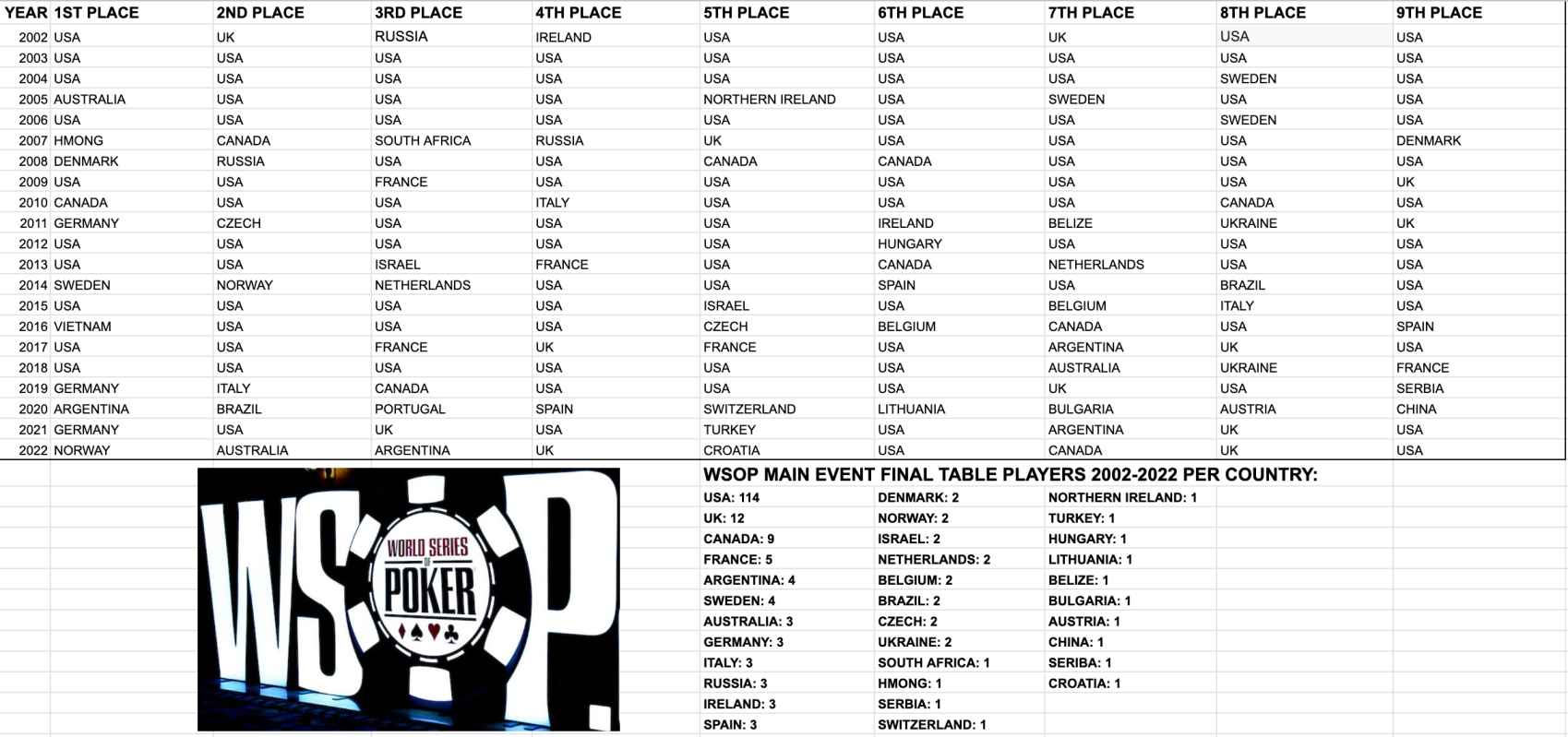 2018 was the last year with a US winner and in 2022 the best US player ended 6th. Espen Jørstad from Norway took down the first place and the whopping $10M first prize, with Adrian Attenborough (Australia) 2nd and Michael Duek (Argentina) 3rd.
So why are there less Americans on the biggest poker scene? Until the online poker boom in 2003 very few players outside of the US played Texas Hold'em, which explains the massive US dominance. From 2011 it became problematic to play online poker if you were an American and currently the only legal markets are in Nevada, Delaware, New Jersey, Pennsylvania, West Virginia, and Michigan. A lot of the players in the WSOP Main Event qualify through online satellites and with more foreigners in the starting field the chances of foreigners at the final table obviously increase. Another reason is the accessibility of Las Vegas, with more and cheaper flights landing in Sin City.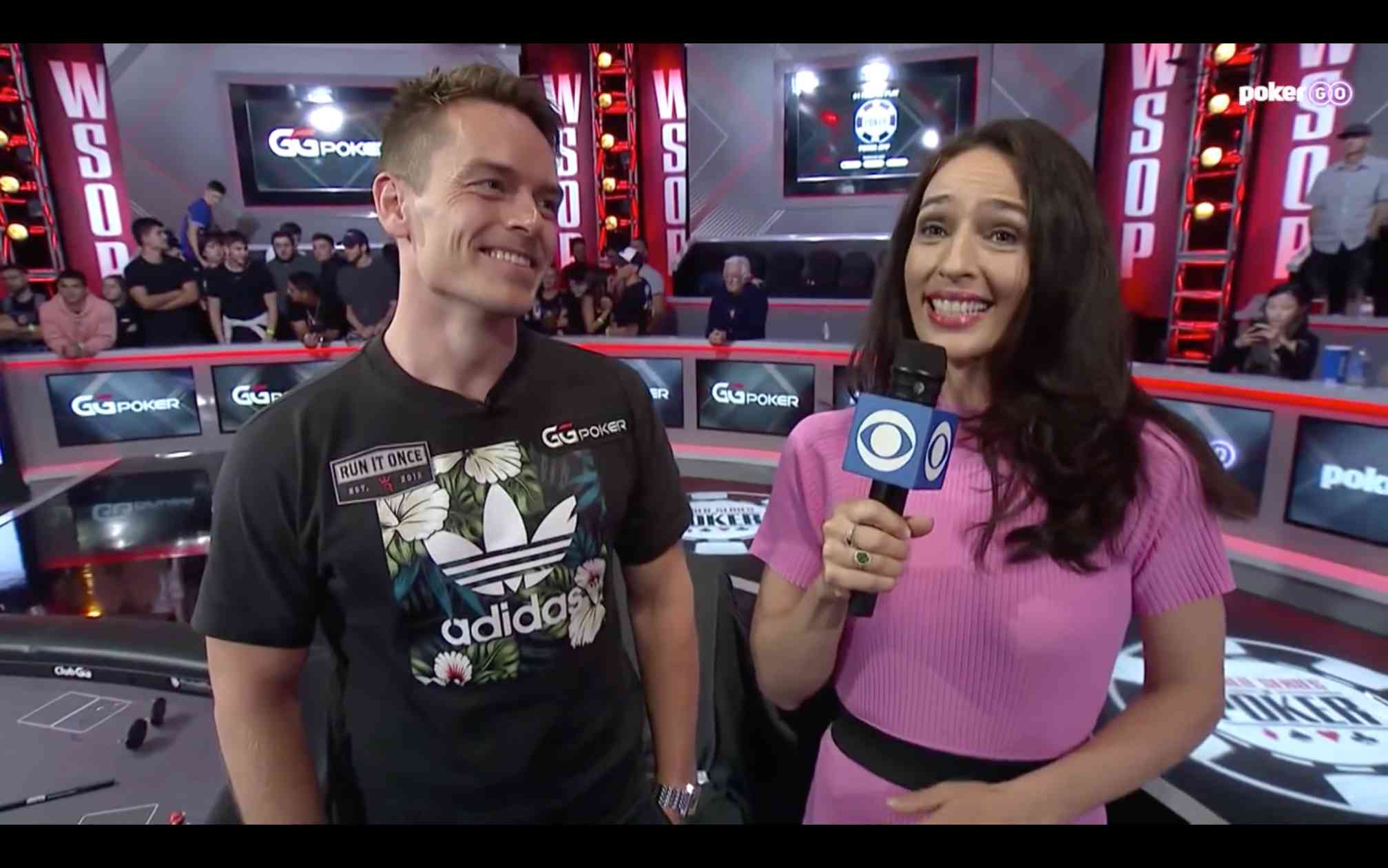 WHICH LANGUAGES ARE BIG IN POKER?
Localization of casino games and slot machines are the bestselling services of All-in Global but we do get a fair amount of requests for poker localization too. In 2019, when a list of the 10 biggest gambling companies in the world was published, 9 of the 10 companies were on our client list. This is why it could be interesting for people in the gaming business  to take a look at our data which we are happy to share. For more data and advice on which markets to go all-in on, contact salesteam@all-in.global.
Top 10 poker languages of All-in Global since 2012:
1: French
2: Turkish
3: Spanish (European)
4: Vietnamese
5: Thai
6: German
7: Indonesian
8: Portuguese
9: Swedish
10: Japanese
Top 10 poker languages of All-in Global so far in 2022:
1: Lithuanian
2: German
3: French
4: Flemish
5: Korean
6: Danish
7: Finnish
8: Japanese
9: Norwegian
10: Swedish
For comparison, you can see our biggest languages in general in the graphics below. Here we have included projects across our sectors of specialisation which include iGaming, mobile gaming, sportsbetting, sports, esports and FinTech.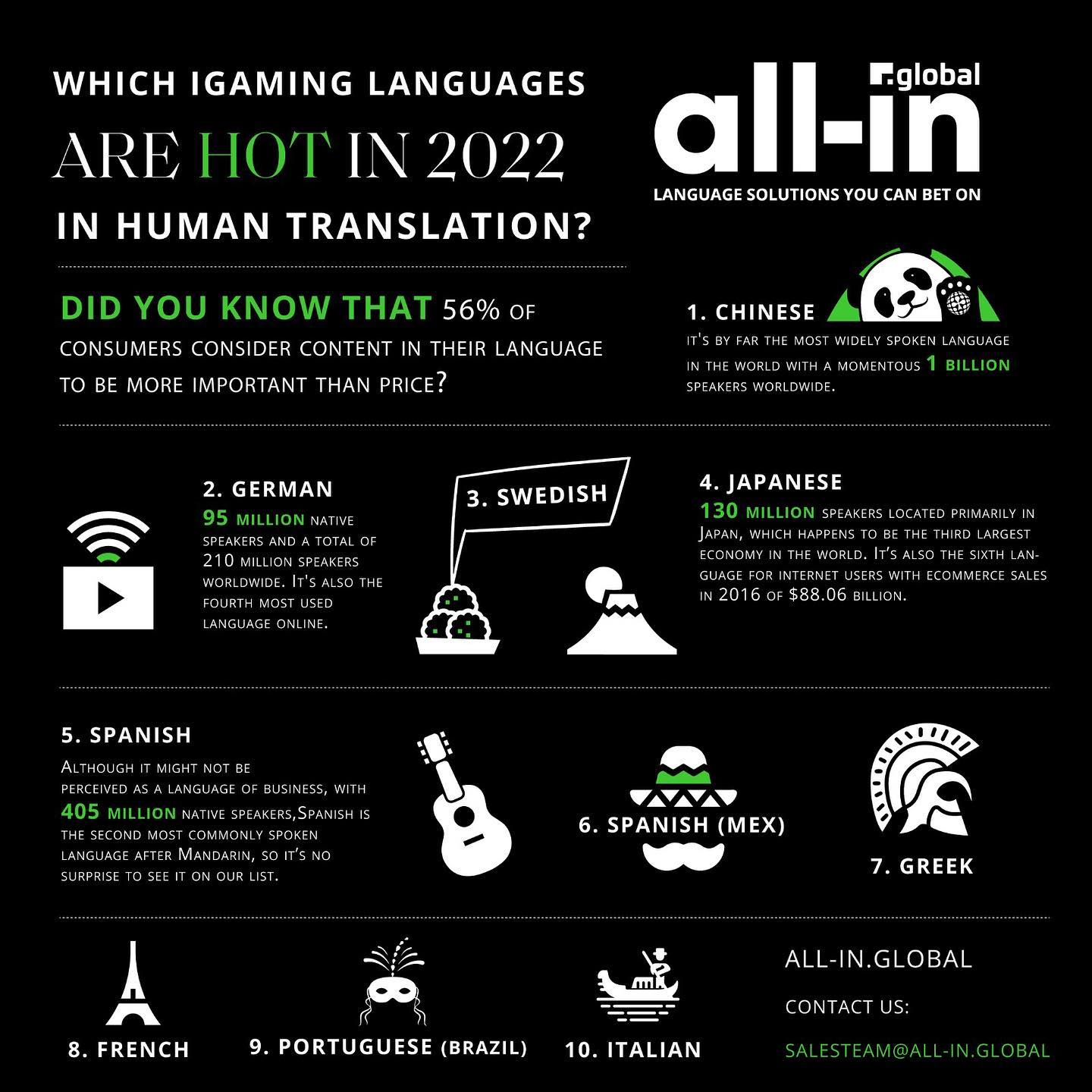 Follow All-in Global on Linked In to get invites to our poker tournaments!
---