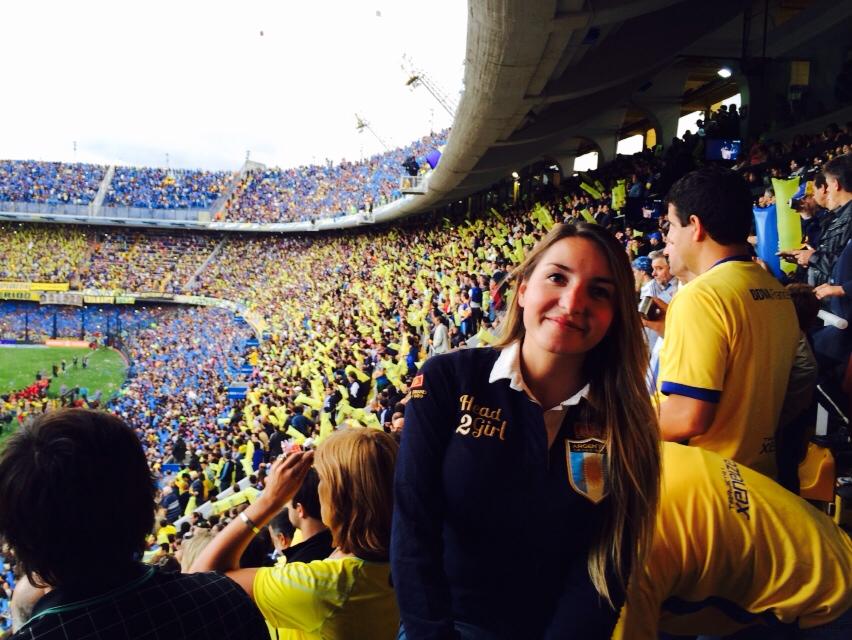 Fri Aug 27th / Marina
GROUND HOPPER, POLYGLOT AND CRAZY ABOUT FOOTBALL – MEET OUR NEW HEAD OF SPORTS
Lyudmyla Herasymenko used to scout football players, negotiate their contracts, develop the business side of football clubs, and host major sporting events. Now she is heading up All-in Global's initiative to conquer the language solutions market in the sports sector.
"I studied International Relations with the intention of entering the world of diplomacy and foreign affairs. But ever since my childhood in Ukraine I have always been drawn to football. When at 12 I moved to Argentina, my passion for this sport grew beyond my expectations. One day I simply decided to mix my passions: international relations, diplomacy, sports, and travel. I took a 3 months job with one of the biggest sports management agencies in South America, where I worked with players such as Javier Pastore, James Rodriguez, Ever Banega, and many others. I ended up staying there for 4 years, and this is where my professional sports journey began. Once the excitement kicked in, there was no way back."
Those were the words of Lyudmyla Herasymenko when asked how she got involved in a football career without being a football player herself. After seeing a huge photo gallery of her together with football legends at famous stadiums all over the world, we quickly decided to introduce her to our readers with an in-depth interview.
Q: What's the best experience you had at a football stadium?
A: I love classic derbies. They have a special atmosphere. The best one for me was Boca-River at Bombonera stadium. You never forget something like that. Then there's the "FLU-FLA" (Fluminense-Flamengo) in Brazil and Argentina's matches in the World Cup in Russia. It might not have been the best experience, but Metalist vs. Dnipro in Ukraine in -26°C and the VIP area closed for refurbishment were the longest 90 minutes in my whole career.
Q: You speak seven languages: Ukrainian, Russian, English, Spanish, French, Portuguese, and Italian! Can you describe a situation in which you made great use of being a polyglot?
A: Negotiating players' contracts. English is a universal lingua franca but being able to negotiate in the local language helps when it comes to strike a deal. At the Paris World Games, we used to receive sports delegations from 80 countries. As Ambassador for LatAm, Caribbean, Eastern Europe and Central Asia, I had to speak in 6 languages on the same day!
Q: Best meals you had at a football stadium?
A: The VIP gastronomy at Bayer Leverkusen stadium (meatloaf with local beer), PSG's VIP lunch (cheese, canapés with foie de gras and champagne), the catering in Espinho, Portugal for the FIFA Beach Soccer World Cup and the lavish table with local dishes at Lokomotiv. The classic "choripán" in Argentina and any bratwurst at the Bundesliga stadiums could really put a smile on my face anytime.
Q: Describe the biggest wow-moment you had with a famous football player.
A: Without a doubt it happened when I met my idol Andriy Schevchenko! A good runner up was traveling with the Argentinian champions team from 1978 and 1986 during the World Cup in Russia.
Q: What stadium or match you'd love to see, but haven't got the chance to do so?
A: Wanda Metropolitano, the Manchester derby at Old Trafford and any stadium for the upcoming World Cup in Qatar.
Q: Can you name a few restaurants where you'd take an important client?
A: Astrid&Gastón (Lima, Peru), La Cabrera (Buenos Aires, Argentina), Pushkin (Moscow, Russia), Baczewski Restaurant (Lviv, Ukraine) and Giannino dal 1899 (Milano, Italy).
Q: Who's your favourite writer and why?
A: Hemingway. I love the simplicity in his writing. Simplicity is a luxury. It's not easy to play football in a simple and effective manner, to talk simple and interesting or live simple and passionately. It's a virtue. Hemingway writes in a way that is very simple, but at the same time with a passion that transcends the page. His narrative is both clear and remarkably detailed because he is writing based on experience not solely on imagination. He lived a colorful and exciting life, he traveled immensely, so I think it's his zest for life and raw energy that got me into Hemingway. I like his adventurous spirit – minus the hunting and the bullfights.
Q: Have you ever read any translated works of Hemingway?
A: I read The Old Man and the Sea in Spanish, English and French. I think everything is codified in life, and language is one of the tools for expressing these codifications. It's crucial to find translators who understand the message that the writer tries to convey, translators who really catch the true spirit of a text. The Old Man and the Sea is not just a book about a man gone fishing, it's a fine allegory about life seen as a struggle with both outer and psychic reality. There are words in some languages that don't exist in other vernaculars. For example, the Portuguese 'saudade'. Although this word has quasi-equivalent words in other cultures, I think you have to be Portuguese to fully understand the depths and nuances of its full meaning. There is a famous quote: "You never have to save money with a doctor and lawyer. The first one could save your life, the second one your liberty or money". I would add a third one: A GOOD TRANSLATOR COULD SAVE YOUR REPUTATION.
Contact salesteam@all-in.global or lyudmyla@all-in.global to start the conversation of how we can help your sports brand go global.
---