10 reasons why Malta is the perfect place for our translation headquarters
At All-in Global, we believe that Malta is the perfect location for the headquarters of our language service provider company. In this article, we will summarize some of the most important arguments as to why and how they benefit our clients.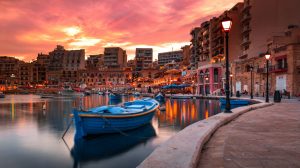 Malta – the iGaming hub of Europe
Malta is the iGaming hub of Europe. There is no other place in Europe with more registered online gaming companies. The main expertise of All-in Global is online gaming, and it benefits both our clients and us to be close to each other. Malta is a small country in terms of territory, so a meeting location is never far away. Most of the gaming events take place in the Sliema and St. Julians area and our headquarters is located close to Spinola Bay in St. Julians.
Corporation tax is very low. This gives us the chance to offer high-quality translation at very competitive rates.
The cost of living is low. This makes Malta an attractive place to relocate to for translators, project managers, and others. You can see an overview here.
Malta lies in the heart of the Mediterranean Sea (halfway between Sicily and North Africa). The climate is unique, with very mild winters and warm to hot summers that last from April to October.
Malta International Airport is the most convenient airport in the world. A bold claim perhaps, but you will probably agree if you have tried it yourself. It is close to anywhere on the island, it is cheap to get to and from, there are practically never any queues, it has a friendly and relaxing atmosphere and, most importantly, all the budget airlines are gathered in one airport, which means you can go anywhere in Europe, at very low rates, if you book ahead.
Malta – a strategic location for translations
There's always something happening in Malta. For instance, an increasing amount of major poker events are taking place in the casinos of Malta. Examples are the Battle of Malta and the World Poker Tour. These events often represent a good chance for All-in Global to meet up with clients. However, there is more to the Malta events scene than gambling: in October 2013, the European Language Industry Association had their networking event at the Hilton in St. Julians.
Malta is home to a large number of e-commerce companies. This often represents a short distance to possible clients, and an obvious advantage when we are looking for innovative business solutions.
One could also easily say that Malta has a strategic geographical position when language is concerned, considering the island's location in the centre of the Mediterranean.
Few countries in the world have a more international profile than Malta. Here you will find people from many cultures, backgrounds, and languages – at all times. Many of them are tourists, but there are plenty who come to Malta to find a job or open their own business. A big number of them are employed in the gaming industry, and at All-in Global many of our employees had lived in Malta for a few years before moving back to their home countries. We usually allow our translators to work from wherever they want, and the experience they get from working a while in the gaming industry in Malta undeniably plays an important role in turning someone into an excellent translator in the subjects of poker, casino, sports betting, bingo, and so on.
Malta is the most popular place in Europe to learn a new language, especially English. As English is an official language of Malta along with Maltese, the majority of locals speak a good level of English. It's not a big surprise then that many people come to Malta to improve their English communication skills.
See our office locations here.