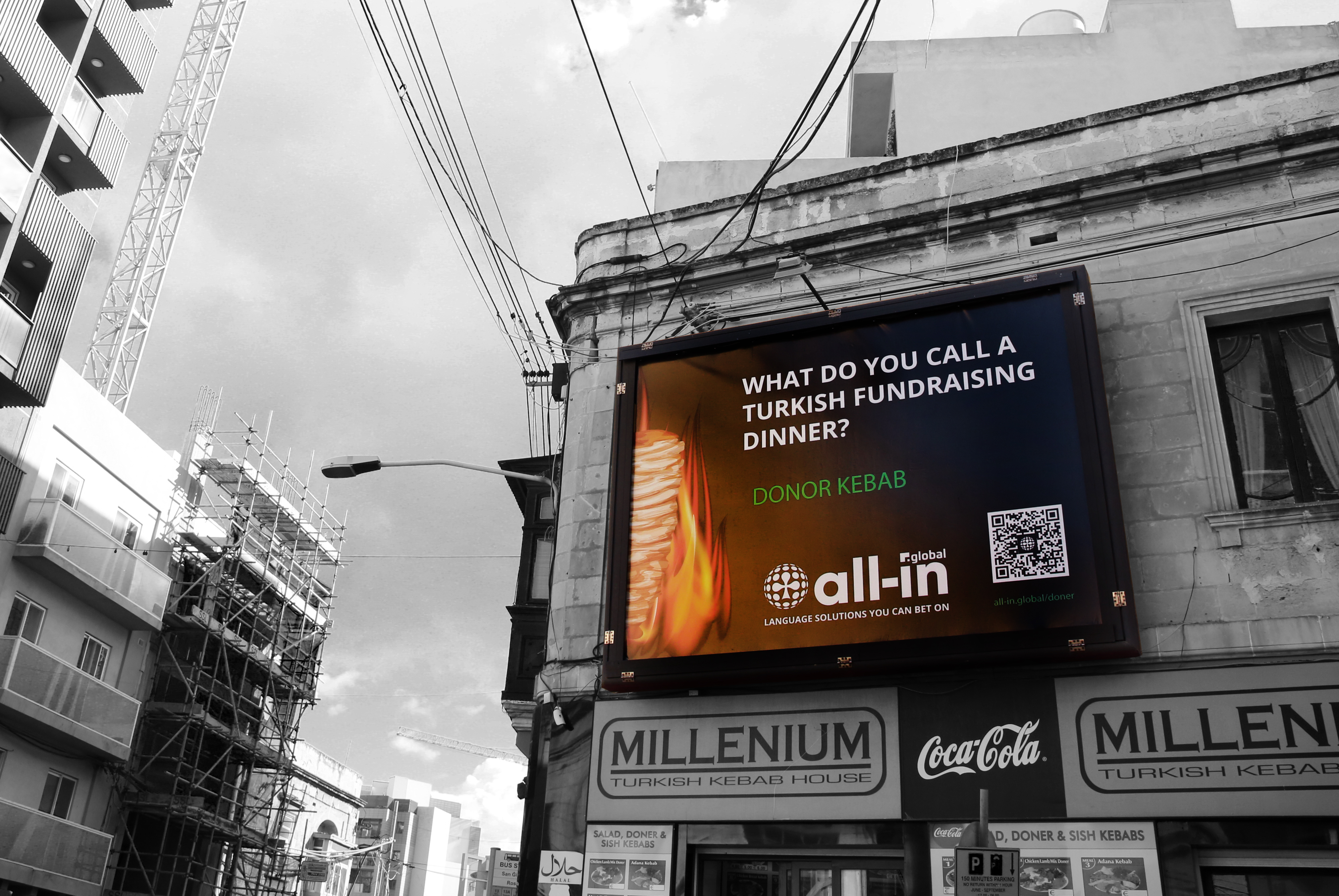 Thu Nov 14th / Roy Pedersen / humour
GOTHENBURG HUMOUR FOR A GOOD CAUSE
Have you seen the billboard on top of the kebab shop in St. Julians? It's staying there all November. We couldn't help ourselves! And in the holiday spirit, we are giving away 1% of all of our December sales to Translators Without Borders.
Translators Without Borders is an organisation that aims to close the language gaps that hinder critical humanitarian efforts worldwide and we fully support their work. With the support of a community of volunteers, they have translated over 50 million words for non-profit organizations in more than 190 language pairs, as part of humanitarian crisis response, and health and education programming. At All-in Global we choose a cause that we give to every year, and Translators Without Borders has been selected several times. You can read more about our social contributions here.
When not coming up with dry humour, All-in Global is working on maintaining our position as the #1 language service provider to the iGaming industry. We saw the billboard as a great opportunity for some visibility in the heart of St. Julians, over our favourite kebab shop, across the street from our favourite pub, in the busiest iGaming month of the year in Malta, when it's SiGMA showtime.
dev
We are happy to give away 1% of all December sales from all of our services: translation, localization, language proficiency testing, full-context review, interpreting, content writing, SEO, video production, dubbing, voice-over, subtitling, animation and scripting.
In the video, you can see what happened when we flew two stand-up comedians in from the UK for the 2018 PAI League cup final event. Below that, you will find some of our other favourite dry humour one-liners.
How did Darth Vader know what Luke got him for Christmas? He could feel his presents.
Why did the golfer wear two pairs of pants? A. In case he got a hole in one.
Don't use "beef stew" as a computer password. It's not stroganoff.
---