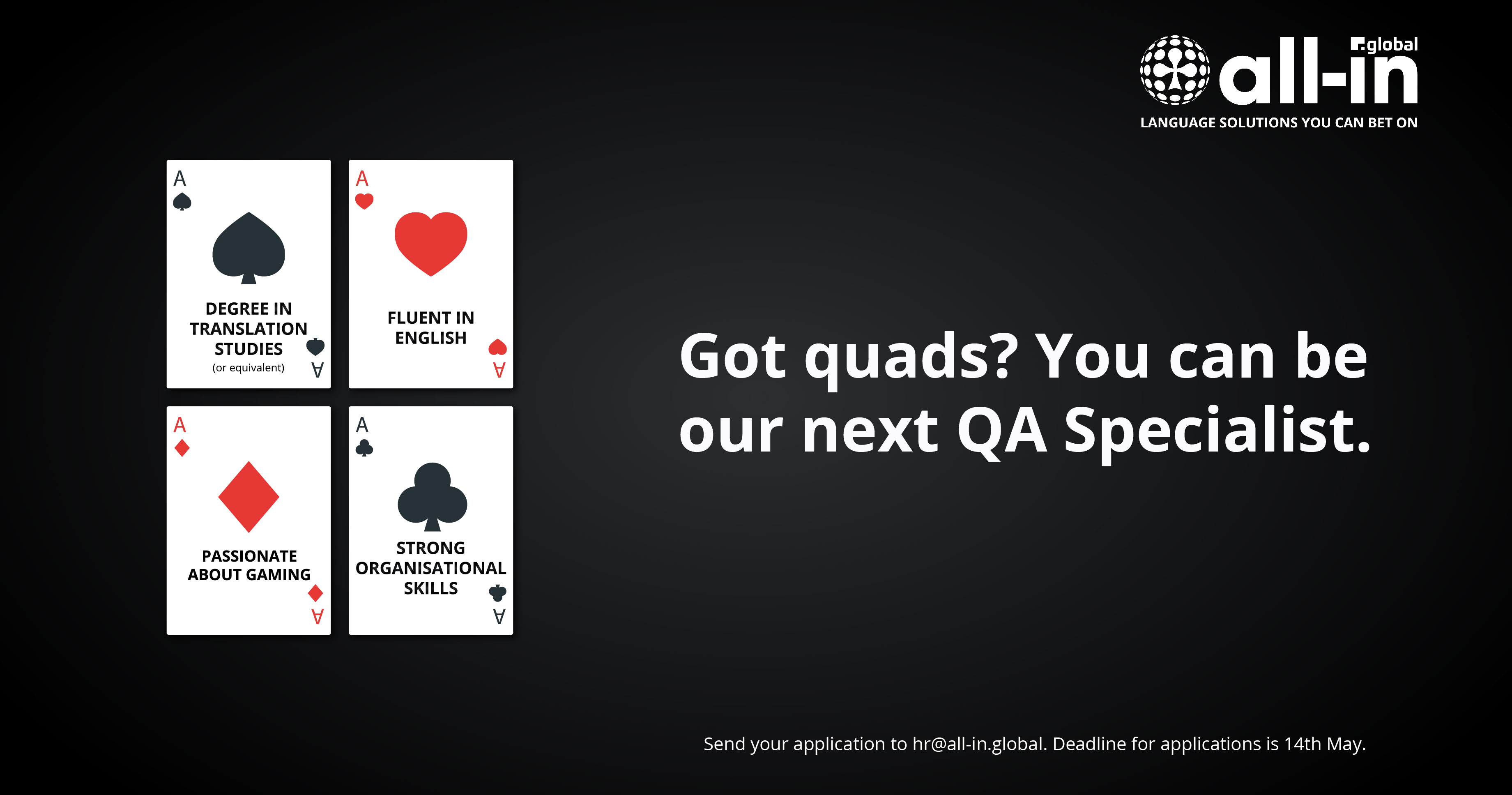 Wed Apr 14th / Eolo Barilari
NOW HIRING: JUNIOR QA SPECIALIST for the #1 iGaming LSP
All-in Global is the market-leading provider of language services to the booming iGaming industry in more than 80 languages. One of our goals is to provide the best iGaming translations on the market and, as we keep growing, we are now hiring a Junior Translation QA Specialist.
The QA specialist will be the very first person to see the localised product in its entirety and experience the project in the way it will be consumed by our clients and eventually the end-users. The QA specialist will be tasked to run QA analysis and check inconsistencies, linguistic issues and anything that may have fallen through the cracks in multiple language projects.
The QA specialist main responsibilities will be:
Linguistic analysis: check for spelling and grammar issues; inconsistencies with the source text; incorrect numbers, tags, missing punctuation, etc. in Verifika QA and in memoQ.
Terminology analysis: check for inconsistencies with the client's glossaries and project's instructions.
Project's instructions: ensuring that each project's instructions are followed, from glossary terms to non-translatable terms and formatting details such as colours, brackets or text formatting.
Managing email correspondence with Project Managers, translators, post-editors and revisers;
Forwarding any feedback on the translation quality to our Vendor Manager.
Evaluating revisers and post-editors.
You must have:
A degree in Translation studies;
Excellent communication skills in English;
Utmost attention to detail and strong organisational and time-management skills.
Teamwork skills
Ideally, you have:
Previous experience with Localisation Quality Assurance;
Familiarity with CAT tools, MemoQ specifically, and Quality Assessment (QA) tools such as Verifika or X-Bench;
Here is what else you need to know about our company: we are ISO certified, award-winning and form part of a successful team of very enthusiastic and talented individuals. We are all excited about working at All-in Global because treating people with respect and integrity and having a good time is an essential part of the All-in culture.
When can you start? As soon as possible.
Where will you work from? Porto, Portugal – Rua Infanta Dona Maria, 35 ('Carolina Michaelis' metro station).
What do we offer? An attractive salary together with flexible working hours (standard hours are 9:00-17:00 Monday to Friday), paid overtime and a productivity+annual bonus, 27 days of annual leave, the possibility to work from home, career growth and the opportunity to be part of the booming iGaming industry.
You will report to our QA Manager Isabel Alves.
Kindly email our HR Manager Eolo Barilari at hr@all-in.global to apply.
We are an equal opportunity employer dedicated to non‐discrimination in employment on any basis including race, colour, age, religion, sex, nationality, disability or marital status.
By submitting your personal data, you declare that you have read and understood our Privacy Notice.
---